The best things to do in Sighnaghi: Georgia's city of love
This post is about the best things to do in Sighnaghi in Georgia. Sighnaghi is a lovely town in Georgia's Kakheti region that is famous for its wine.
Sighnaghi and Kakheti
Some of the best things to do in Sighnaghi has to do with wine. Which country has the best wine? It's a controversial debate, but Georgia is a respectable competitor. Georgia's viticulture goes back to the neolithic period.
The heart of Georgia's ancient viticulture lies in Sighnaghi and Kakheti. A region also known for its delicious food and hospitality. With its mediterranean climate it offers the perfect conditions for cultivating grapes.
Even though I don't really like wine, my travelbook convinced me there were enough other things to do in Sighnaghi. Sighnaghi is a scenic medieval town with beautiful mountain vista's and cosy homestays.
What makes it so picturesque is its stunning location. Sighnaghi is situated on a hilltop, offering panoramic views of the Alazani Valley, the Caucasus Mountains, and vineyards stretching across the landscape. The area is excellent for hiking and is dotted with ancient monasteries and churches.
Sighnaghi has history too and it was originally built as a fortress that played a significant role in protecting the city from invasions. You can still see parts of the old defensive wall.
Sighnaghi is also the city of love, because of its wedding house where couples can get married any time of the day. As a result, it has become a popular destination for weddings and honeymooners.
From Tbilisi to Sighnaghi
My journey started at Tbilisi's bus station. The road to Sighnaghi was recently renovated with help of the World Bank in an effort to boost the economy of Kakheti. Because not all is well here.
An economic crisis and the collapse of the Russian market for wine turned Kakheti into one of the poorest areas of Georgia. Families still grow grapes and bottle their wine, but tourism is more than welcome, because it is a much needed additional source of income.
Sighnaghi is now only 2 hours from Tbilisi and makes a nice daytrip or weekend break. I was on my way to Azerbaijan and it made a perfect stop-over in what would otherwise be a very long journey.
Sighnaghi's homestays
I was glad I stayed in one of Sighnaghi's homestays to experience the wonderful Georgian hospitality. The lady of the house was also the teacher at the local school and wasn't home yet when I arrived. However, the neighbour children blindly trusted me that I was their guest and gave me the key. I settled on their balcony with a beautiful view on Sighnaghi and the Caucasian mountains surrounding it.
When the lady of the house arrived she immediately prepared a hot cup of tea for me and a delicious lunch. Fresh bread with vegetable soups, aubergines stuffed with walnut, slices of goat cheese and of course home made wine.
The best things to do in Sighnaghi Georgia
It was tempting to spent the rest of the afternoon on their lovely balcony, but there were more things to do in Sighnaghi.
Wandering around in Sighnaghi
Overall, Sighnaghi is a touristic place, as far as it can be touristic in Georgia. The best thing to do in Sighnaghi is simply walking through the charming streets of the old center where you can admire the well-preserved 18th-century architecture.
The old town is still surrounded by a defensive wall with towers, and its narrow, cobblestone streets are lined with traditional Georgian houses.
Sighnaghi fortress
If you walk through Sighnaghi you will come across the ancient city walls and gates from the Sighnaghi fortress.
Sighnaghi Fortress played a crucial role in the defense of the region. The construction of the fortress began in the late 18th century during the reign of King Erekle II, who ruled the Kingdom of Kartli-Kakheti. He built a 4 kilometer defensive wall with several gates and towers to protect the city from attacks.
The fortress was strategically positioned on a hilltop, offering a vantage point to monitor the surrounding areas and act as a warning system.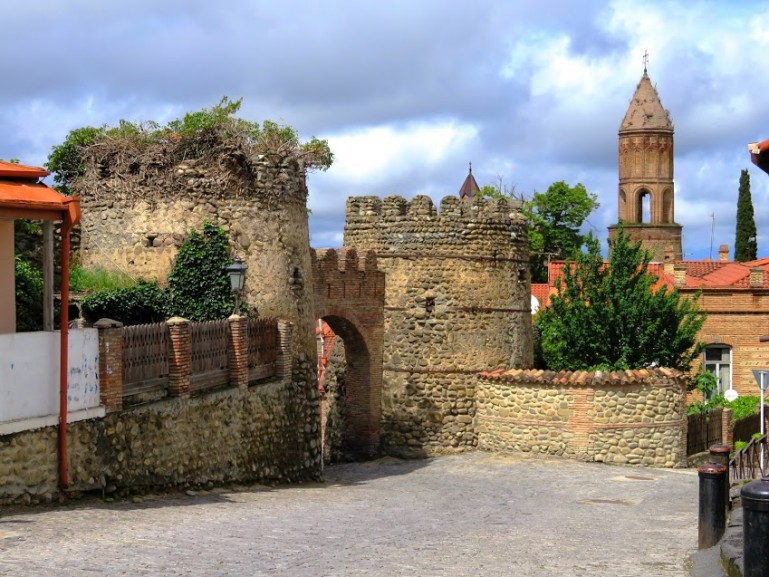 St.George church
Located within the town's fortress walls, St. George's Church is a prominent religious site in Sighnaghi. The church dates back to the 17th century and features traditional Georgian architectural elements. Although nothing spectacular it is free to visit.
Try the local wine
Kakheti, the region surrounding Sighnaghi, is renowned for its winemaking traditions. Visit local wineries and indulge in wine tasting sessions to savor the flavors of Georgian wines. You can also learn about the winemaking process and the unique Qvevri wine-making method, which involves fermenting wine in large clay vessels buried underground.
Shopping at the local market
The local market is one of the fun things to do in Sighnaghi. It is a great place to get a feeling of local life and buy some wine. It's sold in reused plastic soda bottles that look dodgy. Don't be fooled, because the quality is very good.
Buy souvenirs from the knitting ladies
When you walk through Sighnaghi you will for sure meet the knitting ladies. They make some great souvenirs that I didn't see elsewhere in the country.
I bought some hand knitten socks that still keep me warm in the winter in the Netherlands.
The wedding house
In Georgia Sighnaghi is known as the city of love, because of its wedding house. At the central square is the municipality house where people can get married any time of the day. It is open 24 hours for seven days per week.
The Soviet era war memorial
Near the modern wedding house is Sighnaghi's war memorial. On the walls are all the names of the Georgian soldiers from Sighnaghi that lost their lives in the Great Patriotic War when they were fighting for the Soviet Union against the Germans.
Things to do beyond Sighnaghi
Sighnaghi offers just a glimpse of everything there is to do in Kakheti. If you have more time at your hand you should consider renting a car and driver for the day to show you around the countryside to visit more wineries and churches such as the Nekresi monastery, the Kvelatsminda church and the Gremi church.
If you want to know more about Kakheti I can recommend this 3 day itinerary from wanderlush. I used this as an inspiration for my own roadtrip through Kakheti when I visited Georgia the second time and also included the beautiful city of Telavi.
Below are some things to do near Sighnaghi within hiking distance.
The Bodbe convent and the Nino spring
Although not situated directly in Sighnaghi, the Bodbe Monastery is located just a short distance away, approximately 2.5 kilometers southwest of the town. The monastery is dedicated to St. Nino, the patron saint of Georgia, and is an important pilgrimage site. The complex includes a church, a spring with holy water, and beautifully landscaped gardens. It offers stunning views of the Alazani Valley and the town of Sighnaghi
St.Stephen Church
Another short hike from Sighnaghi is to the St.Stephen church. Situated on a hilltop overlooking Sighnaghi, St. Stephen's Church is a small yet charming structure. It provides a tranquil setting and panoramic views of the surrounding countryside.
Sighnaghi Travel tips
What to eat in Sighnaghi
Sighnaghi and the Kakheti region are renowned for their delectable cuisine.
Kakhetian Mtsvadi is a variation of the popular Georgian barbecue, specific to the Kakheti region. It features skewers of marinated meat (often pork) cooked over an open flame. The unique flavors of the marinade, combined with the smoky aroma from the grill, make it a mouthwatering specialty.
Khashlama is a traditional meat dish commonly found in the Kakheti region. It consists of slow-cooked chunks of meat (usually lamb or beef) along with onions, herbs, and spices. The meat becomes tender and flavorful, resulting in a comforting and hearty dish.
You vcan also indulge in traditional Georgian dishes such as khachapuri (cheese-filled bread), khinkali (dumplings), and various meat and vegetable dishes.
Where to eat in Sighnaghi
The best place to eat is your homestay. Nothing can beat the fresh and homemade cuisine they will offer you.
If you do need to eat outside Pheasant Tear's is very good for Georgian food and winetasting. I can't imagine you would want something else than the delicious Georgian food, but if you do there is Pancho village. Probably the only Mexican restaurant in Georgia and one with a nice view.
The market is also a great place to buy some local food. Of course there is wine, but you can also try churchkhela, also called Georgian snickers. They come in different varieties of strings of nuts draped in grape juice. My favourite are the ones with walnuts.
Where to sleep in Sighnaghi
I stayed in Abramichi Guesthouse. It was one of the cheapest options and I was very happy there. The people are very friendly and their balcony has a lovely view on Sighnaghi and the mountains.
It is a bit difficult to find as it is at the end of the town. After the main square, go under the old town port and walk along the street with the knitting ladies. Then the road continues along two paths. Take the right road where the pavement will stop. Abramichi guesthouse will be on your rightside.
How to get to Sighnaghi
From Tbilisi: At Tbili's Samgori metrostation there are daily minivans to Sighnagi at 9:00, 11:00, 13:00, 15:00, 17:00 and 18:00. They return at 9:00, 11:00, 13:00, 16:00 and 18:00. (6 GEL as of June 2017 – 2 to 3 hours)
Telavi and Lagodekhi: For Telavi and Lagodekhi take a taxi to Tsnori (15 minutes down the mountain) and take a minivan from there.
David Gareja: If you want to visit David Gareja as well, it is better to rent a taxi. Also keep in mind that even though it looks to be midway between Tbilisi and Sighnaghi, it takes a long time to get there. The road to David Gareja is not too good and you are probably better off making a day trip from Tbilisi
Azerbaijan: I used Sighnaghi as a stop over on my way to Azerbaijan. read here about crossing the border to Azerbaijan. The nearby town of Sheki is a lovely place to start your journey in Azerbaijan.
Update 2023: Tourists are still not permitted to enter Azerbaijan by land. The land border between Georgia and Azerbaijan closed during the COVID epidemic and it seems the borders remain closed for the foreseeable future for political reasons. Current news is that they may open in October 2023, but there is a big chance this will be postponed.
When to visit Sighnaghi
The best time to visit Kakheti is spring and autumn when the temperatures are pleasant. Autumn is also harvest season and you can see the harvest of the grapes in action as people are working in the fields and trucks full of grapes drive on the roads.
Spring is lush and green and Kakheti is lovely with blooming flowers. Summers get warm, but this is a good time to go hiking in nearby Lagodekhi National Park.
Georgia is such a lovely country and if you like to know more you can read this excellent post from Cycloscope about the best places to visit in Georgia.
Disclaimer: This post best things to do in Sighnaghi Georgia contains affiliate links. If you buy any service through any of my links, I will get a small commission at no extra cost to you. These earnings help me to keep Backpack Adventures alive! Thanks for your support!
---
---