How to Visit The Skazka Canyon in Kyrgyzstan
This post is about the Skazka Canyon in Kyrgyzstan. When I look around me I am wondering if I am still in Kyrgyzstan. The colourful red rock formations of the Skazka Canyon are a completely different world from the green alpine meadows and the snow capped peaks that Kyrgyzstan is famous for.
The Skazka canyon is a world on its own and one of the most beautiful attractions on the southern shore of lake Issyk kul. It is small compared to the Charyn Canyon in Kazakhstan, but equally impressive with its colourful red rocks and the deep blue lake behind it. It is not for nothing that the Skazka canyon is also known among travellers as the fairytale canyon. It's a highlight when backpacking Kyrgyzstan.
The legend of the Skazka Canyon
Years of erosion resulted in amazing sculptures. Some of them have names such as the "Chinese wall", others resemble animals and even dragons. For locals, the Skazka Canyon holds many traditional legends and tales.
One is about the time that the Issyk kul lake basin wasn't a lake yet. It was a nice valley with several rich and powerful cities. In one of these cities lived a very beautiful girl. One day a dragon fell in love with her and asked her to marry him. She declined and the angry dragon cursed the Issyk kul valley.
The dragon said that every full moon he would cause the waters in the wells to rise untill the girl changed her mind. The citizens decided to cover the wells with golden lids and everything went well. However, when it was the girls turn, she forgot and the valley flooded. As the dragon saw the lake he was so shocked that he turned into stone.
Obviously there never was a dragon, but underwater archeological expeditions did find traces of ancient Saka settlements in the basin of lake Issyk kul.
My experience in the Skazka Canyon
The good news is that the Skazka Canyon is very easy to visit as well. It is right next to the road that runs from Bishkek to Karakol and it makes a great day trip from either Karakol, Tosor or Bokonbaevo. It is also very close to the sacred valley of holy springs in Manjyly Ata.
I visited the Skazka canyon on a cold and cloudy afternoon from Bokonbaevo. The weather forecast wasn't too good and I wasn't sure I should go. However, at the bus station in Bokonbaevo the bus driver told me that it was definetly worth it, even in the rain.
The journey took about 30 minutes and the driver was friendly enough to tell me where to get out. The big sign at the side of the road pointed me in the right direction. I paid the 50 som entrance fee and then walked the 2 kilometer path to the Skazka Canyon. It's a scenic hike, but nothing compared to what you get to see at the final destination.
If you have your own car you can make it all the way up to the canyon. However, even from the parking spot there is nothing to reveal the true beauty of the fairytale world you are about to enter. As I turned around the corner the colours came as a surprise and I was left in awe.
Yes, the Skazka canyon is definetly worth a visit. It's the kind of place where you can't stop taking pictures even though you know they can't capture the reality in all its colours. The panoramic views are spectacular, especially as you get higher and get to see lake Issyk kul.
It's a small canyon and I spend around 2 hours wandering around to enjoy the views. I was lucky and the rain patiently waited untill I was in a minivan back to Bokonbaevo.
In total my trip took about 5 hours including taking the bus and the 2 kilometer walk to the canyon itself.
Skazka Canyon Travel tips
Where to sleep in the Skazka Canyon
There are no places to sleep in the Skazka Canyon, but it's a nice day trip from either Karakol (1.5 hours), Bokonbaevo (30 minutes) or Tosor (10 minutes). All of them have excellent accomodation options. Below you will find some recommendations.
Tosor: Tosor is only 4 kilometers from the canyon. There are some homestays that do not have an online presence yet. My personal recommendation is the Tosor Yurt camp. Where else in the world can you sleep in a yurt at the beach?
Bokonbaevo: Bokonbaevo is home to a number of friendly homestays such as Nurgul, Guesthouse Ayim & Guesthouse Gulmira
Karakol: Karakol has the biggest choice in accomodation options from homestays, to guesthouses and backpacker hostels. For Karakol I recommend Guesthouse Altay & Snow leopard hostel
Where to eat in the Skazka Canyon
There are no places to eat in the Skazka canyon neither are there any shops to buy something. It's best to bring a packed lunch box for a picnic or some snacks and enough water with you.
It is easy to buy some food at the market of Bokonbaevo or Karakol. I recommend Samsa. They are delicious and great to take along.
Make sure you bring enough water, especially on a sunny day. It can get pretty hot and there is not a lot of shadow to cool down.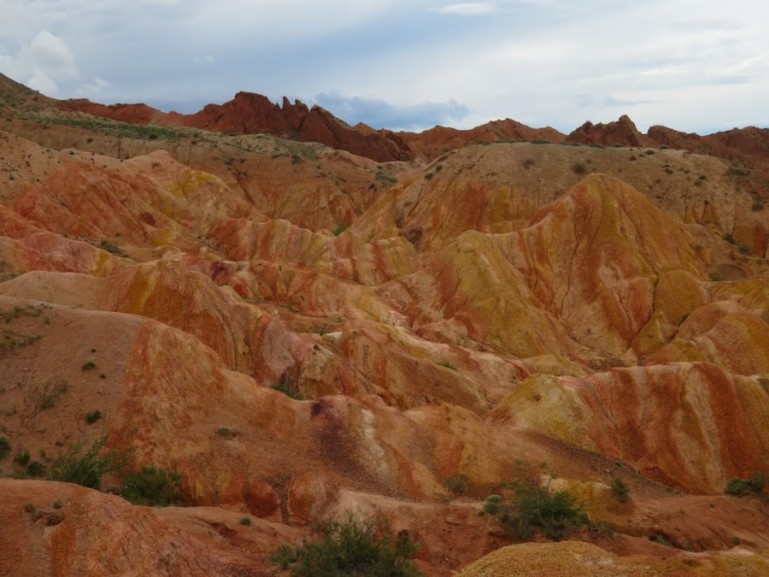 When to visit the Skazka Canyon
You can visit the Skazka Canyon any time of the year. I have heard that even in winter there rarely is any snow, but it will be very cold. In summer it can get pretty hot and there is not a lot of shadow so bring sunscreen and a sunhat for protection.
In spring and autumn the weather can be rather unpredictable and you can expect any of the circumstances above. If it rains it is still definetly worth a visit as the colours only get more vivid, but it can get slippery.
How to get to the Skazka Canyon
The Skazka Canyon has a convenient location on the road from Bishkek to Karakol along the southern shore of issyk kul. It is therefore easy to reach by both public transport or a private taxi.
The most important thing to keep in mind if you travel by public transport is to be back at the road before 4 pm. After that it might be difficult to catch a minivan back to your destination (Karakol or Bokonbaevo).
From Tosor : Tosor is only 4 kilometers away from the Skazka Canyon. If you are staying in Tosor yurt camp, the owner has its own taxi and is happy to take you there and wait for you for a reasonable price.
Otherwise walk to the main road and catch any minivan or shared taxi heading to Bokonbaevo and Balykchy. Ask the driver to let you out at the Skazka Canyon or watch out yourself for the big sign next to the road. From the road it is an easy 2 kilometer walk to the actual canyon.
From Bokonbaevo: Bokonbaevo is about 30 minutes away from the Skazka Canyon. Through CBT Bokonbaevo you can arrange a taxi to get you there and wait for you. They are happy to pair you up with other travellers, if possible, so that you can share the costs.
Otherwise go to the Bokonbaevo bus station that is next to the cbt office and the bazaar. From there take a minibus or shared taxi heading in the direction of Karakol. Ask the driver to let you at the Skazka canyon. You can also watch out for the big sign next to the road, but from this direction, it is easy to miss. From there it is a 2 kilometer walk to the canyon.
From Karakol : Destination Karakol is happy to arrange a taxi for you to get there, wait for you and bring you back. However, it is much cheaper and very easy to get there by public transport as well.
Sustainable Travel in the Skazka Canyon
The Skazka Canyon is a remote area with a fragile ecosystem. While Tourism is a welcome source of income it can also have negative consequences. For example, pollution is a growing problem. Traveling sustainably is essential to minimize your environmental impact.
Leave no trace principle: The Skazka Canyon is famous for its natural beauty, and it's crucial to keep it that way. To avoid single-use plastics, invest in reusable items. For example, you can bring your own water bottle with a filter that you can refill at your accomodation.
When exploring the area around the Skazka Canyon, stick to designated trails when they are there, avoid disturbing wildlife or picking plants, and leave no trace of your presence. Ensure you take all your trash back with you and dispose of it responsibly. Even better, is when you bring something to pick up any of the trash that other people left behind.
For more Kyrgyzstan inspiration read my posts about the best places to visit in Kyrgyzstan or my Kyrgyzstan itinerary.
Disclaimer: This post with a travel guide about The Skazka Canyon in Kyrgyzstan contains affiliate links. If you buy any service through any of my links, I will get a small commission at no extra cost to you. These earnings help me to keep Backpack Adventures alive! Thanks for your support!
---
---