St Petersburg in Winter: the ultimate travel guide
St.Petersburg in Winter: Due to the current situation I advice against travel to Russia at the moment. All affiliated links related to Russia have been removed. But I have decided to keep my posts about Russia as it remains a beautiful country. I hope that circumstances change and that travel is possible again in the near future.
This post is all about St Petersburg in winter. Russian winters are famous for being cold and harsh. You might wonder why you should visit St Petersburg in winter in the first place. In fact, most visitors try to avoid St Petersburg in winter. But let me tell you that there are plenty of reasons why this is a great time to visit the city.
Why visit St Petersburg in Winter
Yes, St Petersburg in winter means the average temperature is below zero and it gets dark early, but it is a beautiful time nevertheless. As long as you dress warm enough, visiting St Petersburg in winter will be very rewarding. St Petersburg is also known as the Venice of the north, now imagine a frozen Venice covered in a blanket of snow.
That is what St Petersburg in winter is like. Snow is guaranteed between December and March. Even the large Neva river is hidden under a thick layer of ice during this time of the year. The canals lined with palaces and churches are solid frozen and a joy to behold.
Simply put, St Petersburg in winter is a magical winter wonderland. Walking around in the palace gardens is like a Russian fairytale with enchanting views everywhere. And with less tourists around, you can see everything in peace and quiet.
St Petersburg in winter is also a festive time of the year with several events such as christmas, new year and maslenitsa. As a result there are Christmas fairs, light decorations, ice skating rinks and winter shows where you stuff yourself with blini's (pancakes) and sbiten (russian gluhwein tea).
As you can see, there are plenty of things to do in St Petersburg in winter. The city has an impossibly high number of interesting museums, art galleries, churches and palaces. Enough so that you could spend weeks in the city. In addition, there is a range of fun outdoor activities in and around St Petersburg and lots of traditional food to try.
How much time do I need for St Petersburg in winter
How much time you need for St Petersburg in winter is a difficult question. There is so much to see and do that you could easily spent a whole week in the city like I did. However, I realize that not everybody has that amount of time available to them.
4 days in St Petersburg is a good compromise. This would allow you to see the top attractions within the city and include one daytrip to one of the palaces outside of St Petersburg. For some inspiration you can check my 4 day St Petersburg itinerary.
The best things to do in St Petersburg in Winter
1. Visit a museum
The winter is of course a good time to visit one of St Petersburg's excellent museums. I'm not really a museum kind of person, but the ones in St Petersburg are some of the best in the world. It's not just the collections, but also their locations in the 18th and 19th century palaces that make them worthwhile to visit.
Insider tip: most museums have a free entrance day each month. Although it will be very busy during these days it is a great way to save money if you are on a budget.
Hermitage
The most famous museum is of course the Hermitage. It has one of the largest art collections in the world with over 3 million items collected by the Romanovs over almost 3 centuries. While Peter the Great already started the collection, it was Catherine the Great that contributed the most. During her life, Catherine acquired over 4,000 paintings, 38,000 books, 10,000 gems, 10,000 drawings, 16,000 coins and a natural history collection filling two galleries.
It was tsar Nicholas the first who opened the winter palace as a museum to show parts of the collection to the public. It is so huge that only a small percentage is on permanent display. This includes the egyptian and classical antiquities and paintings from all over Europe covering different time periods and various styles.
The rooms of the Hermitage are just as impressive as the collection. The Winter palace used to be the official residence of the Tsars until the Russian revolution when the palace was looted and damaged. It then soon reopened as a state museum and some of the rooms such as the malachite room, the dining room, the library, the throne room and the big hall were renovated back into its original state.
Fabergé museum
The Fabergé museum might be very small compared to the Hermitage, but what it lacks in quantity is well compensated by its quality collection of Fabergé's jewellery art. Faberge's unique style was rich in decorations and intricate details. It soon caught the attention of the Royal family who appointed him to be their imperial jeweller.
Most famous are the elaborate Fabergé eggs that the jewellery firm made each year to present to the Tsars during easter. The museum has 9 of them along with other items made for the Romanovs such as clocks, tea sets, silverware etc.
The museum is in the Shuvalov palace and therefore the architecture and its rooms are just as pretty. Just look at the impressive staircase or the decorations in the blue drawing room to get an idea of the wealth of the 18th and 19th century elite.
Kunstkamera
KunstKamera or the Peter the Great Museum of Anthropology and Ethnography was the very first museum in Russia. It was established by Peter the Great who wanted to learn more about humans and the world. He consequently collected more than 2 million items.
Besides the regular cultural exhibitions, there is also a section of the museum focused on natural curiosities. For this collection, Peter the great acquired several human and animal fetuses with abnormalities. He displayed them as accidents of nature to discourage superstitious beliefs.
2. Visit a palace and stroll through palace gardens
St Petersburg is a city characterized by the royal family. As the Romanovs and their network of rich families grew in the 18th and 19th century, so did the number of palaces throughout the city.
Most, like the Sukharov and the Hermitage winter palace, have transformed into museums. Worth visiting for both their collections as well as the palatial rooms. What is often overlooked is that most of them also had extensive gardens that are often free to wander around in. On a beautiful sunny day in winter this is where you want to go to see the fairytale winter landscapes.
Mikhailovski palace and gardens
Right in the center, near the church of the Savior on the spilled blood, lies the Mikhailovski palace. It is now home to the Russian Museum. Even if you have seen enough museums it's worth coming here for a stroll in the small, but scenic Mikhailovski gardens.
Just north of the Mikhailovski gardens are the larger summer gardens. The fountains might be closed and the statues packed to protect them from the snow, but this is a very peaceful and serene place to visit in St Petersburg in winter.
Yusupov palace and gardens
The Yusupov palace is one of the most popular places to visit in St Petersburg, because it was the site of the murder of Rasputin. The rooms are also luxuriously decorated and therefore most people overlook the scenic gardens. In winter it is particularly beautiful with its frozen lake.
Yelagin island
The Yelagin palace was built as a royal summer palace during the reign of Alexander the third. It was meant as a retreat on a small island in the Neva river. Nowadays Yelagin island is a very popular weekend destination among the locals looking for some peace and quiet.
With its network of paved pathways, ponds, canals and gazebos it is a beautiful place to visit. The park sees lots of cultural events such as the celebration of christmas, new year and maslenitsa. In winter there is also a winter fair and ice skating rink.
3. Go to church
St Petersburg has plenty of churches and they are perfect for a quick stop to warm up in St. Petersburg in winter. It is a multicultural city and although every faith is represented, most churches are Russian orthodox and decorated with icons and paintings. Below are the most beautiful churches in St.Petersburg.
Church of the Savior on the Spilled Blood
The church of the savior on the spilled blood is a relatively new church. However, its design was made with ancient Russian architecture in mind. It was built in the early 20th century on the location where Tsar Alexander the Second was killed in 1888. It is worth visiting inside for the lavish decorations containing paintings and mosaics with scenes from the bible.
Kazan cathedral
The Kazan cathedral on the Nevski prospekt is dedicated to our lady of Kazan, one of the most sacred icons in the Russian orthodox church. The design was inspired by the St Peter's Basilica in Rome and the bronze doors by the Baptistery in Florence.
The building was meant to impress people with its size. The interior is like a big hall with columns on each side. Look closely and you will see there are numerous sculptures as well as icon paintings to look at.
Alexander Nevski monastery
The Alexander Nevski monastery is the oldest and largest Russian orthodox monastery in St Petersburg. It is a large complex with a cathedral, two churches, a cemetery and a bakery. It was built by Peter the Great who assumed that this was the location where Prince Alexander Nevski won a battle against the Swedes in 1240.
This place is worth a visit, more because of its importance for St Petersburg and its history than for its beauty. For local people the monastery remains one of the most sacred places in St Petersburg. The graveyards are the final resting place of some famous Russians such as Tchaikovski and Dostoevski.
St Isaac cathedral
The St Isaac's cathedral is the biggest cathedral in St Petersburg dedicated to Saint Isaac, the patron saint of Peter the Great. It was tsar Alexander the first that wanted to have a large cathedral, but there were concerns about the unstable soil. Construction took 40 years and the foundation was strengthened with more than 25,000 piles.
In Soviet times the church became a museum of the history of religion and atheism. It has remained a museum ever since, nowadays mostly showcasing its lavish interior and golden dome with angels.
Plans to give the cathedral back to the Russian orthodox church met with protests from citizens that want to keep it as a museum. The Russian Orthodox Church itself also hasn't claimed it back yet. Church services are only held in a small chapel in the left side of the cathedral.
Nikolski cathedral
The Nikolski cathedral is also known as the Naval church, because it used to be the main shrine for the Russian Marine. It is close to the Marinsky theatre and worth a quick stop if you are in the neighbourhood.
4. The Peter and Paul fortress
The Peter and Paul fortress is one of the oldest parts of St Petersburg. The citadel was the first thing to be built by Peter the Great to protect his new capital against attacks from the Swedes. It was later notorious for its prison where the Romanovs kept political prisoners in harsh conditions. The fort also had its own cathedral where most of the Romanovs are buried.
Insider tip: come during midday when according to an old tradition a cannon is fired.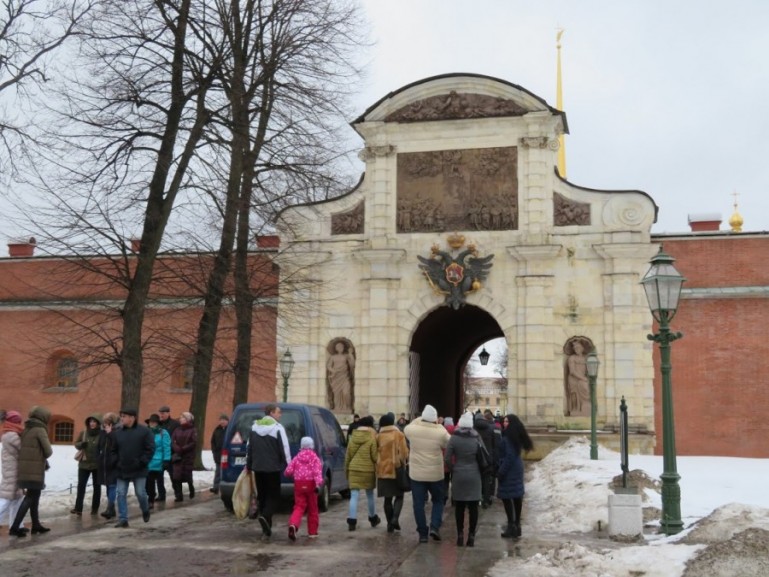 5. Watch a performannce at the Mariinsky theatre
The Mariinsky theatre offers a perfect night out when you are in St Petersburg in winter. It opened its doors in 1860 to become the major theatre in the city where artists like Tchaikovski had their premieres. Nowadays it hosts excellent ballet and opera plays.
6. Going on a St Petersburg Metro tour
Another great indoor activity you can do in St Petersburg in winter is the metro. Above the ground, the city is all about the Romanovs, but below the ground you get a sense of its Soviet history. St Petersburg metro might not be as famous as the one in Moscow, but some of its stations are just as beautiful.
The St Petersburg metro was built with the same Soviet ideology that they were to be the palaces of the people. Therefore you will find lofty ceilings, lots of marble and communist symbols
Some of the stations are actually more beautiful than any on the Moscow metro. According to the Guardian, Avtovo is among the top 12 most beautiful metro stations in the world.
Insider tip: It's very easy to organise your own self-guided St Petersburg metro tour. As long as you don't leave the station it will cost you less than 1 euro.
7. Buy Soviet memorabilia at Udelnaya
For more Soviet history head to Udelnaya. St Petersburg's biggest flea market remains open in winter and is one of the best places to find genuine Soviet memorabilia.That said, you will have to look good, because people sell a lot of secondhand trash as well.
Insider tip: the most interesting stalls selling antiquities are only open on the weekends.
8. Watch Soviet era architecture
In the center of St Petersburg with its baroque and classical 19th century architecture it's like the Soviet times never happened. It's very different from Moscow where Soviet architecture is everywhere. However, it was in St Petersburg where the Russian revolution began when the Bolsheviks with Lenin took over the city. Unfortunately, If you want to see some of its communist legacy you need to go all the way to the southern outskirts of the city.
Moskovsky prospekt is where you can see the typical Soviet era buildings. There is a large Lenin statue at Moskovski square that stands in front of musical fountains and the impressive House of the Soviets. The House of the Soviets was supposed to host the administration of the local government, but the building was never used as such. It's construction finished just before the invasion of Nazi Germany and was consequently used by the Red Army instead.
After the war, the victory square and victory park were built nearby as well as more Stalinist apartment buildings. The 48 meter high obelisk that is the monument to the heroic defenders of Leningrad is at the end of Moskovski prospekt and hard to miss.
Insider tip: It is on the way to Pulkovo airport so when coming from or going to the airport you will drive by. On weekends and holidays starting at ten in the morning, every two hours classical music rings through the square for twenty minutes.
9. Shopping along the Nevski prospekt
The Nevski prospekt is the most famous street in St Petersburg. It runs all the way from the Alexander Nevski monastery to the Hermitage. Here you will find St Petersburg best shops, restaurants and the most beautiful buildings and bridges. Being at the heart of the city, it's always busy, even in winter.
Major attractions on the Nevski prospekt include the Kazan cathedral, the Singer house with its bookstore, the Stroganov palace and a monument to Catherine the Great. The original 18th century shopping mall and 19th century department store are also still up and running, but then with modern brand stores.
As you walk along the Nevski prospekt you will cross several beautiful bridges crossing frozen canals. Don't miss the beautiful Anchikov bridge with its horse statues. For more details I can recommend my self guided free walking tour of St Petersburg that goes for a big part along the Nevski prospekt.
10. Walk along the Neva river embankment
Another great place to go for a walk in St Petersburg in winter is the Neva river embankment. Yes it will be cold and windy, but the frozen Neva is quite the sight. Ice fishing is hugely popular and you will often see men sitting on small chairs patiently waiting for their catch besides a hole in the ice.
I can recommend going to Vasilievsky island. It's embankment, also known as the strelka, is not only home to some of the oldest and most important buildings in St Petersburg, it also offers beautiful views on the Winter palace and churches on the opposite side of the river.
11. Steam it out in a Russian banya
One of the most fun things to do in St Petersburg in winter is to experience a Russian banya. A traditional banya is a bathing house and sauna where people not only come to get clean, but also to socialize. There are shared rooms that you share with other people of the same sex or you can book private ones.
Prices vary a lot and depend on comfort. The most expensive banya's in St Petersburg are more like a spa with pools and additional services like massages and beauty treatments. The cheaper ones are more basic, but they all have at the minimum a shower, sauna room and small pool to cool down again.
For the real Russian tradition let yourself be whacked by birch (or oak) tree twigs called venik. It helps the blood circulation and Russians believe it has lots of health benefits.
12. Go ice skating on new holland island
New Holland is among the oldest parts of St Petersburg. Once Peter the Great was determined to build a new capital in the swampy grounds, he brought Dutch builders to help him build a European style city. It's therefore not surprising that the network of canals and bridges are somewhat similar to Amsterdam, but then with a more royal and elegant look.
The Dutch stayed in wooden barracks on an island in the Neva river that was soon known as New Holland. Not much later the navy took over and built more sturdier stone structures. Nowadays the place feels quite new and modern after a huge restoration project in 2011.
It is now a hip place aiming for the younger generation in the city with club-restaurants, cafes, a theater, a cinema, exhibition halls, art galleries, educational programs, herb gardens and children's playgrounds. In winter there is a large ice skating rink that is very popular among the locals.
13. Visit the palaces outside St Petersburg
The palace gardens in St Petersburg are nothing compared to the large gardens in the palaces just outside St Petersburg. For a truly magical winter wonderland this is where you should go.
Peterhof
Peterhof is one of the most famous palaces outside of St Petersburg. Peter the Great, inspired by Versailles in France, started the construction in 1714. After him the Russian Tsars all continued to build and expand the extravagant Peterhof palace grounds.
The main palace with its impressive cascade full of fountains and statues is the main attraction, but it's a large complex that has much more to offer. In its large lower and upper gardens are several pavilions, smaller palaces and a church.
Once temperatures fall below zero, the fountains will be turned off. However, its spectacular location with views on the frozen gulf of Finland makes it one of the best places to visit outside of St Petersburg in winter.
Oranienbaum
Very close to Peterhof is the less opulent palace of Oranienbaum. If you are looking for a peaceful and quiet place away from the crowds in Peterhof this palace with its large gardens is worth considering.
In fact, I personally found the winter landscapes in the gardens here more impressive than in Peterhof.
Tsarskoe Selo
The blue Catherine Palace in Tsarskoe Selo is another popular palace outside of St Petersburg. Here it is the interior and the beautiful decorated rooms that attracts hundreds of visitors every day. Its gardens are not as big as Peterhof or Oranienbaum, but in winter nonetheless home to some fairytale-like scenes with lots of snow and frozen lakes.
Pavlovsk
Although it lacks the extravagance of Peterhof and Tsarskoe Selo, this was one of my favourite palaces to visit in St Petersburg in winter. Pavlovsk was a gift from Catherine the Great to her first son Paul. With his good taste in fine arts he developed a simple, but beautiful and elegant palace surrounded by a large park with ponds, lakes and forests.
The park is huge and I spent a whole afternoon wandering around in this magical winter wonderland. Near the palace you will walk past scenic bridges, pavilions and statues, but the further you get from the palace the more you feel like you are in a forest surrounded by nature.
On weekends it is also very popular among locals looking for some fun in the snow. People come here for cross country skiing and sleigh riding.
14. Try Russian winter food.
Russian cuisine is as varied as its vast country. From dried reindeer meat in the arctic regions to Uzbek stylo plov. Not every dish is a hit among travellers, but there are definitely some hidden and delicious gems in Russian cuisine, especially if it comes to winter food. A lot of its recipes seem to be made to warm you up during the coldest times of the year. Here are some of my favourites that I think you should try.
So let's start with its soups. The controversy of whether borscht is ukrainian or russian will never be satisfyingly solved, but it is one of the most beloved soups in Russian speaking countries. The main ingredients in borscht are red beets and other fresh herbs and vegetables. Sometimes there is meat too and preferably served with sour cream. Another soup comes from Karelia, the area just north of St Petersburg. This region is famous for its delicious fish soups. Ukha is a delicious soup with salmon, potatoes and cream. It tastes divine.
For lunch my favourite dishes were blini's and pelmeni. Blini's are Russian buckwheat pancakes that come with sweet or savoury toppings like honey, walnuts, cheese, meat, salmon or even caviar. Pelmeni are another perfect lunch. These dumplings have a variety of fillings from mushrooms to potatoes to meat. They can be served fried, cooked or in a broth with sour cream as a side dish.
Russia also has some warming winter drinks. Sbiten is a fruity tea with spices that is absolutely delicious. They are available with and without alcohol. Medovukha is a light alcoholic drink made from fermented honey.
Where to eat in St Petersburg in Winter
St Petersburg is not the cheapest city to go out for dinner, but there are a lot of excellent restaurants representing almost every cuisine in the world. Below are some of the best places for budget travellers.
Teremok
As a budget traveller I loved Teremok. This popular fast food chain in Russia has several branches in St Petersburg. It specializes in blini pancakes with every topping imaginable and they do a pretty good job. You will find other traditional Russian dishes as well such as pelmeni, vareniki and borscht.
Recommended: My personal recommendations are the blini's with honey and walnuts, sbiten (fruity spiced tea) and ukha (karelian creamy soup with salmon).
Pelmeniya
Pelmeniya at the Fontanka river embankment is all about dumplings. Of course there are the Russian pelmeni and vareniki, but you will also find Georgian khinkali, central asian manti's, italian raviolis and chinese dim sum. Choose your preferred filling and enjoy.
Recommended: Vareniki with mashed potatoes and mushrooms
Shtolle
Shtolle is a Russian chain making delicious russian stuffed pastries with fillings from meat, salmon, mushrooms and potatoes. They make a filling snack or lunch. They have several branches in St Petersburg, including one on the Nevski prospekt.
Recommended: Shtolle filled with salmon and brocolli
Stolovaya No 1
Stolovaya No 1 is one of the cheapest places to eat in St Petersburg. It's inspired by the Soviet canteens that served basic meals for the average labourer.
It's a buffet style restaurant where you pay per item. Expect Russian dishes like cutlets, meatballs and sausages with your choice of rice, mashed potatoes or buckwheat (grechka).
It's not necessarily the best food out there, but it's not that bad either and it fills your stomach for a price as low as it can get. There are several branches, including a couple on the Nevski prospekt.
Recommended: Chicken Kiev with potatoes, Ukha or borscht
Market place
This self service buffet style restaurant on the Nevski prospekt serves both Russian and international food of good quality. There is plenty of choice at market place as well for vegetarians and prices are reasonable.
Recommended: The menu varies per season, but the shaslicks are delicious.
Pkhali Khinkali
St Petersburg is a great place to try Georgian cuisine and Pkhali Khinkali is one of the best budget Georgian restaurants in the city with a menu that includes classic Georgian dishes like Khinkali and Khachapuri. However, there are also stews, salads, soups and desserts. The menu has pictures making it easier for you to choose.
Recommended: Kharcho soup and georgian spicy salad
Events in Sint Petersburg in winter
St Petersburg in winter is also the time of some great events and celebrations in the city.
Christmas and new year
First there is christmas and new year. The Russian orthodox church celebrates christmas on the 7th of january. A week of holidays follows till the Russian new year on the 14th of January. At this time, the city is beutiful with lights and christmas trees.
Maslenitsa
The next big festival celebrates the end of winter. Maslenitsa is one of the oldest surviving slavic holidays. Although its origins lie in a pagan sun festival it is now the last week before the fasting period of Lent. Celebrations include lots of blini's (pancakes) and traditional games in the snow such as sleigh riding, ice skating, snow ball fights, bonfires and the burning of the maslenitsa doll at the end. In St Petersburg there are big maslenitsa fairs at Yelagin island, New Holland island and Pavlovsk.
Where to sleep in St Petersburg in Winter
Hostel 1703: Hostel 1703 is a great hostel in the center of St Petersburg with female only and male only dormitories
Whisper hostel: Whisper Hostel is a new budget hostel with great dormitories including female only and male only if you prefer. A bit further from the center than hostel 1703, but it is close to a metro station.
Like hostel: Like hostel is a good hostel near the Mariinsky theatre and Nikolski cathedral. It has both private rooms and dormitories.
Pension Marlen: Pension Marlen has excellent private rooms for very reasonable prices, especially considering its central location near the Mikhailovski gardens.
Safety of St Petersburg in winter
In general St Petersburg is a safe city for travellers, including solo female travellers. Like in any big city the biggest thing to look out for is pickpocketing and petty theft. If you use your common sense it will be easy to prevent any problems.
In winter though, ice becomes another danger. As amazed as I was by the beauty of St Petersburg I was as well by the people who walk, even run when they have to catch a bus, through the streets as if nothing is wrong. Meanwhile I am carefully navigating the ice below and above me.
Slippery sidewalks
Coming from Holland, real cold winters are something from the past. I am obviously not used to ice and I sometimes had a hard time walking on the sidewalks that can be very slippery. The most tricky is when there is fresh snow and you can't see the ice underneath. But trust me, it is there.
Icicles
Watching the sidewalks carefully for slippery parts is important, but it is also a good idea to look up once in a while. Every year a few people die because of icicles, some as big as 6 meters long, falling off buildings.
Sometimes you will see that the sidewalks are closed off by red white barrier tape. This is often a warning sign that there are icicles or workers on the roof trying to remove them by letting them fall on the ground on purpose. It's interesting to watch, but better to do this from a distance.
Disclaimer: This post with a St Petersburg in winter travel guide contains affiliate links. If you buy any service through any of my links, I will get a small commission at no extra cost to you. These earnings help me to keep Backpack Adventures alive! Thanks for your support!
Due to the current situation in Ukraine all affiliated links related to Russia have been removed
---
---