The Beautiful Arktika train from St Petersburg to Murmansk
Due to the current situation I advice against travel to Russia at the moment. All affiliated links related to Russia have been removed. But I have decided to keep my posts about Russia as it remains a beautiful country. I hope that circumstances change and that travel is possible again in the near future.
The Arktika train that runs from St Petersburg to Murmansk is among Europe's most underrated train journeys. This beautiful ride is often overlooked by travellers in favour of the more famous transsiberian line. However, if it comes to the scenery along the way, the St petersburg to Murmansk train is just as spectacular.
The Arktika train brings you high above the arctic circle and passes by taiga forests and tundra landscapes. It is a 24 hour journey packed with incredible views year round. In winter it is a magical winter wonderland with frozen rivers and lots of snow covered lakes. In summer, it is the endless forests of Karelia and the wild nature of the Kola peninsula that keeps you watching outside the train window.
There are few places in Europe where you pass through such remote areas and where you cover such vast distances without seeing any signs of habitation. As soon as I heard about the Arktika train I knew I wanted to go. I was also curious to explore the remote and less visited parts of northwestern Russia.
The St Petersburg to Murmansk train experience
I took the St Petersburg to Murmansk train in february. Going to Murmansk, the largest city in the world above the arctic circle, in winter sounds crazy, but it was wonderful. Yes it was cold and you need to bring lots of warm clothes, but you will be rewarded with a magical winter wonderland.
It's good to know as well that inside the trains it is not cold at all. In fact, it was unpleasantly hot at times. While the train passed by frozen river streams and lakes I was sitting in a summer t-shirt. The information display stated that inside the train it was 28 degrees celsius.
As soon as I left the city behind me I passed by forests blanketed in snow. Once in a while there was a village with picturesque wooden homes. This goes on for hours, but it's so breathtakingly beautiful that it doesn't get boring. Before I boarded the train I was a bit afraid that 24 hours was going to be a long time, but it went fast and I rarely touched my ebook that I brought along.
Platzkart on the Arktika train
I travelled on the Arktika train in platzkart or the lowest class available. This means an open carriage with bunk beds on each side. It's more comfortable than it sounds and it's one of the best ways to get to know Russia. After all, one of the charmes of traveling through Russia by train are its people. You will meet lots of funny and interesting characters that will strike up a conversation with you and that often have a very different perspective on the world.
Not all are as talkative though. The lady that was opposite my bunk bed was a somewhat grumpy overweight Russian babushka. She made up her bed immediately and lay down, opened her book and didn't utter one word.
The only time she got up was to make tea for herself at the samovar. This kettle with free boiling hot water at the front of the carriage was carefully maintained and guarded by the provodnitsa. The provodnitsa is not just someone who controls your ticket, but she also controls the order of everyone in her carriage. Most are terrifyingly stern and you definitely don't want to have the provodnitsa against you, but there is always a smile behind the fierce look. Besides keeping everything clean, she will also wake you up 30 minutes before you arrive, hands out your bedlinen, sells souvenirs and snacks and even makes tea for you if you wish.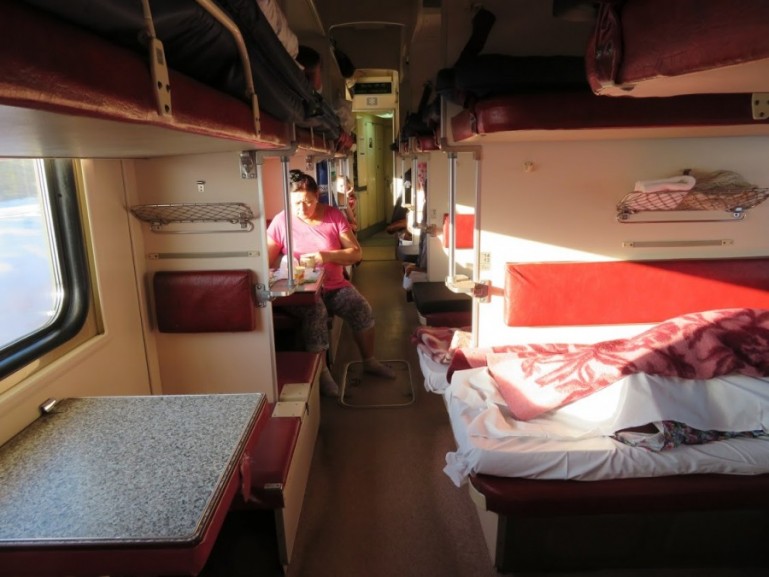 Dinner on the Arktika train
Before the journey I piled up on snacks and samovar friendly dishes like instant noodles. Even my biscuit offerings didn't really warm up our neighbour who brought lots of mysterious homemade food herself. Almost nobody went to the restaurant carriage and I didn't expect much of it myself. However, they actually served pretty good food for decent prices.
As I was enjoying my salmon steak and I watched the sun set over a magical white landscape with pine trees I was sad that time went by so fast. I slept surprisingly well and after a beautiful sunrise over more snow covered landscapes the provodnitsa came to warn us that soon we would arrive.
For me it is one of my most memorable train journeys in Europe. I enjoyed it just as much as the more famous Belgrade to Bar train or the Dogu express through Turkey.
The St Petersburg to Murmansk train logistics
The St Petersburg to Murmansk train times
There are two trains daily that run between St Petersburg and Murmansk.
The 016A Arktika train actually starts in Moscow. It leaves in the morning from Moscow at 00:14 AM and St Petersburg ladozhki station at 09:50 AM, arriving in Murmansk at 11:24 the next morning in Murmansk. With this train you will get to see most of Karelia by daylight including Lake Ladoga and Lake Onega.
The 022Ч St Petersburg to Murmansk train leaves from St Petersburg ladozhki station at 21:24 arriving in Murmansk at 21:23 the next day (23 hours and 59 minutes). With this train you pass by Karelia at night, but you get to see more of the white sea coast and the Kola peninsula.
The other way around the 015A Arktika train leaves Murmansk at 19:45 arriving in St Petersburg ladozhki station at 22:16 the next day. The 021Ч Murmansk to St Petersburg train leaves at 10:10 AM arriving in St Petersburg ladozhki station at 10:09.
The St Petersburg to Murmansk train route
The St Petersburg to Murmansk train route passes by Lake Ladoga, Lake Onega and the White sea coast. From St Petersburg major stops include Petrozavodsk (Lake Onega), Kem (white sea), Kandalaksha and Apatity.
If you want to break up the long journey from St Petersburg to Murmansk both Petrozavodsk and Kem are worthwhile stops on the Arktika train.
Petrozavodsk is the capital of Karelia and has a scenic location on Lake Onega. From here it is possible to visit Kishi island with its traditional wooden churches.
Kem lies at the shore of the white sea and serves as the gateway to the Solovetski islands. Famous for its ancient monastery and natural beauty, but also because it was used as a gulag during Stalins regime.
The St Petersburg to Murmansk train tickets
It's easy to book your train tickets online through the Russian Railways. If this doesn't work out you can also use a travel agency like tutu travel or Realrussia, but the fares might be slightly higher.
Prices vary per season and class but expect to pay between 50 to 120 US dollars for a ticket.
How to choose your seat on the Arktika train
There are three classes in a Russian train that you might be familiar with if you have already traveled by train in Kazakhstan or Uzbekistan.
Obshye is the cheapest class, but this is just a seat and not recommended for long overnight journeys like the St Petersburg to Murmansk train. The next cheapest option is platzkart. They are open compartments with 6 bunk beds and in my opinion quite comfortable and a great way to get to know Russia and its people.
If you prefer more privacy you have two options. Kupe are closed compartments with 4 beds and SV/Lux has only 2 beds.
This might sound contradictory, but as a solo female traveller I prefer platzkart over Kupe or SV/Lux. A closed compartment may sound more safe, but you can not choose your companions.
In my experience platzkart has a very high social safety. People watch out for each other and there are always some people that feel it is their responsibility you reach your destination safe and well.
What to expect on the Arktika train
The Arktika train is quite comfortable. As you can read from my experience every carriage has a provodnitsa that is in charge of keeping order. She will hand out bed sheets and pillows and will also collect them as soon as you get up in the morning. In addition she maintains the samovar with hot water and sells snacks and souvenirs. Every carriage has a toilet that gets more dirty as the journey progresses.
Food wise it is best to bring some snacks with you. There are not a lot of stops and the snacks you can buy in the train are limited. The samovar provides boiling water so bring tea bags, instant coffee or instant noodles. There is a restaurant carriage where I went for dinner and I thought the food was pretty good for what you would expect on a train.
One thing I wish I knew before was the temperature. No matter how freezing cold it is outside, inside the train, the heating is turned on as high as possible. Before you know it you feel like you are in an oven. My advice is to wear layers of clothing so you can take them off as the temperatures change.
Solo female travel on the Arktika train.
As a solo female traveller I have felt perfectly safe on the Arktika train and other trains that I took in Russia like the train from Moscow to Kazan. I already mention my personal preference for platzkart, because of its social safety. I can imagine that my experience would be very different if I were stuck in a kupe compartment with three drunk guys. However, even in this case you could always talk to the provodnitsa in your carriage.
What to bring along on the Arktika train
My three essentials on train journeys in Russia are snacks, drinking water and toilet paper. In theory there should be toilet paper, but you never know.
If it comes to snacks, keep in mind the samovar and the boiled water it provides. Instant noodles or mashed potatoes might not be the best and healthiest food, but are practical budget meals on russian train journeys. Tea bags and instant coffee are great to bring along as well.
Many Russian people bring home cooked food with them and when you are lucky will share it with you too. Bring some extra snacks (chips, biscuit, granola bars), or sweets from your home country, to give back in return. It will make you lots of friends.
Disclaimer: This post about the St Petersburg to Murmansk train contains affiliate links. If you buy any service through any of my links, I will get a small commission at no extra cost to you. These earnings help me to keep Backpack Adventures alive! Thanks for your support!
Due to the current situation in Ukraine all affiliated links related to Russia have been removed
---
---