Stockholm to Lulea by train: the scenic lapland express
The Stockholm to Lulea train is one of the best ways to travel to Lapland in Sweden. Lapland is a large area that stretches over Norway, Finland, Sweden and even parts of Russia.
I had always wanted to go to Lapland, but getting there seemed like a long and expensive journey. On my recent trip to Russia I decided to include a visit to Murmansk and the Kola peninsula, the Russian Part of Lapland. With the Arktika train from St Petersburg it wasn't even that difficult to travel there.
Lapland was beautiful and soon enough I was planning a second visit. After some research I decided to go to Swedish Lapland in October. Again, the train was the most sustainable way to travel there. I could choose between a direct night train from Stockholm to Lulea or Kiruna.
This post is all about the Stockholm to Lulea train. I will share both the practicalities of taking the Stockholm to Lulea train as well as my experience on a Swedish night train.
The Stockholm to Lulea train in Sweden
The train from Stockholm to Lulea has made a visit to Swedish Lapland, the most northern parts of the country, quite easy. Sweden is the largest country in northern Europe and therefore the distances from south to North are quite big. From Stockholm to Lulea is more than 900 kilometers.
Luckily there are direct and comfortable night trains that bring you from the South of Sweden to the largest cities in the north. One line runs from Stockholm to Kiruna, Abisko and Narvik in Norway. The other line runs from Stockholm to Lulea.
The trains are a cheap and sustainable way to travel to Lapland. Tickets are available from 50 Euro onwards depending on class and distance. The trains start at Stockholm central station, but also stop at Arlanda airport train station.
Therefore you can fly into Stockholm and connect with the night train on the same day without even having to go to the city centre. Although I would certainly recommend an afternoon in Stockholm to visit Gamla Stan.
My experience on the Stockholm to Lulea train
While most people that plan to visit Swedish Lapland head straight to the northernmost city of Kiruna, I decided to start my road trip through Swedish Lapland in Lulea. A small city with a scenic location on the Bothnian coast that has lots of hiking opportunities in the surrounding forests.
To get there I booked a sleeper in a 6 bed couchette for 60 Euros on the night train from Stockholm. The train was already waiting when I arrived at the station 45 minutes before departure. This gave me the time to make my bed with the bed sheets provided.
Once I was done I could give space to the other passengers of my compartment. When the train left on time it was already dark and the beds were so comfortable that I slept pretty soon. I woke up in the midst of endless forests passing by.
The day before I bought myself some snacks for the journey. The kanelbulle, a swedish cinnamon bun made a perfect breakfast. The scenery was quite beautiful and it was with a little regret that before I knew it we were already in Lulea.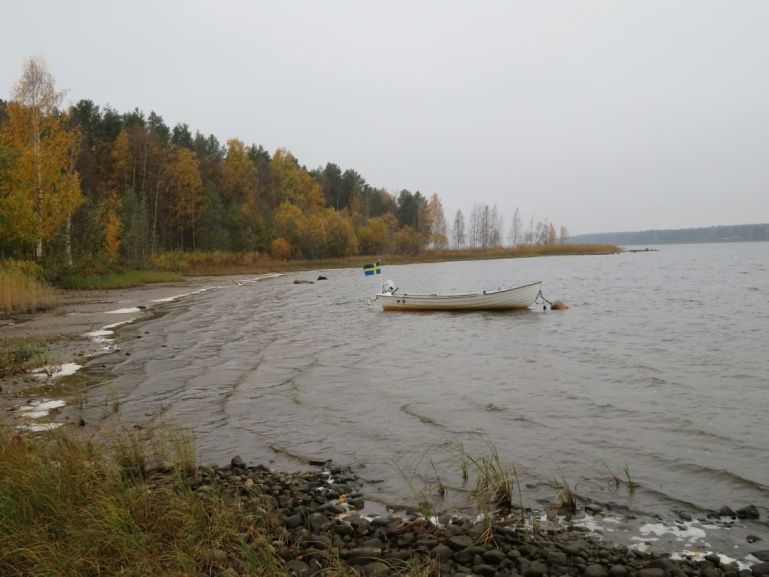 The Stockholm to Lulea train logistics
Train times
There are 2 direct night trains from Stockholm to Lulea every day. One leaves at 17:06 and arrives in Lulea at 08:48. The other train leaves at 21:08 and arrives in Lulea at 11:00.
The other way around there is one night train leaving Lulea at 16:59 arriving in Stockholm at 07:15 and one train leaving at 21:14 arriving in Stockholm at 13:20.
Train route
The Stockholm to Lulea train route goes through Arlanda Airport, Uppsala, Gävle, Sundsvall, Umea, Boden and Lulea.
Train tickets
Tickets are easy to book directly through the Swedish Railways. You will get e-tickets that you can show on your phone or print out.
Prices may vary according to season, class and how far you book in advance. They can range between 50 EURO for a seat and 200 euro or more for a private first class compartment. Last minute tickets tend to be more expensive so it's best to book your tickets 1 – 2 months in advance.
During high season (summer and winter) trains do get fully booked so that is another reason to book your tickets in advance.
How to choose your seat
When you book your tickets you have several options. The cheapest option is a seat, but I would not recommend this for an overnight journey and the price difference for a sleeper is not that big.
If you opt for a sleeper you get several choices. The cheapest is a bunk in a couchette. This means a compartment with six bunk beds. You make your bed yourself with the blanket, pillow and sheet provided. The middle bunks are folded down during the day to provide comfortable seating. You can choose between ladies, gents and mixed compartments. There are two toilets at the end of the corridor.
A little bit more expensive is the 2nd class compartment with three beds. There are no mixed compartments here, so you have to choose between ladies or gents compartments. Couples can consider to book the whole compartment for themselves. Toilets are at the end of the corridor.
The most luxurious and expensive option is a private first class compartment with your own shower and toilet.
What to expect on the train from Stockholm to Lulea
The Swedish night trains offer a good level of comfort. I travelled in the 6 bed compartment on the middle and upper bunk beds. In my experience there was enough space to store your luggage. At the end of the corridor were two toilets that were clean and spacious.
There is a dining car on the train offering tea, coffee, sandwiches and some basic meals.
What to bring along on the train from Stockholm to Lulea
My three essentials for overnight train journeys are snacks, drinking water and toilet paper/wet wipes.
It's a good idea to bring some swedish pastries for breakfast. At Stockholm central station there is a supermarket where you can buy drinks, bread, pastries and other snacks for your journey.
Disclaimer: This post about the Stockholm to Lulea train contains affiliate links. If you buy any service through any of my links, I will get a small commission at no extra cost to you. These earnings help me to keep Backpack Adventures alive! Thanks for your support!
---
---