Tajikistan Itinerary: how to spend 3 weeks in Tajikistan
This post includes a 3 week tajikistan itinerary. Lonely planet has put Central Asia as the top regions to visit in 2020 and Tajikistan is definitely the number one country in this area if it comes to nature. More than 90% is mountainous and more than half is over 3000 meters.
Any Tajikistan itinerary will guarantee you stunning mountain sceneries, glittering blue lakes and a warm welcome. But even for those that love history and culture there are some interesting things to do in Tajikistan.
In this post I will share a 3 week Tajikistan itinerary with a focus on Central Tajikistan. I will only briefly mention the Pamir highway, because most people only come for this region while the rest of the country has just as much to offer. In addition, I already wrote extensive posts with a Pamir highway travel guide and a one week Pamir highway itinerary.
A 3 week Tajikistan itinerary
Day 1-2: Khujand
Khujand is a great place to start your Tajikistan itinerary. It is one of the most authentic Tajik cities and one of the oldest in central Asia. Only a restoration of the Khujand citadel remains of this ancient past, but for those that love Soviet history Khujand is a gem.
In Soviet times Khujand was called Leninabad and it is still home to the largest Lenin Statue in central Asia. Other noteworthy buildings are the iconic Soviet era hotel Leninabad, an abandoned Soviet airplane cafe and the Arbob palace.
Khujand has a scenic location along the Syr Darya river and it is a pleasant city with lots of parks and green spaces. Don't miss the colourful and lively panjshanbe bazaar. It is the largest bazaar in Tajikistan.
For more information you can read my post on the best things to do in Khujand.
How to get there: From Dushanbe it is a 6 hour drive by shared taxi. Alternatively you can travel from the Fergana valley in Uzbekistan crossing the border between Kokand and Khujand.
Where to sleep: Golden Appartments or Somoni Hostel
Day 3-4: Penjikent
From Khujand it is a scenic drive to Penjikent. Penjikent is also among the oldest cities in central Asia and some of its ancient ruins from when it was a Sogdian city are preserved. They have a scenic location outside of the modern city overlooking the Zerafshan valley.
The city also has some interesting mosques and mausoleums, including the Rudaki mausoleum. However, the main reason to include Penjikent in your Tajikistan itinerary is because it serves as the gateway to the Fann Mountains.
How to get there: There are frequent shared taxi's to Penjikent from Khujand (6 hours) and Dushanbe (7 hours)
Day 5-7: Haft Kul trek
No Tajikistan itinerary is complete without a visit to the Fann mountains. The Haft Kul trek is one of the easiest short treks into the Fanns and for which you do not need your own camping gear. The trek goes along seven beautiful lakes with bright colours that contrast starkly with the surrounding mountains.
Most lakes are even accessible by car making it possible to visit them on a long day trip from Penjikent if you have your own transport. However, to fully appreciate the beauty of these lakes I can recommend to spend the night at one of the homestays at the lakes. By car you can get as far as the sixth lake. From there it is a very scenic walk to the seventh lake.
How to get there: From Penjikent there are frequent shared taxi's and minivans to the haft kul. You can get as far as the sixth lake where there are some homestays. Its a very scenic hike towards the seventh lake.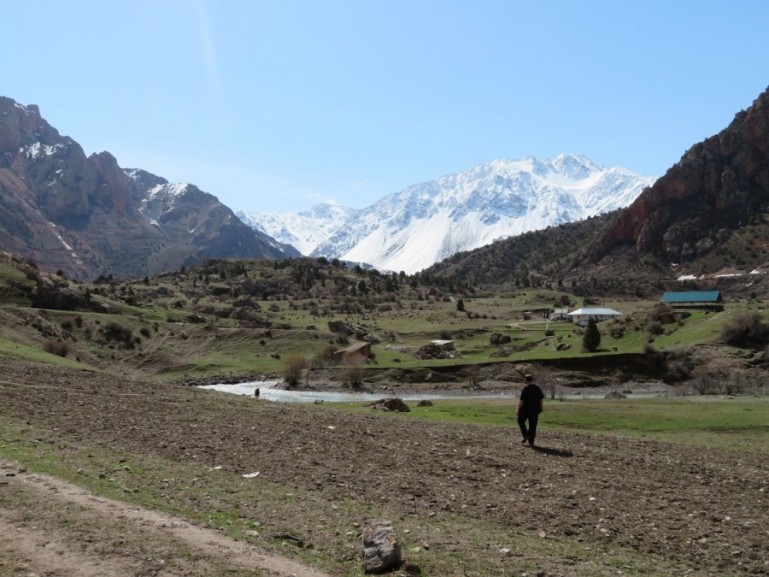 Day 8-10: Iskanderkul lake & Sarytag
From Penjikent take a shared taxi to Dushanbe and get out at Sarvoda to go towards Iskanderkul lake. This lake was famous for being the most beautiful lake in the former Soviet Union. Nowadays, it is still very popular among local tourists from Dushanbe, because it is an easy weekend getaway from the capital.
As it is one of the most accessible lakes it is easy to add Iskanderkul to any Tajikistan itinerary.
At the shore of the lake are several guest houses where you can stay. Alternatively, you can travel further to Kanchoch and Sarytag. These traditional villages are in a beautiful valley where you can do some easy hikes in the area. It was here that I heard some wolves cry in the distance and saw bear footprints.
How to get there: From Khujand (4 hours), Penjikent (5 hours) or Dushanbe (5 hours) you need to get a shared taxi to Sarvoda. From Sarvoda there might be shared taxi's to Iskanderkul lake if you are lucky. Otherwise you need to charter a private taxi for the 2 hour journey from Sarvoda to Iskanderkul.
Where to sleep: Voris Guesthouse in Kanchoch and Hostel on Iskanderkul lake.
Day 11 – 13: Dushanbe
After all your adventures in the Fann Mountains it is time for some comfort and luxury. The scenic location, the leafy avenues and the great restaurant scene makes Dushanbe a great place to relax and take it easy. Treat yourself on real pizza's, high quality Indian food or try Tajik cuisine such as Qurutob.
If it comes to tourist attractions there are some nice parks and interesting buildings. Among the top things to do in Dushanbe is the biggest library in central Asia, the largest tea house in Tajikistan and one of the tallest flagpoles in the world. All projects from President Emomali Rahmon that is trying to build a noteworthy capital.
Where to sleep: Pamir hotel hostel, Hello Dushanbe hostel, Yellow hostel Dushanbe & City hostel Dushanbe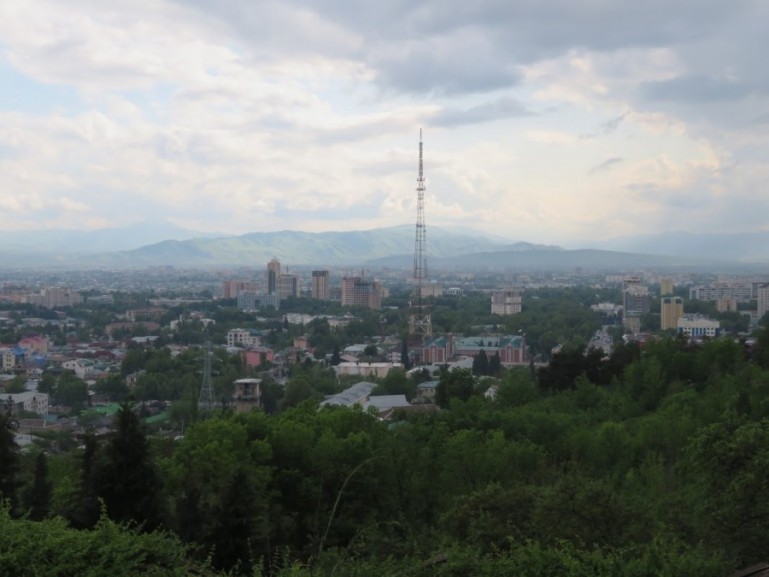 Day 14 – 20: Pamir highway
Dushanbe is the starting point of the famous Pamir highway that connects Tajikistan with Osh in Kyrgyzstan. Although some people begin their journey in Osh it is much better to do so from Dushanbe, because of a more gradual rise in altitude. The higher you get, the more spectacular the views.
With the Pamir highway you are saving the best for last. The minimum amount of time you need for the Pamirs in your Tajikistan itinerary is a week, but you can easily spend much more time in this area. For more information on everything there is to see and do I can recommend my post on Planning your Pamir highway tour. I also wrote a one week Pamir highway itinerary as an example.
Where to sleep in Khorog:Roof hostel, Pamir hostel & Bed and breakfast Mir. For luxury and comfort choose the more expensive Zafar hotel & Zarya hotel.
Where to sleep in Murghab: The only place to book online is the nice and comfortable Guesthouse Erali.
How to get there: You have different options for the Pamir highway. The best way to travel the Pamir highway is by a private four wheel drive with your own driver. There are a number of travel agencies arranging this. Shared taxi's are available between Dushanbe, Khorog, Murgab and Osh in Kyrgyzstan. Other options are cycling and hitchhiking.
Tajikistan itinerary extensions
With a 3 week Tajikistan itinerary you will get to see the highlights of the country including both the Fann and Pamir mountains. If you have more time available, consider yourself very lucky, because there is so much more to see and do when backpacking Tajikistan.
Here I will discuss some possible extensions that you can add into this Tajikistan itinerary if time allows.
Kulikalon lakes & Alaudin lake (2 – 3 days)
From Penjikent head to Artuch for more adventures in the Fann mountains. From Artuch you can hike to the beautiful Kulikalon lakes. It takes about 2 – 3 hours to reach the lakes. It's a steep, but very scenic walk with beautiful views along the way.
If you have your own camping gear and enough food you can camp here and then continue to the Alaudin lake and make a loop. Alternatively you can visit the Kulikalon lakes as a day hike from the Artuch Alplager where there is food and accomodation.
How to get there: From Penjikent you can get a shared taxi to Artuch. From there you need to walk to the Artuch Alplager.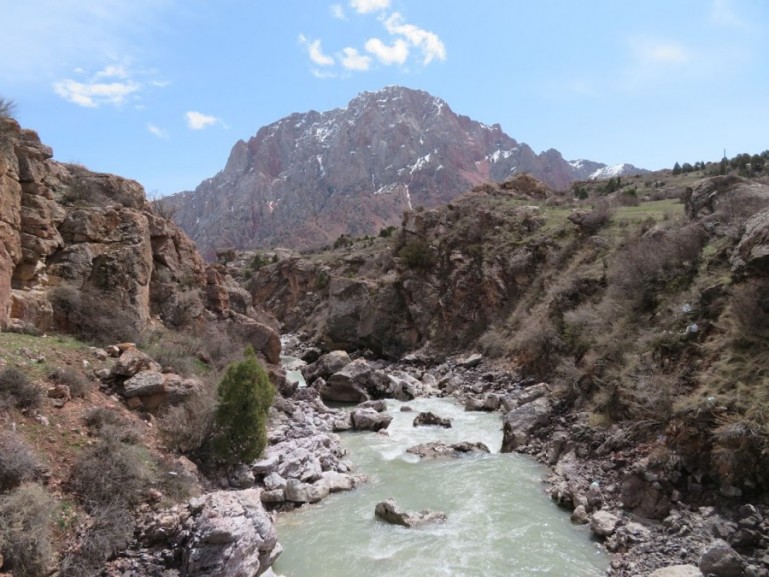 Yagnob valley (2-3 days)
Sarvoda is not only the transport hub to the Iskanderkul lake, but also the remote and isolated Yagnob valley. This valley is not only worth a visit for its beautiful landscapes, but also because of its unique culture.
The Yagnobi people are the direct descendants of the ancient Sogdians and the only people in Central Asia that still speak a Sogdian language. The remoteness of the valley protected many of their cultural traditions. It seems like time has stood still in the traditional villages that dot the Yagnob valley. Only in the last few years, community tourism projects started to develop to welcome foreign travellers.
How to get there: occasionally there are shared taxi's from Sarvoda to Margib, the major village in the Yagnob valley. In Margib are several homestays and from Margib you can do several hikes to other villages using the ancient mule paths.
Bartang valley (2-3 days)
The Bartang valley is one of the most beautiful sidetrips you can make along the Pamir highway. From Rushan you can take the road that runs along the Bartang river. There are a number of traditional villages in the Bartang valley with several options for short hikes. The most popular is the scenic Jizeu trek.
If the Pamir highway is too touristy for you, the Bartang valley is an excellent off the beaten path alternative. The Bartang highway often closes after the village of Gudara, but when the road is open you can reconnect at the Pamir highway near Karakul lake. However, most people return to Rushan to continue their Pamir highway adventure and I must say it would be a pity to miss out on Khorog and Murgab.
How to get there: transport into the Bartang valley is very limited and best would be to have your own transport.
Wakhan valley (3 – 4 days)
Rather than going straight from Khorog to Murgab taking the official M41 Pamir highway it is possible to take a detour into the Wakhan valley. This road runs right along the Afghan border and reconnects with the M41 just before Alichur and Murgab.
The Wakhan valley route is much longer, but also more interesting and more beautiful. The wakhan valley played a vital role on the ancient Silk road. The ruins of several forts still stand strong on the hill tops overlooking the valley and the peaks of the Hindu Kush. There are even still some remains of zoroastrian and buddhist temples. Camel caravans are still going through the mountains here carrying goods into these remote lands.
The Wakhan people also have a unique culture. The majority in Tajikistan is Sunni muslim, but in the Wakhan valley people follow the Ismaili faith. A liberal branch of Shia Islam that is intertwined with much older beliefs. Most noteworthy are the local shrines topped with goat horns.
Interesting villages in the Wakhan valley are Ishkashim, Namadgut, Yamchun, Zong and Langar.
How to get there: Public transport by shared taxi is available from Khorog and runs as far as Langar, the last village in the valley. If you want to cross the Kargush pass to reconnect with the M41 you need to have your own transport.
Sustainable Travel in Tajikistan
Tajikistan is seeing more tourists every year. While Tourism is a welcome source of income it can also have negative consequences. Traveling sustainably in the country, involves conscious choices that minimize your environmental impact and support the local community.
Support the local community: You can support the community by purchasing goods and services from local vendors, artisans, and restaurants. It is better to try Tajik cuisine that uses local ingredients rather than imported foreign foods.
Stay in small scale sustainable hotels: It is also better to stay in locally-owned guesthouses or homestays to support the local economy directly. These accommodations often have a more positive impact on the environment compared to large hotels.
Tajikistan has a number of community based tourism initiatives with excellent homestays. Where possible, I can recommend staying in a homestay for an authentic cultural experience. You might want to bring a small book with pictures of your family to break the ice.
You can try to look for guesthouses or homestays that prioritizes sustainable practices. That said, environmental awareness is still low. It's up to you to use water sparsely, turn off lights, air conditioning, and heating when leaving your accommodation.
Use public transport: Tajikistan has a well-developed public transportation system with shared taxis and marshrutkas. Opt for public transport, whenever possible, instead of private cars to reduce carbon emissions. Avoid internal flights. The journeys on road might be long, but the views are spectacular.
Leave no trace principle: Tajikistan is famous for its natural beauty and mountains. When hiking, stick to designated trails when they are there, avoid disturbing wildlife or picking plants, and leave no trace of your presence. Ensure you take all your trash back with you and dispose of it responsibly.
To avoid single-use plastics, invest in reusable items. For example, you can bring your own water bottle with a filter that you can refill at your accomodation. At last, use biodegradable and eco-friendly personal care products to minimize pollution of water sources.
Respect the culture: Besides environmental concerns it is also important to respect the culture. Tajikistan is an Islamic country that is just opening up to tourism. Therefore, learn about the local customs and traditions beforehand and be mindful of your behavior.
People will appreciate it, if you dress modestly, especially at religious sites. Learning a few basic phrases in Tajik or Russian, can go a long way in building meaningful connections and to learn more about the local culture. Not everybody is happy to have their picture taken. When in doubt, ask permission.
Disclaimer: This post with a 3 week Tajikistan itinerary contains affiliate links. If you buy any service through any of my links, I will get a small commission at no extra cost to you. These earnings help me to keep Backpack Adventures alive! Thanks for your support!
---
---