Tehran Grand Bazaar: the best places to visit
This post is about the Tehran Grand Bazaar in Iran. Tehran Grand Bazaar, also known as Bazaar-e Bozorg, is one of the largest and oldest covered markets in the world, and it offers visitors a unique shopping and cultural experience. It features stunning architecture, including domes, arches, and courtyards, and it has been designated as a UNESCO World Heritage site.
The Tehran Grand bazaar is huge. I knew this. Still I thought I could go for a quick visit on my last day to buy souvenirs. After all, I already saw so many bazaars in Iran and this time I knew exactly what I wanted to buy. Luckily I had seen most of the other things in the city already, because I ended up spending the whole day in the Tehran grand bazaar.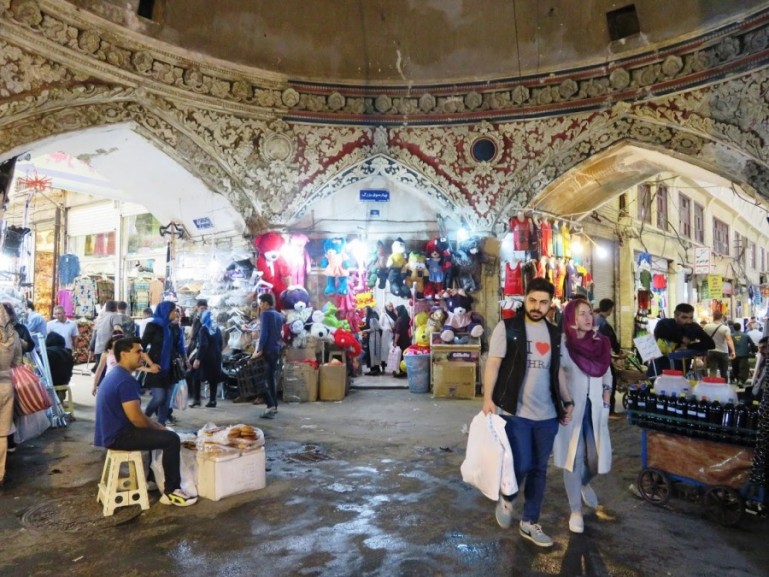 Tehran Grand bazaar
Tehran grand bazaar is a city of its own with hidden mosques, mausoleums, shrines, teahouses and restaurants. It's a place where you will most likely get lost. However, in Tehran Grand bazaar this is actually a good thing, because its then that you will meet a friendly shop owner pointing at some beautiful patterns on the ceiling above you before helping you finding your way.
Even if you don't need to buy anything, a visit to Tehran's grand bazaar is a highlight of your trip to Tehran. It's hard to describe this endless maze of twisting alleyways that keeps surprising you. Beauty is in the most unexpected places besides you or above you. Don't forget to look up, because the ceiling domes often have stunning patterns on them.
Tehran's Grand bazaar is a rather chaotic mix. There is no way pictures can capture the full experience of sounds, smells and sights, but I selected some of my most beautiful pictures. They will guide you along the best places to visit and the best things to do in Tehran Grand bazaar.
A history of Tehran Grand Bazaar
Tehran grand bazaar is about twenty square kilometers, has over 200,000 vendors and almost 2 million visitors per day. Some claim it is the largest and oldest bazaar in the world. It's history goes back thousands of years when this location was used as a market place. The current structures are actually from the 16th and 17th century Safavid era.
During the Safavid dynasty (16th-18th century), Tehran became the capital of Iran, and the bazaar expanded to meet the needs of the growing city. The Safavid rulers encouraged the development of trade and commerce, and the bazaar became an important center of economic activity, as well as a hub of Iranian culture and art.
In the 19th century, during the Qajar dynasty, Tehran Grand Bazaar underwent major renovations and expansions, with new buildings, streets, and alleys being added to the market. The bazaar also became a center of political and social activity, with revolutionary groups and political parties using it as a meeting place and a venue for propaganda.
During the 20th century, the bazaar continued to play an important role in Iranian society, and it was a center of anti-Shah demonstrations during the Islamic Revolution of 1979.
Places to visit in the Tehran grand bazaar
Sabze meydan entrance
Start your visit to Tehran's grand bazaar at the main entrance at Sabze meydan square. It is right across the Golestan palace so a visit to the bazaar is easily combined with a visit to this colorful palace that is among the top things to do in Tehran.
Before you enter the bazaar's inner world, try some of the dried fruits and nuts or fresh juice for sale from the vendors near this entrance. Especially the fresh pomegranate juice comes recommended.
Imamzadeh Zeid shrine
Right in the middle of the Tehran grand bazaar you will find the beautifully ornamented Imamzadeh Zeid shrine. It is the shrine of a descendant of the prophet and it is definetly worth a visit inside. Women have a special entrance and are given a chador to wear.
Imam mosque
The imam mosque with its colourful tile work was my favourite place in the Tehran grand bazaar. The peaceful courtyard is a great place to sit down and take some rest from the sensory overload you get in the narrow lanes surrounding the mosque.
Despite the serene atmosphere this is an active place of worship where a lot of things are going on. People come to pray, pass through from one part of the bazaar to the other or take a break from all the shopping.
The imam mosque is one of Tehran's oldest mosques. It was built around 1810 during the Qajar period when it was known as the Shah mosque. It was renamed after the Islamic revolution.
The carpet section of Tehran grand bazaar
The most impressive area of Tehran's grand bazaar is the carpet section. It will be a bit difficult to just have a look here, as the vendors are eager to get you in their shops.
Even though I made it very clear that I was not going to buy a carpet I was still invited for tea. You might want to visit one or two shops as some of the carpets are simply works of art that the vendors will proudly show you. Just be aware that the salesman might convince you to buy a carpet in the end anyway. I was for sure tempted.
To learn more about carpets I can recommend the 1stQuest Flying carpet tour.
Things to do in Tehran Grand Bazaar
Shopping for souvenirs
Tehran's grand bazaar is the best place to buy souvenirs in the country. It might not be the cheapest and you need good negotiation skills, but you will find almost everything from the different regions in Iran. From Isfahani carpets to Termeh from Yazd and Shirazi ceramics. Food lovers should look out for the pistachio nuts and saffron.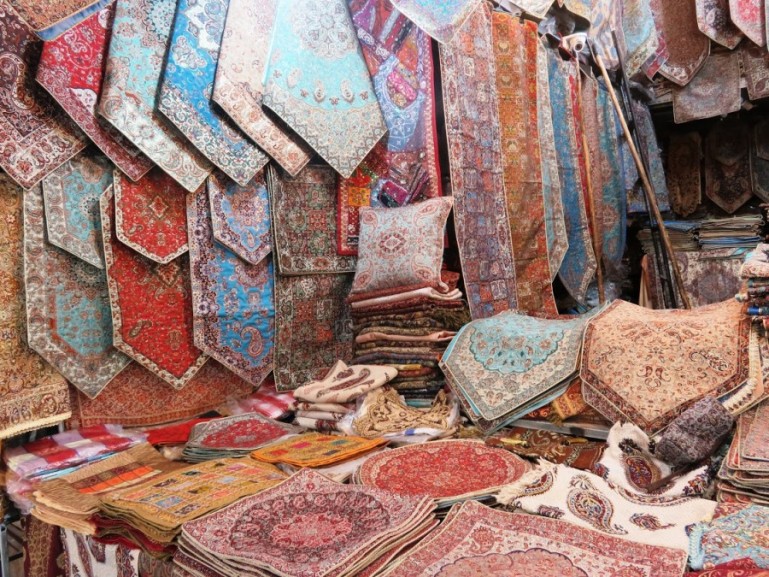 Look up and around you
When walking through the Tehran grand bazaar, don't forget to look up and around you. The domes and ceilings are beautiful and show the long history of Tehran's bazaar.
Even though there is evidence that from the 7th century there has been a bazaar at the current Tehran grand bazaar, much of what you see today is not more than 400 years old.
The bazaar grew rapidly in the 19th century and has seen many renovations, rebuildings and additions. Newer sections were built in the 20th century and the bazaar remains a work in progress. The result is an interesting mix of different styles from different ages.
Meet people and drink tea
Don't be surprised if you are invited for a cup of tea at the bazaar. Even though salesmen might want to sell you something, they are also curious about you as a foreigner. Before you know it you are discussing politics or philosophy with people you just met. Iranians are some of the most welcoming people I have met in my travels.
Where to eat at the Tehran grand bazaar
Moslem restaurant
Moslem restaurant has almost 5000 visitors every day and serves the best tahcin with chicken in Tehran. It's a buttery chicken with rice, saffron and barberries. They serve huge portions and the food is absolutely delicious. The long line outside might stop you. I almost gave up, but I am happy I did not. The line goes fast, food is served quickly and is absolutely worth it.
Check out Munchiez video here about food in Tehran and her visit to Moslem restaurant
You can also read my Persian food guide: eat your way through Iran.
Khayyam traditional restaurant
If you prefer a more ambient setting in Tehran's bazaar go to the beautifully decorated Khayyam traditional restaurant located in a 300 year old section of a mosque. There is an english menu with a variety of Persian dishes. It is on the more expensive side of restaurants in Tehran grand bazaar.
Sharaf ol Eslami
Always busy and serving huge carbohydrate rich portions of rice and kebabs for a great price. You can find Sharaf ol Eslami opposite the jewellery section.
Haj Ali Darvish teahouse
Unfortunately I did not find it, but Tehran's grand bazaar is also home to the worlds smallest tea house. The Haj Ali Darvish teahouse opened in 1918 and is the oldest and smallest tea house in Tehran's bazaar.
If you want to read more about Iran's food read my post here on the Persian food guide: eating your way through Iran.
Tehran Grand Bazaar Travel tips
Safety in Tehran Grand Bazaar
I found the bazaars in Iran to be very safe if you take the normal precautions. Like any market in the world, the risk of pickpocketing and opportunity theft always exists. Keep your valuables safe in either a moneybelt under your clothes or a anti theft backpack.
I never encountered any real problems visiting any of the bazaars in Iran as a solo female traveller. On the contrary, most of my experiences meeting people at the bazaars were very positive. I left Iran feeling it was the friendliest country on earth. But, truth be told, the bazaars in Iran are also a place where you might get stared at or get some lewd comments as a woman. The thing is, women in Iran rarely travel alone and the people working at the bazaars are exclusively male.
I have written a honest post about my experience travelling as a woman to iran. It includes some tips and advice that is also useful if you plan to visit any of the bazaars on your own.
Update 2023: A wave of protests erupted throughout Iran in 2022 and 2023. Although this is not a reason to avoid Iran, it is good to know that these protests can become violent. Due to the political situation, it is even more important to be aware of your surroundings. Avoid political demonstrations, expressing strong political opinions and respect the local rules of law. As a foreigner it is better to be safe than sorry.
How to get to the Tehran grand bazaar
If you decide to go on your own. Tehran's grand bazaar is in the southern part of Tehran. There are several entrances, with the main one at Sabze meydan right accross the Golestan palace.
It is easy to get to the Tehran grand bazaar by metro. You should take the red line and exit at either panzdah-e-kordad station or khayyam station.
The best time to visit Tehran grand bazaar
The Tehran grand bazaar is open every day from 8 AM till 9 – 10 PM in the evening.
Don't make the mistake I made and think you can come for only an hour. It is easy to spend the whole day exploring. If you really have limited time, than half a day is the minimum time you need.
Where to stay near Tehran Grand Bazaar
Booking hotels online is rather difficult for Iran. Because of the sanctions, most regular sites like Booking.com or Airbnb won't work. To book your hotel beforehand you either need to contact them directly or use 1stQuest
They are one of the few companies where you can plan most of your trip to Iran beforehand. They can book hotels online, arrange airport pick ups, domestic flight tickets and bus tickets.
If you like to stay somewhere near Tehran Grand Bazaar there are several hostels relatively nearby.
Seven hostel: Seven hostel is a 20 minute walk away from Golestan palace and the bazaar.
Tehran Heritage hostel: The Tehran Heritage Hostel is a 30 minmute walk to the bazaar. Alternatively, the hostel is right next to Baherestan Metro station where you can catch the metro to the bazaar.
Hi Tehran hostel: Hi Tehran hostel is a bit further away from the bazaar, but is right next to Ferdowsi metro station from where you can catch the metro to the Tehran Grand bazaar.
You can check my post about the best hostels in Iran for other accomodation options.
Other bazaars in Tehran
Tehran grand bazaar is not the only bazaar in Tehran. There are other bazaars that are also worth visiting.
Tajrish bazaar in the north of Tehran might not be the biggest or the oldest, but is considered more tourist friendly and is just as beautiful. It is close to some of the tourist attractions in the north of Tehran such as the imamzadeh Saleh shrine, Darband, the Tochal mountains and Saadabad palace complex.
Rey bazaar in the south of Tehran is about 500 years old. Traditionally it was a market for spices and herbs, but nowadays it also sells a lot of religious items due to its location near the Abdol azim shrine.
A visit to Rey bazaar is perfectly combined with a visit to the 5000 year old city of Shahr-e Rey. Now a suburb of southern Tehran it used to be a seperate and much older city that was once the religious center of the Median empire. Many historical monuments still remain.
Parvaneh bazaar is an off the beaten path artisan market that is only open on fridays. It is one of the best places to buy unique souvenirs of good quality.
The bazaars of Iran are really something special. Tehran Grand bazaar might be the biggest, but don't overlook Iran's other bazaars. Each has its own unique charm and atmosphere. From the beautiful ceilings in Kashan's bazaar to the religious items in Qom and the colourful dressess of the nomads in Shiraz.
Disclaimer: This post about Tehran Grand Bazaar contains affiliate links. If you buy any service through any of my links, I will get a small commission at no extra cost to you. These earnings help me to keep Backpack Adventures alive! Thanks for your support!
---
---