Delhi Itinerary: how to spend 3 days in Delhi
This post is a 3 day Delhi itinerary that will help you overcome the overwhelming experience that Delhi can be.
For most people Delhi will be their introduction to India. It is not always a gentle introduction. Absolutely nothing can prepare you for the culture shock if you have never been in the South Asian continent before.
Delhi is crowded, dirty, smelly, noisy and smoggy. The last time my weather app continuously said "fog" referring to the brown mist of pollution hanging in the sky.
However, if you give Delhi some time, you will discover a different side of the city. In this Delhi itinerary I will share with you the beautiful and peaceful places that will make you fall in love with this intriguing city full of history and culture.
My Delhi itinerary
When I visited Delhi for the first time it took me only 2 hours before I wanted to go back home. I am glad I did not go back home, but I did book the first available train out of the city and skipped my 3 day Delhi itinerary.
During my time backpacking Rajasthan I fell in love with India. I returned to the country several times and luckily I ended up back in Delhi as well. The more time I spent there, the more I liked it. Each time I dedicated more days to my Delhi itinerary.
Delhi is in fact an amazing city with a very rich cultural heritage. Remnants of Delhi's long and interesting history are everywhere. It's beautiful Mughal architecture and the numerous temples from different faiths are some of it's top attractions.
On top of that, there is delicious street food from all over the country. When you walk through the bustling streets of Chandni Chowk, Delhi's old bazaar or Nizamuddin Basti you will wish you had more than one stomach.
Delhi does deserve your time to get slowly used to it's chaos, so that in the end you will appreciate the intense Delhi experience. Delhi might have many lessons to teach you. I can recommend this post about what life is like in India from someone that lived in Delhi for a year
A 3 day Delhi itinerary
There are so many things to see and do in Delhi that you can easily spend more than a week in this city. I realize that for most people Delhi is the start of a journey to other places in India such as Rajasthan or Agra and therefore might not have this time available. In my opinion you need at least 3 days in Delhi to get a good feel of the city and to overcome the initial culture shock if it's your first time in India.
Delhi itinerary day 1
Delhi red fort
On the first day of your Delhi itinerary we will cover some of Delhi's top attractions and we start with the Red Fort.
Shah Jahan is most famous for the Taj Mahal, but he also built the Red fort in Delhi. This was the residence for the Mughal emperors for almost 200 years. Thick red walls and impressive gates lead towards the beautiful royal gardens and courtyards. Like the Agra fort it's a world on its own with several palaces, pavilions and it's own mosque and hammam.
How to get there: Delhi Metro violet line stop Red Fort
Jame Masjid
Across the red Fort lies Delhi's Jame Masjid. Another impressive creation from emperor Shah Jahan and one of his last architectural achievements. The red sandstone structure was decorated with white marble, tall minaret towers and large domes.
It was built higher than the royal residence in the Red fort. This was done on purpose to show that God remains above the people. Shah Jahan named it the Masjid e Jahan Numa or the mosque that commands a view of the world. The first imam was brought in specially from Bukhara in Uzbekistan that was one of the most important Islamic cities on the Silk Road.
The Jame Masjid remains Delhi's largest mosque and is always busy, yet is a remarkably peaceful and spiritual place once you are inside. Entrance should be free, but there are lots of semi-official scammy things going on such as a mandatory camera fee, shoe keeping fees or robes you need to rent.
Insider tips: Dress modestly so you don't need to rent the not so clean robes at the entrance and bring a plastic bag so you can carry your shoes with you. Shoes are forbidden in most temples and mosques in India, so bring shoes that are easy to put on and off. There will be wanna be guides that will demand hefty prices so be firm that you don't want their services and then ignore them.
How to get there: Delhi Metro violet line stop Jame Masjid
Lunch at Kareem's
Besides the Jame Masjid you will find Delhi's best Mughal restaurants. The most famous is Kareem. This restaurant was opened in 1913 by Mohammed Aziz who was the cook for the Mughal emperors. His vision was to serve royal food to the common man.
The times magazine ranked it to be one of the best restaurants in Asia. It is tucked away in a little side street and a bit difficult to find, but worth the effort. Outside you will see the cooks stirring in large pots and baking fresh naan breads.
It is one of my favourite restaurants in India and my visit to Delhi is not complete without eating there at least once.
Other recommended restaurants in the area are Al Jawahar (budget), Walled city cafe (midrange) and Lakhori restaurant (expensive).
Old Delhi bazaar & Chandni Chowk
Behind Delhi's Jame Masjid are the chaotic streets of old Delhi. The haveli mansions from wealthy traders in the past are still full of character. Making sense of this intricate maze of alleys on your own might be hard and there are plenty of agencies that offer Old Delhi walking tours that are able to point out the hidden gems in this area.
These tours often include Chandni Chowk as well, one of the oldest markets in Delhi. If you do want to explore Old Delhi and Chandni Chowk on your own it's good to know that there are different market sections. Dariba Kalan is all about silver jewellery, Nai Sadak has second hand books, Katra Neel is a wholesale clothing market, Kinari bazaar specializes in wedding fabrics and Chawri bazaar in wedding cards. Don't miss Chor bazaar where you will find all kinds of second hand electronics as well as antique and vintage items for bargain prices if you negotiate well.
How to get there: Delhi Metro yellow line stop Chandni Chowk
Khari Baoli spice market
The Khari Bhaoli market is still part of Chandni Chowk, but almost at the end of it. If you don't know it's there, you might not venture this far. But it's one of the most colorful markets in Delhi. Khari Bhaoli is Asia's largest wholesale market for spices.
The fragrant spice powders you buy here will be nothing like the ones available at home. Buy yourself the best garam masala, curry powder, black pepper, nutmeg and coriander or just enjoy all the smells and sights at this bustling market.
How to get there: Delhi Metro yellow line stop Chandni Chowk
Trying Street Food at Chandni Chowk
The bustling streets at Chandni Chowk are also one of the best places in Delhi to try out street food. There are several famous establishments that have been serving a particular dish for decades and have made it into perfection.
Try sweet Jalebi at Old Famous Jalebi wala, an endless list of different paratha's (stuffed bread) at Babu Ram Devi Dayal Paranthe Wale, the best Indian chaat at Natraj Dahi Bhalle wale, naans still warm from the oven at Kake di Hatti, fresh lemon juice at Ved Prakash Lemon wala, a thick lassi with a dollop of butter at Amritsari Lassi corner, delicious meat curries at Ashok and Ashok meat dhaba or just try whatever you see.
If you are scared of eating street food just watch how popular a place is. If it is busy it is busy for a reason and you will not only get the best, but you will also be less likely to get sick. You can read more about Delhi's great street food in this post on the 10 must try street foods in Delhi.
How to get there: Delhi Metro yellow line stop Chandni Chowk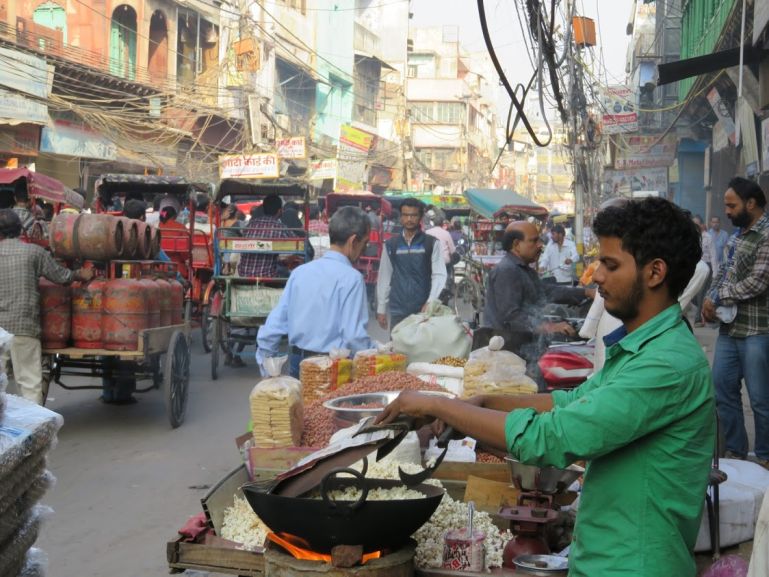 Delhi itinerary day 2
Salaam baalak trust
Start the second day of your Delhi itinerary with the Salaam Baalak Trust city walk. The Salaam Baalak Trust provides care and protection to street children in Delhi. It's a great NGO and one of their programs is the City Walk project in which former street children guide you around Paharganj.
Paharganj is a busy area near the train station with lots of hotels and tour agencies. For tourists it is a convenient and practical place to stay, but not one where you want to linger for too long. Yet, I recommend you to delve deeper under the surface of this neighbourhood.
The Salaam Baalak Trust city walk shows you the hidden world of the street children. The confrontation with poverty might be hard and the stories you will hear are heartbreaking, but it is a necessary introduction to Delhi. It will give you a better understanding about the situation of street children in India and how best to help them.
How to get there: Walks start near the New Delhi train station on the side of Paharganj
Qutb minar
Qutb Minar is most famous for being the tallest minaret in the world made out of bricks. However, it's much more than a minaret alone. Nowadays it's an archeological complex that is well worth a visit for its well preserved ruins from the 12th century. There are tombs, a mosque, palaces, madrassas and arched gateways.
They were among the first islamic buildings in Delhi, but it remains unclear who built them and why. Some say it was indeed a minaret, others believe it was a victory tower to celebrate the islamic conquest of India.
There is also evidence that the complex was built on the site of a much older Jain temple and that parts of this temple were used in the construction of the mosque. If you pay close attention you will indeed see some hindu and jain carvings here and there.
Personally I thought the Qutb Minar to be very different from the later Mughal architecture that you can see throughout Delhi. It's very popular among both local and foreign tourists. I went in the afternoon and it was a lovely time to stroll through the ruins, courtyards and gardens.
How to get there: Delhi Metro yellow line stop Qutb Minar. From there it is a 20 minute walk to the archeological complex or a 5 minute tuk tuk ride.
Hauz Khas
Hauz Khas near Qutub Minar in the south of Delhi is one of the more affluent and clean neighbourhoods in the city. With a great choice of excellent hotels and restaurants tourists now increasingly choose to stay here rather than in Paharganj.
It's more modern with art galleries, designer stores, boutiques and nightclubs, but also more upmarket and a bit far from the center. Still, it's a great place to eat after a visit to the Qutub Minar
If you haven't had enough history in Qutub Minar, you will find more early Islamic ruins in Hauz Khas. The 14th century Hauz Khas Fort is pretty impressive and there are nice views over the scenic Hauz Khas lake.
How to get there: Delhi Metro yellow line stop Hauz Khas
Delhi itinerary day 3
Bangla Sahib Gurudwara
We start the third day of our Delhi itinerary with one of the city's most welcoming temples. A visit to a Sikh temple is an interesting experience not to miss. People are very friendly, the temples are clean and welcome foreigners to watch the ceremonies up close.
Delhi has two big Sikh temples. The Sisganj gurudwara in Chandni Chowk and the Bangla Sahib gurudwara near Connaught place and the India Gate. I visited both, but the Bangla Sahib Gurudwara is the most scenic one, because of its holy lake inside the complex. It's also the most important Sikh temple for the Sikh population in Delhi that believe the water in the lake has healing powers.
How to get there: Delhi Metro yellow line stop Patel Chowk. From there you can take a tuk tuk.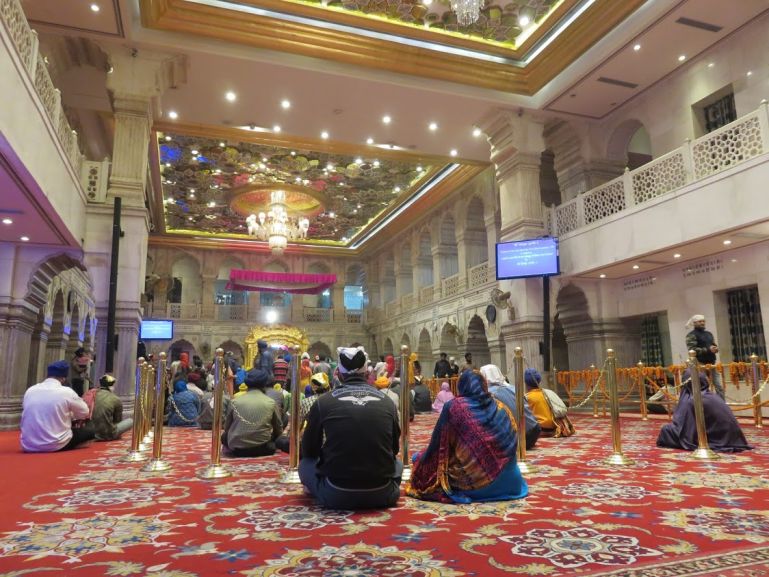 India gate
India Gate is one of the largest war memorials in India that is a memory to the Indian soldiers who died serving the british army in the first world war.
It is now among the top tourist attractions in Delhi and the park surrounding it is popular with families. India Gate is also nearby some of the government buildings. Rajpath is a wide lined boulevard that runs from India Gate to Rashtrapati bhavan, the residence of India's president.
How to get there: Delhi Metro yellow line stop Central Secretariat. Then walk along raj path to India Gate (3 kilometers) or take a tuk tuk.
Lodi gardens
We continue our Delhi itinerary with one of my favourite places in Delhi. The Lodi gardens are like a central city park. A quiet and peaceful green space where Delhiites come for their morning or evening walks. It is also home to the tombs of some of the early islamic rulers of the city, but with much less tourist crowds.
When I was there it was mostly young couples that used the tombs to find a quiet space to sit and talk and some joggers that were running through the park.
How to get there: Delhi Metro yellow line stop Jor Bagh. Exit from gate nr1 or gate nr.2 and then walk 2 – 3 kilometers or take a tuk tuk.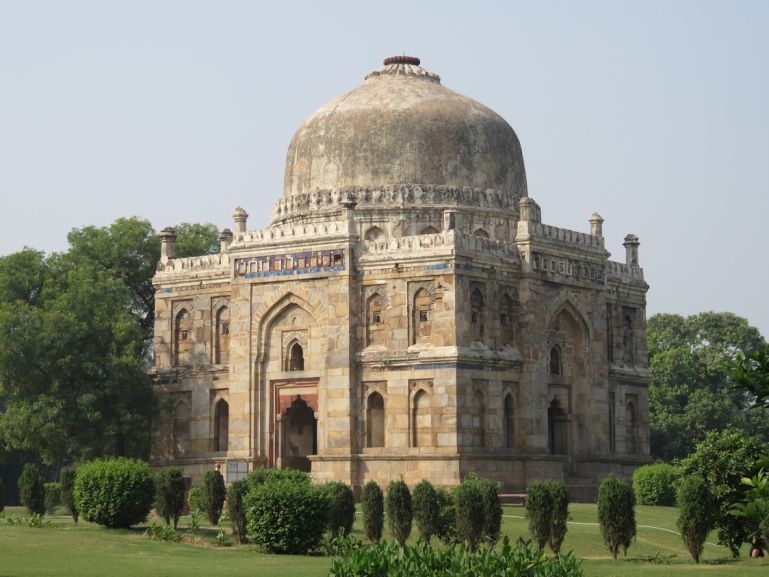 Humayun tomb
By now you have seen quite a lot of tombs already in your Delhi itinerary. Humayun's tomb is certainly one of the most impressive ones if it comes to size. It was built in the 16th century as the final resting place for Mughal emperor Humayun and is one of the finest examples of Mughal architecture in Delhi.
It was designed by a Persian architect and it was the first garden tomb on the Indian subcontinent. The gardens make it a quiet retreat from the chaos of Delhi where you can marvel at this architectural wonder.
How to get there: Delhi Metro violet line stop JLM Stadium. From there take a tuk tuk for the 2-3 kilometers to Humayun's tomb.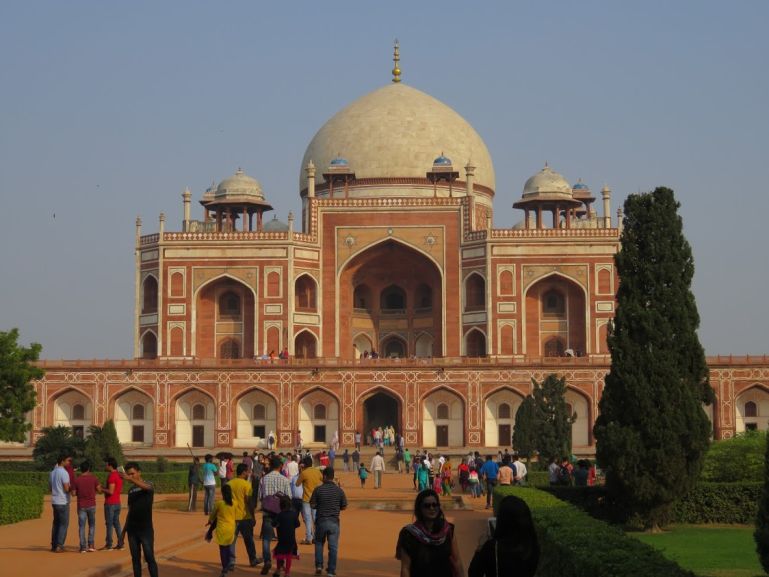 Nizamuddin Basti
Nizamuddin Basti is one of the oldest neighbourhoods in Delhi and there are several reasons to come here. First of all, the Nizamuddin sufi shrine where you can listen to the devotional qawwalis on thursday evenings. Second, to try all the delicious street food you will find here and at last, to join the excellent Nizamuddin basti walk from the hope project.
Nizamuddin started out as a small village in the 14th century, built around the shrine of sufi saint Nizamuddin Auliya.Slowly it was engulfed by Delhi, but it has always kept its own unique rural atmosphere and culture.
The Hope project is an excellent NGO run by Inayat Khan Inayat who was deeply moved by the poverty in this area. He set up the project that is now running a community health center, a school, a vocational training center and a city walk program. The walk will show you the projects and the hidden secrets of this lively and fascinating area.
How to get there: Delhi Metro violet line stop JLM Stadium. From there take a tuk tuk for the 2-3 kilometers to Nizamuddin Basti. It's within walking distance from Humayun's tomb.
More than 3 days in Delhi
If you have more than 3 days in Delhi there are some other sights that you could include in your Delhi itinerary.
Akshardam temple
This huge temple complex for sure is impressive. Construction finished in 2005 and Akshardam claims to be the largest Hindu temple in the world. It is easy to get there by metro, but getting inside is a bit of a challenge.
Maybe it was because I visited during Diwali, but it was busy and the strict security check will not allow anything but yourself inside the temple. Camera's, weapons and food are obviously not allowed, but even notebooks, pencils and my guidebook were all deemed very suspicious items.
The first impression is one of awe and splendor, but soon it felt more like a kitschy theme park than a temple. There are exhibitions, gardens, boat rides and even an IMAX theatre all depicting traditional Indian history according to the Mahabaratha and Ramayana.
There is a strong focus on guru Swaminarayan. If a visit to this temple made you a fan of him, you can buy swaminarayan dolls, mugs, t-shirts and keychains in the souvenir shop at the end. I am not sure this will make you love Delhi, but your visit will be an interesting one.
How to get there: Delhi Metro blue line stop Akshardam temple.
Raj ghat and Gandhi museum
Raj Ghat is a memorial for Mahatma Gandhi at the place where he was cremated on the 31st of January 1948. It is a quiet green space but also an important stop for school tours. The groups of children are curious and very willing to take their selfies with foreign tourists. Combine the visit to the memorial with the nearby National Gandhi museum to learn more about Mahatma Gandhi's life.
How to get there: Delhi Metro violet line stop Delhi gate.
Lotus temple
Another temple worth visiting in Delhi if you have some extra time left is the Lotus temple of the Bahai faith. Inside you can meditate in silence and it is a wonderful spiritual place.
If you still have more appetite for temples there are two other temples nearby. The ISKCON Hare Krishna temple and the Hindu Kalkaji temple.
How to get there: Delhi Metro violet line stop Kalkaji Mandir.
Birla mandir
You will visit many temples in India and honestly the Birla Mandir is just another Hindu temple. If you are in the area (the temple is close to Connaught place) it makes for an interesting stop. Mahatma Gandhi inaugurated the temple with the condition that people of all castes and religions were allowed to enter.
How to get there: Delhi Metro yellow line stop Patel Chowk. From there take a tuk tuk
Delhi itinerary travel tips
Where to sleep in Delhi
For years Paharganj was the main area in Delhi for backpackers and that is where I stayed most of my time in several hostels. Paharganj has its advantages and disadvantages.
It's a great place to meet other travellers and it is easy to arrange your tours and train tickets for further travels in India. It is close to New Delhi train station and you will find almost anything a backpacker might need from restaurants, hostels, travel agencies to souvenir shops.
In general Paharganj is safe, but also a bit seedy and there are a lot of scams going around. Walking alone through Paharganj without somebody trying to sell you something is almost impossible. In recent years some other more quiet areas have sprung up with good accomodation options. Check this post about Paharganj Alternatives.
I stayed in several budget places in Paharganj Delhi, but none of them were to write home about. On my last visit I stayed in Smyle Inn. It didn't live up to the good reviews on Trip advisor, but it was ok for the couple of nights I was there.
On my way back I decided to spend a bit more on a better hotel and tried Nataraj Yes please. This probably is the first place in Paharganj that I would truly recommend. For paying just a little bit more I felt like I was in an upmarket hotel with a clean bathroom, clean sheets and fluffy pillows. Right outside is an excellent place where they serve fresh lassi's in the morning. So for next time. Nataraj? Yes, please !!
If you are really on a budget there is always the reliable chain of Zostel hostel with two hostels in Delhi. One in New Delhi and one in South Delhi
How to get around in Delhi
Navigating Delhi's chaos and crazy traffic is made much easier by Delhi Metro. It will bring you in close proximity to most sites mentioned above. It is cheap, clean and comfortable. At peak hours it does get extremely busy in the center, but otherwise Delhi Metro is the way to go. Women have their own carriages where it is more quiet most of the time.
The other option to get around is to use taxi's or tuk tuks that are a good option for shorter distances. For example to get from a metro station to your destination. They are very cheap in Delhi, but I would still recommend the use of a taxi hailing app. There will be no confusion about where you want to go and you don't need to negotiate a price.
There is Uber and India's own app Ola that works similar to Uber, but has a wider reach in India. Therefore it is useful to have both. In most cases Ola was slightly cheaper.
Scams in Delhi
Delhi is famous for scams. New Delhi train station seems to be the innovative center of creativity for the most original ones.
Last time every tuk tuk driver told me that Paharganj was closed and that we had to get a special permission. After walking around for 30 minutes we finally found a driver who wanted to take us to our hotel. No permission needed.
People might tell you your hotel is closed or has burned down. Of course they know a much better one for you. Do you need to buy your train tickets? Before you even reach the station, people will try to lure you away to their own office.
If you want to prepare yourself I can recommend this excellent post about Delhi scams and how to avoid them.
These incidents can really sour your mood and you might start to think that all Indians are like that. Just remember that the majority of people are friendly and helpful.
And here comes another problem. It is impolite to say no. So if you approach someone to ask the way, they will gladly help you with a big smile. They will answer any question with the indian noddle (a wobble of the head that means something between yes and no), even if they have no clue what you are talking about.
Again, Most Indians are friendly people. Just be careful with anyone actively approaching you to 'help' or the ones who are working in the tourist business. There is a tourist police, but opinions are divided about how effective they are.
Solo female travel in Delhi
With all the news about sexual violence you are probably wondering if it's still safe to travel alone in Delhi. Unfortunately this issue remains a real problem in India.
As a woman travelling alone people will stare at you. Below I will give some advice to prevent worse and you will most likely be safe on your Delhi itinerary.
Dress Modestly: Leave your bikini, short skirts and tank tops at home. You should at least cover your legs and shoulders. The best you can do is to buy a salwar kameez. They are also comfortable in Delhi's heat.
Use the Female only carriage in the metro: The female only carriage is not only saving you from a lot of staring and groping, it is also much more quiet and clean.
Look as if you know where you are going: Even if you are completely lost, look self-assured and pretend you know your way. Make it a rule that once it gets dark you get back at your hotel, unless you are with other people.
Look for other women in the street: If you feel someone is following you try to look for another woman and ask for help. Often informing passersby of a dodgy situation will scare away a possible offender. Don't accept any invitation or let a single man take you somewhere secluded or quiet.
Use your instinct: If you don't trust a situation, trust your gut feeling and get out of there.
Disclaimer: This post with a 3 day Delhi itinerary contains affiliate links. If you buy any service through any of my links, I will get a small commission at no extra cost to you. These earnings help me to keep Backpack Adventures alive! Thanks for your support!
---
---