The Best Things to do in Bukhara, Uzbekistan
This post is about the best things to do in Bukhara, Uzbekistan. An ancient trade center on the famous Silk road that connected China with the Middle East and the Mediterranean. Walking through the small streets in the old town of Bukhara you get the feeling that nothing has changed in this city for centuries.
Tourism is there, but easy to forget when you walk on your own through the narrow alleyways of ancient neighbourhoods. It's the ruins of mosques and madrassah's around every corner that reveal Bukhara's true age. For those that love history there are plenty of things to do in Bukhara.
Not all of the ancient historical buildings are well maintained. Bukhara feels modest compared to the well restored and lavish decorations in Khiva and Samarkand. Renovations by the Soviets have been subtle and therefore it all feels much more authentic in Bukhara.
A short history of Bukhara
In its glory days, Bukhara was anything but modest. The city is 2500 years old. In the 6th century BCE it was the centre of Persian civilization and soon developed in a centre of commerce on the Silk road.
Later in the 9th century Bukhara also became the intellectual centre of the Islamic world. Ironically it took a long time for Islam to take hold in Bukhara. In fact it was a stronghold for persecuted christians. When the Arabs conquered Bukhara it took more than a century for Islam to become the dominant religion.
In 1222 Genghis Khan burned the city and after the Mongols the city was slowly rebuilt by the Khanate of Bukhara. The last emir of Bukhara was Alim Khan before Bukhara became part of Soviet Uzbekistan.
Bukhara is still full of places that reflect the different time periods the city went through. The Persians, the Samanids, the Arabs, the Mongols, the emirs of Bukhara and the Soviets all left their own legacies behind.
There are so many things to do in Bukhara that you need at least 3 days in this city.
The best things to do in Bukhara
Khoja Gaukushan complex
The Khoja Gaukushan is the largest architectural complex in Bukhara with a mosque, a madrassah and a minaret. It is in a quiet corner that used to be less peaceful. Gaukushan means killing of the bulls and this was once the market place where cows were sold and slaughtered.
Bukhara Photo gallery and Caravan Serai
In a former caravan serai opposite the Khoja Gaukushan complex is a small private photo gallery. The pictures are beautiful and reflect daily scenes of Uzbek life. Entrance is free, but of course they hope you buy one of their pictures in postcard or poster format.
The old caravan serai is also interesting to see if you understand its importance in the history of Bukhara. They were a type of resting place that were commonly found along trade routes in the Middle East and Central Asia. These establishments served as crucial stopping points for merchants and travelers, providing them with shelter, food, water, and facilities for their animals.
Caravan serais were important economic and social hubs, where people from different cultures and backgrounds would converge. They served as meeting places for merchants, a center for the exchange of goods and ideas, and sometimes even as venues for entertainment and performances.
The caravan serai of Bukhara still has lots of traditional features such as a large enclosed courtyard surrounded by buildings that once functioned as guest rooms and stables. Besides the photo gallery there is also a small cafe.
Lyab-i-Haus Pond
The Lyab I Haus pond is home to some of the top things to do in Bukhara. You could say that this pond is the heart of the city and every day the teahouses are full with both locals and tourists.
The friendly atmosphere will tempt you to join them in eating ice creams or drinking tea with baklava, especially in the evenings.
For those that love Islamic architecture Lyab I Hauz has some beautiful gems. The earliest and largest building is the impressive Kukeldash madrassa. More interesting is the Nadir Divan madrassah, because it is the only one depicting living beings rather than geometric shapes.
Lyab i Hauz was also home to a Jewish community. Muslims and Jews used to pray together in the Magokki Attor mosque and in one of the side streets there is still a synagogue.
Chor Minor
Chor minor is among the top things to do in Bukhara. It is a bit of a mystery what this building was used for and why it's architecture is rather unique. For sure it was not a mosque, even though the towers seem to resemble minarets.
People believe it was the entrance to a madrassah that is no longer there and the towers were used for storage. It also looks much older than it is, because it was only built in 1807. Quite a newcomer, compared to the other historical buildings in Bukhara.
Covered Bazaars
The bazaar in Bukhara reminded me a lot of the bazaars in Iran. The current bazaar in Bukhara used to be much larger in the days of the Silk Road and each section had their own specialization. The three domed bazaars that are left are nowadays more geared towards tourism. Still, it is among the top things to do in Bukhara and tells a story of different times.
Ulugh beg Madrassa & Abdil Aziz Khan Madrassa
You will hear the name of Ulugh Beg more often in Uzbekistan. Ulugh Beg or Mīrzā Muhammad Tāraghay bin Shāhrukh, ruled the Timurid empire in the 15th century. He was the grandson of the Great King Timur (Tamerlane).
When his father Shah Rukh died, Ulugh Begh gained controle of the Timurid empire. He was actually more interested in astronomy, science and arts than governing his empire. Although there was a cultural peak known as the Timurid Renaissance, he coudn't establish his power as a ruler and was overthrown.
In his short reign he was able to build the Ulugh Beg observatory and madrassa in Samarkand and the Ulugh Begh Madrassa in Uzbekistan. Right opposite the Ulgh Begh Madrassah is the even more beautiful Abdil Aziz Khan madrassa that was built a few centuries later.
Po I Kalyon complex
For centuries religious structures have been built, destroyed and rebuild at the Po-i-Kalyan complex. The very first building was a Zoroastrian fire temple.
Zoroastrian fire temples, also known as Atash Behrams or Atashkadehs, are places of worship for followers of the Zoroastrian religion. Zoroastrianism is one of the world's oldest religions, originating in ancient Persia (modern-day Iran) and founded by the prophet Zoroaster (or Zarathustra) around the 6th century BCE.
Fire has a significant symbolic role in Zoroastrianism, representing purity, light, and divine energy. Fire temples are specially designated spaces where sacred fires are kept burning continuously. These fires are believed to be a direct connection to Ahura Mazda, the supreme deity in Zoroastrianism.
When Islam entered Uzbekistan, the Po I Kalyan transformed into an Islamic center. Now the Po-i-Kalyan is most famous for the 12th century Kalyan minaret. This minaret was so beautiful that even Genghis Khan ordered it to be spared when he invaded Bukhara. The Minaret is also known as the tower of death, because up till the twentieth century, it was a place where criminals received their death sentence by being thrown from the top.
The current mosque and madrassah at the Po I Kalyan complex are from the 16th century and the Kalyan mosque was built to rival the Bibi Khanum mosque in Samarkand.
Ark of Bukhara
The Ark of Bukhara was meant to keep Bukhara's rulers safe and the fortifications that were built as early as the 5th century are a city in its own right. The museums inside tell the story of Bukhara's magnificent history.
A visit to the Arc is among the top things to do in Bukhara, even if you just come to see the impressive entrance gate and city walls from the outside.
Bolo Hauz mosque
It is easy to miss the small Bolo Hauz mosque. What it lacks in grandeur and size is compensated by its beautiful intricate patterns and decorations. Don't forget to look up, because the ceilings are amazing.
Sukhov water tower
When we arrived in Bukhara in April 2019 the water tower built by Soviet engineer Vladimir Sukhov in 1920 had just reopened as a tourist attraction. It was already very popular with locals and tourists alike.
On the second floor is a pricey restaurant and on the third floor there is an observation platform with a nice view on the Arc of Bukhara.
Samonid mausoleum
Samonid Park offers a nice break from the hectic city. Even here you find history with the Samonid mausoleum. It doesn't look that impressive, but it is one of the oldest buildings in Bukhara. It is also unique because it combines Zoroastrian elements with Islamic ones. Inside are the remains of Ismail Samani that ruled Bukhara in the 9th century.
Like any park in Uzbekistan there is also an amusement park popular with families and their kids.
Merchant Khojaev house
If you want to see how wealthy merchants in Bukhara used to live in the 19th century you can pay a visit to the Khojaev House museum. Faizulla Khojaev was a leader of the young Bukhara political party and fought for equal rights and democracy.
People in Bukhara still remember him and his family home was turned into a museum that offers a glimpse of life in the 19th century.
The best things to do near Bukhara
Chor Bakr
Chor Bakr is the burial site of Abu Bakr Said, who is believed to be a descendant of Mohammed. It's a large complex with mosques, tombs and courtyards. Some parts are renovated while other parts are somehow left the way it was.
The Chor Bakr is a pilgrimage site for Muslim Uzbeks that come here to pray. You will see many Uzbek women paying a visit to the main tomb of Abu Bakr.
How to get there: From Markazi bazaar bus 202 leaves to Chor Bakr.
Sitora i mokha palace
The Sitora i Mokha palace or summer palace of the Bukhara kings is among the top things to do near Bukhara. It gives an insight into court life in a time when the influence of the Bukhara emir was decreasing and the Soviet Union was about to take control.
Some of the rooms decorations are very colourful, although other rooms are more modest. It is definetly worth a visit. The designs remind me a lot of the Mughal architecture in places like Delhi, Jaipur and Agra showing the big influence Uzbekistan had in Asia.
How to get there: from the bus station, bus 70 and 71 leave to the palace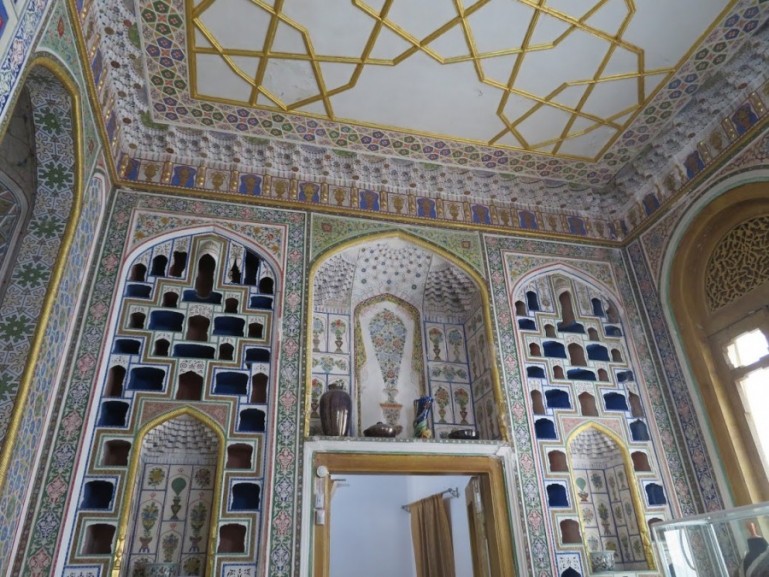 Naqsbandi complex
The memorial complex of Naqsbandi is even more important for Uzbek Muslims than the Chor Bakr.
Naqsbandi was a theologist and founder of the Sufi order in Uzbekistan. His message was to have your heart with god, work hard and be modest. This place sees few tourists, but is always crowded with locals that come here to pray.
Like Chor Bakr it is a pilgrimage site. Even muslims from neighbouring countries such as Kazakhstan and Kyrgyzstan come here to honour Naqsbandi.
Bukhara Travel Tips
Where to sleep in Bukhara
Parviz Guest house: in Bukhara the Parviz guesthouse is an excellent budget option near the Chor Minor and the Lyab I Hauz.
Where to eat in Bukhara
Minzifa restaurant: The best place in Bukhara for Uzbek inspired international cuisine is Minzifa restaurant near Lyab-i-Hauz. I kept coming back here and the menu is a welcome change from plov and laghman. The Minzifa chicken in walnut sauce comes recommended.
Tea and coffee khona: This little tea house is near Lyab-i-Hauz in a former mosque. I walked in when they were still closed for the season and preparing the opening ceremony that was later that day. Rather than sending me away I got free tea and snacks. Everything was absolutely delicious.
Cafe Wishbone: This cafe near the Ulugbek madrassa and the covered bazaars has delicious German cakes like apfel strufel, buckwheat torte and cheese cake.
How to travel to Bukhara
Bukhara has a central location in Uzbekistan and that makes it is easy to travel to Bukhara whether you are in Tashkent or remote Nukus.
Also, travelling from Khiva to Bukhara has become much easier with the new high speed train between the two cities.
By train: Bukhara has daily trains to Samarkand (2-3 hrs) and Tashkent (5-6 hrs) as well as trains that run to Khiva (6 hrs) and Nukus about 3 times a week. Read more in my post about how to travel by train in Uzbekistan.
By Bus or shared taxi: Bukhara has three bus stations, each serving different destinations in the country. The northern bus stand serves Samarkand (4 hrs) and Tashkent (8 hrs). The Karvon bazaar bus stand serves Urgench
How to get around in Bukhara
Bukhara's historic core is relatively compact and easily navigable on foot. Many of the major attractions, such as the Ark Fortress, Po-i-Kalyan Complex, and Lyab-i-Hauz, are located within walking distance of each other. Walking allows you to explore the narrow streets, bazaars, and discover hidden gems at your own pace.
Taxis are readily available in Bukhara, and they can be a convenient mode of transportation, especially for longer distances or if you prefer not to walk. Make sure to negotiate the fare before getting into the taxi or use a taxi hauling app. It's always helpful to have the address or the name of your destination written down in Cyrillic or the local language to avoid confusion.
When to visit Bukhara
Bukhara has a desert climate with surprisingly cold winters and very hot summers. The best months are April, May and June (Spring) and then again in September and October (Autumn).
Springtime in Bukhara brings mild temperatures and blooming landscapes, creating a picturesque atmosphere. The weather is generally sunny, and the city is less crowded compared to the peak tourist season in summer.
In spring you can also experience the Nowruz celebrations. Nowruz, the Persian New Year, is celebrated in Bukhara and throughout Uzbekistan with great enthusiasm and cultural festivities. Additionally, there is the Silk and Spices Festival, held every 2 year in May.
Autumn is another favorable time to visit Bukhara. The temperatures start to cool down, and the weather remains pleasant for outdoor activities.
Sustainable travel in Bukhara
Samarkand sees more tourists every year. While Tourism is a welcome source of income it can also have negative consequences. Traveling sustainably in Samarkand, involves conscious choices that minimize your environmental impact and support the local community.
Support the local community: You can support the community by purchasing goods and services from local vendors, artisans, and restaurants. It is better to try Uzbek cuisine that uses local ingredients rather than imported foreign foods.
Stay in small scale sustainable hotels: It is also better to stay in locally-owned guesthouses or homestays to support the local economy directly. These accommodations often have a more positive impact on the environment compared to large hotels. Where possible, I can recommend staying in a homestay for an authentic cultural experience. You might want to bring a small book with pictures of your family to break the ice.
You can also try to look for guesthouses or homestays that prioritizes sustainable practices. That said, environmental awareness is still low. It's up to you to use water sparsely, turn off lights, air conditioning, and heating when leaving your accommodation.
Use public transport: Samarkand has a well-developed public transportation system with shared taxis and marshrutkas. Opt for public transport, whenever possible, instead of private cars to reduce carbon emissions.
Avoid plastics: To avoid single-use plastics, invest in reusable items. For example, you can bring your own water bottle with a filter that you can refill at your accomodation. At last, use biodegradable and eco-friendly personal care products to minimize pollution of water sources.
Respect the culture: Uzbekistan is an Islamic country that is just opening up to tourism. Therefore, learn about the local customs and traditions beforehand and be mindful of your behavior.
People will appreciate it, if you dress modestly, especially at religious sites. Learning a few basic phrases in Uzbek or Russian, can go a long way in building meaningful connections and to learn more about the local culture. Not everybody is happy to have their picture taken. When in doubt, ask permission.
Disclaimer
Disclaimer: This Bukhara travel guide with the best things to do in Bukhara Uzbekistan contains affiliate links. If you buy any service through any of my links, I will get a small commission at no extra cost to you. These earnings help me to keep Backpack Adventures alive! Thanks for your support!
---
---