The Best Things to do in Chisinau: Soviet Europe
This post is a travel guide with the best things to do in Chisinau Moldova. When I did my travel planning to decide how many days I would stay in Chisinau I thought one day would be enough. Most travelblogs mentioned the lack of things to do in Chisinau and some even called it the most boring or ugliest capital of Europe.
It is true that there are not a lot of things to do in Chisinau if it comes to top tourist attractions, but still I left Chisinau wanting more. I have to be honest that Chisinau might not be for everyone, but if you have just a little bit of interest in Soviet history and off the beaten path destinations then it is by all means worth your time.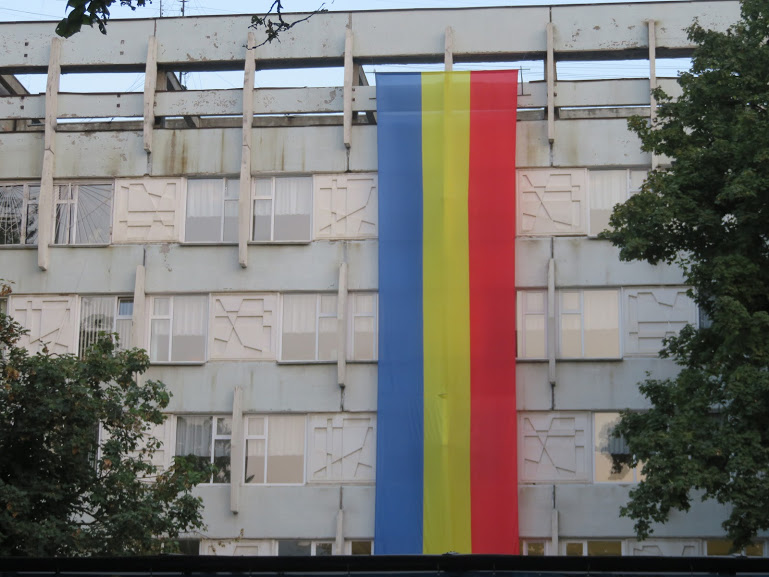 Moldova's unique history
With Moldova's unique past there are plenty of things to do in Chisinau for those that have an interest in European history. Moldova's culture and language are very similar to that of Romania, but their histories went different ways. Ottomans, Russians and Romanians fought over, what was then called Bessarabia, for centuries.
In 1940 the Red Army took Bessarabia to become the Moldovian Soviet Socialist Republic. I love visiting cities from former Soviet republics and the more remnants of this past the better. Chisinau did not dissapoint me.
To my surprise Chisinau still has the essence of a typical Soviet city. Along with the Soviet flats and the brutalist architecture comes plenty of parks with memorials and statues.
Maybe that is why for some Chisinau is ugly. The grim and concrete buildings look uninspiring at first, but they have many stories to tell. And that is why for me there were plenty of fascinating things to do in Chisinau.
The best things to do in Chisinau
1. Limba Noastra
I did not know that my visit coincided with one of Moldova's greatest national holidays. Throughout the Soviet years Moldavians kept their own identity. Already before the fall of the Soviet Union, on the 31st of august 1989, they reinstalled Moldavian as the official language.
This day is still a big celebration in Chisinau and almost as important as independence day. Moldova's independence came at a high price though. What was once a wealthy state in the Soviet Union, became the poorest country of Europe.
For solutions, Moldova wants to join the European Union and some even want a reunification with Romania. However, not everyone in Moldova is in favour of this idea. Some are still nostalgic towards the good old days of communism and prefer closer ties with Russia.
Transnistria is among those parts where most people still speak russian. It declared itself independent after a civil war in 1992. To prevent another war, Gagauzia received autonomy, but with the right of self determination if Moldova decides to join Romania.
When I joined the crowds in Chisinau these problems seemed far away. The capital was in a festive atmosphere. A big concert with traditional music, in the Moldovan language of course, continued till late night.
2. The Valea Morilor Lake
What I liked most about Chisinau is the amount of recreational spaces in the city. Only a short walk from the centre is a large lake that is the perfect place to find some peace. Valea Morilor was built by the local youth organization of the communist party in the 1950s. It used to be Chisinau's favourite recreation area. However, in 2006 increasing pollution of the lake killed all fish.
Chisinau drained the lake to clean it, but then ran out of money. For years it was nothing more than an empty wasteland. Recently, the Valea Morilor lake is finally brought back to its former glory. Now it is the pride of Chisinau and there are frequent events and exhibitions.
If you walk through the park you should pay attention. At the entrance of the park there are still some small Soviet mosaics on the buildings. Furthermore, when you go down the stairs to the embankment you will also find a small statue of the little prince from Antoine Saint Exupery. It is on a metal fence and only 4 inches high.
3. The War memorial
At the outskirts of Chisinau is the sober and impressive war memorial. As part of the Soviet Union, Moldovan soldiers in the Red Army fought against Nazi Germany. Like any post Soviet country the losses were great and almost 200,000 Moldovans died in the Great Patriotic War.
4. The Army museum
You can learn more about the Great Patriotic War and Soviet repression at the Army museum. The exhibition of Soviet fighters and planes in the garden is free. Inside there is more information about the horrors of Stalin's regime in Moldova.
5. The Abandoned Soviet stadium & Street art
Nearby the Army museum is the abandoned Soviet stadium. Gates prevent people from getting inside, but there is not much to see anyways.
The football lawns that were once the best of the Soviet Union are now full with trees. The walls are all that is left, but they make it worth a visit. Street artists used them to paint colourful images. If an abandoned stadium full of street art has your interest you should visit soon. The US plans to buy the land to build a brand new embassy.
6. The monument of victims of political repression
The horrors of the Stalin regime were especially harsh in Moldova. The Moldovans were one of the ethnic groups that were deported to Kazakhstan only allowed to return after Stalin's death.
Some 46,000 Moldovans were deported and those that survived the long journey were subjected to forced labour in Gulag camps. Historians believe that 12% of the Moldovan population perished as a result of the deportations.
If that wasn't enough Stalin send less aid to Moldova during the Soviet famine in 1946. Around 123,000 Moldovans died of hunger. A number that is five times higher than elsewhere in the Soviet Union.

In front of the station you will find a beautiful monument remembering those that died as a result of Soviet repression.
7. The abandoned Soviet circus
Like the Soviet stadium the Moldovan State circus has seen better days. The circus opened in 1981 when there was space for almost 2000 people and artists travelled far to perform there.
It closed in 2004 for restoration, but its future remains unclear. The exterior architecture is impressive and in my opinion worth preserving. During my visit it was impossible to get inside, but I have seen pictures on The Bohemian blog that shows the interior is equally interesting with beautiful murals and statues.
When I was there, a very small part of the circus was open as a Dinopark for children. Much of it seemed to be happening outside though. Hopefully this means that there are more plans to use this building for other events as well.
8. Nativity Cathedral
The heart of Chisinau is the Central park with the nativity cathedral that is also the main cathedral for the Moldovan orthodox church.The construction began shortly after the Russian victory over the Ottomans in 1830. During the Soviet years it was an exhibition centre, but it is now again an active place of worship.
9. Triumphal arch
The triumphal arch is the symbol of the city and hard to miss. The arch has its proud place near the Stefan del Mare park and the nativity cathedral. It is a memorial to the victory of the Russian empire over the Ottomans in 1830.
10. The Moldovan National Opera and Ballet Theatre
Not all Soviet buildings are abandoned. I was happy to see that some are still used the way they were such as the beautiful moldovan national opera and ballet theatre. It is one of the few ex-Soviet opera companies that kept its own orchestra.
I did not have time to see one of the performances, but this is probably the cheapest way to go to the opera or to see ballet in Europe. Their website shows the current schedule.
11. Parliament buildings
A walk along the Stefan cel Mare boulevard is one of the best things to do in Chisinau and allows you to see the most important government buildings. They are impressive and you will almost forget that Moldova is one of the poorest countries in Europe. Especially if you see the Presidents Residence opposite the Parliament building.
The Parliament building used to be the meeting place of the Communist Party. While most buildings are in typical Soviet style, some are more recent additions with a more European look.
12. Transfiguration church
Considering the fact that the Soviets despised religion, Chisinau still has a lot of churches that somehow survived during these years. Although most had different purposes. The transfiguration of the saviour church next to the Presidents Residence was a planetarium. It was returned to the Moldovan Orthodox church in 1991.
13. Chisinau's Parks
Chisinau has no shortage of grim looking Soviet flats, but this is well compensated by the amount of parks. I was surprised to see how green Chisinau is once you explore the suburbs. There are so many places to relax and escape the city. One of the reasons why you can spend several days in Chisinau is exploring all the parks.
I already talked about the Valea morilor park, but that is not the only one. The Dendrarium park is equally popular. It is the largest park with over 1000 kind of plants and several ponds with ducks.
Other popular green spaces are the Botanical gardens and the Riscani park with the Afghan War Memorial to Sons of the Motherland. Right in the middle of the city you have the central park and the Stefan cel Mare park. In addition the Technical University has also opened its campus with an outdoors museum of techniques in their garden.
14. Chisinau's markets
Chisinau's central market was one of my favourite things to do in Chisinau. The market is a huge affair covering several blocks in the middle of the city. It is busy, chaotic and noisy, but without doubt you will find anything here.

It's a great place to try some local cheese or honey and to stock up on fresh fruits and vegetables. Cheap Chinese clothes and household items are also in abundance if you need them.

Near the central park on the Stefan cel mare street is another small market that is more geared towards tourists. They sell souvenirs and Soviet stuff like pins and coins.
15. National museum of history of Moldova
A visit to the National museum of history of Moldova is among the best things to do in Chisinau to learn more about Moldova. The interesting exhibitions cover different time periods of the country. From the Middle Ages to the Second World War and Soviet times.
The best things to do near Chisinau
16. Milestii Mici wine cellars
Moldova is a well developed wine region and used to produce up to 90 percent of the wine in the Soviet Union. Considering Moldova's size that is pretty impressive.
For wine lovers there are plenty of things to do near Chisinau. For example, only 18 kilometer outside of Chisinau is the largest wine cellar in the world at Milestii Mici with over 200 kilometers of tunnels for wine storage.
how to get there:Milestii mici is so big that a tour requires your own car. If you don't have one a tour is the best way to visit Milestii Mici. There are several tour operators offering tours to the wine cellars.
17. Cricova wine cellars
The second largest wine cellars in the world are at Cricova. They are easier to visit with public transport than Milestii Mici. The Cricova wine cellars are from the 15th century and have a network of tunnels over 120 kilometers long.
Read more about the Cricova wine cellars in this excellent post on wine tasting in Cricova.
how to get there: From the centre of Chisinau (corner of Strada Vasile Alecsandri and Strada Alexandru cel Bun) you can take bus number 2 to Cricova. The journey takes about 30 minutes. Get out at Cricova primaria in the town centre.
18. Orheiul Vechi monastery
Besides wine, Moldova also has some old monasteries. 60 kilometers north of Chisinau is the cave monastery in Orheiul Vechi that makes a nice day trip from Chisinau.
how to get there: Orheiul Vechi is easy to visit by taking a marshrutka from the main bus station to the village of Trebujeni or Butuceni. Read more about how to get there by public transport on Kathmandu and Beyond.
19. Transnistria & Tiraspol
At last you can visit Tiraspol in Transnistria, the capital of a country that does not exist and that feels like one big Soviet open air museum.
I stayed 3 days in Tiraspol during Transnistria's independence day and absolutely loved it. I would recommend you stay one night in Tiraspol if you can, but for those limited on time it is a perfect and exciting day trip from Chisinau.
how to get there: There are frequent minibuses from Chisinau's bus station to Tiraspol. Read more about how to visit Tiraspol and Transnistria.
Chisinau Travel tips
The best places to stay in Chisinau
Ionika Hostel: The small Amazing Ionika hostel can be crowded and noisy, but the owner for sure takes his business serious. It is a great place to meet other travellers and the owner is very helpful and informative.
Hotel Cosmos: Hotel Cosmos is probably above the average backpacker budget, but the building is still worth a look, even if you are not staying there. It is one of the few Soviet structures that is still used for its original purpose. Although the oversized hotel has a hard time finding enough customers these days. 
Komilfa hotel: If you are not the hostel type and looking for a budget hotel without the Soviet time travel experience, I would recommend the Komilfo hotel.
What to eat in Chisinau
Chisinau has a great culinary scene that is influenced by its neighbours. You will find lots of Romanian dishes as well as Ukrainian and Russian cuisine.
One of the most famous Romanian dishes is Mămăligă. Mămăligă is a polenta like dish made from cornmeal. In Moldova it is often served with brânză (cheese) and smântână (sour cream). This combination creates a delicious and hearty meal.
A great lunch dish are Mici. Mici, also known as "Mititei," are grilled minced meat rolls made from a mixture of beef, lamb, and pork. They are seasoned with garlic, thyme, and other spices, giving them a distinct flavor. Mici are usually served with mustard, bread, and a side of pickles.
For a light lunch you should try Plăcinte. Plăcinte are savory or sweet pastries that are a common snack in Moldova. They come in various fillings such as cheese, cabbage, potatoes, meat, apples, or cherries. Plăcinte can be found in bakeries and food markets throughout the city. Plăcintă cu mere is a traditional Moldovan apple pie. It consists of a flaky pastry crust filled with sweet apples and spices.
A truly Moldovan dish is Zeamă. Zeamă is a traditional Moldovan soup known for its sour taste. It is usually made with chicken or beef, and it often contains vegetables such as carrots, potatoes, onions, and herbs.
The best restaurants in Chisinau
La Taifas: La Taifas is a great traditional restaurant and one of the best places to try out the local cuisine. Moldovan food is similar to that of Romania, but has some of its own delicacies. I ordered a Moldovian stew with meat balls and it was very nice.
Propaganda Cafe: This Soviet themed cafe has a nice menu with a variety of Italian and local dishes. It is very popular with students and can be very busy.  
La Placinte: La Placinte is a chain throughout Chisinau with an extensive menu of Moldovan and Ukrainian food. The prices are great, but the quality varies. Nevertheless this is the place to try Moldovan dishes like mamaliga on a budget.
The best time to visit Chisinau
Chisinau has a moderate continental climate. Summers (June to August) are generally warm, with temperatures ranging from 20°C to 30°C (68°F to 86°F). Winters (December to February) can be cold, with temperatures often dropping below freezing and occasional snowfall. Spring (March to May) and autumn (September to November) offer mild temperatures and are generally considered pleasant times to visit.
Moldova is known for its wine production, and if you have an interest in wine, you might want to consider visiting during the wine harvest season, which typically takes place from late August to early October. You can participate in grape picking and various wine-related events near Chisinau during this time.
Money matters in Chisinau
Moldova uses the Moldovan Lei. There are enough ATM's in Chisinau or you can exchange dollars and Euro's at an exchange office
Moldova is not expensive, especially if you stick to public transport. Expect to pay between 20 or 30 euro's per day if you travel on a budget.
How to travel around in Chisinau
Chisinau city center is relatively compact and pedestrian-friendly, making walking a viable option for exploring the central areas. It allows you to appreciate the architecture, visit nearby attractions, and enjoy the ambiance of the city.
Chisinau also has an extensive public transportation system consisting of buses, trolleybuses, and minibuses (known as marshrutkas). These are the most common and affordable means of getting around the city. Buses and trolleybuses operate on designated routes, while marshrutkas have flexible routes and can be hailed from various stops. You can purchase tickets from the driver or use contactless payment methods where available.
At last Taxis are readily available in Chisinau. Taxi's charge per meter and are another cheap way to travel around the city.
How to travel to Chisinau
by bus: Chisinau's chaotic bus station has marshrutkas to every destination in Moldova as well as to Romania.
by train: There are daily nighttrains to and from Bucharest in Romania. The train journey lasts around 13 hours. From Bucharest the train leaves at 19:15 and arrives 08:45 am the following morning in Chisinau. From Chisinau it leaves at 16:45 and arrives at 06:05 the following morning in Bucharest.
Online Resources about travel in Chisinau
MD4ever: This interactive map of Chisinau shows you where the bus stations and other important things in Chisinau are
Travel to Eastern Europe Facebook group: This Facebook group is full of experts and experienced travellers with a passion for Eastern Europe. If you have any questions left you will find or get an answer here.
My visit to Chisinau was part of a larger trip to Iasi in Romania, Lublin in Poland and Odessa and Kyiv in Ukraine.
Disclaimer: This post about the best things to do in Chisinau Moldova contains affiliate links. If you buy any service through any of my links, I will get a small commission at no extra cost to you. These earnings help me to keep Backpack Adventures alive! Thanks for your support!
---
---