The Best Things to do in Dushanbe, Tajikistan
This post is about the best things to do in Dushanbe, Tajikistan. With all the ancient cities in central Asia, Dushanbe is a relative newcomer. It was a village named after its weekly monday market. In the end, Dushanbe means nothing more than monday.
Dushanbe probably would have remained a small town if it wasn't made the capital of the Tajik Soviet Republic in 1924. It's the Soviets that developed Dushanbe in a centre for cotton and silk production. In this time the town grew rapidly. The result is a city where Soviet architecture meets Tajik design and President Emomali Rahmons new vision of a modern capital.
Emomali Rahmon's buildings are not as futuristic and flashy as the ones in Nursultan, but definetly a bit grandiose. Especially considering the fact that Tajikistan is one of the poorest countries in central Asia. In Dushanbe you can see how a Tajik identity is made from scratch which makes it an interesting place to visit.
Dushanbe isn't necessarily the most beautiful city in central Asia and neither are there a lot of spectacular things to do in Dushanbe. However, its pleasant atmosphere is a welcome respite from the challenges of traveling in Central Asia.
With its nice parks and great restaurants, Dushanbe is the perfect place to recover from the strenuous hikes in the Fann mountains or to prepare your adventure on the Pamir highway.
The best things to do in Dushanbe
When I say there are no spectacular things to do in Dushanbe it doesn't mean there are no things to do at all. In every city you can always find some interesting stuff. In fact, there are enough things to do in Dushanbe for a couple of days.
I really liked Dushanbe for its relaxed atmosphere, its treelined avenues, its multicultural nature and its great restaurant scene. Dushanbe surprised me more than once. I didn't expect to find the best pizza's and the best Russian food from central Asia in Dushanbe.
Neither did I knew Dushanbe was so well developed, especially if you compare it with the rest of the country. Yet, Dushanbe is a sleepy capital and feels like a green oasis of comfort and calm.
Komsomol lake and park
Komsomol lake suggests a Soviet heritage. This recreation spot built by the Soviet Youth organization is still popular among the shaslick and beer loving locals in summer. When I was there it was a rainy day and only a few young couples were out and about.
From Komsomol lake you have a wonderful view on Dushanbe's skyline with some of the capitals newest buildings including the Palace of the Nation, the large Tajik flagpole and the Nowruz palace
Nowruz palace
The Nowruz palace started as a plan to build a simple teahouse, but became the largest teahouse in the world. It now serves more as a cultural entertainment center with 12 decorated halls and a number of rooms.
Local craftsmen were involved to create the beautiful wood carvings, wall decorations, mosaics and painted ceilings. Its grand scale is impressive, but so are the details. It really is a Tajik work of art. Equally extravagant are the gardens with pavillions and fountains.
The Nowruz palace is a multipurpose building with banquet halls, conference rooms, supermarkets, art galleries and cinemas that wealthy Tajiks can rent for their wedding party as well.
National museum
The National Museum in Tajikistan opened its doors in 2011. According to President Emomali Rahmon it must be the national pride of every honest and proud Tajik.
For a Central Asian museum it was pretty well organized if not a bit random at times. Not only will you be guided through Tajikistan's history you will also get to see exhibitions about Tajikistan's natural wonders, geography and wildlife as well as Tajikistan's state gifts.
Among the highlights are a replica of a huge reclining buddha from the 7th century Ajin Tepe monastery and a beautiful wood carved prayer niche from the 10th century.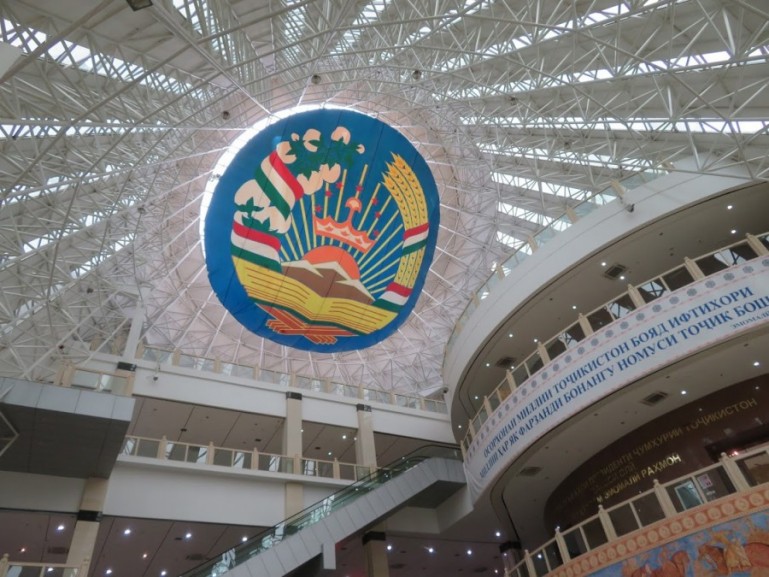 Dushanbe's flag pole
Dushanbe's flagpole was built for the 20th anniversary of Tajik independence in 2011. For 3 years it was the tallest freestanding flagpole in the world with 165 meters.
The previous record holder was Baku with 162 meters. They were both made by the same company that earned good money with this competition over having the largest flagpole. The one in Dushanbe costed 3.5 million USD.
Dushanbe's pride was short lived, because in 2014 it was Jeddah that took the record with 171 meters.
Wall of great Tajik writers
On the facade of the Writers Union building you will find eleven statues of Tajikistan's greatest writers including Rudaki, Ferdowsi and Omar Khayyam.
The Writers union building is a good example of one of the few Soviet buildings that still stand in Dushanbe. In Soviet times their goal was to make sure that the old Tajik literature did not conflict with Soviet ideology.
6. Rudaki park
Rudaki is the father of Persian literature and a beloved poet for most Persian speaking populations.
He was born in the Samanid empire in Penjikent. Although Rudaki is equally popular as a national poet in Iran he has become Tajikistan's national hero after independence.
Dushanbe's Rudaki park is a pleasant space to wander around and admire his statue.
National Library
Along with the largest flag pole, President Emomali Rahmon also wanted to open the biggest library of Central Asia for the 20th anniversary of Tajik independence.
The National library of Tajikistan is so big that it can hold up to 10 million books, but despite calls for the public to fill its shelves it's not likely to ever reach its full capacity. So far there are around 3 million.
Ismail Somoni statue
Together with Rudaki, Ismail Somoni became Tajikistan's national hero after Tajik independence. It was Ismail Somoni that united the Samanid states in 892. His empire ruled over what is nowadays Iran, Tajikistan and Uzbekistan.
Samanids were Persian speakers, but their origin remains unclear. Ismail Somoni was born in Uzbekistan's Fergana valley and died in Bukhara. Tajiks believe they are the descendants of the Samanids and President Emomali Rahmon has promoted his vision of the Samanid empire as the first Tajik dominated state.
The Ismail Somoni statue is one of the major monuments in Dushanbe and the symbol of the city.
Rudaki avenue
Rudaki avenue is where everything happens. It is the main shopping street running through the city with some of Dushanbe's best restaurants. During the Soviet Union it was known as Lenin street. It runs from the station south of the city all the way to the botanical gardens in the north.
Museum of antiquities
For those that love history, the museum of antquities is a must. From an archeological perspective it is better than the national museum. For example, this is where you will find the original reclining buddha from the 7th century Ajin Tepe monastery.
Ayni opera & ballet theatre
The Ayni opera and ballet theatre makes for a great night out when you are in Dushanbe. I must be honest that I was more impressed by the buildings architecture and its interior decorations than the show, but it certainly was enjoyable. Especially considering how cheap tickets are
Hoji Yoqub mosque
I was surprised to see so little religious buildings in Dushanbe. The oldest mosque in Dushanbe near Rudaki avenue is less than 200 years old and still functions as the central mosque of the city. It is worth a quick visit if you are in the area.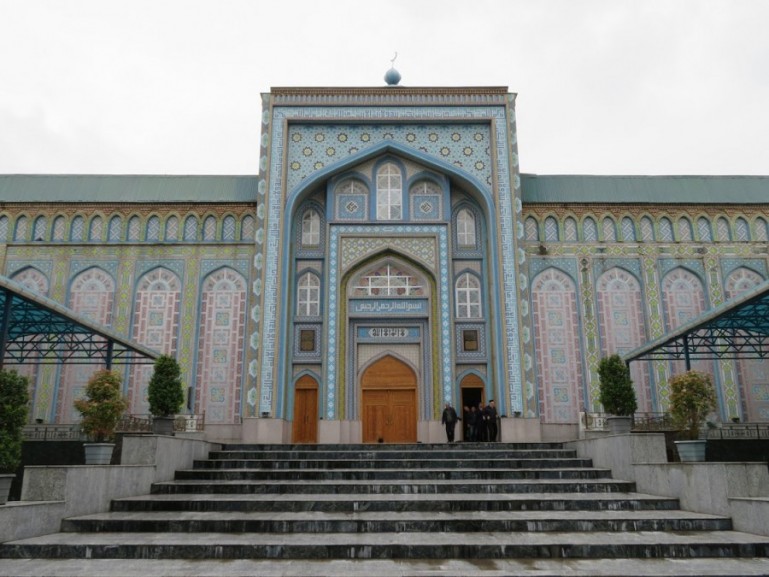 Botanical gardens
I didn't have time to see the Botanical gardens in Dushanbe, but apparently it is a popular spot to relax for local young couples and families with children. The woodcarved pavillions sometimes host local music shows on saturday evenings.
Victory park
Victory Park was one of my favourite things to do in Dushanbe. Up on a hill the park with an impressive World War 2 memorial provides a beautiful view over the city. It's a great place for a quiet evening stroll and next to the closed cable car station is a cafe where you can get a drink.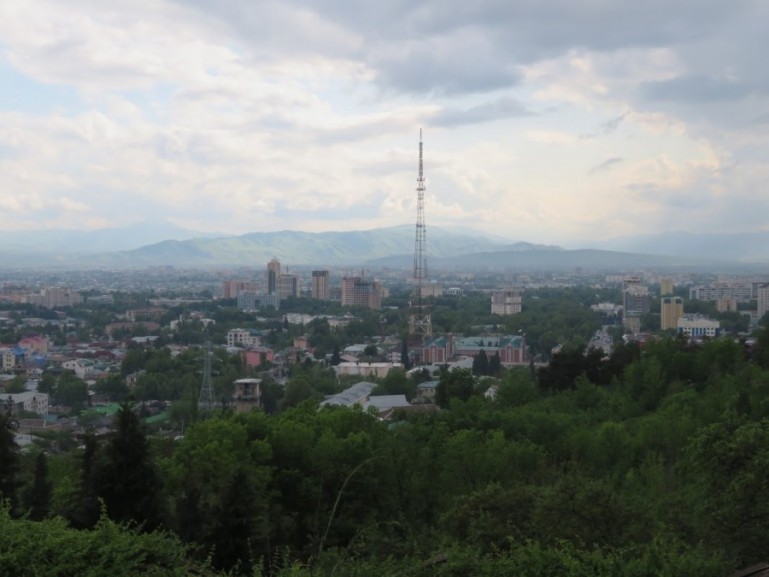 Soviet mosaics
Dushanbe doesn't feel as Soviet as Tashkent or Almaty where the Soviet legacy is much more present. However, Dushanbe also has its fair share of communist flat apartments and some nice mosaics.
The Dushanbe Soviet mosaics where some of the most beautiful I have seen in Central Asia. Soviet values are combined with Tajik history and culture. One of my favourites is a mosaic of the Persian scientist Avicenna together with the Soviet cosmonauts and one where a woman in a red dress is holding a cotton plant.
The Bactria cultural center has a project to map all the mosaics in Dushanbe in the hope that this will help in preserving them in the future.
Mehrgon & Korvon bazaar
Dushanbe's famous Green bazaar was among the top things to do in Dushanbe for tourists, but the ancient market has closed its doors in 2018. Luckily there are enough alternative markets in Dushanbe that are worth a visit
Mehrgon bazaar at the outskirts of Dushanbe was built in place of the green bazaar. The market is more organized and more clean, but also lacks the hustle and bustle that made the green bazaar so interesting.
The much larger Korvon bazaar offers much more local colour even though it focuses mostly on cheap chinese clothes.
Things to do near Dushanbe
Hisor fort
Less than an hour from Dushanbe you can find the Hisor fort. Although the fort has a long history, what you see today is a government renovation. The fort was captured, destroyed and rebuild by a number of people from Cyrus the Great to Alexander the Great, Gengish Khan, Tamerlane and the Soviets.
Nobody really knows how the original fort looked like, so you are basically looking to a new building made for tourists.
How to get there: Take a shared taxi to Zarnisor bazaar where you can change into shared taxi's to Hisor.
Varzob
The town of Varzob north of the city is a popular city escape for wealthy Dushanbe. Several rich families, including the Presidents family have a holiday home along the scenic Varzob river. Varzob itself even has an artificial lake with plastic palm trees and an aqua park. Entrance is a hefty 120 somoni.
For tourists Varzob is more interesting for its hiking opportunities into the Varzob valley or the Sioma valley. For a day hike you can walk the 8 kilometer to Gusgarf waterfall.
If you don't want to hike alone, check Hike Tajikistan. A good company that organizes day hikes around Dushanbe in the weekends
How to get there: Shared taxi's to Varzob leave from the Varzob bazaar at the north end of Rudaki avenue.
Nurek Reservoir
Like Varzob, Nurek is a favourite destination near Dushanbe for locals to escape the city. The popular resort town is famous for the Nurek Dam and the Nurek hydroelectric power station.
Most people doing a Pamir highway tour make a quick stop to see the view over the Nurek water basin enroute. However, you can also sleep in one of the hotels in the town of Nurek where you can organize boat trips or indulge in fresh fish from the river. It makes a nice day trip from Dushanbe.
How to get there: take a shared taxi to Qulob from the Badakhshan station (between the train station and the airport) and get off at Nurek
Iskanderkul lake & Sarytag
If you want to see the Fann mountains from Dushanbe, Iskanderkul lake is closest. It takes about 5 hours from Dushanbe and you need at least 2 or 3 days for a visit to this beautiful deep blue mountain lake. More if you want to do some hiking around the lake and the village of Sarytag.
How to get there: read more about how to get there in my Iskanderkul lake travel guide.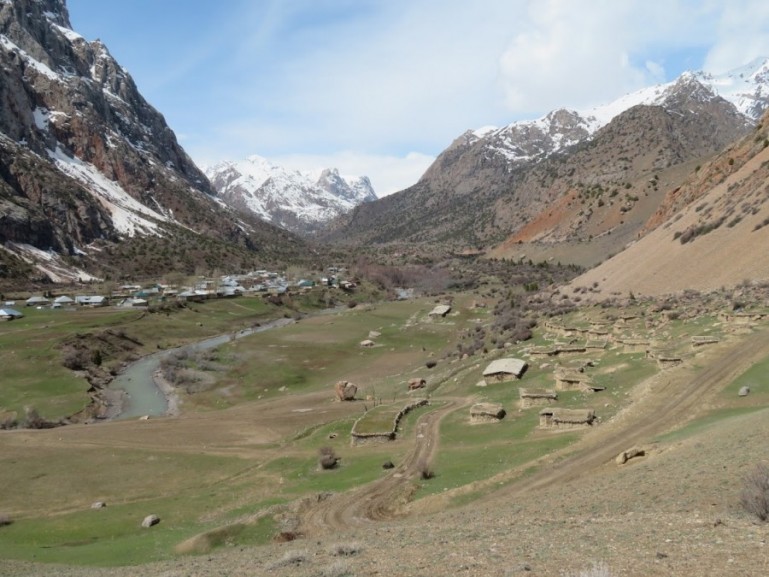 Dushanbe Travel Tips
Where to eat in Dushanbe
Dushanbe is a place to treat yourself. Whether you are midway on a trip through central Asia or preparing for the Pamir highway. In most of Tajikistan you won't find anything else than the standard central Asian food so make use of the choices you have in Dushanbe.
One Tajik dish you should try in Dushanbe is Qurutob. Flat bread with lamb meat in an onion yoghurt sauce. Even though it is Tajikistan's national dish I didn't see it on the menu outside of Dushanbe. The best qurutob is at a qurutobkhona. These restaurants are all over the city and serve nothing else than qurutob.
Cafe Segafredo: Cafe Segafredo is probably one of the best places in Dushanbe for good coffee, pastries and italian pasta.
Chaychona Rohat: Chaychona Rohat is a beautiful tea house that also does a good job serving decent Tajik food for budget prices. They have an extensive menu with some Tajik dishes I haven't seen elsewhere. The soups and salads were the best.
Traktir Konservatir: For the best Ukrainian food head to the Traktir Konservatir with its Russian decor. They have delicious borsht, chicken kiev and pelmeni. It's behind the Ayni opera theatre.
Bella pizza: Bella pizza also serves burgers and chicken wings, but it is really the good quality of oven baked pizza's you want here. Close to the Ismail Somoni statue it's a great place for a break after exploring Rudaki park.
Cafe Merve: Cafe Merve is a nice budget place specializing in Turkish doner kebabs. It's not really very special, but great if you are on a budget.
Victory Park Panorama Cafe: This cafe only opens up in summer and is all about the location and the spectacular views over the city. It is up on a hill near victory park and next to a closed cable car station.
I went there in april when the kitchen was still closed and they only served drinks and icecream. I can't say anything about the food, but the views are reason enough to come here.
Where to sleep in Dushanbe
Pamir hotel hostel: Pamir hotel hostel is more like a homestay with a very friendly family running the place. It's in the suburbs, but it is very easy to take the bus to the centre
Hello Dushanbe hostel: Hello Dushanbe hostel has friendly owners and is located in a nice and quiet neighbourhood from where it is a 20 minute walk to the Ayni Opera theatre and Rudaki avenue.
Yellow hostel Dushanbe : Yellow hostel Dushanbe is run by a family that prepares delicious breakfasts (included) and even dinner if you want to (ask for the price). It's a clean and good hostel in a quiet neighbourhood.
City hostel Dushanbe : City hostel Dushanbe has large dormitories and has a central location near Rudaki avenue.
How to get to Dushanbe
The most convenient and fastest way to reach Dushanbe is by air. Dushanbe International Airport (DYU) is well-connected to major international cities.
It is also possible to travel overland to Dushanbe from Uzbekistan. You can travel by road from Tashkent, the capital of Uzbekistan, to Dushanbe. The distance is approximately 560 kilometers (350 miles) and can be covered by bus or shared taxis.
Dushanbe also has a train station with international connections to Russia and Uzbekistan. There is a 5 day long train from Moscow to Dushanbe for which you will need, a very hard to get, Turkmen visa. There is also a night train from Tashkent and Samarkand to Dushanbe
How to get around in Dushanbe
Dushanbe has an excellent network of public transport to get around the city that includes shared taxi's, minivans, buses and the trolleybus that all have a standard set of routes. Figuring out the system can be a bit overwhelming for foreigners though.
Shared taxi's
Shared taxi's are very common in Dushanbe. Some simply take passengers as they come and go enroute, others have a number and drive along a certain fixed route.
To make things more complicated they don't always show the number, because they are not legal. Don't be surprised if you are waiting next to the road when a car stops, flashes his lights and quickly displays a number with their finger or a piece of paper.
Shared taxi number 3 might be useful as it runs up and down Rudaki avenue all the way from the train station to Rudaki Park and Varzob bazaar.
Number 8 runs along Ayni street, Rudaki avenue and Ismail Somoni street to Zarnisor bazaar.
If you want the taxi to stop you can say "Aka, haminjo man koned" (please stop) and then say "rahmat" (thank you) when you exit the taxi. They should not cost more than 3 somoni.
Buses & trolleybus
Unfortunately you can no longer pay in the bus or trolleybus and you need the electronic city card. To buy the city card you need a local mobile phone number and then you can buy one at the orange electronic kiosks that you will find at most bus stations.
I managed to get one with the help of locals, but I must be honest that getting the city card is not an easy process for foreigners. The kiosks are in either Tajik or Russian and even with my knowledge of Russian I got stuck at some point in the process not knowing what to do.
Once you have the card you can top it up with credit. A busride costs only 1 somoni
Private taxi's
If the above sounds too complicated it is good to know that private taxi's are quite cheap in Dushanbe. Expect to pay between 10 to 30 somoni.
Getting out of Dushanbe
Dushanbe has several bus stations to find shared taxi's to other destinations in Tajikistan. There are very few buses or marshrutka's and most routes are only served by shared taxi's
Pamir Badakshan station: located between the airport and the train station. Serves destinations in the Pamirs. The journey to Khorog takes 14 – 16 hours and taxi's leave early. Make sure you are at the station between 6 AM and 7 AM to find a ride. The cost varies per season, but expect to pay between 250 – 350 somoni.
Garm / Kulob station: shared taxi's to Danghara (hometown of president Emomali Rahmon), Hulbuk and Kulob
Sakhovat bazaar: shared taxi's to Qurgonteppa (now called Bokhtar, but taxi drivers call it Kurgan) leave from the southwestern corner at the Karaboev/ ferdowsi crossroad.
Tsement Zavod: this station at the cement factory north of Dushanbe serves both Sarvoda, Khujand and Penjikent.
Train station: Dushanbe has a train station, but trains are slow and only for real train lovers. A nice and scenic option is the train from Dushanbe to Qurgonteppa. It leaves at 8 AM on wednesday and saturday.
When to visit Dushanbe
The best time to visit Dushanbe, Tajikistan, is during the spring (April to June) and autumn (September to October) seasons.
Springtime in Dushanbe offers pleasant weather with mild temperatures and blooming landscapes. The temperatures range from around 15°C (59°F) to 25°C (77°F), making it comfortable for outdoor activities and sightseeing.
Autumn in Dushanbe is another great time to visit. The city experiences beautiful foliage, particularly in late September and early October, adding to the charm of the landscape.
Summers can be quite hot and dry. Temperatures can reach up to 35°C within the city of Dushanbe. This is, however, a great time to go hiking in the Fann mountains or the Pamir highway.
Sustainable travel in Dushanbe
Tajikistan is seeing more tourists every year. While Tourism is a welcome source of income it can also have negative consequences. Traveling sustainably in the country, involves conscious choices that minimize your environmental impact and support the local community.
Support the local community: You can support the community by purchasing goods and services from local vendors, artisans, and restaurants. It is better to try Tajik cuisine that uses local ingredients rather than imported foreign foods.
Stay in small scale sustainable hotels: It is also better to stay in locally-owned guesthouses or homestays to support the local economy directly. These accommodations often have a more positive impact on the environment compared to large hotels. Where possible, I can recommend staying in a homestay for an authentic cultural experience. You might want to bring a small book with pictures of your family to break the ice.
You can try to look for guesthouses or homestays that prioritizes sustainable practices. That said, environmental awareness is still low. It's up to you to use water sparsely, turn off lights, air conditioning, and heating when leaving your accommodation.
Use public transport: Tajikistan has a well-developed public transportation system with shared taxis and marshrutkas. Opt for public transport, whenever possible, instead of private cars to reduce carbon emissions. Avoid internal flights. The journeys on road might be long, but the views are spectacular.
Leave no trace principle: Tajikistan is famous for its natural beauty and mountains. When hiking, stick to designated trails when they are there, avoid disturbing wildlife or picking plants, and leave no trace of your presence. Ensure you take all your trash back with you and dispose of it responsibly.
To avoid single-use plastics, invest in reusable items. For example, you can bring your own water bottle with a filter that you can refill at your accomodation. At last, use biodegradable and eco-friendly personal care products to minimize pollution of water sources.
Respect the culture: Besides environmental concerns it is also important to respect the culture. Tajikistan is an Islamic country that is just opening up to tourism. Therefore, learn about the local customs and traditions beforehand and be mindful of your behavior.
People will appreciate it, if you dress modestly, especially at religious sites. Learning a few basic phrases in Tajik or Russian, can go a long way in building meaningful connections and to learn more about the local culture. Not everybody is happy to have their picture taken. When in doubt, ask permission.
For more information about Backpacking in Tajikistan I can recommend my practical travel guide about travel in Tajikistan, my post on the best things to do in Tajikistan and my 3 week Tajikistan itinerary.
Disclaimer: This travel guide about the best things to do in Dushanbe Tajikistan contains affiliate links. If you buy any service through any of my links, I will get a small commission at no extra cost to you. These earnings help me to keep Backpack Adventures alive! Thanks for your support!
---
---