The Best Things to do in Kathmandu, Nepal
This post is about the best things to do in Kathmandu Nepal. What to do in Kathmandu was a famous song back in 2006. It was the first time I visited Nepal. A time of political turmoil with lots of strikes and curfews. In Nepal these events are called Bandha's and everything closed down. They were very common at that time.
And that is what this song was about. What to do in Kathmandu when there is yet another strike. It turns out there is always something to do in Kathmandu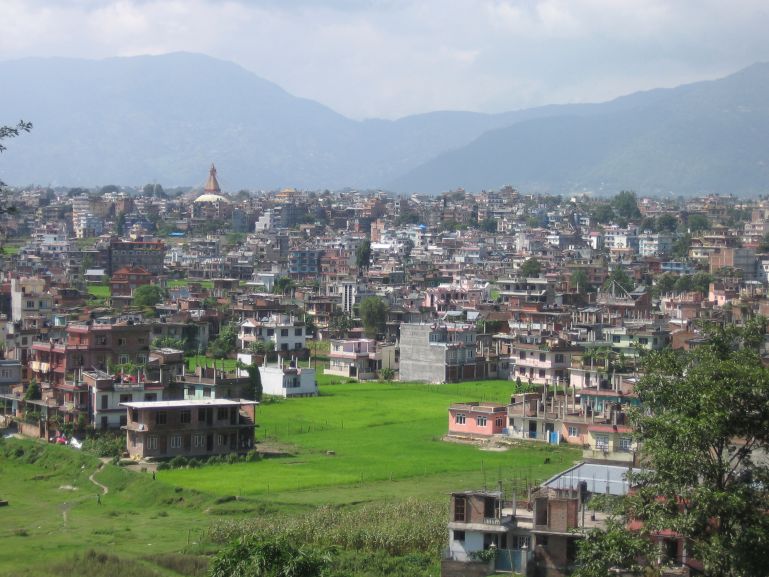 What to do in Kathmandu
Truth be told, Kathmandu is beautiful, but it is also a polluted, dirty and chaotic city. I used the strikes to wander through the empty streets that are normally clogged by honking traffic.
Kathmandu is the capital and largest city of Nepal. It is an ancient city that is full of history and culture. You will find ancient temples, shrines and stupas everywhere. Even during a strike there is always something going on. People praying, passersby offering flowers to the gods or men sipping a cup of tea in front of their house.
Kathmandu is changing fast and while modern shopping malls pop up everywhere, you can also still find lots of old architecture in the small backstreets. The city's true beauty lies in its details. The intricate lattice work among the traditional homes or the wood carvings at the ancient temples.
What to do in Kathmandu also depends on the time of the year. It is the best place to experience some of the colorful festivals of Nepal. In spring you have holi and in autumn comes Dasain and Tihar. Both see festivities throughout the city. There are also lots of local festivals in the nearby Kathmandu valley to look out for such as Bisket Jatra.
Many people only stay a couple of days to arrange their trekking permits for their hikes in the Annapurnas or in the Everest region. But Kathmandu and all the places to visit near Kathmandu really deserve a couple of days.
The best things to do in Kathmandu
Durbar square
One of the reasons that Kathmandu is worth your time is that it is a historic city with a rich past. Durbar square is proof that Nepal is not only about nature, but also history and culture. This square is among the oldest areas of Kathmandu and home to the royal palaces and temples that once belonged to the Malla kings and the Shah monarchy.
Before Nepal became one country, there were in fact three Newar kingdoms. Kathmandu was one of them together with Patan and Bhaktapur. Although the earthquake in 2015 damaged many of the old temples, there is still lots of beautiful architecture around.
The temples on Durbar square remain important places of worship. Any time of the day you can see people offering flowers and sweets to the Khal Bhairav statue and people sitting on the staircases of the temples.
Kumari ghar
One of the most peculiar Newari traditions is those of the living goddess Kumari. Newari people believe she is the reincarnation of the fierce goddess Taleju. The kumari is selected at a very young age through a rigorous selection procedure. One of the tests includes being in a room with severed buffalo heads and men dancing with demon masks. The real Kumari will not be frightened.
Once selected, she will remain in the Kumari ghar till she reaches puberty. During those years she will only leave the Kumari ghar on special occasions like the Festival of Indra Jatra. As her feet can not touch the ground she will be carried around.
Every day the Kumari will make a very quick appearance from one of the windows at the Kumari ghar at Durbar square around 4 pm.
Ason bazaar
Ason bazaar near Durbar square is always busy. Despite being one of the most crowded places in Kathmandu it is also one of my favorites. A great place to buy souvenirs or to simply soak up the vibrant atmosphere.
You will hear temple bells, people bargaining, bicycles ringing and motorbikes horning. Ason can be an overwhelming explosion of sounds and smells. If it's fresh vegetables you are looking for it is best to go early in the morning. If you want to try Nepali street foods you should come around lunch time.
Ason is a great place to try Nepali food like samosa, pakora or aloo chop as well as sweets like jalebis.
Swayambunath
Many temples in Nepal are perched on top of a hill. You might wonder why when you are climbing the stairs, but you will soon understand when you reach the top and enjoy the views.
Swayambunath offers the best views over Kathmandu in the company of cheeky monkeys. It is also known as monkey temple. A group of playful monkeys have lived around the temple for generations and they have learned very well how to steal food from the people.
According to legend, the stupa was built more than 2,500 years ago, during the 5th century BC by King Manadeva. The stupa was built on a hilltop, which was said to have been the site of a large lake where a lotus flower bloomed, giving the area its name Swayambhunath, which means "self-created" or "self-existent" in Sanskrit.
The most iconic feature of the Swayambhunath stupa is the pair of eyes painted on the four cardinal points of the main dome, which is said to symbolize the all-seeing eyes of the Buddha. The stupa is also adorned with various carvings and sculptures that depict various aspects of Buddhism.
The area is home to many Tibetan buddhists and the Tibetan restaurants near Swayambunath have some of the best momo's in town.
Pashupatinath
Pashupatinath is one of the holiest places in Kathmandu. India has Varanasi on the Ganges and Nepal has Pashupatinath on the banks of the Bagmati river.
The temple has been expanded and renovated over the centuries, with the most significant renovations taking place during the Malla period (12th-18th century). Pashupatinath temple is a complex of Temples, shrines and ashrams, with the main temple of Lord Pashupatinath being the most important and sacred of them.
Tourists come here to see the cremation ghats while Nepali's come here to pray at the important Shiva temple. Some of Nepal's biggest festivals see large celebrations at Pashupatinath. The biggest being Shiva Ratri when thousands of sadhu's gather around the temple. At Teej Nepali women come to the temple to pray and dance for a good life for their husbands.
When you are in Kathmandu during one of these festivals you should definitely visit Pashupatinath
Bouddhanath
The Boudhanath stupa is one of the most important buddhist stupas in Kathmandu. While always busy with pilgrims and tourists it keeps a peaceful and relaxed atmosphere.
Boudhanath was built in the 5th century AD during the reign of the Licchavi kings, who ruled Nepal from the 3rd to the 9th century. The stupa was likely built as a Buddhist pilgrimage site and a place for the study and practice of Buddhism.
The backstreets are still home to a number of buddhist monasteries and some nice budget hotels. Many tourists stay in Thamel, but I find boudhanath a more quiet alternative with still enough tourist facilities.
Narayanhiti palace museum
When I first visited Nepal, Nepal was still the only Hindu kingdom in the world. It was 2006. Only 5 years after the controversial royal massacre.
The official story goes that the crown prince could not marry the girl of his dreams and killed his whole family before he killed himself. Many unofficial stories and conspiracy theories go around.
Was it India or was it the king's brother who happened to be in Pokhara and became king himself afterwards? One thing is for sure. King Gyanendra was never popular. After the 2006 revolution and the 2008 elections he fled the country to India. Leaving behind the palace.
I visited the palace in 2009 when it just opened its doors to the public. It revealed a modest palace. In the garden there are signs of some of the bullet marks and markers where some members of the royal family were found.
Enjoy the comforts of Thamel
Thamel is where most foreigners stay. Personally I have a love-hate relationship with Thamel. It has the best restaurants in town, but it is also crowded and noisy and not particularly beautiful.
Personally I prefer to stay around Boudhanath, but still end up visiting Thamel a couple of times whenever I am in Kathmandu.
If you have only a few days before or after trekking in the mountains, Thamel is a practical place to arrange your trekking or enjoy some comfort afterwards.
Garden of dreams
The Garden of Dreams, also known as the Kaiser Mahal, is a neo-classical garden located in Kathmandu, Nepal. It was built in 1920 by Kaiser Sumsher Rana, a prime minister of Nepal, as a private garden for himself and his family.
The garden is divided into six different sections, each with its own unique style and theme. It features a variety of plants and flowers, as well as several pavilions, fountains, and statues. The garden was restored and reopened to the public in 2007.
It offers visitors a chance to escape the hustle and bustle of the city and enjoy a tranquil oasis with a variety of flowers, lush greenery, and intricate architecture. The garden is also home to several cafes and restaurants, making it a popular spot for visitors to relax and enjoy a drink or a meal.
Chabahil stupa
The Chabahil stupa is not as impressive as boudhanath or swayambhunath, but it is the oldest stupa in Kathmandu. The stupa is said to have been built in the 8th century AD, during the reign of the Licchavi kings, who ruled Nepal from the 3rd to the 9th century.
According to legend, the stupa was built to house a bone relic of the Buddha, which was brought to Nepal by a Licchavi princess who was a devotee of the Buddha.
The best things to do near Kathmandu
Kopan monastery
The serene Kopan monastery near Kathmandu is one of the best places near Kathmandu to learn more about Tibetan Buddhism. The monastery welcomes foreign visitors to come for a day visit or a longer retreat and also offers courses. Day visitors can attend the daily dharma talk, visit the library or simply enjoy the tranquil environment or meditate in the gardens. Do check if the monastery is open. It sometimes closes down such as for the annual one month long meditation course in November-December.
How to get there: Kopan is 10 kilometers from Kathmandu. There are frequent mini buses from Ratnapark to Kopan village from where it is an uphill walk to the monastery. The journey takes around 20 minutes depending on the traffic.
Budhanilkanta
North of Kathmandu and just south of the Shivapuri forest national park lies an old and mysterious Hindu temple. It has the largest stone carving in Nepal.
The reclining Vishnu is 5 meters long and carved out from a single block of basalt. Its origin and age are unknown although the first records mentioning the statue is from the 6th century. Devotees believe that the statue floats in the water without any support.
The name can also cause confusion. Budhanilkantha means blue throat. And although it is a Vishnu temple, it was Shiva that had a blue throat after drinking from the sacred Gosaikunda lakes. The name refers to the pond that the statue floats in. People believe this water is from Gosaikunda which makes the place even more sacred.
Nowadays, Budhanilkantha is an important pilgrimage site for Hindus. On the 11th of the month Kartik hundreds of pilgrims come to celebrate the Haribondhini Ekadashi festival. You can easily combine a day trip to Budhanilkantha with a walk in the Shivapuri forest national park
How to get there: Budhanilkantha is 10 kilometers from Kathmandu. There are frequent mini buses from Ratnapark to Budhanilkantha. The journey takes around 20 minutes depending on the traffic.
Patan
Patan was once a separate city called Lalitpur and the capital of one of the three Newar kingdoms in the Kathmandu valley. Nowadays it has grown into one large urban area with Kathmandu.
But Patan still has its own durbar square. One that is even more beautiful than the one in Kathmandu with lots of ancient temples and palaces.
The square is the main attraction, but Patan is more than its famous palace square alone. More beautiful Newari architecture and small shrines are waiting for you in the small backstreets.
Also don't miss the Golden temple with its golden plates. Certainly the most beautiful temple in Patan.
How to get there: mini buses leave frequently from Ratnapark to Patan. The journey takes around 20 minutes depending on the traffic.
Kathmandu valley
The beautiful Kathmandu valley is often overlooked, but so much worth your time. Some of Nepal's most beautiful and charming villages are very close to Kathmandu, but rarely see tourists.
The Kathmandu valley is at the heart of the ancient Licchavi dynasty that ruled the valley from the 5th till the 8th century as well as the Malla dynasty from the 12th till the 17th century.
These ancient kingdoms have left behind hundreds of medieval temples, shrines and palaces. The indigenous Newar people still have their own culture that is very different from the Hindus that came to the Kathmandu valley later on. It was only in the late 18th century that Hindu king Prithvi Narayan Shah conquered the valley and it became part of present day Nepal.
Kathmandu became the new capital of Nepal and changed tremendously. However, the rest of the Kathmandu valley kept its ancient traditions. The Newari architecture with its intricate wood carvings and multi roofed pagoda style temples is still present in many of the villages of the valley.
Kathmandu Travel Tips
The best things to eat in Kathmandu
Kathmandu is of course also a great place to try Nepali food. Kathmandu is a multicultural city home to ethnic groups from the mountains, people from India and Tibetan refugees.
This means you can try different cuisines in the city. Let's start with Newari cuisine. Newari's are considered to be the native population of the Kathmandu valley. They like meat and they like it spicy. The best Newari eateries are in Lalitpur. Some popular Newari dishes to try include Choila (spicy grilled meat), Bara (lentil pancake), Yomari (a sweet dumpling) and Chatamari (rice crepe pizza)
For Tibetan food head to Swayambunath or Boudhanath. There you can try momos (dumplings) and thukpa (noodle soup with vegetables).
Dahl bath is the national dish often served as a Thali with different condiments. Every mountain community serves their own thalis. Most famous are the Thakali Thalis. Thakali cuisine originates from the Thak Khola region in Nepal. It is a traditional set meal that typically includes rice, lentil soup, vegetable curry, meat curry, pickles, and a variety of side dishes.
If it comes to street food in Nepal there are plenty of options. One of my favourite on the go snacks are samosas (pastries filled with spiced potatoes). And there is always a stall selling a nice cup of Nepali tea.
The best restaurants in Kathmandu
Gaia restaurant: A great restaurant in Thamel with an international menu and a great atmosphere. The food is great whether you choose nepali dishes, pasta or western food.
It's a personal favorite whenever I am in Thamel
Road house cafe: Road house cafe is famous for its excellent pizza's. It now has several branches throughout Kathmandu including one in Thamel and Boudhanath.
I can really recommend the pizza's, but also their starters and salads. It's not the cheapest restaurant, but the excellent food is worth the price.
Himalayan java coffee: Himalayan java coffee was one of my favorite places for breakfast. Not only because of their great coffee. I prefer the nepali tea. But also their nice breakfast sets.
The best places to stay in Kathmandu
If you are looking for accomodation in Kathmandu you first need to decide where in Kathmandu you should stay. There are three areas where there is a good choice of tourist facilities.
Thamel
The most famous is Thamel. I have a love hate relationship with Thamel.This touristy area is crowded and in my opinion a bit seedy.
But it has the best tourist facilities in the country. Thamel is a great choice if you spend only a couple of days in Kathmandu before or after going on a trek in the Himalayas. It has everything you need to prepare for a trek and has some of the best restaurants.
Holiday hostel is a good option if you want to be in the midst of it. If you prefer more peace and quiet you can look into Elbrus home, Birds Nest Hostel, Kathmandu Peace home and Best hostel. All of these are clean budget options within walking distance of Thamel, but in a more quiet area close to all the facilities.
Boudhanath
The area of Boudhanath is a little bit far from the center of Kathmandu, but a much nicer and quieter option than Thamel. Boudhanath is my first choice if I stay for a longer period in Kathmandu
There are plenty of options to choose around Boudhanath. I stayed a couple of times at Lotus guesthouse. A nice place with affordable and clean rooms. Aarya Chaitya Inn also has great reviews.
Patan
Patan also has a cluster of hotels and restaurants. Again, these are not very close to the center of Kathmandu. A lot of expats stay in this area and therefore the hotels are also a bit more upmarket. Kaji home is a good budget option.
How to get to Kathmandu
Kathmandu has an international airport. It is sometimes much cheaper to fly into India, but it is a long journey overland to Nepal.
It is worth considering if you like to visit both India and Nepal. One time I combined a visit to Rajasthan and Varanasi with Nepal. Another time I crossed from Delhi into Western Nepal to visit Bardiya National Park before continuing to Kathmandu by road.
How to get around Kathmandu
Public buses are the most common mode of transportation in Kathmandu. They are inexpensive, but they can be crowded and uncomfortable, especially during peak hours. The public bus network covers most parts of the city and can take you to many popular tourist destinations, but it can be challenging to navigate if you're not familiar with the routes.
Taxis and ride-hailing services like Uber and Pathao are readily available in Kathmandu. They are a convenient option if you want to travel comfortably and don't mind paying a bit extra.
For a more eco friendly way to see the city consider cycling or walking. Many of the popular tourist destinations in Kathmandu are located within walking distance of each other, especially in the historic city center of Thamel. Cycling is becoming a popular way to explore the city as well. There are several bike rental services available in Kathmandu.
When to visit Kathmandu
The best time to visit Nepal is spring and autumn. January and February will be cold and foggy. March, April and May are the warmer months before the monsoon. The spring season is pleasant with blooming flowers and greenery all around. You can also witness various festivals and cultural events, such as Holi and Buddha Jayanti, during this time.
As the rainy season approaches in May it can become hot, dusty and humid. June, July and August are the monsoon months bringing lots of rain sometimes causing flooded streets in the city.
September, October and November are the most popular months to visit Kathmandu and Nepal in general. Autumn brings clear blue skies and mild temperatures before the cold sets in, in December. Autumn is also a festive season with the celebration of Dashain and Tihar. Nepal's biggest festivals.
Safety in Kathmandu
Kathmandu is generally a safe city for travelers, but like any other city, it's always advisable to take precautions and be aware of your surroundings.
Petty theft, such as pickpocketing and bag snatching, can occur in crowded areas, especially in tourist hotspots like Thamel. To avoid such incidents, it's advisable to keep your valuables in a safe place and avoid carrying large amounts of cash.
Additionally, it's important to be aware of traffic and road conditions, especially when crossing roads or using public transportation. The roads in Kathmandu can be congested and chaotic.
Disclaimer: This post with a travel guide about what to do in Kathmandu Nepal contains affiliate links. If you buy any service through any of my links, I will get a small commission at no extra cost to you. These earnings help me to keep Backpack Adventures alive! Thanks for your support!
---
---