The best things to do in Luleå Sweden
Luleå might be one of the most underrated cities in Sweden. Far north and close to the arctic circle it requires a certain dedication to get there. But with daily night trains it isn't that difficult. Yet, most travellers that go to Swedish Lapland tend to overlook Luleå and head straight to Kiruna.
I was a bit hesitant myself, whether Luleå was worth it, but I was positively surprised. It turns out that this young student city has lots to offer and that there are plenty of things to do in Luleå.
Why visit Luleå Sweden
Luleå is the capital of the Norbotten region and the largest city in Swedish Lapland. Because of its technical university, Luleå has a young population with a relaxed and laidback atmosphere. While there are not a lot of things to do in Luleå itself, the city has a scenic location on the coast of the Bothnian bay and nature is literally around every corner.
Luleå is a paradise for those that love the outdoors. The city is surrounded by lakes and vast evergreen forests with a large number of beautiful hiking trails. Furthermore, the Lulea archipelago has over a 1000 islands waiting to be explored.
What you can do in Luleå depends on the season. In the dark and long winters you can go snowmobiling, dog sledding or ice skating. There is also a good chance you will see the northern lights during this time. In summer it is the midnight sun that brightens the days. This is the perfect time to go hiking or kayaking.
Luleå is also a great food destination with some of the best restaurants in Swedish Lapland. The food of northern Sweden has a strong influence from the culture of the indigenous Sami people. The focus is on local and natural products such as reindeer, elk, grouse, kalix roe, arctic char and cloudberries.
Luleå is thus a great place to get a taste of Swedish Lapland. Whether it is to sample its cuisine in one of the top restaurants or to get a sense of its spectacular nature when hiking the Luleå forests.
Things to do in Luleå Sweden
Luleå archipelago
Luleå's archipelago has over a 1000 islands that form a peaceful world of its own. A world of sandy beaches, sea birds and waves. In summer they are a popular weekend getaway and great for hiking and kayaking. In winter the archipelago turns into a frozen world of ice and snow. During this time you can reach the islands by ice roads.
Some of the islands are inhabited with traditional fishing villages and have cottages where you can stay the night. The most popular are Kluntarna, Brändöskär, Junkön and Småskär. Kluntarna and Småskär have great hiking trails through old growth forests. Brändöskär at the outer rim of the archipelago has beautiful views over the open sea.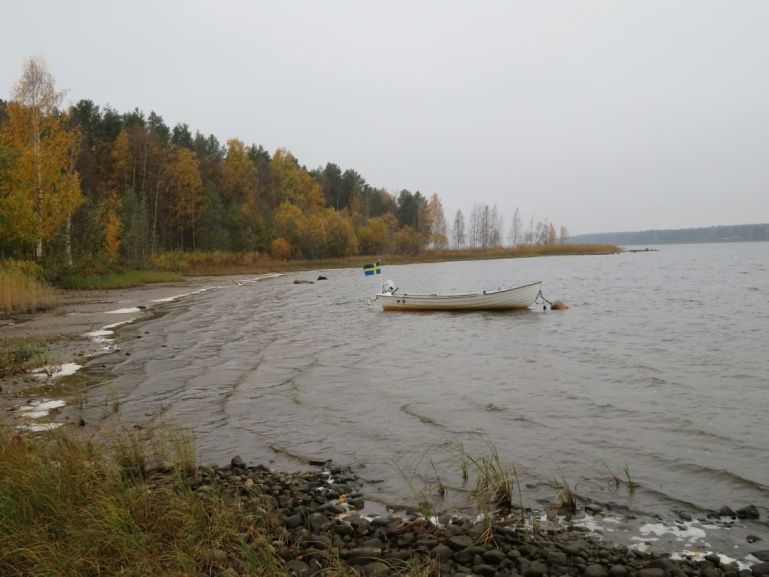 Gammelstad church town
The small and scenic historic town of Gammelstad is one of Luleå's top attractions. Gammelstad, basically means old city and it was indeed the old center of Luleå. However, as sea levels went down a new harbour was built along with the new center of Luleå.
Gammelstads history is interesting for another reason though. It is also one of the best preserved church towns. These towns are unique to northern sweden where there were few churches and people often had to travel from so far away that they could not return the same day. Therefore, people built small homes around the church to stay the night.
Church towns were more or less abandoned during the week, but on sundays and religious holidays they were lively places. People did not only come to go to church, but also to meet each other, do business or even to find a marriage partner. Most church homes in Gammelstad are still private property and owners still come to celebrate the major religious festivals.
Gammelstadsviken
Gammelstadsviken is a nature reserve between Gammelstad and Luleå that is often overlooked by visitors. It is a great place for hiking though and in spring it is one of the best places in Sweden for birdwatching.
The nature reserve has a large freshwater lake and extensive marshlands that attracts lots of species of birds. There are several well marked trails and it is possible to hike from Gammelstad to Luleå (7 – 8 kilometers).
Facebook data centre
Facebook opened its first data centre outside of Europe in Luleå Sweden. A strategic choice as the cold winter temperatures are used to cool the servers and the power surplus generated by hydroelectric projects in the area provides electricity.
Unfortunately it is not of much interest to tourists. The centre is not open to visitors and from the outside it looks nothing more like a big warehouse.
Norbotten museum
The free Norbotten museum in the center of Luleå has exhibitions on the culture and history of the Norbotten region. It's nice to visit if you have some time left.
Teknikens hus
The Teknikens hus at the technical university is great fun for children where they can experiment with all kinds of science and technology topics.
Things to do in Luleå in summer
Midnight sun
Luleå lies close to the Arctic circle and in summer it is a great place to experience the midnight sun. It's a beautiful and strange phenomena. Around the 21st of June the sun will still be visible at midnight creating a prolonged sunset/sunrise including the reddish and yellow colours that come with it.
Going to the beach
You probably don't think of Swedish Lapland as a beach destination, but Luleå's location at the Bothnian coast means a beach holiday is very well possible. There are a number of sandy beaches in Luleå itself or you can head to one of the islands in the archipelago for truly scenic beach locations. There might be no palm trees, but the pine forests around you are equally stunning
Hiking
Summer is the best time to go hiking in Swedish Lapland and Luleå has a number of nature trails within and near the city that are perfect for easy going day hikes. I visited Luleå in early October and even then it was a wonderful time to go hiking, especially with the autumn colours in the trees.
There is an excellent hiking guide from Visit Luleå. I did several hikes from this guide and even those that were within the city gave me the feeling I was out in nature. The trails are all well marked, safe and easy to follow.
Kayaking
In summer one of the most popular outdoor activities is kayaking through the archipelago. There are several easy day trips by kayak from Luleå to one of the islands. You can either rent a kayak to explore the archipelago on your own or go on a kayaking tour.
Things to do in Luleå in winter
The ice track
One of the biggest attractions in Luleå in winter is the ice track, or isbanan that is maintained over the frozen Bothnian sea. It's a 6 kilometer track around the city center that is used for ice skating, kicksledding, walking or jogging.
Icebreaker cruise
Winter is also the time when you can join an icebreaker tour. A few icebreakers work every day to keep certain routes for ships ice free. As the winter progresses the ice in the Bothnian bay can become as thick as 2 meters. The good news is that the Arctic Explorer and Laponia Rederi offer the opportunity to join them and even to swim in the icy sea in a survival suit.
Snowmobiling or dog sledding
Like everywhere in Swedish Lapland you can go snowmobiling or dog sledding through the snow covered forests and frozen rivers and lakes that surround the city. Snow mobiles are a great way to quickly access remote areas of nature. Dog sledding is a more slow experience, but another nice way to appreciate the beauty of the landscapes around you.
One advantage of Luleå is that you can also explore the archipelago by snowmobile. Imagine going through the snow over the frozen sea and then through the forested islands of Luleå.
Northern lights
Many people visit Swedish Lapland in the hope to see the northern lights. Now, Luleå isn't the best place in Sweden to see the northern lights. Being a large city there is the problem of light pollution, but you still have a pretty good chance of seeing the aurora borealis when you are lucky.
Luleå is northern enough that there is a chance to see the aurora borealis on any dark night under the right circumstances. This means no cloudy weather and enough sun activity. To increase your chances you can join a northern lights tour that will bring you away from the city and the light pollution.
Things to do near Luleå Sweden
Fabodaleden
The Fabodaleden was one of my favourite hikes near Luleå and it is also one of the few that is accessible by public transport. It's a 10 kilometer trail through the forests that has an interesting history. Faboda means pasture and the trail guides you along several traditional forest pastures where farmers let their cows graze.
The pastures date back to the 16th century when the cows were brought there in June. It was a womens job to take care of the cows and they stayed in the pastures in cottages. On Saturdays the local youth and men came to visit the pastures to have a good time and meet each other.
The pastures are no longer in use, but the old buildings were renovated by a local artist called Gunnar Hansson. There are cottages and information signs that give you an idea of what life was like.
Certain sections of the Fabodaleden are part of the Solanderleden. A long distance hiking trail of 220 kilometers that runs from Luleå to Piteå through the forests of Swedish Lapland.
How to get there: From Luleå bus station bus 31 and 221 go to Antnas. Get out at Antnas Sorbyhallen. The trail starts at the ICA supermarket. First head towards the Sorbykyrkan (the church) and then turn left up the hill and follow the signs that say vandringsled.
Balingeberget Nature Reserve
The Balingeberget nature reserve is one of the most scenic places to visit near Luleå. Balingeberget is a small mountain with forests and rocky terrain full of large stones from the ice age.
There are several hiking trails that lead you to the top for wonderful views over Luleå and the Luleälven lake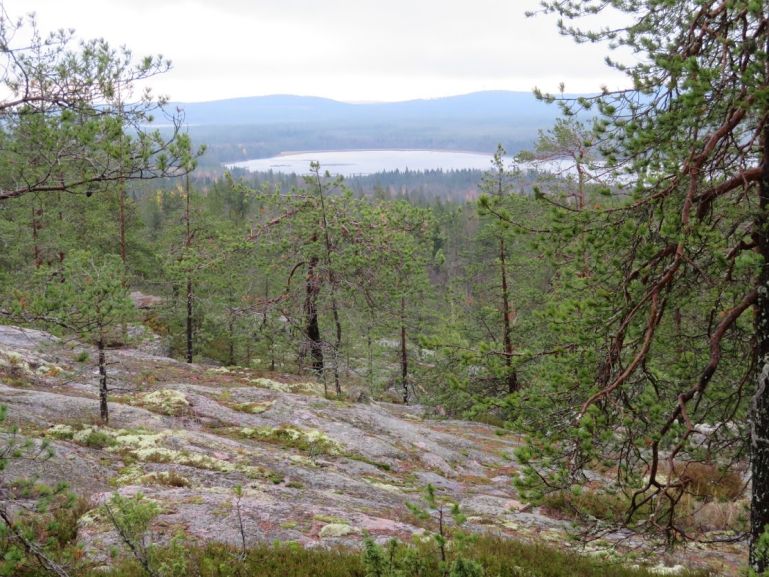 Storforsen
Storforsen lies about 100 kilometer from Luleå. The main attraction here are the Storforsen rapids that are the largest in Europe. They stretch over 5 kilometers, before flowing into the Pite river. The speed and force of the water are an impressive sight worth the scenic 1 hour drive from Luleå.
A short nature trail goes towards a viewing platform. It is possible to hike from the top of the waterfall, along the rapids to the storforsen hotel at the bottom.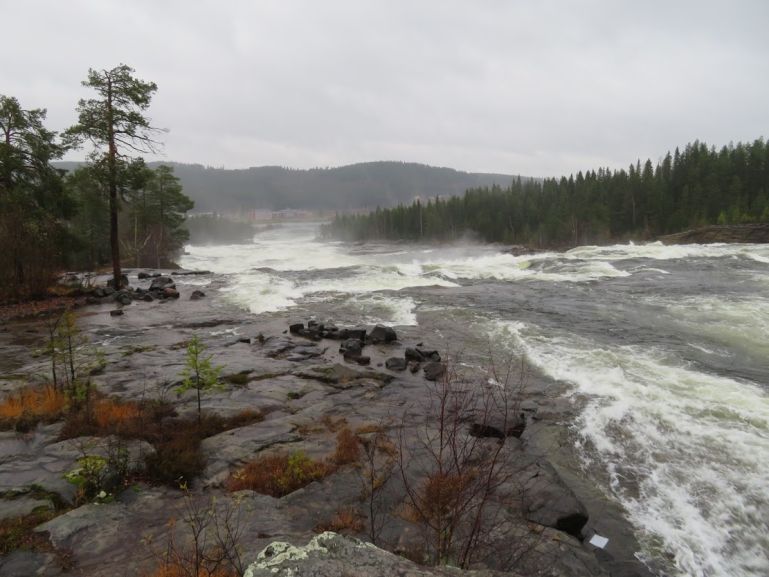 Where to eat in Luleå Sweden
One good reason to include Luleå in a trip to Northern Sweden is the food. Luleå has without doubt the best choice of restaurants in Swedish Lapland.
Budget restaurants
If you travel on a budget I have to say that eating out in Sweden, and food in Scandinavia in general, will be costly. If you stick to the cheapest places to eat you will mostly end up in a fastfood restaurant and Luleå has some good options in that regard.
First of all, Max burgers. A fast food chain that originated in Luleå and became so popular that it outcompeted McDonalds in several places in Sweden. I personally thought it was still too similar to McDonalds and actually preferred Bastard Burgers. Another budget burger chain in Sweden, but with a much better quality of food. At last, there is the taco bar that serves decent mexican fast food items.
Now let me share a secret with you. If you want to stick to your budget that doesn't mean you can only eat burgers in Sweden. Most restaurants serve a cheap set lunch, called dagens lunch, allowing you to enjoy a nice meal at a mid range restaurant for a price that is not that much higher than a hamburger meal at max.
Mid range restaurants
Hemmagastronomi was one of my favourite restaurants in Luleå and a great place to try local delicacies such as kalix roe, deer and reindeer. It certainly isn't the cheapest among the midrange category, but considering the high quality of the food and the great service it is well worth the price.
Other mid range restaurants with local dishes on the menu are Bistron and kitchen & table.
Where to sleep in Luleå Sweden
Amber hotel
I stayed at the Amber hotel. A great place that is centrally located in between the train station and city center. Rooms were clean and there was a varied breakfast buffet that made sure I had a good start to my day.
Tree hotel in Harads
Ever dreamed of sleeping in a treehouse in the forests of Swedish Lapland? Then you might want to consider the remote Tree hotel in Harads, 82 kilometers from Luleå. A unique, but costly experience.
How to get to Luleå in Sweden
The most sustainable way to travel to Lapland in Sweden is to take the SJ night train from Stockholm to Lulea.
Disclaimer: This post about the best things to do in Luleå Sweden contains affiliate links. If you buy any service through any of my links, I will get a small commission at no extra cost to you. These earnings help me to keep Backpack Adventures alive! Thanks for your support!
---
---