The Best Things to do in Madaba, Jordan
This post is about the best things to do in Madaba Jordan. Madaba is an ancient market town just south of Amman on the Kings highway. Like the capital, it is growing and its suburban neighbourhoods with concrete buildings aren't particularly beautiful. Yet, Madaba and its surroundings are home to some of Jordan's most important religious and historic landmarks.
Despite the amount of things to do in Madaba, it is often overlooked by travellers or only visited as a day trip from Amman. If you have limited time, a day trip will do, but it is definetly worth it to spend at least one night in Madaba. I spent two nights and liked the atmosphere in this pleasant small town.
Madaba Jordan
Madaba in Jordan is heaven for those that love history. It's past goes back to neolithic times, but nowadays it is most famous as the City of Mosaics. Madaba's historic center is full with ancient churches and Byzantine era mosaics that are remarkably well preserved. Well known is the 6th century map of the Holy Land. Those with more time in Madaba will soon find out there are more colorful and beautiful ones out there.
But there is more to Madaba than mosaics alone. Madaba also has a great location in Jordan with a number of spectacular day trips within reach. Nearby Madaba are a number of biblical sites, roman ruins and spectacular desert landscapes. Because of this, Madaba is a great alternative to Amman as a base to explore the region.
I think both cities are worth 1 or 2 days of your time. Amman has a great food scene and it is easier to visit places in the north like Jerash, As Salt and Umm Qais. Madaba, at the other hand, is a great place to learn about the christian community in Jordan and the Dead sea is just around the corner.
The best things to do in Madaba Jordan
Madaba is a rather large town, but most of its sights are concentrated in the compact historic center. You need a full day for all the things to do in Madaba itself allowing for a leisurely tempo. Add an extra day for any day trips you would like to take.
Saint George's church and the map
The Greek orthodox church of Saint George is one of the top things to do in Madaba, despite it being modest and relatively new. However, when it was constructed in the 19th century they came across the foundations of a much older Byzantine church. The greatest discovery was the 6th century mosaic flooring that represented a map of the Holy Land.
The map included many biblical sites in the Middle east and provided a historical insight into the region. The original was much bigger, but you can still see places you will have read about in your history books such as Jerusalem, Bethlehem and Jericho. One can also see the Dead sea and a lion hunting a gazelle giving an idea about the wildlife that once roamed around in the Jordan valley.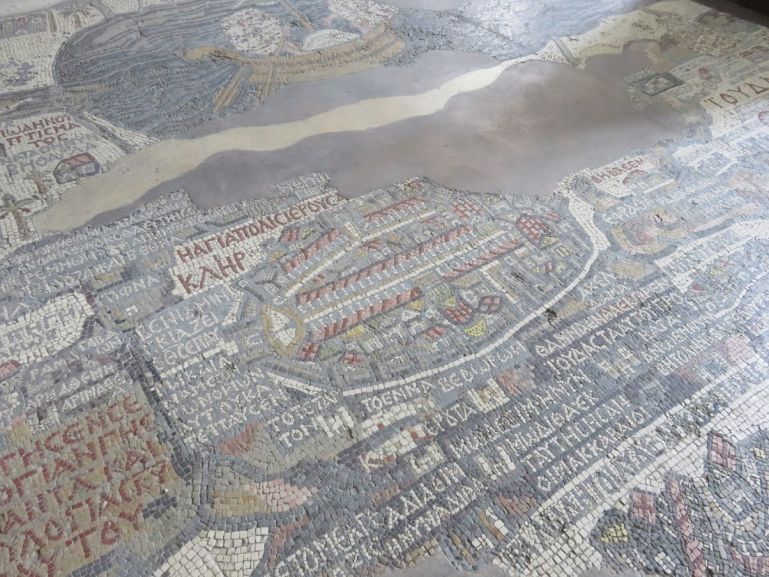 Madaba visitor centre
Madaba's visitor centre is worth a quick visit to learn more about Madaba's history and its mosaics. It also has a scenic location in a renovated traditional house and is right next to the Saint George church and the Archeological Park.
Madaba Archeological Park
While the Saint George's map gets all the fame, I thought the most beautiful mosaics were at Madaba's archeological park. Here you can find some of the oldest mosaics in Jordan. The site has some Roman ruins too as well as the remains from the church of the virgin Mary.
The most beautiful mosaics are in the Hippolytus hall where you can find another famous Madaba mosaic that tells the myth of Hippolytus. I was personally also quite impressed by the mosaics at the church of the virgin Mary
Apostles church
For the largest mosaic floor head to the Apostles church. It's a bit of a walk from the center, but one that is worth it. The church might look rather simple, but inside is a beauty. The mosaic was dedicated to the twelve apostles and has lots of images including lots of animals and other interesting details.
Church of St John the Baptist
The Roman catholic church of St John the Baptist is the only thing to do in Madaba where mosaics are not the main attraction. Although there is a small museum with some replica's, the biggest reason to visit this church is to climb the bell tower all the way to the top for a wonderful view over Madaba
The best things to do near Madaba
Madaba is an ideal base for a number of day trips. Unfortunately all of the nearby landmarks require your own transport. It is very easy to organize a taxi with a driver in Madaba and combine several attractions in a single day trip. To get an idea of the prices and the possibilities I can recommend this overview from Mariam hotel.
There is not a lot of public transport and therefore taxi tours are the way to go. However, you can save money if you can find other travellers to share the cost with. This means you might have to be a bit flexible. Personally, I decided to hire a taxi to see Mount Nebo and the Dead Sea.
Dead Sea
The Dead sea is actually a lake, but it is more salty than your average sea water. The experience of floating without having to make any effort is what makes this one of the top things to do in Madaba. At 400 meters below sea level, it is also the lowest point on earth. It's quite a magnificent sight with the deep blue waters and the bare desert mountains of Israel on the other side.
For such a top tourist attraction I thought a visit to the Dead sea would be quite straightforward, but that was not the case. It turns out that most beaches are privately owned and dead sea resorts like Marriott and Kempinski offer super deluxe, but pricey all day packages.
Luckily, my driver suggested the more budget friendly Amman beach. You still need to pay an entrance fee for quite basic facilities, but it is the cheapest option out there. I am sure that if you know where to go you might be able to find a beach where you can go for free, but there will be no facilities at all. At Amman beach there are lockers, dressing rooms, a small pool, a restaurant and fresh water showers to wash the salt away.
I spent about two hours at the beach floating around and I must say that was enough for me. For an additional fee you can also take a mud bath.
Insider tip: If you have any scratches on your body, it will sting as well in case the water gets into your eyes. Make sure you drink enough water as you dehydrate quickly.
Dead Sea Panorama viewpoint
The good thing about hiring your own driver is that they sometimes suggest places you don't know about. My driver suggested a stop at the Dead Sea Panorama Complex. At first I thought it was some kind of tourist trap with an eerily empty building.
The Dead Sea museum that was inside was actually quite informative. I was truly blown away once I got to the panorama platform. The views were spectacular and I must say that I enjoyed this far more than my actual visit to the sea.
Mount Nebo
After the Dead sea I headed to Mount Nebo. The mountain that is mentioned in the bible as the place where Moses first saw the promised land. There is indeed a beautiful view over the Jordan valley and on a clear day you can see Jericho and Jerusalem.
There is also a church with ancient mosaics and lots of people. Most tour buses as well as large groups of religious tourists stop at Mount Nebo. Maybe it was because of the spectacular dead sea viewpoint that I saw earlier, but I was a bit disappointed with Mount Nebo. I am also not a very religious person and for me it wasn't really worth the effort.
Ma'in hot springs
The Main hot springs and its medicinal properties have attracted people for centuries. Unfortunately it is now taken over by an oasis style resort and spa. Great for a day of relaxing if you have the money, but it has taken away a lot of the charm of this natural beauty.
Wadi Mujib
Wadi Mujib is a beautiful canyon that is a great destination for outdoor tourists. Hiking, canyoning and swimming is all possible. There is a beautiful viewpoint near the Mujib dam on the King's highway, but for the real adventure one needs to go to the Mujib Nature Reserve. It is the lowest nature reserve in the world and there are several hiking trails.
Umm Ar-Rasas
The ruins of Umm Ar-Rassas lie 30 kilometers south of Madaba. What looks like a vast expanse of ancient rubble holds layers of history. Once a Roman military camp, then a Byzantine christian site of worship and later an Islamic center. Although most of the remains require a bit of your imagination, there are more beautiful mosaics to see.
Where to sleep in Madaba
Pilgrims guesthouse
Right next to the Saint George's church is the Pilgrims guest house where I stayed. Its central location and extensive breakfast buffet made it a very convenient choice. The staff was very helpful in arranging tours.
Mariam hotel
Mariam hotel is slightly more expensive than the pilgrims guesthouse, but also has good reviews. It is also a great place to meet travellers to share the cost of a taxi tour. They also organize a bus from Madaba to Petra with stops along the Kings highway.
Where to eat in Madaba
Ayola cafe
Ayola cafe has a central location and serves decent food for reasonable prices. It's nothing like the food scene from Amman, but if you are looking for a cheap meal you can't go wrong here.
Al Mandi kitchen and restaurant
Al Mandi kitchen is the type of restaurant that specializes in one single dish and does it very well. They serve huge portions of rice with raisins and chicken that are worth the ten minute walk from the center.
How to get to Madaba
Madaba is just 45 minutes south of Amman. It is also a popular stop on the scenic Kings highway that runs from Amman to Petra. Therefore Madaba is relatively easy to get to with frequent public transport running to and from Amman.
If you plan to take the King's highway from Madaba to Petra it is more difficult with public transportation. I recommend you organize a taxi and maybe find other travellers to share the cost with, because there are many worthwhile stops on the way. Mariam hotel also organizes a bus from Madaba to Petra with stops along the way.
When to visit Madaba
Madaba is a year-round destination, but the best time to visit is from March to May (spring season) and from September to November (autumn season). During these months, the temperature is moderate, and the weather is pleasant for outdoor activities.
In the summer months (June to August), the temperature can reach up to 40°C (104°F), and the heat can be intense. If you can tolerate the heat, then you can visit during these months. However, it is recommended to avoid the midday sun and stay hydrated.
In the winter months (December to February), the temperature can drop below freezing, and there may be occasional rainfall. While the winter season is not as popular as the spring and autumn seasons, it can be a great time to visit if you enjoy cooler weather and fewer crowds.
Disclaimer: This post about the best things to do in Madaba Jordan contains affiliate links. If you buy any service through any of my links, I will get a small commission at no extra cost to you. These earnings help me to keep Backpack Adventures alive! Thanks for your support
---
---