The Best Things to do in Mestia, Georgia
This post is about the best things to do in Mestia Georgia. Mestia is one of the largest towns in the upper Svaneti region. It's a hikers paradise, but there are also enough things to do in Mestia if you didn't bring your walking shoes.
In recent years Mestia has become a tourist hub. The explosion of hotels and restaurants did not make the town more scenic. However, it remains a nice and convenient place to stay. The excellent tourist facilities allow you to explore Svaneti where you can learn more about Svan culture.
Why visit Mestia
Mestia is nestled in the heart of the Caucasus Mountains, surrounded by stunning peaks and picturesque landscapes. The region offers breathtaking views, with snow-capped mountains, lush valleys, and alpine meadows. If you're a nature lover or enjoy outdoor activities, Mestia is a paradise for hiking, trekking, and exploring the great outdoors.
Svaneti is known for its distinct culture and traditions, and Mestia is the cultural hub of the region. The Svans, an ethnic subgroup of Georgians, have a rich heritage that is reflected in their architecture, cuisine, and folklore.
Mestia is famous for its medieval tower houses, which are UNESCO World Heritage sites. These iconic stone towers, known as "koshki," were built as defensive structures and symbols of wealth. Mestia is also a great place to try Svan cuisine.
The best things to do in Mestia
Exploring the Svan towers
Svaneti is famous for its ancient watchtowers. The Svan people built them to protect themselves from invaders. Despite their isolated location, invading armies were plenty. Persians, Romans, Turks, Mongols and others all passed through.
The Svan lived in their tower homes and in times of war the towers could protect not only the people, but also their livestock and valuable possessions. This tradition started as early as the 8th century and some are still in use.
The Svan towers in Mestia are relatively well preserved compared to some other places in Svaneti. Two of them are even open to the public. The Mikhail Khergiani house museum and the Margiani house museum allow you to see a traditional Svan house from the inside.
Not far from Mestia, on the way to Ushguli, is also the tower of love that you can also visit and climb to the top.
Laghami
Laghami is the oldest neighbourhood in Mestia. This was my favourite part of the town and a great place to go for an evening stroll. Here it still feels like a village where you are more likely to encounter wandering cows than people.
Laghami is also home to the medieval transfiguration cathedral that has some beautiful frescoes
Trying Svan cuisine
Mestia is the best place in Georgia to try Svan food. Svaneti has always been a remote region with its own culture, language and cuisine.
What makes food in Svaneti different from Georgian food is the use of local ingredients and Svan salt. This spiced salt mix gives most Svan dishes its unique taste and is a great souvenir to take home.
The local food is hearty and flavorful, often featuring dishes like kubdari (a meat-filled bread), chishdvari (a cornbread with cheese), kalti (a meat stew) and tashmijabi (stretchy cheese mix with potatoes).
Svaneti also has its own version of khachapuri. Rather than just bread with cheese, they also add millet flour in the cheese filling. It's called Fetvraal Khachapuri.
Svaneti Museum of ethnography and history
A quick visit to the small, but interesting museum of ethnography and history is a must when you are in Mestia. The museum showcases the rich history, culture, and traditions of the Svan people through its exhibits of archaeological artifacts, traditional costumes, and religious icons. It will give you more insight about the history and culture of Svaneti
Watch the movie Dede
For an even better insight in Svan traditions and culture you should watch the movie Dede. This movie was released in 2018. It is made by people from Ushguli and was also filmed there.
"Dede" is set in the early 1990s during a period of political and social upheaval in Georgia. The film explores the traditional customs and patriarchal society of the Svan people, focusing on the practice of arranged marriages. Dede's life takes a dramatic turn when her arranged marriage is disrupted by tragic events.
As the story unfolds, Dede finds herself in a challenging situation, torn between societal expectations and her desire for independence and love. The film explores themes of tradition, cultural identity, gender roles, and the struggle for personal freedom.
The Pub and Cinema Dede in Mestia has daily screenings of the movie. I thought it was a very beautiful and worthwhile movie.
Day trip to Ushguli
After you have seen the movie Dede you will probably want to visit Ushguli. Luckily, the road from Mestia to Ushguli has improved and it is an easy day trip from Mestia. There are daily minivans leaving from the main square in Mestia or you can arrange a taxi.
Ushguli claims to be the highest settlement in Europe. Juta near Kazbegi might actually be higher and there is also a lone man living even higher in a village called Bochorma. Nevertheless, Ushguli is a beautiful village with ancient Svan towers and surrounded by spectacular mountain views.
The town is small enough to see everything in a couple of hours. However, I would still recommend staying at least one night to get a feel of the town and hike up to the Skhara glacier.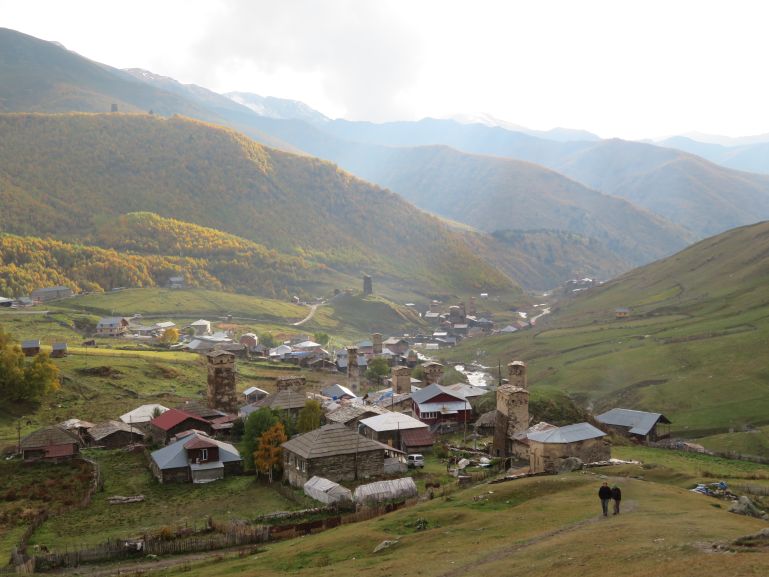 Hatsvali ski lift
The easiest way to get those beautiful mountain views is by taking the Hatsvali ski lift to the Hatsvali ski resort. As the name suggests you can ski here in winter. In summer one ski lift remains open and brings you up to mount Zuruldi.
You can simply enjoy the views here over a cup of coffee in the restaurant or hike along the Zuruldi range.
Hiking
Most people come to Mestia and Svaneti for hiking. There are plenty of hiking trails to choose from. From easygoing day hikes to challenging treks over several days.
Chalaadi glacier (5 – 6 kilometer roundtrip, 1 – 2 hours): The hike to Chalaadi glacier is one of the easiest day hikes from Mestia. The start of the trail is only 8 kilometers from Mestia and then it takes less than an hour to reach the foot of the glacier.
This makes the Chalaadi glacier one of the most accessible glaciers in all of Georgia. The hike is not at all difficult and can be done by families with children. The first part is a gradual climb through the forest. Soon you reach the glacier's moraine with the impressive sight of the glacier in front of you.
Koruldi lakes (21 kilometer roundtrip, 7 – 8 hours): The Koruldi lakes is one of the most popular day treks from Mestia. To reach this group of alpine lakes it is a 10 kilometer climb up the mountains followed by a steep descent back down.
Mestia to Mazeri (32 kilometer one way, 8 – 9 hours): A long and challenging hike brings you in one day from Mestia to the small town of Mazeri. Mazeri is another beautiful village where one can easily spend a couple of days to make further hikes into the area.
Mestia to Ushguli (60 kilometers one way, 3 – 4 day): The most popular hike in Mestia is the hike to Ushguli. This multiple day hike is very popular in summer.
Mestia Svaneti travel tips
How to get to Mestia
Mestia is now firmly on the tourist trail. There are direct marshrutka from Tbilisi (9 hours) as well as a daily morning bus from Kutaisi (6 hours). From Zugdidi (4 hours) there are multiple marshrutka (minivans) per day that leave once full.
My preferred option to get to Mestia is by taking the night train to Zugdidi. Marshrutka to Mestia are waiting at Zugdidi train station for the arrival of the train.
Where to stay in Mestia
As tourism is increasing there has been an explosion of new hotels and guesthouses in Mestia. After several visits to Mestia, my best experience is still with Nino Ratiani guesthouse. Mostly because of the great food and delicious breakfast buffet. It is very popular and often fully booked though and that was the only reason that I didn't stay there again on subsequent visits.
Where to eat in Mestia
Like accomodation there are lots of places to eat in Mestia. Most restaurants serve both Georgian food as local Svan dishes.
My favourite place to eat is Sunseti cafe. It is always busy with both tourists and locals and the food is great. I can recommend their lobio (bean stew in a clay pot) for vegetarians and khinkali. It's also a great place to try Svan specialities such as Kubdari (flatbread stuffed with minced lamb meat) and Chvistari (cornbread with cheese).
There is also a small grocery shop as well as a bakery. The bakery has traditional Khachapuri (bread with cheese). If you can, you should also try the local version of khachapuri filled with cheese and millet flour.
When to visit Mestia
The hiking season in Svaneti runs from June till October. Summer is the most popular time to visit Mestia. The weather is generally pleasant, with average temperatures ranging from 15°C to 25°C (59°F to 77°F). This is an ideal time for hiking, trekking, and exploring the surrounding mountains. The days are long, allowing for extended outdoor activities. However, do note that this is also the busiest time, and popular trails and accommodations may be crowded.
Spring and autumn are transitional seasons in Mestia. During these times, the weather can be variable, with occasional rain and cooler temperatures. However, these seasons offer advantages such as fewer tourists, beautiful blossoms in spring, and vibrant autumn foliage.
Winter in Mestia brings snow and offers a unique experience for winter sports enthusiasts. With the new ski resort in nearby Hatsvali, Mestia is also becoming a great destination for winter sports. The average temperature ranges from -3°C to 5°C (27°F to 41°F).
Disclaimer: This post with a travel guide about the best things to do in Mestia Svaneti contains affiliate links. If you buy any service through any of my links, I will get a small commission at no extra cost to you. These earnings help me to keep Backpack Adventures alive! Thanks for your support!
---
---