The Best Things to do in Nukus, Uzbekistan
This post is about the best things to do in Nukus, Uzbekistan. Nukus is one of the most desolate cities in Uzbekistan. A city that you will visit for its remoteness and isolation rather than its tourist attractions.
Nukus is far away from everything and surrounded by a rather monotonous landscape of desert with dry shrubs. However, it might surprise you, that Nukus, is in fact, a capital. The capital of the autonomous republic of Karakalpakstan.
Nukus is also changing quickly. Recent modernization projects have destroyed much of its Soviet past. Replacing older buildings with new flat apartments. It's not necessarily making the city more attractive. Most of the new buildings are still empty, giving Nukus an even more desolate atmosphere.
Why visit Nukus, Uzbekistan?
Despite its isolation there are, however, a few interesting things to do in Nukus that make it a worthwhile destination in your Uzbekistan itinerary. Compared to more popular tourist destinations, such as Samarkand or Bukhara, Nukus offers a more authentic experience.
Nukus allows you to to explore a lesser-known region of the country. It is the gateway to explore the shrinking Aral sea and the desert of Karakalpakstan with its ancient fortresses and mausoleums.
Karakalpakstan is home to the Karakalpak people. The Karakalpak have a distinct history and origin. They are believed to be descendants of ancient nomadic tribes that inhabited the region for centuries. The Karakalpaks have their own language and culture that is actually more similar to the Kazakh people than the Uzbek people.
That is probably the reason why Nukus feels very different from other places in Uzbekistan. It might not have the splendid silk road architecture, but it definetly is a fascinating region to visit.
The best things to do in Nukus Uzbekistan
Savitsky art museum
The Savitsky art museum is considered to be the best museum in Uzbekistan. In my opinion, this is saying more about the state of museums in Uzbekistan rather than the Nukus art museum itself.
People in Nukus are extremely proud on their museum, but don't raise your expectations too high. Art lovers will definetly appreciate the historical importance of the collection. For others it might be just another museum.
It is the museums location and history that makes this among the top things to do in Nukus. The museum gained international recognition for preserving and displaying a significant collection of forbidden Soviet art, which was considered subversive during the Soviet era.
Savitsky first developed a special interest in the people of Karakalpakstan and he started to collect items like carpets, jewellery and clothes to display Karakalpak culture. He opened the Nukus Art museum in 1966 after which he also started to collect Russian art.
Some of it was banned by the Soviet Union, but somehow protected by its remote location in Nukus. The museum currently has over 82,000 works of art and the second largest collection of Russian avant garde paintings.
Bazaar in Nukus
When you wander through Nukus you keep wondering where all the people are. The bazaar was one of my favourite things to do in Nukus, because it was the most lively place in the city.
It is a typical central Asian bazaar where you can try local delicacies like samsa (filled dough from a tandoor oven), kymyz (fermented horse milk), shubat (camels milk) and kurut (dried yoghurt balls).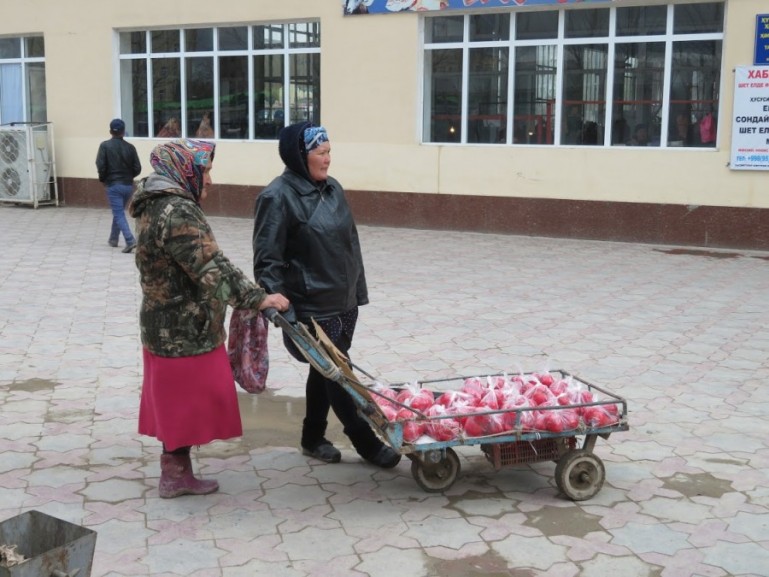 Walk along the Amu Darya river
The Amu Darya river is the lifeline in Nukus and Karakalpakstan as a whole. It is the same river that feeds into the Aral sea and the one that is used for large scale irrigation for the cotton plantations in Uzbekistan. The latter resulting in the Aral sea disaster.
The Amu Darya runs right through Nukus and in the centre is a boulevard with parks that will allow you to stroll next to the river.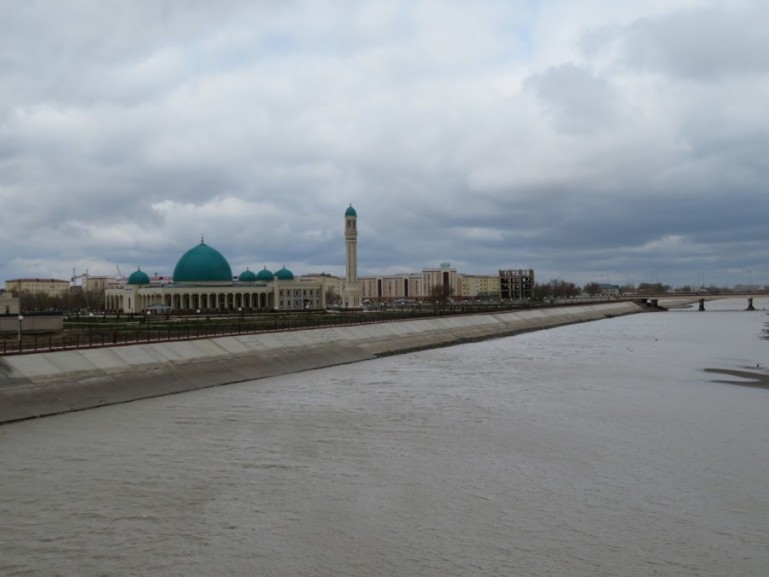 Learn about Karakalpak culture
Nukus provides an opportunity to immerse yourself in the unique culture of the Karakalpak people. The Karakalpak people, who reside primarily in the autonomous republic of Karakalpakstan and Nukus, have preserved their unique customs, traditions, and language over centuries. Known for their warm hospitality and strong sense of community, the Karakalpaks embrace their rich cultural identity.
The Savitsky museum has an excellent collection on traditional Karakalpak culture. However, there is no better way to experience modern Karakalpak culture than by staying in a Karakalpak homestay. This can be arranged by Jipek Joli.
Soviet architecture
A recent modernization spree in Uzbekistan is quickly removing its Soviet heritage for better and for worse. The city is and feels brand new with its modern appartment buildings that still stand empty.
However, if you loke closely some Soviet gems are still there. I found some beautiful mosaics on some of the older buildings.
The best things to do near Nukus, Uzbekistan
Mizdakhan Necropolis
Located around 20 kilometers from Nukus, the Mizdakhan Necropolis is an ancient cemetery that dates back to the 4th century BC. It features various mausoleums, tombs, and religious structures, including the mausoleum of Shamun Nabi, which is considered a pilgrimage site for Muslims.
Mizdakhan is in the middle of the desert and speaks of ancient civilizations, religions and traditions . At the same time it is still an active place of worship where people come to pray or bury their death.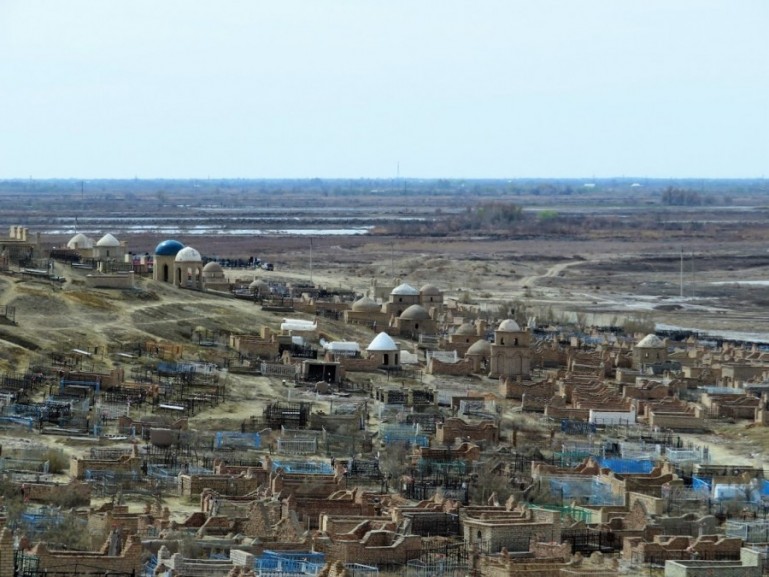 Qaur Qala fortress
Opposite Mizdakhan lies the ancient Qaur Qala fortress on top of a hill. It requires a lot of imagination, but the views are wonderful. Very little is known about this fortress, but they are related to the Khorezm fortresses near Khiva.
Moynaq & Aral sea
Most people travel to Nukus to see the Aral sea and the ship cemetery in Moynaq. Moynaq was once a thriving harbour town with an active fishing industry. Nowhere else are the tragic stories behind the Aral sea disaster more visible as in Moynaq.
Moynaq is a perfect daytrip from Nukus if you have a private taxi. By public transport it is better to stay overnight in Moynaq and make it a 2 day trip.
Read more about how to get to Moynaq in my Moynaq travel guide.
Nukus Travel Tips
What to eat in Nukus
Nukus is a great place try both Uzbek food as well as Karakalpak food. Karakalpak cuisine is quite similar to Kazakh and Kyrgyz cuisine. Traditional Karakalpak dishes include "besbarmak" (a meat and noodle dish), Kurut (hardened cheese balls) and Kymyz (fermented horse milk).
It is also easy to find Uzbek classics like plov (rice with lamb and carrots), laghman (noodles with meat and vegetables) and manti (dumplings)
Where to eat in Nukus
Cinnamon cafe: Cinnamon cafe is by far the best place to eat in Nukus. Centrally located near the Savitsky museum you can not miss it.
Cake hummer: Cake hummer is popular with locals that come to eat cake and to take selfies with the love themed decor. Its popularity seems to come from its huge portions rather than the quality.
The bazaar: The bazaar is a good place to try some local delicacies like samsa (filled dough from a tandoor oven), kymyz (fermented horse milk), shubat (camels milk) and kurut (dried yoghurt balls).
Where to stay in Nukus
Jipek Joli: Jipek Joli is not among the cheapest accomodation options, but is well worth the extra expense. It is without doubt the best place to stay in Nukus.
The staff speaks english and is very helpful in arranging whatever you would like to do in Karakalpakstan. It is also a great place to meet other travellers to share costs of taxi's and Jipek Joli is happy to pair you with other people if possible.
Jipek Joli Inn: Jipek Joli's sister hotel Jipek Joli inn is equally good and slightly cheaper.
Bez Qala: For budget travellers the cheapest option are the dormitories in the Bez Qala guesthouse.
Is it worth it to visit Nukus?
Nukus is quite far from everything else in Uzbekistan and the effort it takes to travel all the way to Karakalpakstan results in most people skipping this part of Uzbekistan.
Let me be honest, if you have limited time you don't really miss much. However, if you do have time it is a worthwhile destination to include in your Uzbek itinerary.
Even though there are not a lot of things to do in Nukus it is an interesting place to visit in Uzbekistan. Be it the possibility to see the disaster of the Aral sea up close or learning about Karakalpak culture.
How to travel to Nukus
Tashkent to Nukus: Getting to Nukus is actually not as difficult as it sounds. Twice a week you can take the sleeper train from Tashkent. It is a great way to start your journey in Uzbekistan and travel slowly back through Khiva, Bukhara and Samarkand to Tashkent.
If you want to know what traveling by train in Uzbekistan is like you can read my post about how to travel by train in Uzbekistan.
Khiva & Bukhara to Nukus: To get from Nukus to Khiva you first need to get a shared taxi or bus to Urgench (3 – 4 hours). From Urgench you can take another shared taxi to Khiva (30 minutes). There are trolley buses too, but they are really slow.
The best way to travel to Bukhara is from Khiva. Read more about this in my post on how to travel from Khiva to Bukhara.
When to visit Nukus
The best time to visit Nukus in Uzbekistan is during the spring (April to May) and autumn (September to October) seasons. During these months, the weather is generally pleasant with mild temperatures and less rainfall, making it ideal for outdoor activities and exploration.
Summers in Karakalpakstan can be hot and dry, with temperatures soaring up to 40°C (104°F). This period is also characterized by low rainfall. When you visit in summer, it's advisable to plan outdoor activities for the early morning or evening when temperatures are cooler.
Winter in Karakalpakstan is cold and windy, with temperatures dropping below freezing, particularly during the nighttime. Snowfall is not uncommon. If you visit in winter make sure you bring warm clothes.
Sustainable Travel to Nukus
Nukus sees more tourists every year. While Tourism is a welcome source of income it can also have negative consequences. Traveling sustainably in Nukus, involves conscious choices that minimize your environmental impact and support the local community.
Support the local community: You can support the community by purchasing goods and services from local vendors, artisans, and restaurants. It is better to try Uzbek cuisine that uses local ingredients rather than imported foreign foods.
Stay in small scale sustainable hotels: It is also better to stay in locally-owned guesthouses or homestays to support the local economy directly. These accommodations often have a more positive impact on the environment compared to large hotels. Where possible, I can recommend staying in a homestay for an authentic cultural experience. You might want to bring a small book with pictures of your family to break the ice.
You can also try to look for guesthouses or homestays that prioritizes sustainable practices. That said, environmental awareness is still low. It's up to you to use water sparsely, turn off lights, air conditioning, and heating when leaving your accommodation.
Use public transport: Nukus has a well-developed public transportation system with shared taxis and marshrutkas. Opt for public transport, whenever possible, instead of private cars to reduce carbon emissions.
Avoid plastics: To avoid single-use plastics, invest in reusable items. For example, you can bring your own water bottle with a filter that you can refill at your accomodation. At last, use biodegradable and eco-friendly personal care products to minimize pollution of water sources.
Respect the culture: Uzbekistan is an Islamic country that is just opening up to tourism. Therefore, learn about the local customs and traditions beforehand and be mindful of your behavior.
People will appreciate it, if you dress modestly, especially at religious sites. Learning a few basic phrases in Uzbek or Russian, can go a long way in building meaningful connections and to learn more about the local culture. Not everybody is happy to have their picture taken. When in doubt, ask permission.
Disclaimer: This city guide with the best things to do in Nukus, Uzbekistan contains affiliate links. If you buy any service through any of my links, I will get a small commission at no extra cost to you. These earnings help me to keep Backpack Adventures alive! Thanks for your support!
---
---