The Best Things to do in Poznan, Poland
This post is about the best things to do in Poznan. Poznan is one of the oldest cities in Poland. It is situated in the western part of the country in between Warsaw and Berlin.
It was once the capital of the early Polish Kingdom and played a big role in the first Polish state in the 9th century. Some would say it is the birthplace of Poland.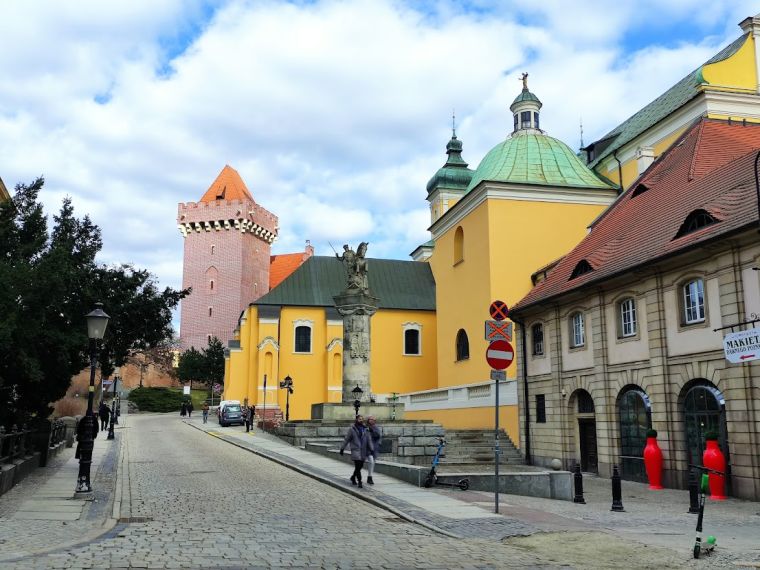 Why visit Poznan
There are plenty of things to do in Poznan, because it still is the cultural capital of the country. Not only are there lots of historical sights, it is also home to a number of important academic centers and museums. As a young student city there is also always something going on and there are lots of cultural activities.
Its long and multicultural history is visible everywhere in its ancient castles, churches and elegant architecture. Furthermore, Poznan has the most beautiful and colorful old market square in Poland.
Poznan is also a great city to try Polish food. You can go for fine dining or try basic but delicious dishes from the cheap socialist milk bars. Local specialities include duck with red cabbage or White poppy seed croissants.
There are enough things to do in Poznan for a day or two, making it a perfect weekend getaway.
Things to do in Poznan
Old Town Square
In my opinion Poznan has the most beautiful town square of all cities in Poland. It is also one of the oldest. It was built in 1253. Up until the 19th century the old town was protected with thick city walls, but as the city expanded the walls had to go.
The main attraction on the old town square is the city's town hall. Every day at noon two goats will come out of the clock tower to butt their heads. Although the town hall was one of the first buildings on the square it has been remodeled and renovated multiple times. It is now home to a museum about the history of Poznan.
The Merchant houses
Once you are at the Old market square the town hall catches your eye immediately. And so do the colorful and narrow merchant homes. They developed in the 15th and 16th centuries. They belonged to several brotherhoods engaged in trading fur and herring.
The merchant homes reflect the wealth of the city. It's still a place of business with souvenir shops and great restaurants
Church of St.Stanislaus
With its bright pink color and baroque facade it is hard to miss the Saint Stanislaus church just behind the market square. Construction started in 1649 and it took the Jesuits more than 50 years to finish.
Royal castle
The Royal castle dates from the 14th century when it was the largest in the Polish kingdom. The castle has a turbulent history of being destroyed and rebuilt. First a fire in 1536, then the Swedish invasion and the Great Northern War in the early 18th century and finally the Second World War that completely destroyed it.
Reconstruction only started in 2010, so the current building is still very new. The main reason to visit the castle is to take the lift up to the tower for a beautiful view over the city. There is a museum as well.
Church of St.Anthony of Padua
When you visit the Royal Palace, don't miss a quick visit to the yellow church of Saint Padua. This 17th century Franciscan church is a beauty. Inside you will find the richly carved altar and chapel of the Lady of Miracles.
National Museum
The National Museum is one of the largest museums in Poland. There is an exhibition of Polish paintings from prominent Polish artists as well as foreign paintings, modern art and applied art.
Freedom square
The Freedom square or Wolnosci square is another popular square in Poznan. Here you will find the National museum as well as the Raczynski Library. It is a large, mostly empty, square. People use this place a lot for demonstrations and protests. In 2012 a new geometric glass fountain was added to the square.
Zamek Cultural Center
When you are in Poznan it is always worth checking out what is going on at the Zamek Cultural Center. With over 2500 events per year it is the biggest cultural institution of Poland. There is a theater, a cinema, a gallery, a concert venue and an exhibition hall.
1956 Museum
Poznan is not only proud because of its role as the birthplace of Poland, but also that it was home to the first resistance against the communist regime in 1956.
On the 28th of June 1956 about 100,000 workers came to demonstrate for better working conditions. The demonstration started peacefully, but was brutally oppressed by the communist regime.
Soldiers from tanks shot at civilians and 57 were killed including a 13 year old boy. In the 1956 museum this story and turbulent time in Poznan comes to life.
1956 Uprising monument
Next to the 1956 museum is also the 1956 Uprising monument in memory of those that died. A sober monument of two steel crosses.
Imperial castle
The imperial castle was built by the Germans in 1910. Which explains the somewhat different architecture from the rest of Poznan. The Germans wanted to create a new imperial district that would become the new German center of town.
The castle had to reflect the control of Prussia over Poland. Hence, the large building in Neo-Romanesque style. In 1918 during the Greater Poland Uprising against the Germans the castle became Polish state property.
During WW2 the Germans took it back again and transformed the castle to become one of the residences of Adolf Hitler. Rooms were restyled and underneath the castle over 300 bunkers were built.
Nowadays the building has multiple functions. It houses the Zamek cultural center, the 1956 museum and the consulates of the Philippines, Guatemala and Slovakia.
Art Nouveau architecture
The Germans not only built the imperial castle, but also brought Art Nouveau into the city. As the city expanded under German rule new neighborhoods were built in Art Nouveau style that was in fashion at the moment.
Poznan is no Riga that has the largest number of Art nouveau buildings. However, there are still some beautiful examples in Poznan, especially in the Jezyce area.
Citadel Park
Poznans citadel park started out as a Prussian fort complete with artillery decks and observation towers. Modern warfare developed more quickly though. Soon the fort was outdated and it never saw any military action. Instead it was used as a prisoners of war camp.
In 1945 it made history as the final Nazi stronghold in the battle of Poznan before the Soviets took over. After the war most of the bricks from the thick city walls were used to rebuild homes. However, enough of the fort remains to remind the occasional visitor of its original purpose.
Under communism a red army memorial and Russian cemetery was added and nowadays you can also find a cemetery of British soldiers.
Cathedral island
Cathedral island or Ostrow Tumski, is the oldest part of Poznan. Apparently this is where three Slav brothers met each other again after many years. They named the place Poznac and thus it is on this island where Poznan began in the 9th century.
The Poznan cathedral, also known as the Peter and Paul cathedral is still the oldest cathedral in Poland.
Śródka
Śródka is a small, nice and quiet neighborhood that is mostly famous for its Tale mural painting. Because it is not far from Cathedral island it makes for a nice and worthwhile detour.
Śródka is probably even older than Poznan and it was famous for its weekly Wednesday market and Dominican monastery. When Poznan grew, the monks moved out and Śródka slowly became part of Poznan itself.
Street art
Poznan is a young student city and is full of street art. From mural paintings like the one in Śródka to modern sculptures. Wherever you are, always keep your eye open.
Things to do in Poznan for foodies
Go budget in a socialist milk bar
Milk bars are the cheapest places to eat in Poland. They are a canteen style restaurant serving basic, but fulfilling Polish dishes. It's like a journey back into socialist times when this was the main way to feed the masses.
Some haven't changed much, keeping their rustic and functional style. Others have become more up market with a modern design.
Whenever I am in Poland I always look for a milk bar if I want a decent meal on a budget. In Poznan there are several milk bars. On freedom square you will find Milk bar Caritas and milk bar pod Arkadami.
Recommend: Start with one of the soups and then have a main meal of cutlet or a sausage with cabbage and mashed potatoes.
Try Polish potato delicacies at Pyra Bar
The Pyra bar is a Polish chain that has a restaurant in Poznan. They specialize in Polish potato dishes like potato pancakes, potato cakes, potato gratin and more.
All with a choice of different sauces and toppings. Prices are very reasonable and it's a great place for a budget lunch.
Recommended: the baba potato cake with mushrooms, sour cream and bacon.
Try Polish Pierogi at Pierozak pierogarka
Polish dumplings are very similar to Ukrainian Vareniki or Russian pelmeni. In Poznan you can choose between a wide variety of fillings and toppings at Pierozak Pierogarka. Another great budget lunch place
Recommended: My favorite filling is cabbage with mushrooms, but you could also choose spinach feta and walnuts or cream cheese with potatoes. Don't forget to add onion, bacon and sour cream as a topping.
Eat Polish food at Rynek 75
The Old market square has a lot of restaurants to choose from. Being in a prime location they are all a bit touristy and a bit up market. Rynek 75 is a good choice.
Recommended: You can try duck with red cabbage that is a speciality from Poznan. If you like meat I would suggest the pork neck steak with rynek 95 sauce.
Try the St.Martin croissant
The St.Martin croissant is another specialty from Poznan. It is more a pastry than a croissant as it is filled with a white poppy seed mixture. It is available in most bakeries.
Poznan travel tips
Where to sleep
Budget dormitory: For budget dormitories near the old town you can try Blooms Boutique hostel or Hostel Stonewall. They are the cheapest options within walking distance of most sights.
Budget room: If you prefer more privacy you can consider Moon Hostel or Color Hostel. These hostels offer clean rooms on a budget. Both have a central location near the old town.
Budget apartment: If you are staying for a longer period of time in Poznan you can also rent an apartment. Apartment Terra Pia has good reviews and is not far from the old town.
How to get there
Poznan is well connected by train with frequent international trains to Berlin as well as national trains to Wroclaw and Warsaw. Travelling by bus is also an option with buses to most other major Polish cities.
How to get around
Most sights are within walking distance of each other and I only used the local tram and bus to get to and from the train station. Poznan has a good bus and tram network that can bring you anywhere in the city
If you do plan to use public transport more frequently it is worth it to buy a 24 hour ticket instead of single tickets. You can also look into the Poznan city card that offers free use of public transport, free access to museums and discounts on lots of activities. Depending on what you plan to do this might save you some money.
When to visit
Poznan is an all year round destination, although most people prefer the warm summer days. The downside of visiting in summer is that it will be busy and prices for accommodation are slightly high. Spring and Autumn are therefore the best times to go. I visited in winter and although it was cold it had its charms as well.
Disclaimer: This post about the best things to do in Poznan Poland contains affiliate links. If you buy any service through any of my links, I will get a small commission at no extra cost to you. These earnings help me to keep Backpack Adventures alive! Thanks for your support!
---
---