The Best Things to do in Samarkand, Uzbekistan
This post is about the best things to do in Samarkand. One reason to visit Samarkand and Uzbekistan, is to see the magnificent Islamic architecture in the ancient Silk road cities. I absolutely loved Khiva and Bukhara, but I also felt Uzbekistan did not live up to places like Shiraz or Isfahan in Iran. That was, untill I visited Samarkand.
Samarkand had all the odds against me liking it. I don't like big cities, while Samarkand is the second largest city in Uzbekistan. It is also the most touristic, even though it lacks a scenic old town and most things to do in Samarkand are spread out over the city.
And yet, Samarkand was one of my favourite places to visit in Uzbekistan. This was the Uzbekistan that I was hoping to see and that offered me a glimpse in the true glory of the Silk road days. It is clear to me why Samarkand attracts so many visitors. The city holds some real gems and I was left in awe more than once.
What to do in Samarkand
My first "wow" moment was right when I arrived in Samarkand at the Registan. It is hard not to be impressed by this square with its beautiful madrassah's. The blue domes, the high minarets, the intricate patterns in the mosaics and the colourful tilework.
But the Registan is just the beginning of all the things to do in Samarkand. There are equally stunning mausoleums, shrines and mosques. Most of them are from the time of Timur the Great. However, Samarkand is not all about Islamic architecture.
Samarkand is also a great place to get a feel for contemporary Uzbek culture and its delicious cuisine. Most historical monuments remain incredibly holy places for the Uzbek people. As touristic as Samarkand may be, they still attract more local pilgrims than foreigners. Furthermore, while Islam might still rule, Samarkands history goes back much further.
A short history of Samarkand
Together with Bukhara, Samarkand claims to be one of the oldest continuously inhabited cities in Central Asia. Archeologists suggest that people already lived here in the Paleolithic era. Alexander the Great, Genghis Khan and a number of Persians and Turks ruled the city.
Samarkand was the capital of the ancient Sogdian empire as well as the Timurid empire under Timur the Great (Tamerlane). Timur rose to power in the late 14th century and his empire spanned from modern-day Turkey and Iran to India. Although Timur was a ruthless military leader, he also had a keen interest in art, culture, and architecture.
Timur developed Samarkand in a center of Arts and Islamic learning. He patronized scholars, artists, and architects, leading to the development of a unique architectural style known as Timurid architecture. Samarkand became one of the most beautiful cities in Central Asia. However, its glory days were numbered when in 1500 Uzbek nomad warriors took over and moved the capital to Bukhara.
Samarkand fell into decline and so did its mausoleums, mosques and madrassah's. It was only revived by the Soviets who connected Samarkand to the Trans Caspian railway and restored most of the Timurid monuments.
The renovations were not without controversy. Some believe it was done so agressively that the monuments lost their authenticity. Others felt it needed to be done to save the ruins from total destruction.
When I saw the before and after pictures, I did realize that most of the things to do in Samarkand are actually not that old. What I am looking at is a reconstruction of how the Soviets imagined Samarkand to be. Either way, Samarkand is impressive.
The best things to do in Samarkand.
Registan
The Registan is among the top things to do in Samarkand. The central square has three beautiful madrassah's from the 15th and 17th century.
The Ulug Begh madrassah is the oldest madrassah in Samarkand. It was a great centre of learning where scientist Ulug Beg himself gave lectures in mathematics and astronomy.
The Sher Dor madrassah is interesting for the two tigers with a rising sun that you can see on its facade. It is remarkable, because in Islam it was prohibited to paint images of living beings.
The Tillya Kari madrassah was a residence for the students, but also had a mosque. The inside is exceptionally beautiful with blue and golden tilework.
Insider tip: Come early in the morning when the sun rise creates the best light for photography and tour groups have not yet arrived.
Gur-e-Amir mausoleum
Gur-e-Amir means tomb of the kings. This is where Timur the Great, his sons and grandsons found their last resting place. The architectural model of the mausoleum was later an inspiration for Humayun's tomb in Delhi and the Taj Mahal in Agra.
There is a legend about a Soviet archeologist who wanted to research Timur's skull. Locals warned him that opening his tomb would bring bad luck, but the archeologist proceeded regardless. On the day he opened the tomb, Hitler attacked the Soviet Union.
The mausoleum remains a holy place for Uzbek people. You can see a lot of Uzbek people that come to pray. When I was there one family even offered a sheep to the mausoleum.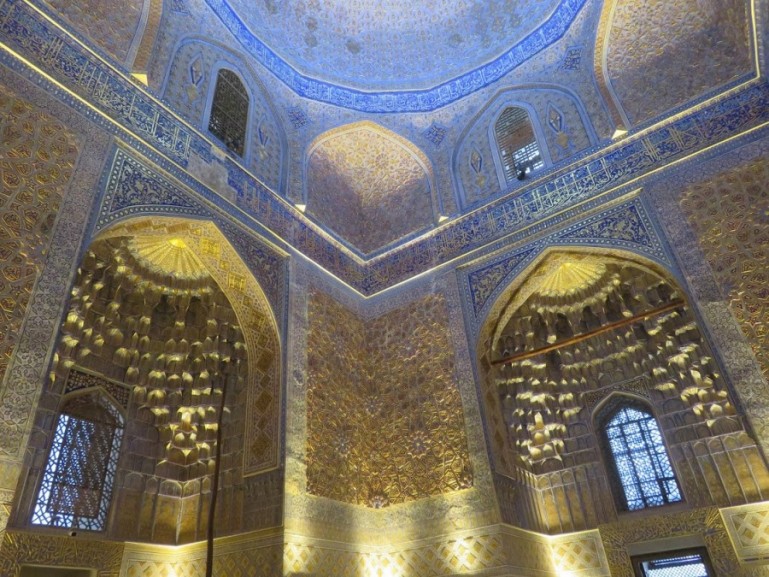 Hovrenko wine tasting
The Russians not only renovated Samarkand, but also brought wine making to the region. Hovrenko's wine factory from the late 19th century is the oldest in central Asia. They give Sampling sessions to tour groups that you are free to join as an individual tourist.
Central Park
Near the Hovrenko wine factory is Samarkands Central Park with a monument to two of the greatest poets in Uzbek and Tajik literature. Alisher Navoi and Abdurakhman Jami stand before the entrance of Samarkands greenest space.
Ulug bek observatory
Ulug bek ruled Uzbekistan for a short period of time only. He wasn't very good in governing the country, but he was a great astronomer. His real passion was with science and teaching. He built the first astronomical observatory in central Asia and two madrassah's where he gave lectures on mathematics and astronomy.
After Ulug Beks death, religious extremists destroyed the observatory. People forgot about it, untill a soviet archeologist found documents that revealed its existence. Excavations showed the huge curved tracks used for the astronomical instruments.
Tomb of the prophet Daniel
The biblical prophet Daniel has burial sites all over the world that claim to be his. From Morroco, Iraq, Turkey, Iran to Uzbekistan. Actually the tomb in Susa, Iran has the most supporters for being the real one, but people in Samarkand will disagree.
The story goes that in the war with Syria, Timur the Great brought back some of the remains of prophet Daniel to Samarkand. Another legend even tells that during Daniels burial ceremony a natural water spring came up. Locals still believe this water has healing powers.
Uzbek pilgrims come here to pray, take along some of the holy water and see the impressive 18 meter long sarcophagus. Timur the great said that Daniels body was still growing at a rate of 5 centimeters a year and therefore he needed such a long resting place.
Afrosiab settlement & Museum
Samarkand is full of impressive Timurid monuments, but long before Timur the Great, Samarkand was the capital of the Sogdian empire and one of the richest cities on the Silk Road.
The Sogdians were a hybrid culture of both Chinese and Iranian influences. They followed Zoroastrianism and a range of other local traditions that they spread out through the region as they travelled along the Silk Road as merchants.
In that time, Samarkand was described as a wealthy city on a fortified hill surrounded by lush gardens and fertile farms. The hill is still there and holds the ruins of the ancient Afrosiob settlement that was eventually destroyed by the Mongol invasions in the early 13th century.
Few tourists come here and the green hills are now used by herders with their sheeps. Truth be told, the ruins require a lot of imagination and at first sight there is nothing spectacular to see. But look closely and you will find pottery shards, coloured glass and other obviously ancient stuff. It's an archeologists dream come true.
Some of the most precious findings, like a frescoe of a Zoroastrian Nowruz celebration, were moved to the Afrosiob museum. However, it is obvious that much work still has to be done and if these remains were in a city like Rome they would be among the top tourist attractions with thousands of visitors.
I was all on my own here and the only company we had were the sheeps and goats. It was one of my favourite things to do in Samarkand.
Shah i Zinda complex
The Shah-i-zinda complex is one of the most important burial sites in Uzbekistan. People believe that Kusam, a cousin from prophet Muhammad, is buried here. Kusam came to Samarkand during the 7th century with the Arab invasion to preach islam. At that time his efforts were not appreciated and he was beheaded.
Somehow Mohammed's cousin did not die, but rather took his head and went into a well where he still lives. Since then the elite, including relatives of Timur the Great, prefered the Shah I zinda to be their final resting place. From the 11th till the 16th centuries several impressive mausoleums were built.
The Soviets had a blast here with their renovations and the result is nothing less than impressive. Together with the Registan the Shah-i-Zinda complex was among the most beautiful things to do in Samarkand.
Hazrat Khizr mosque
The Hazrat Khizr mosque is rather modest compared to the nearby Bibi Khanum mosque, but it was the first religious building in Samarkand. Locals believe that it was Hazrat Khizir that gave instructions to build the mosque.
Hazrat Khizr is an important prophet in islam that lived in the time of Abraham. There is a widespread belief among muslims that he was immortal, even though Islamic scholars rejected this idea.
Karimov mausoleum
Karimov, Uzbekistan's long time ruler was in power as soon as Uzbekistan became independent. For 27 years, he was a true Soviet leader, using the same authoritarian tactics. Then, all of a sudden he died in 2016.
Karimov was from Samarkand. Therefore his mausoleum was built right next to the Hazrat Khizir mosque and the Shah-i-Zinda complex.
I was surprised to see how busy it was. The Uzbek visitors treated Karimov's tomb as a holy shrine. They prayed, made donations and took their selfies. was he really that popular?
Obviously Karimovs propaganda that praises his contributions towards Uzbekistans stability and progress was succesful to some point. However, behind the scenes are stories of thousands of political prisoners, torture and forced labour in the cotton industry.
Siob bazaar
Samarkand's Siob bazaar is a welcome change from all the shrines and mosques. It's a typical central Asian market with spices, nuts, fruits and vegetables.
Bibi Khanum mosque
Timur the great wanted to build the largest and most beautiful mosque in his empire. It was Timur's most ambitious project and resulted in the Bibi Khanum mosque. Big it was and with its extensive decorations it was one of the most magnificent structures in Samarkand.
However, building techniques were pushed to the limits and from the start there were structural problems. It was an ongoing struggle of reinforcements and renovations to save the mosque. By the 19th century the mosque was in ruins. Renovation work is still ongoing.
Karimov Monument
Like Karimov's mausoleum I was in for a surprise at Karimov's new statue. Throughout my trip in Uzbekistan I regularly met married couples taking pictures at the monuments in their city. In Samarkand it was the Karimov statue that attracted the newly weds.
When I was there one couple was carefully staging their perfect moment with their familie and a number of white doves. The next two couples were already waiting in line for their turn.
Soviet mosaics
It is clear that Uzbekistan is much more proud of its Islamic legacy under the Timurids, than of its time in the Soviet Union. Street names were changed and Lenin statues were replaced by Timur the great or famous Uzbek poets like Alisher Navoi.
Ironically it was the Soviets that restored the Islamic monuments, but you need to look hard for any Soviet heritage. Samarkand and Tashkent are the best cities in Uzbekistan where you can still see some Soviet architecture.
One of my favourite findings in samarkand was a wall with beautiful Soviet mosaics near the Registan.
The best things to do near Samarkand
With so many things to do in Samarkand I had unfortunately not so much time to see the tourist attractions outside of the city. If you have enough time there are some interesting day trips.
Al Bukhari mausoleum
The Al Bukhari mausoleum, just 25 kilometers from Samarkand, is another important pilgrimage site for Uzbek Muslims. Al Bukhari was an influential Islamic scholar who died in 870. The current complex was built in 1998 by former president Karimov.
How to get there: from the bus stop at Shah-i-Zinda take a bus heading towards Chelek and then get off at the village of Khoja Ismail
Urgut bazaar
Urgut is famous for its bazaar that is much larger and cheaper than the Siob bazaar in Samarkand. It is one of the best places to buy jewellery and antique clothes. Come here on Sunday or Wednesday when the bazaar is at its biggest. On other days not all sections are open.
How to get there: At the corner of the Registan with Dagbet there are shared taxi's or minibuses to the village of Urgut. It takes about an hour.
Shakhrisabz
Timur the Great was born in Shahkrisabz and that is where he built his palace and own mausoleum. Unfortunately his wish to find his last resting place in is home town did not materialize. He died from an illness in Kazakhstan during a military campaign. His body was brought to Samarkand to be buried in the lavish Gur-e-Amir mausoleum.
The old center of Shahrisabz with its mosques, mausoleums and palaces is now a World Heritage site. I must be honest that I did not have the time to visit Shakrisabz but the Wandering Wheatleys did and they have an excellent post on what to see in Shakrisabz and their take on whether it is worth a visit.
How to get there: Shared taxi's leave 100 meters south of the Registan bus stop at the registan supermarket. It takes about two hours and is a scenic ride. This road might be closed between December and March because of snow on the mountain pass
Nuratau mountains
If you are tired of all the mosques and madrassah's and you want some nature head to the Nuratau mountains. The Nuratau nature reserve is great for hiking, birdwatching and spotting wild Severtsov sheep. The sceneries are beautiful and it is a perfect place to get away from the crowds.
The Nuratau mountains are an off the beaten path destination and tourism infrastructure is basic. The eco tourism homestays are one of the few community based tourism projects in the country.
How to get there: From the Ulug bek bus station in Samarkand take a minibus or shared taxi to Jizzakh. Most likely you will arrive at the Olmachi bus station in Jizzakh and you need to take a shared taxi to the Gorod bus station in Jizzakh. From there you can take a shared taxi to Yangiqishloq (Forish).
In Forish you can arrange a homestay in one of the villages like Sentyab, Asraf, Hayat or Uhum. To get there you need to take a private taxi from Forish
Samarkand Travel Tips
What to eat in Samarkand
Uzbek cuisine is known for its rich flavors, hearty dishes, and the use of aromatic spices. In Samarkand you can dfind all the Uzbek classics such as Plov (rice with carrots and meat), Laghman (noodles with meat and vegetables) and Manti (dumplings).
Samarkand has a few local dishes and is also famous for its good quality of Non bread from the tandoor oven and Samsa. Samsa is a popular pastry throughout Uzbekistan, but the Samarkand version has its own distinct characteristics. Samarkand samsa is typically larger in size compared to other regions and is often shaped like a triangle. The crust of Samarkand samsa is known for its flakiness and rich flavor.
Where to eat in Samarkand
Bibi Khanum teahouse: This was my favourite place in Samarkand for delicious Uzbek cuisine. Besides the usual plov, laghman and shaslick they alse serve other national dishes like dolma and flavourful stews. Especially the soups are very good.
Cafe magistr: Cafe Magistr is a nice place for lunch near the Gur-e-Amir mausoleum. It had great coffee, but also surprisingly good food. If you want a change of central Asian cuisine this is the place to be. They have decent pizza and pasta.
Platan: Platan is a bit of an up market restaurant, but with very reasonable prices. The menu is varied and you can go for either Uzbek cuisine or international cuisine. The food I had was very good
Osh Markazi: If you want to try plov you should go to the Osh Markazi. They serve only one dish, but do a very good job in making the best plov in Samarkand
Where to sleep in Samarkand
Timur the great: I stayed in Timur the Great and although it is not the cheapest option I can fully recommend this place. The owner is extremely friendly and helpful. Breakfast is included in the price and it was the best breakfast we had in Uzbekistan. It is only a few minutes walk from Registan square
Amir Hostel: Amir hostel is a popular hostel among backpackers, because of its budget prices and good breakfast buffet. It is close to the Platan restaurant, but a bit far from the main tourist attractions
How to travel to Samarkand
Samarkand has a central location and it is easy to travel to Samarkand from either Tashkent or Bukhara.
By train: Travelling by train is the most comfortable way to travel to and from Samarkand. There are several trains that run between Samarkand, Bukhara and Tashkent.
With the daily high speed Afrosiyob it takes less than 2 hours to reach Bukhara and about 2,5 hours to reach Tashkent. With the other trains it takes about 3,5 hours to get to Tashkent and 2,5 hours to get to Bukhara.
By bus or shared taxi: If you were not able to get train tickets, there is always the option of a mini bus or shared taxi. From Samarkand there are buses and shared taxi's to Tashkent, Bukhara, Shahkrisabz, Urgut and also Penjikent in Tajikistan.
The border between Samarkand and Penjikent is now open for foreigners, making Samarkand a good place to cross into Tajikistan.
How to get around Samarkand
Many of Samarkand's attractions, including the Registan Square, Gur-e-Amir mausoleum, and Bibi-Khanym Mosque, are located within walking distance of each other. Exploring the city on foot allows you to take in the historical sites, admire the architecture, and immerse yourself in the atmosphere of this ancient city.
Taxis are a convenient option for traveling longer distances within Samarkand or reaching specific destinations outside the city center. You can easily find taxis at designated taxi stands or hail one on the street. It is advisable to negotiate the fare before starting the journey.
Marshrutkas are minibusses that operate on fixed routes within the city. They are an affordable and popular mode of transportation for both locals and tourists.
When to visit Samarkand
Samarkand has cold winters and very hot summers. The best months to visit Samarkand are April, May and June (spring) and then again in September and October (autumn).
Spring in Samarkand is characterized by mild temperatures and blooming landscapes. The weather is generally pleasant, with temperatures ranging from 15°C to 25°C (59°F to 77°F). This is an excellent time to visit as the city comes alive with colorful flowers, and you can enjoy the sights without the intense heat of summer.
In spring you can also experience the Nowruz celebrations. Nowruz, the Persian New Year, is celebrated in Samarkand and throughout Uzbekistan with great enthusiasm and cultural festivities.
Autumn is another favorable time to visit Samarkand. The temperatures start to cool down, and the weather remains pleasant for outdoor activities.
Sustainable travel in Samarkand
Samarkand sees more tourists every year. While Tourism is a welcome source of income it can also have negative consequences. Traveling sustainably in Samarkand, involves conscious choices that minimize your environmental impact and support the local community.
Support the local community: You can support the community by purchasing goods and services from local vendors, artisans, and restaurants. It is better to try Uzbek cuisine that uses local ingredients rather than imported foreign foods.
Stay in small scale sustainable hotels: It is also better to stay in locally-owned guesthouses or homestays to support the local economy directly. These accommodations often have a more positive impact on the environment compared to large hotels. Where possible, I can recommend staying in a homestay for an authentic cultural experience. You might want to bring a small book with pictures of your family to break the ice.
You can also try to look for guesthouses or homestays that prioritizes sustainable practices. That said, environmental awareness is still low. It's up to you to use water sparsely, turn off lights, air conditioning, and heating when leaving your accommodation.
Use public transport: Samarkand has a well-developed public transportation system with shared taxis and marshrutkas. Opt for public transport, whenever possible, instead of private cars to reduce carbon emissions.
Avoid plastics: To avoid single-use plastics, invest in reusable items. For example, you can bring your own water bottle with a filter that you can refill at your accomodation. At last, use biodegradable and eco-friendly personal care products to minimize pollution of water sources.
Respect the culture: Uzbekistan is an Islamic country that is just opening up to tourism. Therefore, learn about the local customs and traditions beforehand and be mindful of your behavior.
People will appreciate it, if you dress modestly, especially at religious sites. Learning a few basic phrases in Uzbek or Russian, can go a long way in building meaningful connections and to learn more about the local culture. Not everybody is happy to have their picture taken. When in doubt, ask permission.
Disclaimer
Disclaimer: This Samarkand travel guide with the best things to do in Samarkand Uzbekistan contains affiliate links. If you buy any service through any of my links, I will get a small commission at no extra cost to you. These earnings help me to keep Backpack Adventures alive! Thanks for your support!
---
---