The 10 Best Things to do in Tajikistan
Tajikistan is one of my favourite countries in Central Asia. Even though travel in Tajikistan is still a challenge sometimes, there are plenty of interesting things to do in Tajikistan that make a visit very worthwhile.
Trekking is among the top things to do in Tajikistan. Over 90% of Tajikistan's landscape is mountainous and begs to be explored. What you will find is deep blue glittering lakes, spectacular mountain views, isolated valleys, traditional communities and warm hospitality.
Trekking in Tajikistan is for those that love adventure and don't mind going back to basics. Because there are still relatively few tourists you are likely to have the hiking trails all for yourself. If you are very lucky you might even spot a snow leopard, a marco polo sheep or a bear.
But even for those that love history and culture there are enough interesting things to do in Tajikistan. Besides the beautiful mountain landscapes, the country is also home to some of the oldest cities along the Silk road. The bustling bazaars are still a reminder of this time as well as the ancient fortresses and mystic shrines.
Tajikistan is very rich in cultural traditions that were often well preserved in the remote mountain valleys, despite politics such as the Great Game between Britain and Russia. The Persian cultural influences are undeniable, but so are its Soviet past and its new search for a Tajik identity.
The best things to do in Tajikistan
In this post I will share the top 10 things to do in Tajikistan. You will need at least a 3 week Tajikistan itinerary to see and do everything I mention here.
1. Explore Soviet Tajikistan in Khujand
For those that love Soviet history there are enough things to do in Tajikistan. The best place to see Soviet remains is in former Leninabad. Not only is it home to the largest Lenin statue in Central Asia, there is also an abandoned soviet airplane cafe and the Arbob palace that used to be the headquarters of collective farming.
Besides Soviet history there are other things to do in Khujand as well. Khujand is the second biggest city in Tajikistan. The scenic location along the Syr Darya river makes it a very pleasant place to be with lots of parks and green spaces. It is also one of the oldest cities in central Asia, although only a reconstruction of the Khujand citadel remains.
Where to sleep: Golden Appartments or Somoni Hostel
2. Shop at Tajikistan's bazaars
Like everywhere in Central Asia, Tajikistan's bazaars are a colourful and lively affair. You can find almost anything from heaps of dried fruits to tandoor breads, spices, meat and dairy products.
My favourite bazaar was the Panchshanbe bazaar in Khujand with thousands of stalls full of local produce. Because tajikistan is relatively off the beaten path there are not many tourists around and very few souvenirs. Although the spices, dried fruits and traditional textiles make great gifts to bring back home
3. Try Qurutob
Let me be honest that real Tajik cuisine is hard to find. In most restaurants they serve the regular central asian dishes like plov, laghman and shaslyck.
However, there is one national dish that is unique to Tajikistan. Qurutob is a mixture of bread and meat in a yoghurt onion sauce. The best place to try them is Dushanbe where there are several restaurants called qurutobkhona that only make this one recipy.
4. Relax in Dushanbe
As a city Dushanbe is a relative newcomer in Central Asia, but president Emomali Ramon is trying to develop it in a noteworthy capital. The architecture is not as futuristic and crazy as Nursultan in Kazakhstan, but some interesting buildings are there.
Among them are the largest tea house in the world, the biggest library in central Asia and one of the tallest flagpoles in the world. It's not because of the buildings though that Dushanbe is worthwhile. It's the pleasant atmosphere and the great cafe and restaurant scene that makes Dushanbe a great city to relax in.
With its green spaces, cafes and the leafy Rudaki boulevard, Dushanbe is an oasis of comfort in a country where travel can be difficult. Its the perfect place to treat yourself on a bit of luxury before heading off on a Pamir highway tour.
Where to sleep: Pamir hotel hostel, Hello Dushanbe hostel, Yellow hostel Dushanbe & City hostel Dushanbe
5. Hike around Iskanderkul lake
Iskanderkul lake was said to be one of the most beautiful mountain lakes in the former Soviet Union. It remains popular as a weekend get away for people from Dushanbe and is also getting more attention from foreign travellers looking to get a taste of the Fann mountains.
In my personal opinion the Soviets weren't necessarily right. There are hundreds of blue glistening lakes in Tajikistan, especially in the Fann mountains. But, Iskanderkul lake is one of the most accesible ones.
Iskanderkul lake is only 5 hours from Dushanbe and therefore easy to visit. It is also a great place to make some easy day hikes and see more of rural tajikistan.
Where to sleep: Voris Guesthouse in Kanchoch and Hostel on Iskanderkul lake.
6. Trekking in the Fann mountains
The Fann mountains offer some of the most spectacular mountain views in the country and a number of exciting trekking options. I already mentioned Iskanderkul lake, but there is so much more to see and do in the Fann mountains.
From Penjikent you can do the Haft kul hike where you will trek along seven deep blue mountain lakes. From Artush hiking paths go op to the Kulikalon lakes. If you are up for a challenge these lakes all connect with Iskanderkul lake through multiple day hikes over high mountain passes.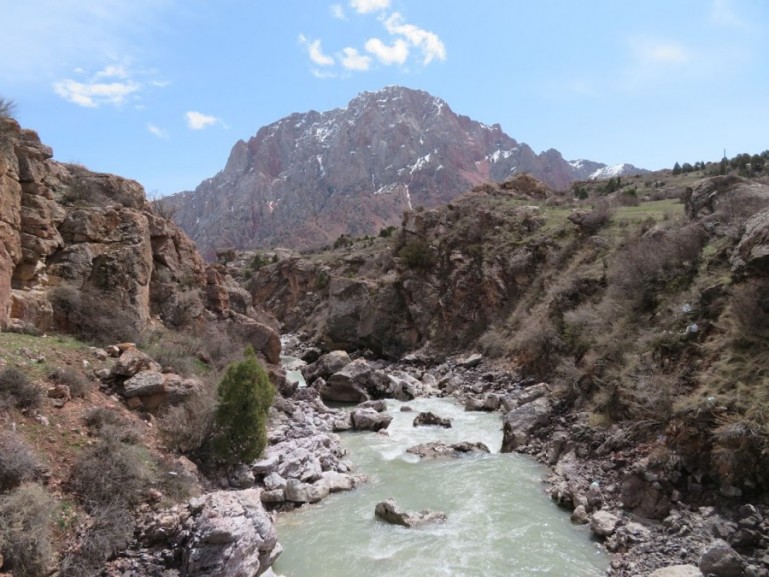 7. Meet the unique Yagnob people
The off the beaten path Yagnob valley is not only worth a visit for its beautiful landscapes, but also because of its unique culture. The Yagnob people are direct descendants of the ancient Sogdians. Years of isolation in the remote valley has preserved many cultural aspects of this ancient civilization.
The Yagnobi's are the only people in central Asia that still speak a Sogdian language. The valley has a number of traditional villages that have only recently opened their doors to visitors. A few homestays now exist under community based tourism projects.
Margib is the main town in the Yagnob valley and from there you can do some interesting hikes to other villages like Pskon using ancient mule paths.
8. Driving along the Pamir highway
The Pamir highway is the second highest highway in the world and one of the top things to do in Tajikistan. Every day the landscape changes from lush green hills to rugged mountains and lunar high altitude landscapes.
The M41 runs from Dushanbe in Tajikistan to Osh in Kyrgyzstan. Although it is possible to drive the Pamir highway in 3 very long days I would suggest at least a one week Pamir highway itinerary. There are so many things to see and do along the Pamir highway that the more time you have the better.
Where to sleep in Khorog:Roof hostel, Pamir hostel & Bed and breakfast Mir. For luxury and comfort choose the more expensive Zafar hotel & Zarya hotel.
Where to sleep in Murghab: The only place to book online is the nice and comfortable Guesthouse Erali.
9. Walk the Jizeu trek in the Bartang valley
Coming from Dushanbe, one of the first possible sidetrips along the Pamir highway is the Bartang valley. From there you can do the short 5 kilometer trek to the village of Jizeu. It takes only 2 hours from the Bartang highway.
There are several welcoming homestays where you can sleep the night. Other villages along the Bartang valley highway are Siponj and Gudara. After Gudara the road is often closed, but if it is open you can continue towards Karakul lake. This makes the Bartang valley highway a more quiet alternative to the Pamir highway that can get quite touristy in summer.
10. Visit hot springs and ancient forts in the Wakhan valley
Rather than travelling straight from Khorog to Murgab it is possible to take a detour into the scenic Wakhan valley. Besides spectacular mountain views the Wakhan valley is also interesting for its unique culture.
The Wakhan people are not Sunni muslim like the rest of Tajikistan, but follow the Ismaili faith. A liberal branch of Shia islam. Unique to the Wakhan valley are the local shrines topped with goat horns and the architecture of the homes that represent the four pillars of islam.
The history of the Wakhan people even predates islam though. The valley is home to ancient Zoroastrian and Buddhist temples, petroglyphs and forts. Also don't miss the hot springs that are believed to have healing properties.
Sustainable Travel in Tajikistan
Tajikistan is seeing more tourists every year. While Tourism is a welcome source of income it can also have negative consequences. Traveling sustainably in the country, involves conscious choices that minimize your environmental impact and support the local community.
Support the local community: You can support the community by purchasing goods and services from local vendors, artisans, and restaurants. It is better to try Tajik cuisine that uses local ingredients rather than imported foreign foods.
Stay in small scale sustainable hotels: It is also better to stay in locally-owned guesthouses or homestays to support the local economy directly. These accommodations often have a more positive impact on the environment compared to large hotels.
Tajikistan has a number of community based tourism initiatives with excellent homestays. Where possible, I can recommend staying in a homestay for an authentic cultural experience. You might want to bring a small book with pictures of your family to break the ice.
You can try to look for guesthouses or homestays that prioritizes sustainable practices. That said, environmental awareness is still low. It's up to you to use water sparsely, turn off lights, air conditioning, and heating when leaving your accommodation.
Use public transport: Tajikistan has a well-developed public transportation system with shared taxis and marshrutkas. Opt for public transport, whenever possible, instead of private cars to reduce carbon emissions. Avoid internal flights. The journeys on road might be long, but the views are spectacular.
Leave no trace principle: Tajikistan is famous for its natural beauty and mountains. When hiking, stick to designated trails when they are there, avoid disturbing wildlife or picking plants, and leave no trace of your presence. Ensure you take all your trash back with you and dispose of it responsibly.
To avoid single-use plastics, invest in reusable items. For example, you can bring your own water bottle with a filter that you can refill at your accomodation. At last, use biodegradable and eco-friendly personal care products to minimize pollution of water sources.
Respect the culture: Besides environmental concerns it is also important to respect the culture. Tajikistan is an Islamic country that is just opening up to tourism. Therefore, learn about the local customs and traditions beforehand and be mindful of your behavior.
People will appreciate it, if you dress modestly, especially at religious sites. Learning a few basic phrases in Tajik or Russian, can go a long way in building meaningful connections and to learn more about the local culture. Not everybody is happy to have their picture taken. When in doubt, ask permission.
Disclaimer: This post about the best things to do in Tajikistan contains affiliate links. If you buy any service through any of my links, I will get a small commission at no extra cost to you. These earnings help me to keep Backpack Adventures alive! Thanks for your support!
---
---