The Best Things to do in Tartu, Estonia
This post is about the best things to do in Tartu Estonia. Tartu is the country's second biggest city after Tallinn. It is located in the southeastern region on the banks of the Emajõgi river.
Tartu is the academic center of Estonia and will be the European capital of culture in 2024. It's a compact student city, but there are nevertheless plenty of things to do in Tartu. While often overlooked by travellers to the Baltics, it is a charming place that definitely deserves a visit.
Why visit Tartu Estonia?
Tartu is home to the largest and oldest university in the country that attracts people from all over Europe. The students make Tartu feel like a young and vibrant city with lots of trendy cafes and restaurants.
At the same time the architecture brings you back to the 19th century. Neoclassical style buildings and traditional wooden homes dominate the city landscape. This makes it a very different place from medieval Tallinn.
It is no surprise that Tartu will be the European capital of culture in 2024. Tartu has a number of excellent museums, art galleries and theaters. In addition, there are many events, festivals and concerts throughout the year. No matter what season you visit the city, there are always plenty of things to do in Tartu.
Things to do in Tartu Estonia
Below you will find a list of the best things to do in Tartu. I suggest spending at least two full days in the city. The center is not that big and most sights are within walking distance. I would suggest one day to see Toome hill and the Old town and another day to visit some of the excellent museums.
Raekoja plats
Raekoja plats is a great place to start cose to this central square. In addition, most festivals and events happen here. When I was there in winter there was an ice rink and a small Christmas market.
Raekoja plats was the main trading area of Tartu. It is still home to some beautiful 18 and 19th century architecture that was built after the Great Fire of Tartu in 1775.
Tartu town hall
The colourful town hall immediately stands out with in front the statue of the kissings students. It was the third town hall building on the same location. Its Neoclassical style was inspired by the town hall in Narva.
Leaning house of Tartu
Another interesting building is the leaning house of Tartu. The house is leaning sideways due to the uneven ground. Where at one side the building is supported by the foundations of the ancient city wall, the other side is supported by mere logs that sank as groundwater levels went down.
Toome hill
Another historic part of Tartu is Toome hill. The first fortifications were probably already there in the 7th century. With its strategic position overlooking the city of Tartu and the Emajõgi river it was an important stronghold for many years.
Tartu Cathedral Ruins
In the 13th century a large cathedral was built on top of the hill. For many years it was one of the biggest churches in Eastern Europe. It was destroyed in the Livonian war and its impressive ruins are still there to see.
University of Tartu museum
The University of Tartu museum is an excellent museum well worth a visit. It is all about the history of the university and because of its age, basically the history of Tartu since the 17th century.
And quite an interesting history as well. The museum is fun and interactive and I enjoyed it a lot. It is in a restored section of the Cathedral Ruins.
Tartu Old Observatory
When the Russians took over in the 19th century, emperor Paul I gifted Toome Hill to Tartu University. They built several academic buildings on the hill including the Tartu Observatory.
It was an active observatory till 1964 and is now a museum.
Explore Tartu's wooden homes
One of the things I liked about Tartu is that there are still a lot of traditional wooden homes. In Tallinn they are disappearing from the urban landscape, but in Tartu there are still plenty around.
This makes wandering around the city one of the best things to do in Tartu. There are two neighbourhoods where you can find the most beautiful wooden homes
Supilinn
Supilinn translates as soup town. Street names all carry soup ingredients like pea, potatoes, beans etc.
The neighbourhood developed in the 18th century and was a poor area. The land was cheap, because it was soggy and floods from the Emajõgi river happened frequently.
Nevertheless, the poor working class managed to build colourful wooden homes with neat gardens that still define Supilinn today as it provides cheap housing to students.
Karlova
Karlova is another historic district that developed in the 18th century. Land was more expensive here and as a result the wooden homes are bigger and have more stature than the ones in Supilinn.
Karlova also has lots of street art which is another reason to wander the streets of this neighbourhood.
Explore Tartu's street art
I am not that much into street art, but can certainly enjoy a good work of art that gives colour to the grey urban buildings.
The ones in Tarty definitely got my attention. First, there is a lot of street art throughout the city. Wherever you go, you happen to find something interesting. Be it under the bridge, a giant mural or even on electricity boxes. Second, most are really beautiful.
Tartu's street art scene is noteworthy. Although officially illegal, it is promoted by Tartu's municipality at a yearly street art festival. The most famous is Edward von Lõngus with his black and white stencil paintings.
Emajõgi river front
The emajõgi riverfront is another nice place to walk in Tartu. On both sides are green park areas and lots of outdoor cafes in summer
Tartu market
The Tartu market hall is still in its original Soviet building from 1938. Inside it is completely renovated though with modern hygienic counters.
It's a great place to find local products like smoked fish from the emajõgi river, homemade pickles and Estonian honey.
Estonia's national museum
Even if you are not a museum person I recommend you visit the excellent National museum of Estonia.
It was the best museum I visited in Estonia with interactive exhibitions about every aspect of the country as well as an exhibition about the Finno-Ugric people.
The museum is very big and overwhelming at times. There is just so much to see, learn and do. Make sure you take your time.
Raadi manor park
Estonia's national museum is right next to the Raadi manor park. The park was home to the Raadi manor that belonged to the von Liphart family. The manor was destroyed in WW2, but you can still walk in the park.
The Raadi manor park is also home to an airfield. Baron Liphart converted his farmlands to a runway. The airfield grew bigger and was later used by the Soviets. You can still see the abandoned hangars.
KGB museum
Like Tallinn, Tartu changed its former KGB cellars into a museum. The KGB museum in Tartu is very informative covering topics like the Nazi occupation, the Soviet occupation, deportations, the gulags and the resistance movement in Estonia.
Where to eat in Tartu
Dorpat hotel
The Dorpat hotel is a great option if you are looking for a cheap lunch near the bus station. It is not the best food in Tartu, but it is very good value for money.
Crepp
Crepp specializes in pancakes. It's a nice place and with all the different options, it's hard to choose what to take. I was very happy with my hazelnut and honey pancake. Portions are huge so it's a filling lunch or dinner.
Gunpowder cellar of Tartu
The Gunpowder cellar is a popular place among the students of Tartu. And for good reasons, because the food is pretty good.
You can try some Estonian dishes too like mulgipuder. I tried the pork ribs that were really good. The mushroom soup was also very delicious, but this is not always on the menu.
Hansa tall and Hansa hoov
Hansa tall is a bit far out of the center, but one of the best Estonian restaurants in the city. The picture menu is very helpful in choosing what you want.
Where to stay in Tartu
Tampere Maja: Tampere Maja is a great place to stay. Close to Toome hill and the Raekoja plats, you are within walking distance of the best things to do in Tartu.
It is in a traditional wooden house, serves a delicious breakfast and for an additional fee you can use their sauna. I would gladly stay here again.
How to get to Tartu
There are frequent trains and buses from Tallinn, Pärnu and Narva. You can check the bus times on T pillet. I would recommend Lux express. Lux express has very comfortable buses that I used on a number of occasions in Estonia. For example to get from Narva to Tartu
To get to Tartu from Tallinn you can also take the train. Trains are very modern too and it is a comfortable 3 hour journey. You can check the timetable and book tickets at Elron.
How to get around Tartu
Most things to do in Tartu are all within walking distance. The best way to get around is on foot. There is a good bus network too. You can buy a bus card with credit in the tourist information center.
When to visit Tartu
Tartu is the perfect destination for summer, but spring and autumn are also good times to visit the city. Winters can be cold, but the snow makes the town even more beautiful. If you do happen to visit winter you should also visit Estonia's winter capital in nearby Otepaa.
Disclaimer: This post about the best things to do in Tartu Estonia contains affiliate links. If you buy any service through any of my links, I will get a small commission at no extra cost to you. These earnings help me to keep Backpack Adventures alive! Thanks for your support!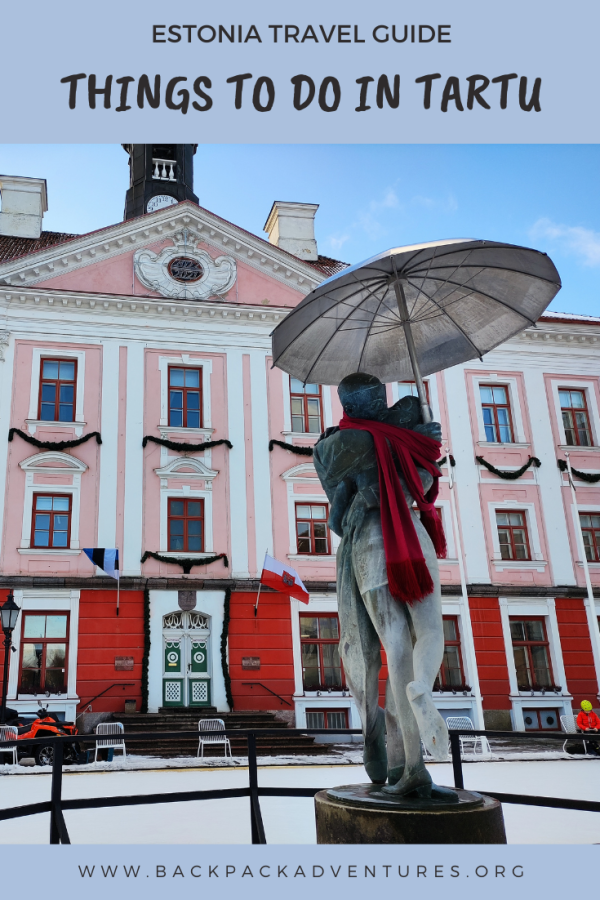 ---
---