The Kandy to Ella train: Sri Lanka's beautiful rail journey
This post is a guide on everything you need to know about the Kandy to Ella train. This famous train ride is advertised to be one of the most spectacular train journeys in the world.
Why take the Kandy to Ella train?
I love trains so when I was in Sri Lanka I obviously had to take the Kandy to Ella train. I was wondering whether it really was more spectacular than my experiences on the Oslo to Bergen train in Norway, the Dogu express through Turkey, the famous Belgrade to Bar train or the Arktika express from St Petersburg to Murmansk.
And yes, I can say that the Kandy to Ella train is indeed a journey of incredible beauty with green rolling hills, lush jungles, palm trees and endless tea plantations.
The Kandy to Ella train in Sri Lanka is a wonderful experience. Not only for the beautiful scenery along the way, but also because of the friendly people.
The Kandy to Ella train experience
Kandy: the cultural capital
Kandy is the town where it all begins. Most people start their journey on the Kandy to Ella train from here. It is a UNESCO World Heritage Site that boasts a rich cultural and religious history. I must be honest that I wasn't too impressed by Kandy, but it still makes a great place to stop for a day or two.
Kandy is the second biggest city in Sri Lanka, but it feels more like a small colonial town. It's attraction lies in its relaxed atmosphere and its scenic location with Kandy lake and the surrounding hills and valleys.
Kandy is also perceived to be the cultural capital and belongs to the cultural triangle of Sri Lanka. Visitors can experience traditional dance performances, visit local markets and learn about traditional crafts.
The multicultural city has its share of Hindus, Christians, Muslims and Buddhists each with their own cultural traditions. Mosques, churches and temples dot the landscape of the city. However, the most important temple is the temple of the tooth that makes Kandy a holy city for buddhists.
Kandy is also a great place for those that love food. I spent most of my day in Kandy at the market where there are several opportunities to try some of Sri Lanka's delicacies such as whoppers, dosa's and curry's.
To read more about Kandy you can check this excellent guide on the best things to do in Kandy.
Kandy practical information
Things to do in Kandy: The market, the Temple of the Tooth, Peradeniya Botanical gardens, Kandy Lake, Buddha statue view point
Transport to Kandy: From Colombo you can either take a train to Kandy (2-3 hours) or travel by bus. The train from Colombo is nice, but not as scenic as the Kandy to Ella train. I travelled by bus from Dambulla to Kandy (2-3 hours).
Accomodation Kandy: Clock Inn Kandy. I really loved this hostel. It is very clean and they provide a nice breakfast. They installed several capsules on their rooftop for backpackers on a budget. I felt like a hobbit and was a bit scared I would be claustrofobic, but was surprised by how comfortable it actually was. I managed to get a good night sleep here. They have dorms and rooms too.
The Kandy to Ella train journey
Travelling by train is something special for me and the Kandy to Ella train was one of the reasons I came to Sri Lanka in the first place. I had planned it for such a long time and finally I was ready to board the Kandy to Ella train.
It was early morning and together with a large group of Chinese tourists we were waiting for the Kandy to Ella train to arrive at the Peradeniya station. Luckily I had booked my tickets in the observation saloon a long time back. I was a bit scared that there would be mostly tourists in the observation car, but it was in fact a mix of foreigners and locals.
The scenery on the Kandy to Ella train is quite spectacular indeed, with green hills covered in tea plantations. At last we had a beautiful sunset. The only problem is that I should have arrived in Ella before dark.
Normally the Kandy to Ella train takes about 7 hours, but our journey took more like ten hours. Our train broke down somewhere midway between Kandy and Ella. According to our conductor it was "a big, big problem". The problem lasted 3 hours to fix and it was 9 pm when we finally arrived in Ella.
Ella
The Kandy to Ella train has its final stop in Ella. Ella is at the heart of Sri Lanka's tea plantations. This is the best place to try and buy the famous Ceylon tea.
It is interesting that tea is actually not that popular in Sri Lanka. I was looking forward to some nice cup of aromatic tea that I thought would be available everywhere. Unfortunately this turned out to be difficult to find and almost all of the tea in Sri Lanka is being exported.
Most tea factories offer a tour to show how their tea is made, of course in the hope you will buy some at the end. I thought it was very interesting to see the process, but also to meet the lady employees who were quite curious about us.
When the tour manager did not look one of the ladies came up to us and sneakily asked if we had some chewing gum. She managed to get some and quickly put it in her pocket before anyone could see.
Besides tea plantations and factories there are a lot of other things to do in Ella. Ella is known for its peaceful atmosphere and is a popular destination for those seeking relaxation and rejuvenation. The area is also popular for hiking and trekking, with trails leading to scenic waterfalls and mountain peaks.
My late arrival didn't stop me from waking up early to hike through the tea plantations to see the sun rise at little Adam's peak. There are plenty of other hikes and nearby are several waterfalls and caves in scenic locations.
Another beautiful place in Ella is the Nine arches bridge. The Wandering Quinn explains how to see both the Nine Arches bridge and little Adams peak together.
Cooking Lessons in Ella
Ella is quite touristic with a range of activities available for travellers including cooking classes. So far my Sri Lankan food adventures were a bit hit and miss. Sri lankan food is mostly rice with several curries that often look mouthwatering delicious. However, in the local restaurants the curries are sometimes so spicy that it is more like a burning sensation than anything else. I felt I really missed out on Sri Lankan food and what it could offer.
Therefore, I decided to join the cooking class by Nimali at the Beauty Mount Tourist Inn. She used less chilies for us and for one of the first times I could actually get a real taste of Sri Lankan food. She made a range of different curries (aubergine, mango, cucumber, radish, potato, pumpkin, coconut) that were all quite unique and tasty.
Ella practical Information
Things to do in Ella: Visiting a tea factory, Hiking to little Adams peak, Ravana Falls & Cave, Nine arches bridge, Ella Rock, Ella spice garden, Cooking classes
Accomodation Ella: Beauty Mount Tourist Inn is a lovely place for a great price, especially considering the rates of other places in Ella. Unfortunately making a reservation through the several online booking systems they partake in does not guarantee you a room. The owner is friendly, but doesnt really understand the systems. She still operates on a first come first serve basis.
Kandy to Ella train logistics
Kandy to Ella train times
There are several trains daily from Kandy to Ella that either leave from Kandy station or Peradeniya station that is 6 kilometers from Kandy. and a quick tuk tuk ride away. Times change frequently so always check the current schedule on the Sri Lankan Railways or Malinda Prasad.
Timewise the best train is the Podi Meneke that leaves Kandy at 08:47 and arrives at Ella at 15:15 or the Udarata Menike that leaves Kandy at 11:03 and arrives at Ella at 17:28. However, both trains do not have the observation saloon.
If you prefer to have the Observation saloon you can take the train leaving Peradeniya at 12:25 that arrives in Ella at 18:23. Do keep in mind that the observation saloon is popular and you need to reserve tickets as soon as possible.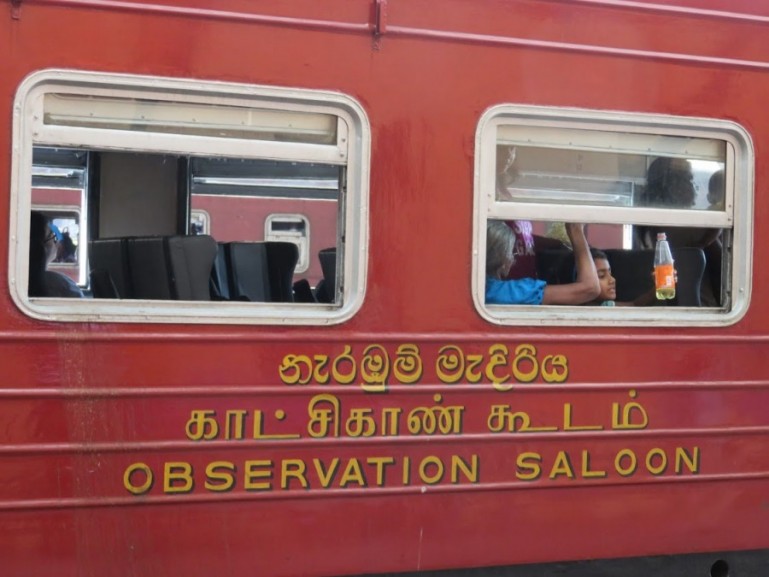 Kandy to Ella train tickets
There is always space available in the unreserved classess. Tickets can only be bought at the day of departure on the station itself and will cost you less than a dollar.
Do keep in mind that it can get very crowded in the unreserved classes and the chances are you don't get a seat. That way it can be a hot and tiring journey where you don't get to see much of the scenery. Check more tips at the end of my post on how to increase your chances of getting a seat in the unreserved classes in case you were not able to book tickets beforehand.
The train from Ella to Kandy is often full and tickets for the reserved classess sell out quickly, especially first class is booked months in advance. It is best to reserve your tickets as soon as possible. Either by booking your ticket at the railway station in Colombo as soon as you arrive, or even better, online through a travel agency. It is now possible to book your tickets online through 12Go Asia.
Tickets are very cheap and cost from $1 dollar in third class to 20$ in first class. If you book your tickets through 12Go Asia you will pay more than at the station, but because reserved tickets are hard to get, it is worth to pay a bit more if you want to be guaranteed a seat. Unfortunately you must book 32 days in advance.
Kandy to Ella train seats
The Observation saloon with its large windows is the best way to enjoy the scenery on the Kandy to Ella train. However, it is very popular and you can consider yourself lucky if you manage to get a ticket. Currently the Observation saloon is only available at the train leaving Peradeniya at 12:25.
The Podi Meneke and Udarata Menike use blue chinese trains. They have a first, second and third reserved class and a second and third unreserved class.
The first class is the only air conditioned class. This might sound like the most comfortable option, but do keep in mind that you can not open the windows. Therefore, if they are dirty, you won't be able to enjoy the scenery fully and it is difficult to take pictures.
The second class is probably the best option with comfy seats and large open windows that allow you to take good pictures. With a nice breeze coming in you don't really need the air conditioning anyways. In my opinion this is the best option on the Kandy to Ella train.
In case the second class is full, it is best to reserve a seat in the third class. It is maybe not as comfortable as the second class, but it is better to have a seat than not. Expect to share your space not only with super friendly locals, but also chickens and goats.
The Podi Meneke and Udarate Menike are the blue trains or also called express trains. There are also the slower red trains that stop at almost every station. They also have a first, second and third class.
How to get a seat in the unreserved class
I think by now my advice is clear that it is best to reserve your Kandy to Ella train tickets beforehand. But what if you were not able to find tickets for the Kandy to Ella train? What if you plan to take the Kanndy to Ella train at last notice or you need to change your plans?
A seat in the unreserved classes is never guaranteed, but there are some things you can do to increase your chances of getting a seat in the unreserved classes.
First of all, start your journey at Perideniya rather than Kandy. Most Kandy to Ella trains first stop in Peradeniya and then in Kandy. Peradeniya is only 10 minutes away by tuk tuk.
A lot of people will get out in Kandy and then the chances are reasonable that you can get a seat before the passengers in Kandy get in. Also avoid travelling in the weekends and during holidays when the trains are more crowded.
Kandy to Ella train route
Kandy – Hatton – Nanuoya – Haputale – Ella – Badulla
The Kandy to Ella train takes 7 hours in theory, although delays are frequent. If this sounds too long for you there are also some interesting stops along the route where you can break up your journey.
It is up to you whether you want to travel from Kandy to Ella in one go or hop on and off the trains making stops in Hatton, Nuwara Eliya or Haputale for a few days and then continue the journey to Ella.
Hatton
Get out the Kandy to Ella train in Hatton and take a bus to Dalhousie to climb Adam's Peak. Sri Pada mountain is the most sacred mountain in Sri Lanka. Every year around 20.000 pilgrims take the 5500 steps up to the top. The 7 kilometer climb takes between 5 to 6 hours.
It's an ancient footprint it is all about. Buddhists believe it was from Budha, Hindu's from Shiva and Christians think it was Adam who set foot on the mountain after he was expelled from the garden of Eden.
The pilgrimage season runs from November to May. Outside of this time the peak is often obscured by clouds.
Nanuoya
Get out the Kandy to Ella train in Nanuoya for the colonial hill town of Nuwara Eliya. Like Ella it has a scenic location and full of tea factories. You can also visit the Worlds End and Horton's national park.
Haputale
Haputale is not as scenic as Nuwara Eliya or Ella, but there are some nice hikes from here in Sri Lanka's tea country including hikes to Lipton's seat and the beautiful Diyaluma waterfalls.
What to expect on the Kandy to Ella train
The Kandy to Ella train is a lively affair. I found the train to be a good mix of foreign travellers and locals even in the observation saloon.
The train is also relatively clean, although I must say this also depends on the class you are in. Every car has a squat toilet that gets more dirty as the journey progressess
There was no buffet or restaurant car on my train, but there were some vendors selling cold drinks and snacks. Part of the fun is trying some of these local snacks from the vendors that sell them from the stations are that come along in the train cars.
What to bring on the Kandy to Ella train
There are only a few things you need to think about. First of all, bring a fully charged camera. You will take a lot of pictures.
Second of all, bring enough water and snacks. Even though there are some vendors it is best to have enough food and water with you for the seven hour journey.
At last, bring hand sanitizer and toilet paper or wet wipes. There is no toilet paper in the toilets on the Kandy to Ella train.
Safety on the Kandy to Ella train
The Kandy to Ella train is very safe to take, even for solo female travellers. If you take the normal precautions you should not have any problems. People are very friendly and helpful and will watch out for you.
Last tips and advice
Sit on the right side of the train from Kandy to Ella and on the left side if you take the train from Ella to Kandy for the best views.
Because there are often delays I can recommend to take the Podi Meneke. This is the early option leaving Kandy ay 08:47 and is also the least crowded. Furthermore, if there are delays you don't risk arriving in Ella when it is already dark and missing out on the scenery in the last part of the journey.
Because of the delays the seven hour journey often takes longer. Bring enough water and snacks with you taking this into account.
Take the blue express trains (Podi Meneke and Udarate Menike). The red trains are much slower.
The Kandy to Ella train is not the only scenic train journey in Sri Lanka. The train that runs from Colombo to Matara along the Southern Coast of Sri Lanka is also very beautiful.
Disclaimer: This post about the Kandy to Ella train contains affiliate links. If you buy any service through any of my links, I will get a small commission at no extra cost to you. These earnings help me to keep Backpack Adventures alive! Thanks for your support!
---
---