How to take the Night Train from Moscow to Kazan
Due to the current situation I advice against travel to Russia at the moment. All affiliated links related to Russia have been removed. But I have decided to keep my posts about Russia as it remains a beautiful country. I hope that circumstances change and that travel is possible again in the near future.
Taking the train from Moscow to Kazan is for many the first leg of their trans siberian journey. It's actually a detour and not all trans-siberian trains stop in Kazan. I wasn't doing a Trans Siberian journey, but I read enough about Kazan that I wanted to go there.
Kazan is the capital of Tatarstan, an autonomous republic within Russia that is predominantly muslim. The Tatars are a Turkic people that once roamed on the lands of Russia and central Asia on their horses. The most famous Tatar is of course Gengis Khan with his Golden Horde in the 13th century. It was one of his descendants that founded the Khanate of Kazan in 1438.
This history was enough reason for me to include Kazan in my trip to Russia. Kazan with its unique culture is quite different from most other Russian cities. Therefore I decided to take the night train from Moscow to Kazan for a long weekend trip.
The train from Moscow to Kazan
The train journey from Moscow to Kazan will be very different in the future. Plans for a new high speed train from Moscow to Kazan are on its way, reducing the travel time between the two cities to 3 hours and 17 minutes.
Compare that with the current Moscow to Kazan trains that take 12 to 13 hours. Quite a difference and this means that you might even visit Kazan as a day trip from Moscow in a couple of years time.
The new high speed train from Moscow to Kazan is supposed to start running in 2023, but progress is slow and it's likely to be delayed. For now your best option to get from Moscow to Kazan are the daily comfortable night trains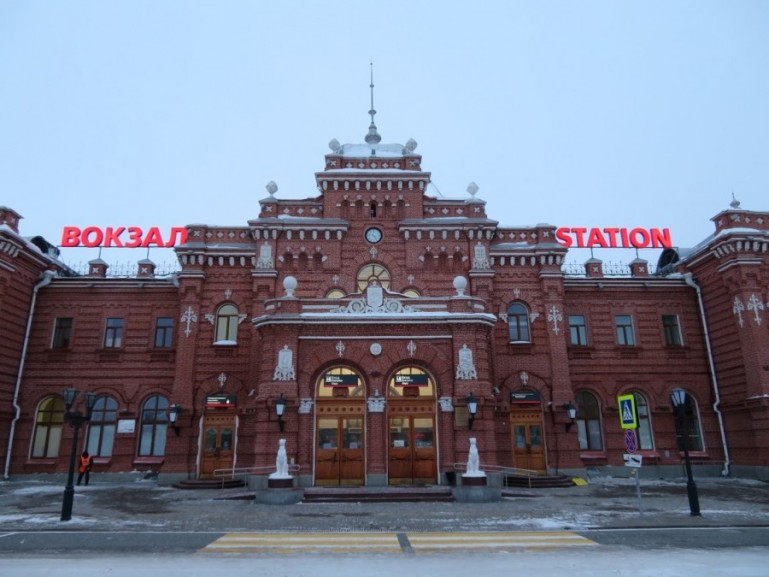 The Moscow to Kazan train experience
I boarded the daily night train from Moscow to Kazan on the Kazansky train station. Like the Moscow Metro stations, the train stations are quite beautiful with lots of Soviet art and details. Therefore I recommend you to come a bit earlier. Not only to see its architecture, but also because it is one of the largest and busiest stations in Moscow.
The Kazansky train station is at the Komsomolskaya square right next to the Yaroslavski and Leningrad train stations. The Komsomolskaya metro station never failed to impress me and even though I passed through it several times during my week in Moscow I kept noticing new details every time.
It's always busy at Komsomolskaya square and the network of underline passageways that connects the metro with the 3 train stations. I was glad I came a few hours early to beat the crowds, check out the station's architecture and have a delicious meal of Russian borscht and Pelmeni at Varenichnaya No.1.
I boarded the Moscow to Kazan train 30 minutes before departure time. It was winter and while it was snowing outside I was immediately perplexed by how warm it was inside the train. At times it was really uncomfortably hot and I didn't really need the blankets that were provided to me.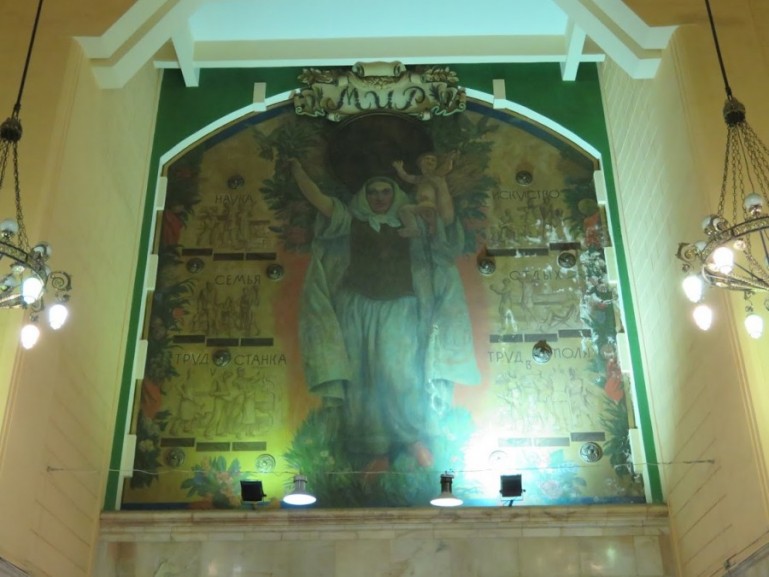 Platzkart on the train from Moscow to Kazan
I travelled platzkart. This means an open carriage with bunk beds on each side. It's more comfortable than it sounds and it's one of the best ways to get to know Russia. After all, one of the charmes of traveling through Russia by train are its people.
This time I received some curious stares, but as it was late most people quickly made up their beds and went to sleep and so did I. About an hour before arrival the provodnitsa woke everybody up and made sure she got back every towel and bed sheet that she handed out.
Kazan in winter was love at first sight, but on the surface it wasn't so different from other Russian cities. Except that its Kremlin has a mosque as well. The Tatar culture was most notable in the city's restaurants where you can try Tatar delicacies like chak chak and horse meat. For more things to do in Kazan you can read my travel guide about Kazan in winter.
The Train from Moscow to Kazan Travel tips
The Moscow to Kazan train times
There are 2 to 4 daily trains from Moscow to Kazan leaving from the Moscow Kazanski station. The first ones leave every other day at 13:10 and 16:10. These day trains take close to 13 hours for the journey meaning that you will arrive in Kazan at inconvenient times.
The best option are the daily night trains. I took the 002 Premium that leaves Moscow at 20:50 arriving at Kazan at 08:46. At 23:08 leaves the 024M double decker train that arrives at Kazan at 10:43
The Moscow to Kazan train route
The train from Moscow to Kazan follows the route along Vladimir, Nizhny Novgorod, Cheboksary and finally Kazan.
The Moscow to Kazan train tickets
It's easy to book your train tickets online through the Russian Railways. If this doesn't work out you can also use a travel agency like tutu travel or Realrussia, but the fares might be slightly higher.
How to choose your seat on the train from Moscow to Kazan?
There are three classes in a Russian train that you might be familiar with if you have already traveled by train in Kazakhstan or Uzbekistan.
Obshye is the cheapest class, but this is just a seat. I can not recommend it for long overnight journeys like the Moscow to Kazan train. The next cheapest option is platzkart. They are open compartments with 6 bunk beds and in my opinion quite comfortable and a great way to get to know Russia and its people.
If you prefer more privacy you have two options. Kupe has a door and the compartments has 4 beds and SV/Lux has only 2 beds.
This might sound contradictory, but as a solo female traveller I prefer platzkart over Kupe or SV/Lux. A closed compartment may sound more safe, but you can not choose your companions.
In my experience platzkart has a very high social safety. People watch out for each other and there are always some people that feel it is their responsibility you reach your destination safe and well.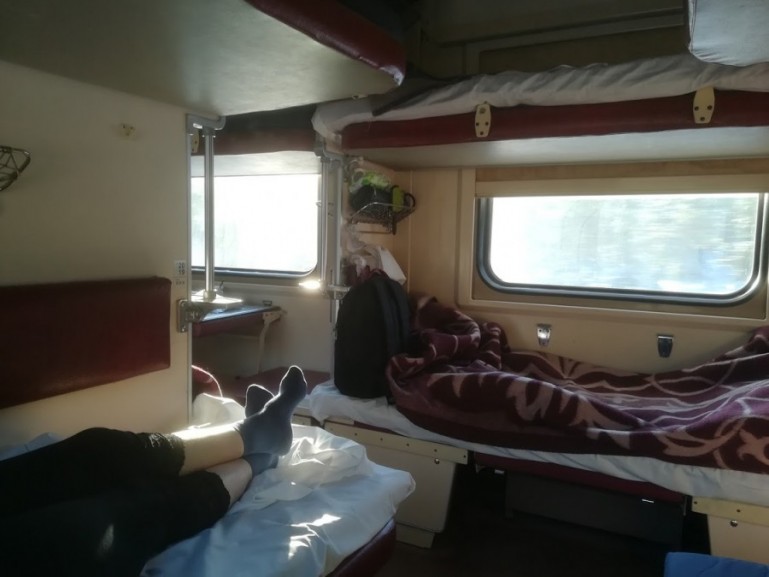 What to expect on the train
The train from Moscow to Kazan is quite comfortable. As you can read from my experience every carriage has a provodnitsa that is in charge of keeping order. She will hand out bed sheets and pillows and will also collect them as soon as you get up in the morning. In addition she maintains the samovar with hot water and sells snacks and souvenirs. Every carriage has a toilet that gets more dirty as the journey progresses.
Food wise it is best to bring some snacks with you for breakfast, because the few stops will be in the middle of the night. The samovar provides boiling water so bring tea bags, instant coffee or instant noodles.
One thing I wish I knew before was the temperature. No matter how freezing cold it is outside, inside the train, the heating is turned on as high as possible. Before you know it you feel like you are in an oven. My advice is to wear layers of clothing so you can take them off as the temperatures change.
Solo female travel on the train
As a solo female traveller I have felt perfectly safe on the train from Moscow to Kazan and other trains that I took in Russia such as the Arktika express. I already mentioned my personal preference for platzkart, because of its social safety.
I can imagine that my experience would be very different if I was in a kupe compartment with three drunk guys. However, even in this case you could always talk to the provodnitsa in your carriage and since drinking is prohibited on trains in Russia it is an unlikely scenario.
What to bring along on the train
My three essentials on train journeys in Russia are snacks, drinking water and toilet paper. In theory there should be toilet paper, but you never know and it's better to be safe than sorry.
If it comes to snacks, keep in mind the samovar and the boiled water it provides. Instant noodles or mashed potatoes might not be the best and healthiest food, but are practical budget meals on russian train journeys. Tea bags and instant coffee are great to bring along as well.
Many Russian people bring home cooked food with them and, when you are lucky, will share it with you too. Bring some extra snacks (chips, biscuit, granola bars), or sweets from your home country, to give back in return. It will make you lots of friends.
Where to stay in Moscow
Hostels Rus: Hostels Rus stand for clean and professional hostels with a mix of dormitories and a limited number of double rooms for good prices. They are often located close to one of the Moscow metro stations making travel in Moscow easy. There is one near Kurskaya and one near Paveletskaya (dorms only).
Vinegret hostel: Vinegret hostel is a clean and nice budget hostel with an excellent location in the heart of Moscow. It is right near Arbatskaya metro station on the famous arbat street. From there you can walk to the red square in only 30 minutes.
Axel hostel: Axel hostel has great budget dormitories with lots of privacy. It has a central location within walking distance of Kitay Gorod.
Where to stay in Kazan
Wings hostel: I stayed at the lovely Wings hostel. This hostel has a super friendly owner and is not far from the Kazan Kremlin. It has both dormitories as well as private rooms.
YOU hostel: YOU hostel has great reviews for its clean rooms and dormitories. It is a 25 minute walk to the Kremlin.
Stereo hostel: Stereo hostel is a great budget option in Kazan. The dormitory beds have curtains for privacy. The hostel is clean and well run.
Disclaimer: This post about the train from Moscow to Kazan contains affiliate links. If you buy any service through any of my links, I will get a small commission at no extra cost to you. These earnings help me to keep Backpack Adventures alive! Thanks for your support!
Due to the current situation in Ukraine all affiliated links related to Russia have been removed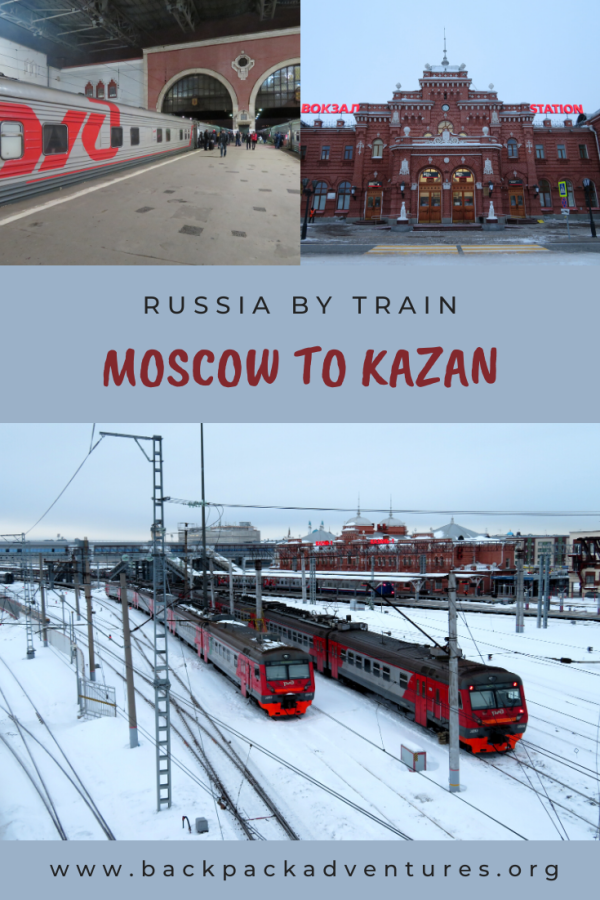 ---
---