How to Travel by Train in Uzbekistan
This post is a travel guide about how to travel by train in Uzbekistan. Uzbekistan is the perfect destination to explore by train and in recent years Uzbekistan has invested in its railway system making train travel while backpacking Uzbekistan easier than ever.
This post will tell you everything you need to know about travelling by train in Uzbekistan. From how to book train tickets online to what to expect on a Uzbek train. However, let me first explain why you should travel by train in Uzbekistan in the first place.
Why travel by train in Uzbekistan?
Uzbekistan is more famous for its incredibly beautiful Islamic architecture and ancient Silk road cities than the beauty of its landscape. With the exception of the Chimgan mountains and Nuratau mountains, most of the country is a flat desert landscape.
Public transport is limited to marshrutka's and shared taxi's and the journey's on the road are long. Traveling by train is not only cheaper, but also more comfortable and faster. Crossing the desert becomes fun in an Uzbek train.
In recent years the slow Soviet trains have been supplemented by new high speed trains that run between Tashkent, Khiva, Bukhara and Samarkand. The journey from Tashkent to Samarkand can now be done within 2 hours.
My experience travelling by train in Uzbekistan
My first experience on a train in Uzbekistan was the night train from Tashkent to Nukus. Here we wanted to visit the Aral sea ship cemetery in the desert of Karakalpakstan. This is one of the most remote regions of Uzbekistan and with a distance of over a 1000 kilometers the train was the only option that made sense.
It was one of the slow old sleeper trains. Dusty beds with a brownish red leather made it look like nothing has changed since the Soviets left these trains in Uzbek hands.
I had a ticket in platzkart, the lowest class, but my personal favourite. They consist of an open carriage with bunk beds. Therefore a perfect way to meet people.
Sleeping in a Soviet train in Uzbekistan
As soon as the train left around 7 PM, people started to prepare their dinners. There was a long line in front of the samovar (hot water kettle) and the aromas of plov and bread filled our wagon. People walked up and down to fill their typical Uzbek blue porcelain tea pots. No Uzbek dinner is complete without tea, even in the train.
It was only a matter of time, before people offered me some of their food. My neighbours were the Uzbek women's karate team, two Uzbek Koreans that were on their way to visit family for the Obon festival and an old veteran going to his home in Samarkand.
The veteran kept me entertained untill we reached Samarkand. First I got a lecture about the exceptional quality of Samarkands before sharing his army stories. I was a bit skeptical when he claimed to be friends with Fidel Castro untill he opened his bag and showed us old pictures from the time he served in Cuba.
When he left the train in Samarkand, everybody else was already sleeping. I too feel asleep soon after, only to wake up by ladies selling bread, dried fruits and other items. I have no idea where they came from, but with the rising sun our wagon turned into a wandering bazaar.
Soon my fellow passengers wanted me to try the local specialities for sale and once I arrived in Nukus I left the train with a bag full of bread and dried plums.
Trains in Uzbekistan
Uzbekistan has both the old Soviet style trains and newer high-speed trains that run between Tashkent, Samarkand and Bukhara. This allows you to plan your Uzbekistan itinerary almost completely by train.
The older Soviet trains
The older Soviet trains are still the cheapest way to travel around in Uzbekistan and provide the essential nostalgic Soviet experience. If you take the night train to Nukus or travel to the Fergana valley you will most likely end up in one of the older Soviet trains.
The Afrosiyob high speed trains
The Afrosiyob is central Asia's first high speed train. The Talgo trains are from the same Spanish company as the high speed trains in Kazakhstan. They are the fastest in Uzbekistan with 210 kilometers per hour. Afrosiyob runs daily trains on the routes between Tashkent, Samarkand, Bukhara and Shakrisabz.
The Afrosiyob trains are not much more expensive than the slower trains. Therefore they are very popular and fill up quickly, especially during holidays. It is best to book your tickets online as soon as possible.
The Sharq express trains
The Sharq express trains also have daily trains between Tashkent, Samarkand and Bukhara. These older trains can only go up to 140 kilometers per hour and are therefore a bit slower. However, they are still very comfortable and a good option if the Afrosiyob trains are fully booked.
How to book train tickets for the train in Uzbekistan online?
I booked my tickets directly on the site of the Uzbek Railways. Unfortunately it isn't the most straightforward process. The web site is not working for everyone and there are a lot of bugs.
I managed to book all my tickets through this website in the end, but it took some time and several failed attempts. There are two things to keep in mind. First of all, my payment only went through with a visa card and my mastercard was rejected. Second of all, not all tickets are actual e-tickets.
Some trains have e-tickets (mostly the Afrosiyob trains), but others don't. In the latter case you will get a reservation that you need to download in pdf format. With a print out of this document you can pick up the actual ticket at any train station in Uzbekistan.
You also have to enter the city names in Cyrillic, so here is a useful guide
Samarkand: САМАРКАНД
Bukhara: БУХАРА 1
Khiva: ХИВА
An alternative is to use a travel agency like Advantour. Their site is set up completely in english and they have more payment options in case you don't have a visa card.
The last option is to buy your tickets at the train station once you are in Uzbekistan. Make sure you do this as soon as possible or at least a few days before your planned train journey.
Train classes in Uzbekistan
The slow trains have three classes. Platzkart has open wagons divided in compartments with 6 bunk beds. Kupe has seperate closed compartments with 4 beds and Lyux/SV is the most expensive with only 2 beds in a closed compartment. The option Obshye is a seat only and although it is cheapest it is best avoided on long overnight journeys.
The Afrosiyob high speed trains and Sharq express trains also have three classes. Economy class is the cheapest followed by Business class and VIP class. I travelled in Economy class and found it very comfortable. Business class and VIP class have a bit more space for luggage and you have a table in between the chairs.
What to expect on a train in Uzbekistan?
Uzbek trains are a very comfortable way to travel in Uzbekistan. Each wagon has an attendant that checks your ticket and passport. On overnight journeys they will provide you with sheets, a pillow and a blanket. On the Afrosiyob trains you can also order tea and snacks with the attendant.
There is a toilet with water basin at each end of the wagon. Hygiene varies a lot, but in general they get more dirty as the journey progresses.
All trains have a restaurant that serves decent food for decent prices. Each train wagon also has a water dispenser with both cold water and boiled water. The boiled water is great for making tea, noodles or instant soup.
What to bring on a train in Uzbekistan
Despite the trains having a restaurant wagon it is a good idea to bring some food and snacks. People will often share their food with you and it is nice to be able to give something back. With the hot water dispenser you can make tea or noodles so make sure you bring a thermos or steel mug with you. Also bring toilet paper and wet wipes.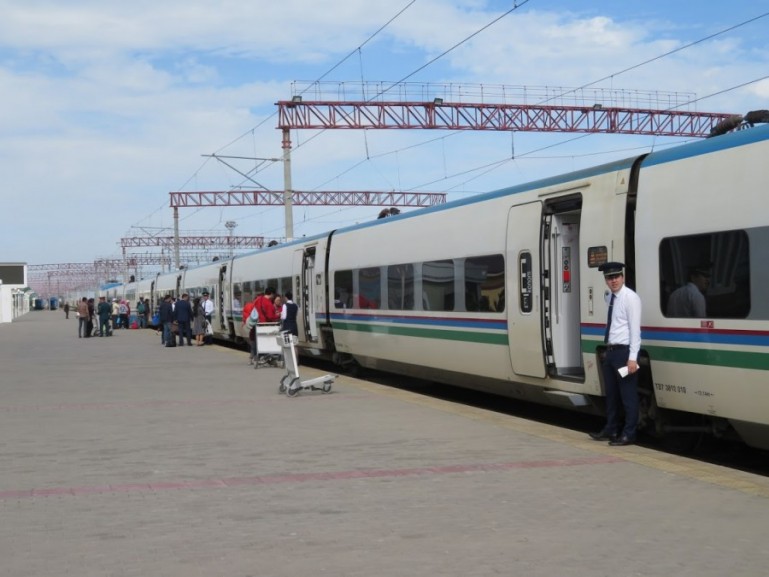 Popular routes by train in Uzbekistan
The train from Tashkent to Samarkand
The route between Tashkent and Samarkand is served by both the Sharq train (3 hours, 1 daily) and Afrosiyob trains (2 hours, 3 daily). Some of the slow night trains from Tashkent to Khiva and Nukus also stop in Samarkand, but times are often inconvenient.
Keep in mind that Tashkent has two stations so check what station you depart or arrive from. Tashkent's main station (Pass Central) is connected with the Tashkent Metro (Toshkent station blue line). However, most trains depart and arrive at Tashkents South station (Yuzhniy)
The train from Tashkent to Bukhara
The route between Tashkent and Bukhara is served by both the older Sharq trains (6 hours, 1 daily) and Afrosiyob trains (4 hours, 2 daily). There is also a daily Soviet night train that takes around 7 hours (22:20 – 06:19+1).
The train from Tashkent to Khiva and Nukus
There are no daily trains between Tashkent and Khiva or Nukus. However, several days a week there is a night train that is a comfortable way to travel between these cities. From Tashkent to Khiva it takes about 13 hours and to Nukus 16 hours.
The train from Khiva to Bukhara
In 2018 a new station was opened in Khiva and since 2019 there is a direct train between Khiva and Bukhara making it much easier to travel from Khiva to Bukhara.
The train leaves Khiva at 08:57 on Tuesdays, Fridays and Sundays arriving Bukhara at 14:50
The other way around it leaves Mondays, Thursdays and Saturdays from Bukhara at 12:24 arriving in Khiva at 14:50
Trains to the Fergana Valley
Trains to the Fergana valley leave from Tashkent. The daily Ozbekiston train leaves Tashkent at 08:07 in the morning and 17:24 in the evening. It follows the route Tashkent – Kokand – Margilon – Fargona and Andijon.
International trains
There are several international trains. Every Thursday there is the train from Tashkent to Moscow (3 days) and three times a week a train from Tashkent to Almaty (20 hours).
Last tips on travelling by train in Uzbekistan
Make sure you arrive at the station at least 30 minutes before your train departs. There are strict security checks before you are even allowed to enter the station. They will check your ticket, passport and luggage and this whole process might take a while.
Once you are allowed to enter the train, the train attendant will again check your passport and ticket.
Disclaimer: This post with a travel guide about how to travel by train in Uzbekistan contains affiliate links. If you buy any service through any of my links, I will get a small commission at no extra cost to you. These earnings help me to keep Backpack Adventures alive! Thanks for your support
---
---