How to Travel in Karakalpakstan Uzbekistan
This post is a travel guide with everything you need to know about travel in Karakalpakstan Uzbekistan.
Desolate and barren desert landscapes dominate the autonomous republic of Karakalpakstan in Uzbekistan. It receives relatively few tourists, even though it covers almost 40% of Uzbekistan's landmass. Karakalpakstan includes the remote Aral sea, the Kyzyl kum desert and the Ustyurt plateau.
Why Travel in Karakalpakstan Uzbekistan?
Far away from Tashkent, Karakalpakstan has always had its own culture and language. Karakalpak culture is in fact more similar to that of Kazakhstan than that of Uzbekistan. However, they never really had any sort of independence and were always part of a bigger entity. The kingdom of Khorezm, the Khanate of Khiva, Russia, the Soviet Union and finally Uzbekistan.
The Karakalpak people were first mentioned in the 15th century. They were nomadic fishermen and herders along the Aral sea and the Amu Darya river. Karakalpak means black hat. Some say, because of the black sheep wool hats that they used.
Karakalpakstan was once a prosperous and fertile agricultural area that played an important role on the Silk road. This was all untill the cotton plantations in the east drained the Aral sea.
Karakalpakstan and the Aral sea
Now Karakalpakstan is the poorest region in Uzbekistan. Draughts and desertification have made life difficult. Crop failures and a shortage of portable drinking water are every day struggles for the people living in Karakalpakstan. It is a desolate scene, but there are still good reasons to travel to Karakalpakstan.
The Aral sea disaster is for many people the main reason to travel to Karakalpakstan in the first place and add this remote area in their Uzbekistan itinerary. But there is also plenty of history with ancient forts and castles in the middle of the desert.
Karakalpakstan is one of the best places to visit in Uzbekistan for an off the beaten path experience. If you get tired of the busloads of tourists in Bukhara and Samarkand, Karakalpakstan is the perfect place to escape the crowds.
The Best Places to visit in Karakalpakstan Uzbekistan
Nukus
Nukus is the capital of Karakalpakstan. It is certainly not the most exciting city in Uzbekistan and it feels rather empty and desolate. In that sense it is truly representing Karakalpakstan.
Art lovers will want to visit the Savitsky museum. There is not much else to do, but it is a great place to base yourself and arrange further trips and to learn more about Karakalpak culture.
Things to do: Savitsky museum, bazaar, mizdakhan necropolis, qaur qala fortress
Moynaq
Moynaq has become a symbol for the Aral sea disaster in Uzbekistan. Once a wealthy harbour town on the Aral sea with an active fishing industry, now a poor village. Moynaq faces a number of challenges such as a lack of employment, toxic salt deposits and health problems among others.
Tourism is a promising new source of income and the town caters to those that want to see the Aral sea disaster up close. You can visit the Aral sea ship cemetery as well as a small museum about the Aral sea disaster in Moynaq.
Things to do: Aral sea ship cemetery & museum
The Aral sea shore
Most of the Aral sea has already dissapeared. Despite projects to restore it in Kazakhstan, there is not much hope for Uzbekistan. As of now, it is still possible to visit the shore of the Aral sea, but it requires a long drive through the former sea bed.
Tours often combina a tour to the Aral sea with Sudochie lake and the Ustyurt plateau.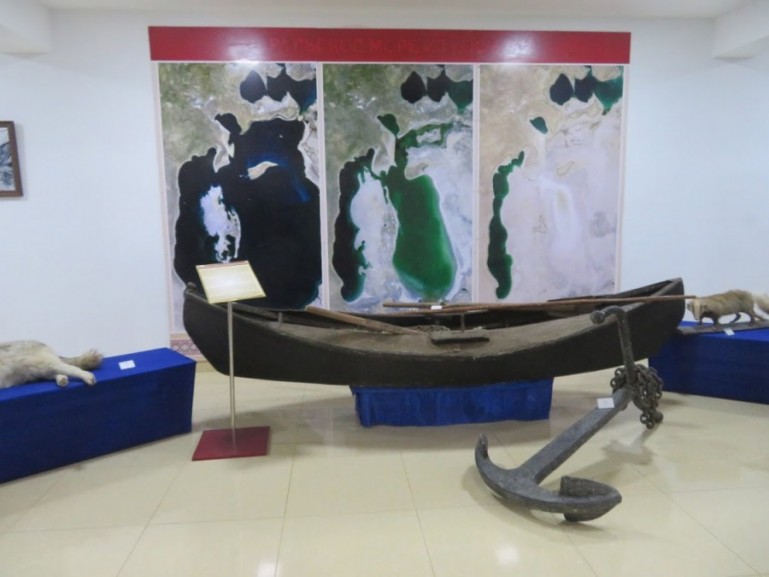 Sudochie lake
Sudochie lake was once a large fresh water lake connected to the Aral sea. Now it still is a network of smaller fresh water lakes in the middle of the desert. The lake's pristine shores are adorned with vibrant reeds and delicate wildflowers, creating a haven for nature enthusiasts.
Sudochie lake is also a paradise for birdwatching with more than 200 bird species including pink flamingo's
Ustyurt plateau
The Ustyurt plateau is a clay desert in Kazakhstan and Uzbekistan that covers a large area between the Caspian sea and the Aral sea. It is a vast and remote natural area with diverse landscapes.
The Ustyurt plateau offers a unique and untouched environment with stunning cliffs, canyons, and surreal rock formations. It is all about isolation and spectacular views. Here too you will find wildlife like the taiga, wild horses, squirrels and birds of prey.
Kyzyl kum desert
At first sight, the desert looks harsh, boring and uninspiring. If you look closely, it is anything but that. Kyzyl kum means red sand and despite the little rain the area gets, there is a surprising amount of wildlife like snakes, lizards and rodents.
The beauty of the desert reveals itself when you drive through, or even better, exploring it on the back of a bactrian camel. Once the sun set, the Kyzyl kum desert is at its most beautiful.
Fortresses of ancient Khorezm
Karakalpakstan was part of the kingdom of Khorezm. This ancient civilization is famous for their Zoroastrian beliefs and its desert castles and the Khorezm fortresses that are spread out in Karakalpakstan.
The ruins might require a bit of imagination, but they are nevertheless impressive. First of all, because of their colossal size and second of all, because of their spectacular location in the Kyzyl kum desert.
Fortresses to see: Toprak kala, Ayaz Kala, Kyzyl kala, Chilpik kala, Janbas kala, Gyaur kala.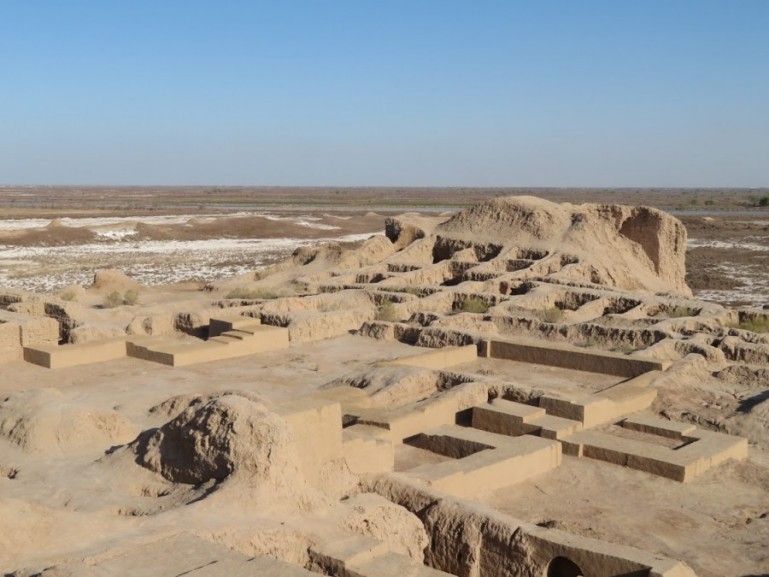 Khiva
Khiva is the most touristic city in Karakalpakstan, because of its history. Even though all of Karakalpakstan was part of the ancient silk road it is most visible in Khiva. It is so well preserved and restored that it feels like one big museum with beautiful minarets, madrassahs and mosques.
If it wasn't for the other tourists, Khiva would feel like a journey back in time when it was a vital stop on the silk road with a large market for camels, carpets and slaves. Nowadays it is mostly cheap souvenirs for sale.
Read more about Khiva in my post on the best things to do in Khiva.
Karakalpakstan Uzbekistan travel tips
What and where to eat in Karakalpakstan
Karakalpakstan is a great place try both Uzbek food as well as Karakalpak food. Karakalpak cuisine is quite similar to Kazakh and Kyrgyz cuisine. Traditional Karakalpak dishes include "besbarmak" (a meat and noodle dish), Kurut (hardened cheese balls) and Kymyz (fermented horse milk).It is also easy to find Uzbek classics like plov (rice with lamb and carrots), laghman (noodles with meat and vegetables) and manti (dumplings)
Khiva and Nukus have the biggest choice of restaurants. Outside of the cities the restaurants are far in between and very basic.
Accomodation in Karakalpakstan
Nukus: nukus has a decent amount of accomodation, but without doubt the best one is Jipek joli and their sister hotel Jipek joli inn. They also have excellent tours into Karakalpakstan. For backpackers there is dorm accomodation in Bez Qala guesthouse that also organizes tours.
Khiva: Khiva is the most touristic of places in Karakalpakstan with a large choice of accomodation. If you want to stay within the old town Islambek Khiva is a good budget option.
Moynaq: moynaq is often done as a day trip, but there is also accomodation available allowing you to get to Moynaq by public transport. There is a hostel and some home stays.
How to travel to Karakalpakstan?
Nukus is the capital of Karakalpakstan. The best way to reach Nukus is by the twice weekly sleeper train from Tashkent that stops in Urgench (to get to Khiva), Nukus and Kungrad (to get to Moynaq and the Ustyurt plateau).
How to travel in Karakalpakstan?
From Nukus you can travel by shared taxi's or minibus to the major cities like Moynaq, Kungrad, Urgench and Khiva. For Moynaq you might have to change transport in Kungrad.
To visit the current shore of the Aral sea, Sudochie lake, the Khorezm fortresses or the Ustyurt plateau you would need your own transport. Islambek in Khiva, Jipek joli and Bez qala in Nukus all arrange tours into Karakalpakstan.
Khiva is the best place from where you can explore the fortresses in ancient Khorezm. You can also organize daytours to Moynaq, but it will be a long day with more time in the car than outside. It is better to arrange them from Nukus. Either through Jipek Joli's Ayim tours or Bez Qala tours.
When to travel in Karakalpakstan
The best time to visit Karakalpakstan is during the spring (April to May) and autumn (September to October) seasons. During these months, the weather is generally pleasant with mild temperatures and less rainfall, making it ideal for outdoor activities and exploration.
Summers in Karakalpakstan can be hot and dry, with temperatures soaring up to 40°C (104°F). This period is also characterized by low rainfall. When you visit in summer, it's advisable to plan outdoor activities for the early morning or evening when temperatures are cooler.
Winter in Karakalpakstan is cold and windy, with temperatures dropping below freezing, particularly during the nighttime. Snowfall is not uncommon. If you visit in winter make sure you bring warm clothes.
Is it safe to travel in Karakalpakstan?
Karakalpakstan is a safe destination for travellers. Do keep in mind that you travel through isolated regions with few facilities outside of Nukus, Kungrad or Khiva.
If you go on a tour, they are often proffesionally run. Still if you travel into the deserts of Karakalpakstan it won't hurt to make sure you bring your own first aid kit, enough water, some snacks, sunscreen, sunglasses and a hat.
Especially in summer it gets really hot and a heat stroke is possible so protect yourself from the sun. If you travel in spring and autumn you can expect a large variety of temperatures so bring some warm clothes as well. 
Sustainable travel in Karakalpakstan
Karakalpakstan is still an off the beaten path destination, but tourism is growing. While Tourism is a welcome source of income it can also have negative consequences. Traveling sustainably in Karakalpakstan, involves conscious choices that minimize your environmental impact and support the local community.
Support the local community: You can support the community by purchasing goods and services from local vendors, artisans, and restaurants. Uzbekistan is famous for its beautiful handicrafts such as ikat silk and pottery. It is better to try Uzbek cuisine that uses local ingredients rather than imported foreign foods.
Stay in small scale sustainable hotels: It is also better to stay in locally-owned guesthouses or homestays to support the local economy directly. These accommodations often have a more positive impact on the environment compared to large hotels.
Uzbekistan has a number of community based tourism initiatives with excellent homestays. Where possible, I can recommend staying in a homestay for an authentic cultural experience. You might want to bring a small book with pictures of your family to break the ice.
You can also try to look for guesthouses or homestays that prioritizes sustainable practices. That said, environmental awareness is still low. It's up to you to use water sparsely, turn off lights, air conditioning, and heating when leaving your accommodation.
Use public transport: Uzbekistan has a well-developed public transportation system with shared taxis and marshrutkas. Opt for public transport, whenever possible, instead of private cars to reduce carbon emissions.
Leave no trace principle: Karakalpakstan has nature too. When hiking, stick to designated trails when they are there, avoid disturbing wildlife or picking plants, and leave no trace of your presence. Ensure you take all your trash back with you and dispose of it responsibly. Even better is when you bring something to pick up the trash that other people left behind.
To avoid single-use plastics, invest in reusable items. For example, you can bring your own water bottle with a filter that you can refill at your accomodation. At last, use biodegradable and eco-friendly personal care products to minimize pollution of water sources.
Respect the culture: Besides environmental concerns it is also important to respect the culture. Uzbekistan is an Islamic country that is just opening up to tourism. Therefore, learn about the local customs and traditions beforehand and be mindful of your behavior.
People will appreciate it, if you dress modestly, especially at religious sites. Learning a few basic phrases in Uzbek or Russian, can go a long way in building meaningful connections and to learn more about the local culture. Not everybody is happy to have their picture taken. When in doubt, ask permission.
Disclaimer: This Karakalpakstan travel guide with the best places to visit in Karakalpakstan contains affiliate links. If you buy any service through any of my links, I will get a small commission at no extra cost to you. These earnings help me to keep Backpack Adventures alive! Thanks for your support!
---
---