Backpacking Tajikistan: the best guide to travel in Tajikistan
This post is a travel guide about backpacking Tajikistan. It includes all the practical things you need to know about travel in Tajikistan.
What can I say about travel in Tajikistan. Tajikistan gave me food poisoning and severe altitude sickness. Still, I absolutely fell in love with the country. I spent three weeks backpacking Tajikistan, but it felt like I only got to see the tip of the iceberg.
Backpacking Tajikistan is definetly a challenge sometimes. Tourism is just starting to develop. In fact, any kind of tourism infrastructure is practically non existent in most of the country. But if you are ready to overcome the unexpected surprises that travel in Tajikistan might bring you, you get a lot of things in return.
Why Travel in Tajikistan?
The number one reason to travel to Tajikistan is the spectacular nature. There are almost unlimited opportunities for hiking. More than 90% of the country is mountains and half of it is above 3000 meters.
Most people that travel in Tajikistan, come to do the Pamir highway. It is the second highest highway in the world. Sometimes it is also called the roof of the world. The Pamirs indeed offer outstanding mountain vistas, but that is just the beginning of all the things to do in Tajikistan.
The Fann mountains with its glistening deep blue mountain lakes is equally spectacular. Tajikistan is no Uzbekistan if it comes to history and islamic arts, but Khujand and Penjikent are pleasant cities. Both are among the oldest towns in central Asia with a long history on the ancient Silk road.
It's a turbulent history where the armies of Alexander the Great, the Arabs, the Mongols, the Samanids, the Timurids and the Soviets all played a role. The result is a country rich in culture, but that is still struggling to develop a common Tajik identity.
Like anywhere in Central Asia I found people to be very welcoming and friendly. Tajik hospitality is certainly something you will encounter when backpacking Tajikistan. Whether it is an invitation for a cup of tea at the bazaar or people sharing their food with you in a shared taxi.
Backpacking Tajikistan is likely to become more popular in the future. The Lonely Planet has made central Asia one of the top destinations in 2020.
Visas for travel in Tajikistan
Everyone that is going to travel in Tajikistan needs a Tajik visa. If you want to visit the Pamirs or do the Pamir highway you also need a GBAO permit.
Most nationalities can apply for the Tajik e-visa. It is a quick and easy process in which you can also request the GBAO permit. The evisa is single entry and valid for 45 days.
If you want a double entry visa you still need to apply at a Tajik embassy.
How to travel to Tajikistan
Travel to Tajikistan by plane
The country has two international airports: Dushanbe International Airport (DYU) in the capital city of Dushanbe, and Khujand International Airport (LBD) in the northern city of Khujand. Turkish Airlines and Air Astana have direct flights to Dushanbe.
Travel to Tajikistan overland
The railway system in Tajikistan is not as developed as in Uzbekistan and Kazakhstan. There is a train from Dushanbe to Moscow, but you will need a Turkmen transit visa that is hard to get. The train journey does offer scenic views and is a unique travel experience.
The easiest way to enter Tajikistan by land is from Uzbekistan. The border crossing between Samarkand and Penjikent has recently opened for foreigners. It is also possible to travel from the Fergana valley in Uzbekistan using the border between Kokand and Khujand.
Places to visit in Tajikistan
In this guide I will only give a brief overview of the most popular places to visit in Tajikistan. For more inspiration I can recommend my post about things to do in Tajikistan and my 3 week Tajikistan itinerary.
Dushanbe
Most people that travel in Tajikistan will be in Dushanbe at some point. Tajikistans capital is not the most beautiful city in Central Asia. It lacks the history of Tashkent, the Soviet heritage of Bishkek and the futuristic architecture of Nursultan.
Dushanbe's appeal lies in its relaxed atmosphere, its scenic location and its number of great restaurants. Dushanbe is a green oasis of comfort in a country where travel can be rough sometimes.
It is the perfect city to spend a couple of days pampering yourself in preparation for trekking in the Fann mountains or a Pamir highway roadtrip.
For more information you can read my post on the best things to do in Dushanbe.
Where to sleep: Pamir hotel hostel, Hello Dushanbe hostel, Yellow hostel Dushanbe & City hostel Dushanbe
Khujand
Khujand is at the heart of Tajiks Fergana valley. The city has a long history on the ancient silk road. Although not much of its past remains.
Khujand is nevertheless worth a visit with its scenic location along the Syr Darya river. For those that love history, culture and good food there are some interesting things to do in Khujand.
For example, you can visit the Khujand citadel and the history museum. There are also still some Soviet remains like the largest Lenin statue in central Asia and the iconic Leninabad hotel.
However, what I loved most about Khujand was the colourful Panchshanbe bazaar. It is one of the largest bazaars in Tajikistan. Here you can buy some nice souvenirs like dried fruits, spices and tea.
In front of the bazaar you will find an old mausoleum complex. Families come here with their children to feed the pigeons. Other great places to meet locals are the parks. Khujand is a green city with plenty of places where people come to enjoy their free time.
How to get there: From Dushanbe you can take a shared taxi that takes around 6 hours or a 45 minute flight with Somon air.
Where to sleep: Golden Appartments or Somoni Hostel
Penjikent
Penjikent is one of the oldest cities in Tajikistan. The archeological ruins of ancient Sogdian towns are among the top attractions in Penjikent. Both for their historical importance and their locations with scenic views into the Zerafshan valley.
Penjikent is also home to some mosques, madrassahs and the Rudaki mausoleum. He was one of the greatest poets in Persian literature. Don't miss the Penjikent bazaar and look out for the typical yellow carrots that are the main ingedient in Penjikent's own version of plov.
How to get there: There are frequent shared taxi's to Samarkand (2 hours) and Dushanbe (6 hours).
Fann Mountains
The Fann mountains are a trekkers paradise with a number of hikes offering spectacular mountain views. The deep blue Iskanderkul lake is only a 5 hour journey from Dushanbe.
Other destinations in the Fann mountains are reached from Penjikent or Artush. A popular trek is the Haft kul along seven beautiful mountain lakes. All of them in vivid colours that contrast with the surrounding mountains. They are along the road so it's possible to get there by car as well.
Longer challenging treks are possible as well. Multiple day hikes run from the haft kul or Kulikalon lakes towards Iskanderkul.. You will cross remote mountain passes and need to be self sufficient. A guide is recommended.
Where to sleep at Iskanderkul lake: Voris Guesthouse in Kanchoch and Hostel on Iskanderkul lake.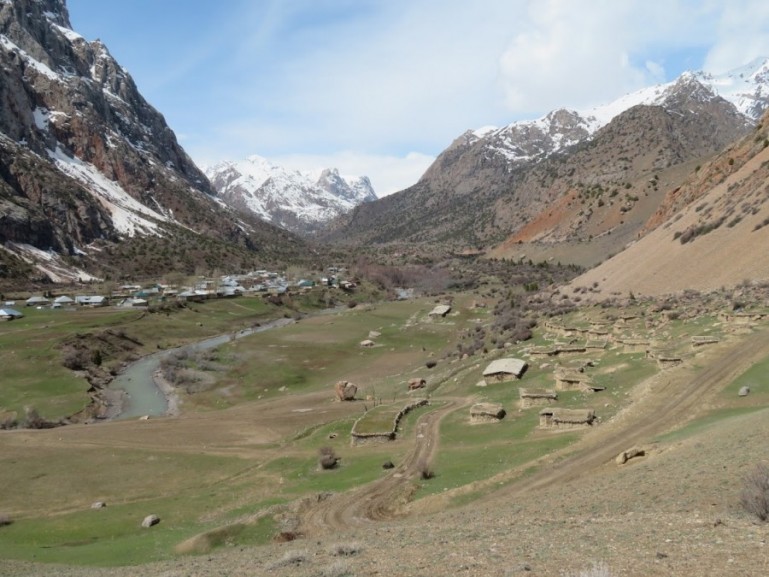 Yagnob valley
The remote Yagnob valley is home to the Yagnob people. They are direct descendants of the ancient Sogdian civilization and one of the few people that still speak a Sogdian language.
The valley has outstanding mountain vistas and traditional villages where a warm welcome awaits you. Margib is the largest town in the Yagnob area and from there you can hike further into the valley.
This is an off the beaten path destinations, but several villages have homestays where you can sleep and learn more about the unique Yagnob culture. For more information I can recommend this guide to the Yagnob valley.
Pamir highway
Most people that travel in Tajikistan do so for the Pamir highway. the second highest highway in the world is the most popular destination in Tajikistan and for good reasons.
The average Pamir highway itinerary needs at least a week. But there are so many things to see and do that you can easily spend more time in this region. Planning a Pamir highway tour definetly requires some though choices of what to include and what not.
No matter what your roadtrip looks like it will be a memorable experience. The lunar landscapes with glistening lakes and the views into Afghanistan made this a highlight of my trip to central Asia.
Where to sleep in Khorog:Roof hostel, Pamir hostel & Bed and breakfast Mir. For luxury and comfort choose the more expensive Zafar hotel & Zarya hotel.
When to travel to Tajikistan
With cold and long winters the best time to travel in Tajikistan is short. If you want to do higher altitude treks the best time to visit is from June till September. For lower altitudes the season runs from May till October.
Summer in Tajikistan is the warmest time of the year, with temperatures ranging from around 25°C to 40°C (77°F to 104°F) in lowland areas. It's a great time for outdoor activities such as trekking, mountain climbing, and camping in the highlands.
Although summer is best, spring and autumn are possible as well if you don't plan to go that high up in the mountains. In that case autumn is better than spring, because spring brings more rain and there is a higher risk of rockfalls, mudslides and avalanches. Autumn is in fact one of the most beautiful times along the Pamir highway with the fall colours.
In spring you are able to see the Nowruz celebrations. Nowvruz is a widely celebrated festival in Tajikistan and marks the Persian New Year. It is a vibrant and joyous occasion that welcomes the arrival of spring. You can expect to witness traditional music and dance performances, street parades, and the festive atmosphere with locals wearing traditional clothing.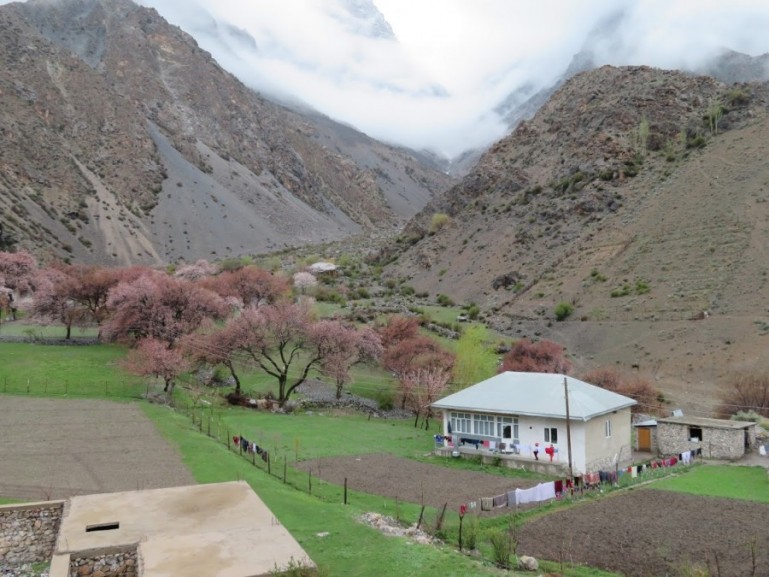 Backpacking Accomodation in Tajikistan
Backpacking Tajikistan is not yet common. Hostels for backpackers are something new and only available in Dushanbe. In the mountains and on the Pamir highway the best options are homestays and basic guesthouses.
What and where to eat in Tajikistan
As a traveller Tajik food might be a bit dissapointing. If you are on the road the choices are often limited to the standard central asian foods like plov (rice with carrots), laghman (noodle soup), manti (steamed dumplings) or pelmeni (russian dumplings).
These dishes come from the neighbouring countries and are very popular. Although Tajik cuisine is hard to find, it does exist, and there are some unique dishes.
The most famous Tajik recipy is Qurutob. It's a mix of bread and meat in a yoghurt onion sauce. The best place to try it is in Dushanbe.
Then there are some regional recipies. In Khujand you should try Javari. A soup made from a local pulse. Penjikent is famous for its yellow carrots and its own version of Penjikent plov.
The Pamirs also have some traditional foods, but they are really hard to come by. If you are really interested in Pamiri cuisine I can recommend the book With our own hands. The authors have done an amazing job watching and documenting the culture and recipies of the Pamirs. Some highlights that you might be able to find if you are lucky include osh (noodle soup), guzkharvo (walnut soup) and noshkhukpa (dried apricot soup).
Language and culture in Tajikistan
The Tajiks are often described as an Iranian ethnic group speaking Persian. However, in reality there is no such thing as the Tajik people.
In fact, there are a number of communities each with their own culture. Although Tajik is widely understood, most ethnic groups speak their own language. For example, in the Pamirs alone, there is Shughni, Rushani, Wakhi, Bartangi, Yazgulyani, Khufi and Ishkashimi.
Major ethnic minorities are the Uzbeks and the Kyrgyz. Most people in Tajikistan practice Sunni Islam, but in the Wakhan valley you will find the Ismaili, a liberal branch of Shia islam.
How to travel in Tajikistan
Public transport in Tajikistan is limited, but there is an informal network of shared taxi's. They have no fixed schedule and leave when full.
There are frequent shared taxi's between Dushanbe, Khujand and Penjikent. For more remote destinations shared taxi's often leave early in the morning once they get enough passengers.
From Penjikent are infrequent shared taxi's into the Fann mountains and Sarvoda is a transport hub for Iskanderkul lake and the Yagnob valley. If it's unlikely there are enough people you can always pay for the empty seats and sometimes this is your only option to get somewhere.
Along the Pamir highway there should be at least one shared taxi a day between Dushanbe, Khorog, Murgab and Osh. Shared taxi's into the Wakhan valley get as far as Langar.
Every shared taxi can become a private taxi if you want to (unless there are already other passengers in it). When chartering a private taxi you can keep the prices of a shared taxi in mind. Multiply it by four and you have a fair price of what it should cost. A shared taxi from Dushanbe to Khorog costs between 300 to 350 somoni and from Dushanbe to Khujand between 100 to 120 somoni.
Money matters for travel in Tajikistan
Tajikistan uses the Tajik Somoni. Although ATM's do exist in the major cities it might take a while to actually find one that works. Make sure you get enough cash in Khujand, Penjikent or Dushanbe before heading into the mountains.
Also bring enough cash with you from home in dollars. It's easy to exchange money in the bigger cities and a lot of places along the Pamir highway accept dollars as well.
Costs of backpacking Tajikistan
Backpacking Tajikistan is not as cheap as in the rest of central asia. Transport costs do add up, especially if you need to hire a private car. Expect to pay between 20 and 30 us dollars per day excluding transport
accomodation – less than 10 dollars for a bed in a dormitory, around 20 dollars for a double private room (as of April 2019).
food – less than 5 dollars if you stick to roadside restaurants or the bazaar, around 6 – 8 dollars if you go to a more midrange restaurant.
transport – Shared taxi's cost anything in between 5 and 30 us dollars depending on the distance and conditions of the road. Private taxi's will cost you more and for some places like the Yagnob valley this might be your only option.
Is it safe to travel in Tajikistan?
When talking about safety in Tajikistan it is difficult not to mention the Danghara attack in July 2018 when 4 cyclists were killed by armed men that pledged allegiance to IS.
So far this seems to be an isolated incident that was condemned by most people in Tajikistan, as you can read in the sober memorial on the road. Wherever I met I was greeted with smiles and friendlinnes and nowhere did I feel any hostility towards foreigners.
Ironically when I was travelling in central Asia an attack happened near my hometown in Utrecht where a terrorist killed three people in a tram. It shows these kind of events can happen anywhere.
Regarding your safety when backpacking Tajikistan, your chances of becoming the victim of crime or terrorism are still extremely low. It is your health, and in particular food hygiene and altitude sickness, that is a much bigger concern.
Health
Sanitary conditions in Tajikistan are very basic and hygiene standards low. Diarrhoea is the most common health issue among travellers in Tajikistan. Many people struggle with the food that is heavy in fat. Bring a water filter with you and a hand sanitizer to minimize the risk.
Also be aware that at higher altitudes the sun is much stronger and you can get sunburn more easily. Bring enough sunscreen with factor 30 or higher. Also bring sunglasses and a sunhat for adequate protection.
At last, if you are prone to motion sickness make sure you bring your preferred medication with you.
Altitude sickness
The biggest threat to your health in Tajikistan is altitude sickness. It can affect anyone and starts to become a concern at 2700 meters and above. The higher you go, the higher the risk,
The key is to go up slowly. The general rule of thumb is that you should not ascend more than 300 meters per day. Unfortunately it is not always possible to follow this advice when travelling in Tajikistan.
Symptoms of Acute Mountain Sickness (AMS) include headaches, nausea, loss of appetite, dizziness, fatigue, problems sleeping, shortness of breath and feeling miserable. If left untreated it can progress into the life threatening High Altitude Pulmonary Edema (HAPE) and High Altitude Cerebral Edema (HACE).
When at higher altitudes make sure you drink enough water. At least 3 to 4 liters per day. Local remedies include dried fruits with a bit of sugar and kurut (dried yoghurt balls). You might consider taking diamox, a medicine that will help you acclimatize.
Once you have severe symptoms the only thing that helps is to go down again to a lower altitude as soon as possible.
Solo female travel in Tajikistan
Solo female travel in Tajikistan is safe, but I did feel I got my share of attention as a woman travelling in Tajikistan. Men do get flirty sometimes, especially at the checkpoints along the Pamir highway. Still, in my experience, it was never something more than annoying.
Dress modestly and keep some distance in your interaction with men. Being too friendly can be misinterpreted. Rather than giving a handshake, for example, it is better to place your hand over your heart.
Also don't be offended if a man does not shake your hand. It is in fact, a sign of respect in Tajik culture and he might greet you as well by placing his hand over his heart.
Online Resources about Backpacking Tajikistan
Caravanistan : Caravanistan has a wealth of information about travel in Tajikistan and other countries along the Silk road. They also have an excellent forum where you can find travel partners for the Pamir highway.
Adventures of Lil Nicki: Adventures of Lil Nicki is an excellent blog with tons of information on backpacking Tajikistan.
Travel to Eastern Europe Facebook group: This Facebook group is full of experts and travellers with a passion for Eastern Europe and Central Asia. If you have any questions left you will find or get an answer here.
Backpacking Central Asia Facebook group: This Facebook group is all about backpacking central Asia and is a great place to meet other travellers when backpacking Tajikistan.
Sustainable Travel in Tajikistan
Tajikistan is seeing more tourists every year. While Tourism is a welcome source of income it can also have negative consequences. Traveling sustainably in the country, involves conscious choices that minimize your environmental impact and support the local community.
Support the local community: You can support the community by purchasing goods and services from local vendors, artisans, and restaurants. It is better to try Tajik cuisine that uses local ingredients rather than imported foreign foods.
Stay in small scale sustainable hotels: It is also better to stay in locally-owned guesthouses or homestays to support the local economy directly. These accommodations often have a more positive impact on the environment compared to large hotels.
Tajikistan has a number of community based tourism initiatives with excellent homestays. Where possible, I can recommend staying in a homestay for an authentic cultural experience. You might want to bring a small book with pictures of your family to break the ice.
You can try to look for guesthouses or homestays that prioritizes sustainable practices. That said, environmental awareness is still low. It's up to you to use water sparsely, turn off lights, air conditioning, and heating when leaving your accommodation.
Use public transport: Tajikistan has a well-developed public transportation system with shared taxis and marshrutkas. Opt for public transport, whenever possible, instead of private cars to reduce carbon emissions. Avoid internal flights. The journeys on road might be long, but the views are spectacular.
Leave no trace principle: Tajikistan is famous for its natural beauty and mountains. When hiking, stick to designated trails when they are there, avoid disturbing wildlife or picking plants, and leave no trace of your presence. Ensure you take all your trash back with you and dispose of it responsibly.
To avoid single-use plastics, invest in reusable items. For example, you can bring your own water bottle with a filter that you can refill at your accomodation. At last, use biodegradable and eco-friendly personal care products to minimize pollution of water sources.
Respect the culture: Besides environmental concerns it is also important to respect the culture. Tajikistan is an Islamic country that is just opening up to tourism. Therefore, learn about the local customs and traditions beforehand and be mindful of your behavior.
People will appreciate it, if you dress modestly, especially at religious sites. Learning a few basic phrases in Tajik or Russian, can go a long way in building meaningful connections and to learn more about the local culture. Not everybody is happy to have their picture taken. When in doubt, ask permission.
Books about travel in Tajikistan
Bradt guide Tajikistan: The most comprehensive travelguide about travel in Tajikistan that is very strong on background information about the country.
Lonely Planet Central Asia: The Lonely Planet doesn't have a guide for Tajikistan in particular. However the central Asia guide has a good section on backpacking Tajikistan, including the Pamir highway.
Trekking in Tajikistan: If you plan to do treks in Tajikistan this is the best guide book available. Written by Jan Bakker and Christine Oriol.
With our own hands: With our own hands is a beautiful book to have at home with everything about Pamiri food culture. Frederik van Ouwenhoven and Jamila Haider have done a great job in documenting tradition Pamiri food recipies.
Eastern Tajikistan: This book from Matt Traver with a visual exploration of life in the Pamirs has beautiful pictures of a Kyrgyz shepherd families around Murghab.
Peoples & Landscapes Tajikistan: This book from Nicolas Pernot is one of the best photography books depicting the people and landscapes of Tajikistan.
Sovietistan – Erika Fatland: A wonderful book about an anthropologists journey in Central Asia including an informative and fun chapter on travel in Tajikistan.
Disclaimer: This backpacking Tajikistan travel guide about everything you need to know about travel in Tajikistan contains affiliate links. If you buy any service through any of my links, I will get a small commission at no extra cost to you. These earnings help me to keep Backpack Adventures alive! Thanks for your support!
---
---