How to Visit Turkestan, Kazakhstan: a silk road jewel
This post is a travel guide about the best things to do in Turkestan, Kazakhstan. Turkestan is one of the most important historic cities in central Asia. Even though there are a lot of archeological remains throughout the country, none are so well preserved as the ones in Turkestan Kazakhstan.
Turkestan is home to the mausoleum of Khoja Ahmed Yasawi, a UNESCO World Heritage site. This architectural masterpiece dates back to the 14th century and is an excellent example of Central Asian Islamic art and culture.
Turkestan will give you a good sense of what the glory days of the Silk road in Kazakhstan were like. Furthermore, Turkestan is still an important place of worship for local people.
Despite the current struggles in tourism, Kazakhstan itself, pronounced Turkestan among the top 10 tourist destinations in the country in 2021.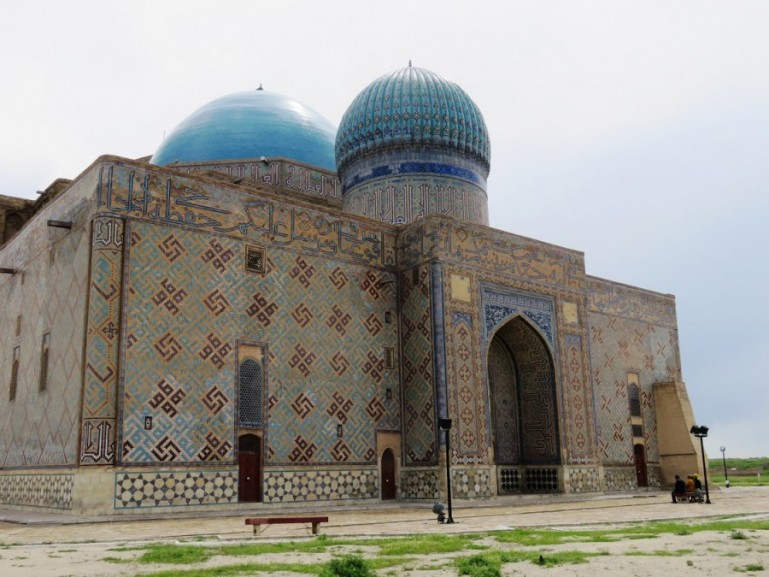 History of Turkestan in Kazakhstan.
Turkestan's history goes a long way back. The first people settled here around the 4th century. The small town of Yasi gained it's importance in the 11th century when it developed into a centre for spirituality and Islamic philosophy under Sufi saint Khoja Ahmed Yasaui.
Along with its religious significance, Turkestan also became an important trading centre on the ancient Silk road and a crossroad influenced by the Kazakh steppes in the north and Persian cultures in the South.
Turkestan had a strong link with the nomadic people of Kazakhstan. In the 16th century Turkestan became the political centre of the Kazakh steppes when it was the capital of the Kazakh Khanate untill the Russians took over. Eventually Turkestan became part of the Kazakh Soviet Socialist Republic.
Nowadays it is a long journey from the current capital Nur-sultan or Almaty, but travelling to Turkestan is definetly worth it. Furthermore it is an easy day trip from Shymkent.
This travel guide about Turkestan in Kazakhstan will help you in planning your trip.
Things to do in Turkestan Kazakhstan
1. Turkestan Yasaui mausoleum
The Khoja Ahmed Yasaui mausoleum is the main reason most tourists and local people travel to Turkestan in Kazakhstan. And for good reasons. The Mausoleum with its intricate blue tiled mosaic patterns is beautiful. It gives you a glimpse of what to expect in other central Asian Silk road cities like Khiva, Bukhara, Samarkand, Shiraz and Isfahan.
Khoja Ahmed Yasawi was born in 1093 in Sayram, a city near Shymkent. He became a prominent Sufi mystic and scholar, spreading his teachings and spiritual wisdom across the region. He was a disciple of the famous Sufi teacher Yusuf Hamdani.
After Khoja Ahmed Yasawi's death in 1166, his tomb became a popular pilgrimage site for sufi muslims in the area. It was Timur the great, who built the beautiful mausoleum for Khoja Ahmed Yasaui that you will see today. The mausoleum's construction was halted in 1405 when Timur died, leaving parts of the building unfinished.
The mausoleum's architecture showcases a blend of Central Asian and Persian influences. It has many similarities with Uzbek and Iranian architecture. After all, Timur also built many of the Islamic buildings in Samarkand. Another important Silk road city in Uzbekistan.
The mausoleum is a UNESCO World Heritage site, because it is one of the largest and best preserved examples of Timurid design and construction in the region.
The mausoleum remains a popular pilgrimage site for muslims from both Kazakhstan and Uzbekistan. Locals say that three visits to Turkestan equals one haj to Mecca.
2. Underground Mosque
In the same complex as the mausoleum you can find the 12th century underground mosque of Turkestan that is still used for prayers by local pilgrims. At the same time it is a museum where you can see the original model of the mosque's design.
3. The Hammam
Don't miss the ancient bath house of Turkestan when you visit the mausoleum complex. It has some ancient pots and tools on exhibition.
4. Turkestan's History museum
Kazakhstan is proud on its history and Turkestan is the oldest man made architectural masterpiece in the country. There is even a free museum displaying all the historical artefacts and the obligatory praises to former president Nazarbayev. Don't forget this is a site of national importance.
5. Historical Cultural Ethnographic Centre
Next to the mausoleum is the Historical Cultural Ethnographic centre that is more elaborate than the free museum. There are 3 floors of exhibitions about the history and culture of Turkestan Kazakhstan.
entrance fee: 500 tenge
6. Turkestan's bazaar
Turkestan still has a bazaar, but don't expect any history here. It is rather small, but a typical central asian bazaar that is similar to the bazaar in Shymkent. That means a few local products and a lot of Chinese stuff.
If it is up to Nazarbayev Kazakhstan will become once again a great nation and trading partner in the world economy. The modern silk road of cheap chinese products, gas and oil.
7. Keruen sarai
In 2021 Keruen sarai opened its doors. This brand new new complex is the largest tourist complex in Central Asia and is part of Kazakhstans project to promote tourism in Turkestan.
It wasn't there yet when I last visited Turkestan, but it promises things like a theater, cinema, restaurants, hotels and a shopping center.
Things to do near Turkestan Kazakhstan
8. Sauran
Sauran was once the biggest city in Kazakhstan on the ancient Silk Road and one of the few that survived the Mongol invasion. Despite all its glory, it was suddenly abandoned for reasons that are still unknown. The ruins today are covered in grass and leave much to the imagination. However, the city walls still stand and if you do make it all the way out here you are likely to be the only person there.
How to get there: Sauran is 40 kilometers north of Turkestan on the road to Kyzyl Orda. The easiest way to get there is by arranging a taxi in Turkestan. Otherwise you can take a bus to Kyzyl Orda and ask the bus driver to drop you off at the side of the road.
Turkestan Travel Tips
Where to sleep in Turkestan Kazakhstan
Most people travel to Turkestan on a day trip from Shymkent. However, there are some accomodation options in Turkestan as well. Especially, if you want to fit in a side trip to Sauran it is recommended to sleep in Turkestan.
Edem hotel: The Edem hotel is used by most international tour operators travelling to Turkestan. It is not the cheapest option, but has good facilities and a good restaurant.
If you visit on a day trip from Shymkent I can recommend the following budget hostels in Shymkent
Art House Sweet home: Art House Sweet home lies in a quiet neighbourhood of Shymkent. It is a bit far from the centre, but with easy bus connections and excellent facilities it is still worth staying here. We actually got an upgrade to their apartment during our stay and we can recommend both.
Shymcity Hostel: Shymcity is a very friendly hostel in Shymkent with a friendly Russian owner. It's a bit difficult to find, because it is in a sidestreet rather than the main street called Tauke Khan. If you walk on Tauke Khan then continue towards Gogol street. Turn left into Gogol street and then take the first unpaved sidestreet to the left. The hostel will be at your ridehand side.
What and Where to eat in Turkestan
Turkestan has some decent restaurants serving Kazakh food like beshbarmak, kuyrdak, shashlik, and baursaks.
Chaykhana Turkestan ( Tauke Khan Ave 233 ): A good restaurant with local Kazakh food. The menu has pictures to help you choose.
Astau ( Ulitsa Amir-Temira ): Astau restaurant is opposite the Khoja Ahmed Yasaui mausoleum and therefore has a convenient location. The food isn't too bad either.
When to visit
The best time to visit Turkestan, Kazakhstan, is during the spring and autumn months, specifically from April to June and September to October. During these periods, the weather is generally mild, and you can avoid the extreme temperatures of the summer and winter seasons.
Spring is a great time to visit Turkestan Kazakhstan. At the end of march, Kazakhstan celebrates the spring festival of Nowruz. Shymkent has the biggest celebrations in the country with traditional horse games at the Hippodrome. In April and May it might rain, but this is also the time when wild tulips bloom in the nearby Aksu Zhabagly National Park.
Autumn is another ideal time to visit Turkestan. The weather starts to cool down after the summer, and the temperatures range from 15°C to 25°C
Safety in Turkestan
Turkestan is a safe city and if you follow normal precautions it is unlikely you will encounter any problems as a tourist. Theft and robberies do happen, as in most cities, and are especially common at night.
For solo female travellers it is good to know that Turkestan is a bit more conservative than the bigger cities like Shymkent or Almaty. It helps to dress modestly.
How to travel to Turkestan Kazakhstan
By train: Turkestan has a train station so it is possible to travel directly from Nur-sultan (27 hours), Karaganda (23 hours) or Almaty (17 hours). Therefore it is easy to add Turkestan to your Kazakhstan itinerary. In my post on how tyo travel by train you can read more about train travel in Kazakhstan .
From Shymkent: Turkestan is an easy day trip from Shymkent. Shymkent is therefore a great city to base yourself to explore the area. Besides Turkestan there are other historical places like Sayram. Furthermore, this region has the best national parks in Kazakhstan to see wild tulips. Sayram Ugam National Park and Aksu Zhabagly National Park are just around the corner and show Kazakhstan's nature in its full glory. 
From Samal busstation there are frequent marshrutka's (minibusses) to Turkestan. The journey from Shymkent to Turkestan takes about 2 hours. Ask the bus driver to drop you at the mausoleum once it comes into sight.
You can find more practical information about traveling in Kazakhstan in my Backpacking Kazakhstan guide.
Sustainable Travel in Turkestan
Turkestan is just opening up to tourism. Traveling sustainably in Turkestan, involves conscious choices that minimize your environmental impact and support the local community.
Stay in small scale sustainable hotels: It is better to stay in locally-owned guesthouses or homestays to support the local economy directly. These accommodations often have a more positive impact on the environment compared to large hotels.
You can also look for guesthouses or homestays that prioritizes sustainable practices. That said, environmental awareness is still low. It's up to you to use water sparsely, turn off lights, air conditioning, and heating when leaving your accommodation.
Use public transport: It is easy to reach Turkestan with public transport. Opt for public transport, whenever possible, instead of taxis or private cars to reduce carbon emissions. Even better is exploring the city by foot.
Leave no trace principle: When exploring the nearby National Parks, stick to designated trails when they are there and leave no trace of your presence. Ensure you take all your trash back with you and dispose of it responsibly. To avoid single-use plastics, invest in reusable items.
Respect the culture: Besides environmental concerns it is also important to respect the culture. Kazakhstan is an Islamic country that is just opening up to tourism. Therefore, learn about the local customs and traditions beforehand and be mindful of your behavior.
People will appreciate it, if you dress modestly, especially at religious sites. Learning a few basic phrases in Kazakh or Russian, can go a long way in building meaningful connections.
Disclaimer: This Turkestan travel guide about Turkestan Kazakhstan contains affiliate links. If you buy any service through any of my links, I will get a small commission at no extra cost to you. These earnings help me to keep Backpack Adventures alive! Thanks for your support!
---
---