How to cross the border from Turkey to Iran
This post is about my experience at the Turkey to Iran border crossing at Gurbulak Bazargan. My original idea was to travel from Turkey to Iran by train, but the Tehran express was no longer running. Instead I took the Dogu express to Kars in the far northeastern part of Turkey. There I travelled to Dogubayezit to cross the border to Iran and travel onwards to Tabriz.
Even though the direct Tehran express would have been faster, I was glad I ended up taking the Dogu express. The scenery along the way, was very beautiful. Furthermore, I got to see the welcoming cities of Kars and Dogubayezit.
If you want to travel from Turkey to Iran I can recommend the Dogu express. You will get to see a bit of northeastern Anatolia as well. And the Turkey to Iran border crossing at Gurbulak Bazargan is easy and straightforward.
Turkey to Iran border crossing
Crossing a border can be a long and stressful event. I started early in the morning from Dogubayezit so I would reach Tabriz before nightfall. It was cold, but after yesterday's snowstorms I was happy with the clear blue sky. At the end of March the wearther can still be cold, but spring is in the air. Finally I saw Mount Ararat rising from the plains. Christians believe this dormant volcano was the resting place of the Arc of Noah.
Even tough it is geographically in Turkey, it is the national symbol for Armenia that lies just behind it. Armenians consider Mount Ararat sacred. It is a reminder of the land where they lived before the Armenian genocide in 1915. For now the border crossing between Turkey and Armenia remains closed.
Turkey to Iran
The only open border in Eastern Turkey is with Iran. As we approached the Turket to Iran border crossing I got nervous. Would they question me? Will they go through my luggage to look for illegal items forbidden in the Islamic Republic of Iran? Are my clothes and headscarf sufficient? How will they look at me as a woman travelling to Iran?
I looked towards the Turkey to Iran border crossing and behind a big gate there were two large pictures of religious leaders Khomeini and Khamenei. My fellow female passengers took out their headscarfs and jackets, while I tried to fix my headscarf in a similar manner. Slowly, I made my way to the building of no return.
Surprisingly, the Turkey to Iran border crossing was very easy. Before I knew I had left Turkey and was in the duty-free zone. There was just one single shop selling alcohol. I was taken seperately and they asked me to sit and wait for a female officer.
Doom scenario's played in my head of long interrogations, but nothing like that happened. Once they found out I was from the Netherlands they shared their regrets with me about Johan Cruyf who died a few days ago. The officers then encouraged me to visit nearby Maku and I was good to go.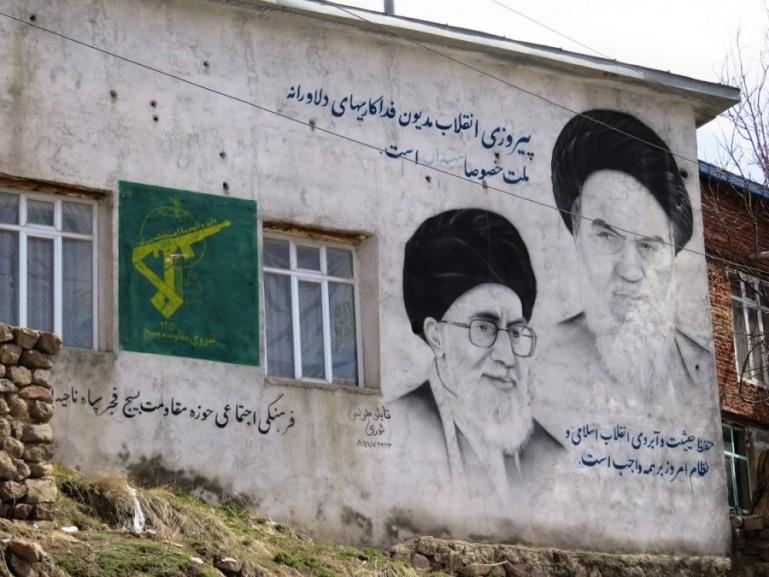 At the Iran border crossing
Within 5 minutes I stood outside where I was approached by taxi drivers and money exchangers. I was still a bit in a culture shock. Everything was in farsi and I was trying to figure out the shared taxi system.
I saw a full taxi speeding towards the border and as soon as people came out new people pushed themselves inside. Women and men were packed like sardines with at least 4 people in the back and preferably 2 people in the front seat next to the driver.
Somehow I managed to get myself in one of them. The driver was so excited to have a tourist that he asked if he could take my picture to show to his children. It was a short ride to the actual town of Bazargan where I took another shared taxi to Maku.
Despite the border officials recommendation, I didn't think Maku was so special and I quickly hopped on a bus to Tabriz where I arrived well before it started to get dark.
A warm welcome to Iran
Initially my culture shock continued when I was given a grim room in the simple Mashad guesthouse. My bed was as long as the room itself and only allowed the door to open a few centimeters. In the corridor there were several sinks with a complicated system of pipes along the ceiling for the soap dispensers.
Outside it was still chilly with patches of snow from the past days. I was shivering despite wearing several layers of clothes. Once I walked through town and the beautiful bazaar I felt welcome immediately and my culture shock slowly dissipated.
Stories about Iran's heartwarming hospitality and friendliness I heard before could not prepare me for the reality. And it did warm up my heart to this country with it's incredible people.
At some point I could no longer count the times people stopped to simply greet me, asked if they could help me or shout "Welcome to Iran" from the other side of the road. In the morning one man stopped to share the fresh bread that he just bought with me. I couldn't imagine a more warm welcome to Iran.
How to Cross the border from Turkey to Iran
From Dogubayezit it is easy to get to the Turkey to Iran border crossing. Near the tourist office (border Agri Caddesi with Rifki Caya Caddesi) there are frequent minivans (7 TL) to Gurbulak. It is a 30 minute journey to the actual border. There you have to walk up to the buildings where you exit Turkey and enter Iran.
Once you go through all the procedures, (It took about 20 minutes for me and they did not even check my bags) you are now in Bazargan, Iran. Once you leave the building there are plenty of taxi drivers and money exchangers. The rates are not so good so my advice is to change as little as you need to get to Tabriz.
From here you can take a private (Negotiate !!) or shared taxi (20,000 rials) to the actual town of Bazargan that you will see below you. From Bazargan there are shared taxi's to Maku (20,000 rials) and from Maku there are frequent buses to Tabriz (110,000 rials 4 hours), Qazvin and Tehran.
---
---