Una National Park in Bosnia: the ultimate travel guide
This post is a travel guide to Una National Park in Bosnia. Una National Park is one of the newest national parks in Bosnia Herzegovina. It was established in 2008 to protect the pristine and unspoiled nature around the Una, Krka and Unac rivers.
Una National Park is located in the northwestern part of Bosnia, close to the border with Croatia, and the more famous Plitviče National Park. It offers the same natural beauty, but without the tourist crowds in a much larger area. With 19,800 hectares, Una is one of the largest national parks in Bosnia. 
Why visit Una National Park in Bosnia?
Una National Park is all about water with a network of river streams, pools, white water rapids, canyons and waterfalls. All are surrounded by lush forests with dense vegetation and limestone cliffs. The rich flora and fauna include rare medicinal plants as well as endangered animals such as lynx, bears and wolves.
The story goes that the Una river got its name from a Roman warrior that thought the river was so beautiful that it was the one and only (Una). I can personally say that the Una is indeed one of the most spectacular rivers in Bosnia with its deep turquoise blue and emerald green colors.
Una National Park is the perfect place for outdoor activities like rafting, kayaking, swimming, mountain biking and hiking. In addition, the park also has some cultural and historical heritage with ancient citadels, monasteries and mosques.
Despite it's natural beauty, Una National Park still receives a small number of visitors. Especially compared to nearby Plitviče in Croatia. Part of the reason is that in Bosnia, Una National Park is a bit remote and difficult to get to. 
However, those who make the effort, will be rewarded with one of the most beautiful areas in Bosnia. If you are looking for a peaceful and quiet spot full of nature that is off the beaten path, Una National Park is the place to go. It is a worthwhile addition to any Bosnia itinerary.
My experience in Una National Park
After 4 trips to Bosnia Herzegovina, Una National Park remains one of the highlights. I went there on a daytrip by car from Bihać, one of the main cities in the Western part of the Bosanska Krajina region. 
The Una river runs through Bihać as well. There I was already mesmerized by its beauty, but the further away you get from the city, the better it gets. From Bihać you follow the Una river up to the entrance of the National Park where the road runs parallel to the emerald green river up till Martin Brod.  
My idea was to drive straight to Martin Brod that is more or less at the end of the road, very close to the Croatian border. From there I wanted to slowly make my way back taking in all the sights along the way.
Things to do in Una National Park
Martin Brod & Milančev buk
If you come from Croatia, Martin Brod is the first village you visit. It's where the Unac river meets the Una river and the town is home to several waterfalls.
The most beautiful waterfall is the Milančev buk that is 54 meters high and is surrounded by several pools. With its location in a dense forest it is one of the most scenic and popular waterfalls in Una National Park. 
Don't miss the other smaller travertine waterfalls though. In general, Martin Brod is a green and pleasant charming village in a rural setting where you will come across a number of pools and streams.
Martin Brod has a sad legend about a girl, Marta, that was in love with a boy on the other side of the river. Her parents did not agree with her choice and therefore she had to meet him in secret. One night she tried to cross the river to meet him, but she slipped and drowned.
Where to stay: the only option in Martin Brod that you can book online is the Apartments Martin Brod.
Bučnica eco laundry systems
With so much water around, the people in Martin Brod have made good use of this in the past. There are several traditional water mills and laundry systems called Bučnica. You will see houses that advertise their own eco laundry systems and the owners will give you a demonstration for a small fee (1 – 2 KM).
Insider knowledge: Bučnica is also the name of a Croatian cottage cheese strudel.   
Rmanj monastery
Martin Brod has been around since the 13th or 14th century. Some believe it was founded by a Serbian Princess called Katarina Brankovic who also built the Rmanj monastery as a memory to her son Herman who died at a young age.
The Serbian orthodox monastery still stands as a memory of the region's turbulent past. It has been destroyed, damaged and restored many times. First it was burned down by the Turks in 1663, then again in the Austro Turkish war in 1791 and the anti Ottoman uprisings in 1876.
In the second World war it was bombed by the Germans and in the Bosnian War it was also badly damaged. Each time the monastery was rebuilt and restored and it remains an important spiritual center for the Serbian orthodox church. In 2007 it was proclaimed a National Monument of Bosnia and Herzegovina.
As it is in the center of Martin Brod you will likely pass by. If it is open it is worth to visit inside.
Kulen Vakuf
After Martin Brod I headed down again to Kulen Vakuf where I had lunch in one of the restaurants next to the river. Although the lunch spot and the food was great, Kulen Vakuf certainly wasn't as scenic as Martin Brod.
Among the main sights are the Havala ruins and the Sultan Ahmed mosque. The Havala ruins stand on top of a hill opposite the river, but not much of it remains and it was overgrown with grass and plants when I was there.
The Sultan Ahmed mosque is in the center of town. Like the Rmanj monastery, the mosque was destroyed and rebuilt many times. Kulen Vakuf's past is even more complex than that of Martin Brod with the Kulen Vakuf massacres in 1941 being a dark page in its history.
Where to stay: In Kulen Vakuf you find the reasonably priced Unaqua apartments and Wooden house Una.
Ostrovica castle
The remains of the medieval Ostrovica castle stand on top of Ostrovica hill towering high above Kulen Vakuf. It isn't the best road, but this detour up the hill is well worth the effort for the beautiful views.
The castle itself was closed when I was there. Although some parts looked renovated, others were not that well maintained. Still you can get a good idea of the fortified walls and castle towers that were used by the Ottoman armies for most of its existence. However, it is the view on Kulen Vakuf below you that will be most impressive.
A rather dark legend surrounds the castle about nymphs who prevented the walls from the Ostrovica castle to be built unless they were offered a woman who was walled up alive. And so it happened.
Because the woman was still nursing her child, people believe that the white markings below the Ostrovica castle is from her milk and it used to be a pilgrimage site for local women who could not have children.
Orasac
Orasac was the last town I visited on my Una National Park trip. Actually I only made a quick photo stop here to get a picture of another medieval fortress. The remains of the Orasac castle stand high above the village on a steep hill. I am not sure you can even get there and from below you can clearly see the ruins of the castle.
Orasac doesn't have any other major sight-seeing-sights, but it looked like a pleasant rural town. Certainly not a bad place to spend the night in Una National Park if you wish to do so. There are a couple of guesthouses or bed and breakfasts.
Where to stay: Denis Una is one of the best options near Orasac and Strbacki buk.
Štrbački buk
Štrbački buk is one of the most spectacular waterfalls in Una National Park, if not in the whole of Bosnia Herzegovina and in that sense I saved the best for last. There are several observation decks from where you can see the water thundering down along several travertine sections.  
Rafting and Kayaking
Una National Park and the Una river is perfect for rafting and kayaking. This is possible both within Una National Park and outside.
I went rafting near Bosanska Krupa on the lower part of the river. Although outside of the park, it was really beautiful and quiet with some small rapids. As I had never done rafting before this was perfect for me.
If you are looking for more adrenaline it is better to choose some sections on the higher part of the Una river such as from Štrbački buk to Lohovo inside the National Park.   
Some agencies that arrange Kayaking or rafting trips are Una Kayak Safari, Unatoure or Una Kiro rafting.
Hiking
The natural beauty in Una National Park means this would be a perfect place for hiking. Unfortunately there are no established hiking trails yet. With the exception of a short 5 kilometer education trail that runs from Cukovi to Štrbački Buk along the ruins of some ancient forts. 
Other than that you are free to explore on your own. You can read the story from Eva who went hiking in Una National Park as part of her journey on the Via Dinarica trail. It's a trail still in progress, but the plan is that Una National Park becomes part of the Via Dinarica Green trail. 
Safety: In theory, the national park is completely cleared from land mines, but some areas outside of the park aren't. Bihać saw heavy fighting in the Bosnian civil war. When hiking around Bihac stay on the trails or use a tourist guide who knows the locations of the minefields.
Fly fishing
Fly fishing is a quite popular sport along the Una river. You can either practice it yourself or see it in action.
Things to do near Una National Park
Japodian islands, Racic
Just outside Una National Park you will find the peaceful and serene Japodian islands. These islands were once inhabited by an Ilyrian tribe called the Japodes. For a long time they were overgrown by trees and bushes when a group of young people made it into a stress free zone for tourists and people looking for a place to work.
The network of 5 islands in the Una river are now connected with wooden bridges and walking trails. It's not big and you would probably have seen everything in less than an hour. It's not as spectacular as Una National Park itself, but if it's on your way a quick stop won't hurt.
Where to stay: Japodski Otoci has some nice and quirky cabind as well as rooms in a peaceful and quiet setting near the Japodian islands.
Bihać
Bihać is the gateway city to Una National Park. From here you can arrange your Una activities such as rafting, kayaking or day trips into the National Park.
The city also has some sights of its own. Int started as an abbey in the 13th century, but then the Turks took over and developed it into an Ottoman fortification. With its location in the far western corner of the Ottoman empire it was perfect for planning invasions into Croatia.
The small city center has an old church turned into a mosque, an Ottoman mausoleum and a nice park. There are also plenty of great river view restaurants.
Where to stay: for cheap rooms you can stay in Villa Maja or City Bridge guesthouse. Apartment Aida is nice for longer stays.
Ethno villages
Near Una National Park are some ethno villages that want to give an idea of traditional rural Bosnian life. In my opinion, they are a bit of a tourist trap, but they might be nice to visit when you have children.
In Lohovo you will find the Eko Selo Natura Art village with a playground and a mini zoo. The location is quite scenic, next to the river, and there is a good restaurant with traditional Bosnian food.  
In Čardaklije is an actual working farm where visitors and children can learn about animals and country life. There is also a bakery and kitchen where you can buy organic bread as well as a traditional restaurant. 
Wildlife in Una National Park
Una National Park has an incredibly rich biodiversity with a number of rare and endangered plant and animal species.
The wildlife in Una National Park includes Europe's 3 largest predators; wolves, lynx, and bears as well as fox and deers. You need to be very lucky to see them though. More common are otters, weasels, turtles and a number of insects and reptiles.
For birdwatchers there are more than 120 species of birds in Una National Park.
How to organize your Una National Park trip
Any trip to Una National Park is best arranged from Bihać. From Bihać to the entrance in Gorjevac it is only 18 kilometers and to the entrance in Lohovo only 15 kilometers.
Bihać is a city in the northwestern part of Bosnia that is easy to reach by car or bus from Sarajevo in Bosnia (310 kilometers) or Zagreb in Croatia (160 kilometers).
Because the park is along the border, it is actually quite easy to reach from Croatia. For example, Plitviče Park is less than 30 kilometers from Bihać.
Self drive.
The best way to explore Una National Park and its surroundings is by having your own car. The road that runs from Bihać to Orasac, Kulen Vakuf and Martin Brod is pretty good and takes in the main sights of Una National Park.
There are 6 entrances into the park in Gorjevac, Cukovi, Celije, Racic, Martin Brod and Lohovo. By car it would be possible to see everything in one day, but you can still choose to stay the night inside the park, because it is more scenic than Bihać. 
Renting a car in Bosnia is very affordable. If you can share the costs it will be cheaper than going on a tour.
Public transport
I would not recommend traveling to Una National Park by public transport, but it is not completely impossible. Just note that several of the main sights are not accessible or require a long walk and therefore you will need some more time to see everything.
During the week there are around 5 buses a day from Bihać Bedem bus station to Kulen Vakuf. From Kulen Vakuf you could hike to Ostrovica castle (8 kilometers), Martin Brod (13-15 kilometers) or Štrbački Buk (18 kilometers).
Note that Bihać Bedem bus station is not the main bus station. It is located on Bedem street located west of the historic center of Bihać.   
There is also one bus that goes all the way to Martin Brod. Martin Brod isn't that big so you can easily visit Milancevi buk and the Rmanj monastery on foot.
To visit Štrbački buk you can also ask the bus to drop you off at Cukovi and then walk the 5 kilometer to the waterfall. You have to walk back again to catch the bus back to Bihać or Kulen Vakuf. 
Public transport itinerary
Check the most recent timetable for the bus from Bihać Bedem station. If you plan things well you could in theory take a bus to Martin Brod. See everything there then take the bus back to Bihac the next day and get out at Kulen Vakuf to hike to Ostroviza castle. The next day again take the bus from Kulen Vakuf back to Bihać, but now get out at Cukovi to walk the education trail to Štrbački buk. 
First day: bus Bihać to Martin Brod – see Milančev Buk and Rmanj monastery
Second day: bus from Martin Brod to Kulen Vakuf – hike to Ostroviza castle
Third day : bus from Kulen Vakuf to Cukovi – walk the education trail to Štrbački buk and back and then continue by bus to Bihać
Just make sure you inform yourself about the bus departure times from each place. From Martin Brod there are very few buses, if any. In the weekends this plan will also be more difficult as there will only be one or two buses a day between Bihać and Kulen Vakuf    
You can also rent bicycles in Kulen Vakuf. This is another great and more sustainable option to explore the park.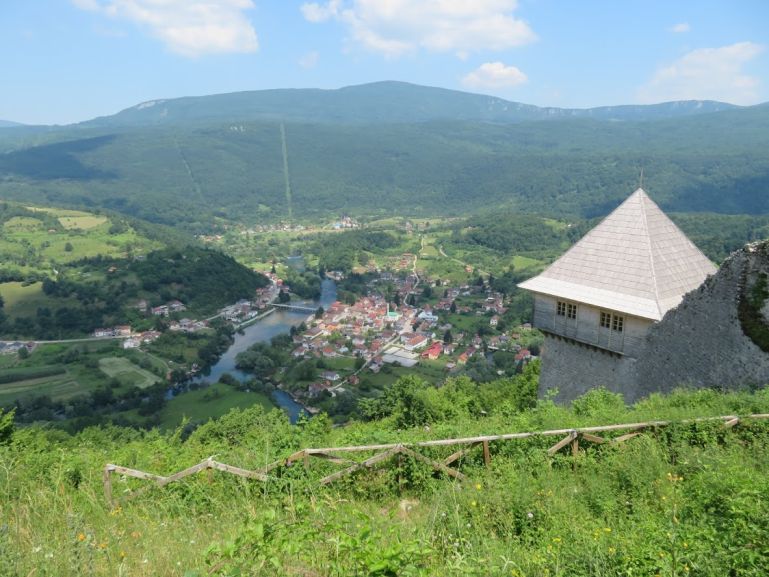 By tours
From Bihać you can also arrange organized tours into the park. Make sure they include both Martin Brod and Štrbački buk. 
Una National Park travel tips
Permits and entrance fees
You don't need any permits, but they do ask for an entrance fee to see the waterfalls at both Milančev buk in Martin Brod (3 KM) and Štrbački buk (7KM). 
Money matters
It's best to bring enough cash money with you to Una National Park. There are no ATMS's within the park and you won't be able to use your card everywhere. In Bihać there are enough ATM's or currency exchange offices.
Where to eat in Una National Park
There are plenty of places to eat in Una National Park. Martin Brod, Kulen Vakuf and Štrbački buk all have restaurants serving traditional Bosnian food.
I had lunch in Kulen Vakuf at Bistro Una, right next to the river. The food was great and the location wonderful.
Another recommendation are the riverside restaurants in Ripac, just outside the Una National Park. The locations are all very scenic and the food is good too.
River dock restaurant is one of the more famous restaurants in this town and serves the food on wooden boats floating in the river. However, it is not necessarily the best.
I had dinner at Restoran Slap na Uni with an equally scenic location and delicious grilled meats. The portions were huge and prices ridiculously cheap.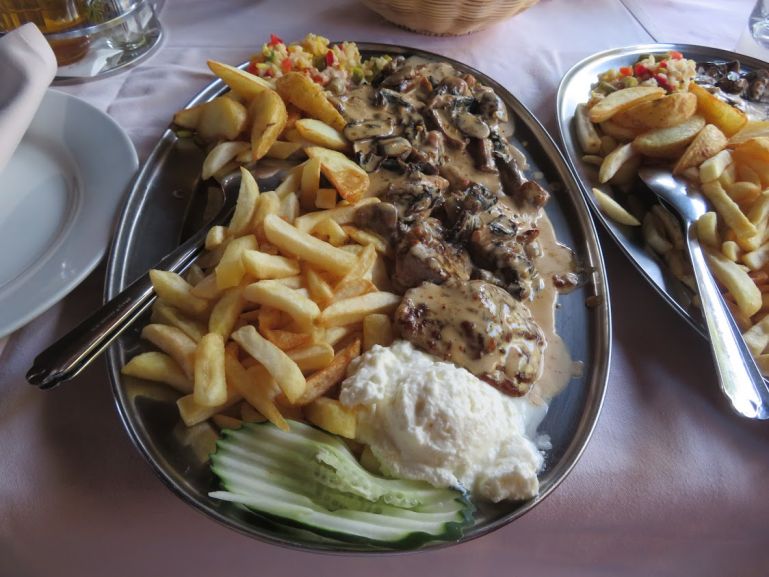 Where to sleep in Una National park
There are plenty of places to sleep in and near Una National park. The question is whether you want to spend the night inside the National Park or in the city of Bihać that has all the facilities you need.
In Bihać Apartments Denim has good reviews and offers an apartment in the center of Bihac for a good price. 
Inside the park most accommodations are in Kulen Vakuf with a number of friendly guesthouses and apartments such as Unaqua apartments (view on the river), Apartment Dil or Apartment Amela.
When to visit Una National Park
Most people visit Una National Park in summer, but it can be pretty warm during this time. Weather wise late spring and early autumn are the best times to visit Una National Park.
In winter there will be snow and a lot of activities like hiking or rafting will not be possible, but the snow brings a different type of beauty to the park. If you can bear the cold, it will be a beautiful winter wonderland.
Safety in Una National Park
Una National Park is a very safe place to visit. The biggest risks will have to do with the weather conditions. In summer it will be warm so bring enough water and sun protection (sun hat, sunscreen).
Swimming in the Una river is possible in the sections where the river is tranquil. However, be cautious for rapids.
In theory, the national park is completely cleared from land mines, but some areas outside of the park aren't. Bihać saw heavy fighting in the Bosnian civil war. When hiking around Bihać stay on the trails or use a tourist guide who knows the locations of the minefields.
Disclaimer: This post about Una National Park in Bosnia contains affiliate links. If you buy any service through any of my links, I will get a small commission at no extra cost to you. These earnings help me to keep Backpack Adventures alive! Thanks for your support!
---
---