Uzbekistan Itinerary: how to spend 2 weeks in Uzbekistan
This post will help you plan your Uzbekistan itinerary. Uzbekistan is one of the most upcoming destinations in Asia due to its recent visa free regime for most nationalities. It is now easier than ever to visit the country and there are good reasons to do so.
Uzbekistan was once an important part of the famous silk road and has a rich cultural heritage that is still visible in the beautiful islamic architecture and historic sites throughout the country. It's not hard to imagine camel caravans passing through when you walk through the scenic alleyways of Samarkand, Bukhara or Khiva. The Turks, Greeks, Persians, Russians and Mongols all once ruled parts of what is now Uzbekistan. Each of them left behind their own influences.
Uzbekistan has lots to offer as a result and it will be difficult to choose which places to include in your Uzbekistan itinerary. From the remote desert landscapes, the ancient cities and the green rolling hills of the Nuratau and Chimgan mountains.
Planning your Uzbekistan itinerary means you must make difficult choices, because there are so many places to visit in Uzbekistan.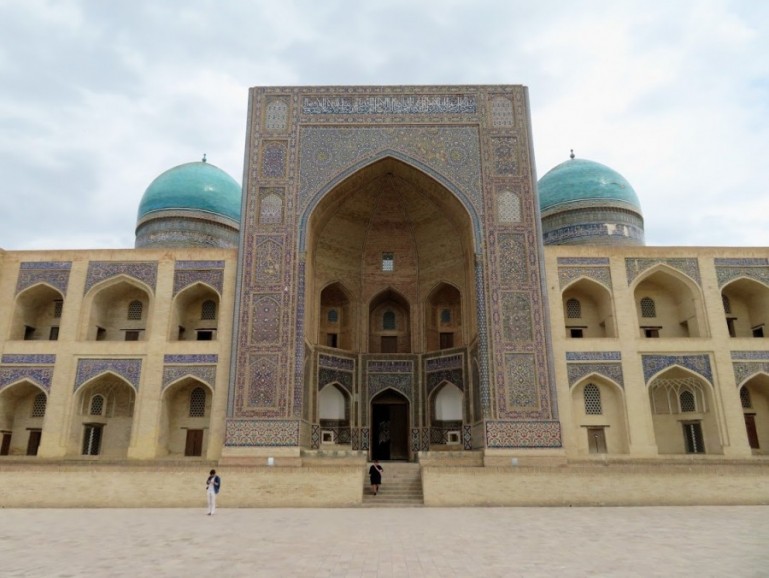 My Uzbekistan itinerary
I didn't want to make any choices and I had a one month Uzbekistan itinerary. Therefore, I was able to see both the tourist highlights and some off the beaten path destinations. I must say that I love slow travel and spent considerable time in each place that I visited.
In my experience, you would need at least two weeks in Uzbekistan to see the major highlights. This post will include a 2 week Uzbekistan itinerary with a roundtrip from Tashkent visiting the beautiful cities of Samarkand, Khiva and Bukhara.
If you have more time, there are a lot of other interesting places to add to your Uzbekistan itinerary. Beyond its cities, Uzbekistan boasts stunning natural landscapes. From the deserts of Kyzylkum and Karakalpakstan to the picturesque Fergana Valley and the mountainous regions. This post will also include several itinerary extentions to consider.
A 2 week Uzbekistan itinerary
Uzbekistan Itinerary Day 1 – 2: Tashkent
Spent your first two days of your Uzbekistan itinerary in Tashkent. The capital of Uzbekistan is a great introduction into the country and one of the best places to see Soviet architecture.
I can recommend this self guided tour of Tashkents's metro stations. They are among the most beautiful metro stations in the world and a unique mix of Soviet and Uzbek design.
After your metro tour head towards the Chorsu bazaar. One of the oldest and largest bazaars in central asia. It's easy to spend your whole afternoon here, but save some time to see some of Tashkent's Islamic architecture. Next to the bazaar is the Kukeldash madrassa and you can take a taxi to the nearby Hast Imom complex.
On your second day you can visit the Amir Timur square and the Independence square. It's a nice walk between the two squares where you get to see some interesting architecture like Hotel Uzbekistan, the clock towers, the state history museum and the Romanov palace.
In the afternoon you can visit one of Tashkent's museums. To get a better understanding of Uzbekistan's history visit the State History museum and to learn more about Uzbek art visit the State Fine arts museum or the museum of applied arts.
Read more about Tashkent in my post about the best places to visit in Tashkent.
Eat: National food or plov centre
Sleep: Art Hostel
Uzbekistan Itinerary Day 3 – 5 Khiva
From all the silk road cities in Uzbekistan, Khiva is the most remote. Some people skip Khiva all together, but I would say it is definitely worth a visit. The ancient town with its mudbrick buildings and towering minarets bring you right back to the days of the Silk road.
I recommend to head to Khiva first and then travel back towards the capital. Several times a week there is a comfortable night train from Tashkent to Khiva. Khiva is a true desert city and reminded me a lot of Kashan and Yazd in Iran.
Khiva is a compact city and most tourist attractions are within the walls of the old town called Itchan qala. One day should be enough to see everything within Khiva itself and try some of its delicious food. Khiva has some local specialities like pumpkin and egg dumplings that you should try. Also don't miss the sunset from either the watchtower or on top of the city walls. This is when Khiva is at its best.
On your second day in Khiva you can make a tour along the Khorezm fortresses. These ancient desert castles in Karakalpakstan were a highlight of our trip in Uzbekistan. There is not much left of them and the ruins require some imagination, but the locations are spectacular. Furthermore, you do get a sense of how big these structures must have been.
Read more in my Khiva travel guide about the best things to do in Khiva.
Eat: Khorezm cafe & Terassa
Sleep: Islambek Khiva
Uzbekistan Itinerary Day 6 – 9 Bukhara
Traveling from Khiva to Bukhara used to be a long 8 hour shared taxi ride, but with the new high speed train connection it is an easy and comfortable journey of only 6 hours.
Bukhara is one of the most authentic silk road cities in Uzbekistan. Renovation projects have been more subtle in Bukhara and the city has a completely different atmosphere than Khiva or Samarkand.
Most things to do in Bukhara are centered around the Lyab I Hauz complex, the covered bazaars, the Kalyon complex and the Arc of Bukhara. Bukhara is a city that is best explored on foot, wandering through its old streets. If needed it is possible to see everything in one day, but two days would be better.
Spend your third day to see some of the things outside of Bukhara such as the Chor Bakr complex with its ancient mausoleums and the Sitora I mokha complex. The summer palace of the kings of Bukhara is beautifully decorated and reminded me of the Mughal architecture in places like Delhi, Jaipur and Agra in India.
Read more in my Bukhara travel guide about the best things to do in Bukhara.
Eat: Minzifa
Sleep:Parviz guesthouse
Uzbekistan Itinerary Day 10 – 13 Samarkand
Samarkand will be the highlight of any Uzbekistan itinerary. From Bukhara there are several trains a day to Samarkand. With the new high speed train it takes only 2 hours.
Samarkand is the second largest city in Uzbekistan and also one of the oldest. Samarkand was the capital of the ancient Sogdian empire as well as the Timurid empire under Timur the Great (Tamerlane). Timur rose to power in the late 14th century.
His empire spanned from modern-day Turkey and Iran to Central Asia, including parts of Afghanistan, Pakistan, and India. Although Timur was a ruthless military leader, he also had a keen interest in art, culture, and architecture. He patronized scholars, artists, and architects, leading to the development of a unique architectural style known as Timurid architecture that came to characterize Samarkand.
Highlights include Registan square, the Shah i Zinda complex and the Gur e Amir mausoleum and there is much more. Like the lively Siob bazaar and the Bibi Khanum mosque. It's easy to spend 2 or 3 days in Samarkand and once you feel you have seen everything in the city you could make a day trip to Shakhrisabz.
Read more in my Samarkand travel guide about the best things to do in Samarkand.
Eat: Bibi Khanum Teahouse
Sleep: Amir hostel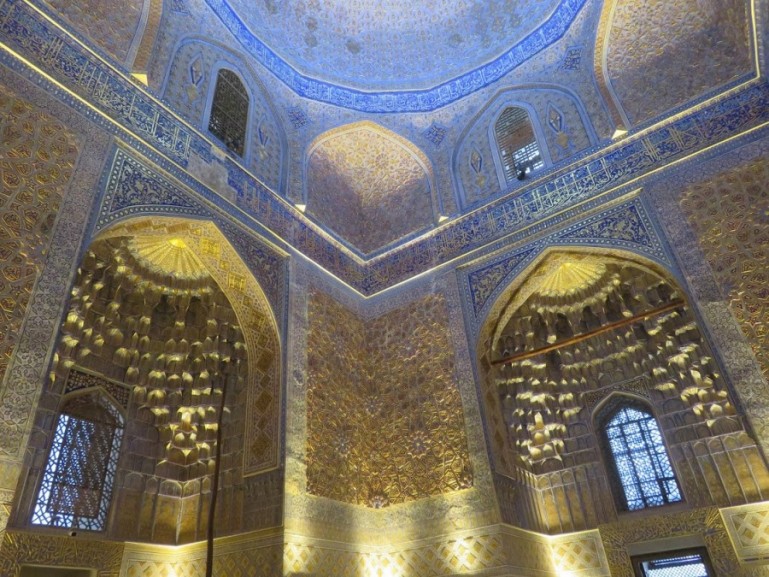 Uzbekistan Itinerary Day 14 back to Tashkent
After Samarkand you can head back to Tashkent. With the high speed train it is only 2 hours. From there you could extend your Uzbekistan itinerary with the Fergana valley or the remote desert province of Karakalpakstan.
Uzbekistan itinerary: the Fergana Valley
Day 1 From Tashkent to Margilon
If you have to choose one place to extend your Uzbekistan itinerary beyond the famous Silk road cities I recommend the Fergana valley. The best way to travel to the Fergana valley is through Tashkent. There is a daily train that leaves in the morning so you can be in either Margilon or Fargona city in the afternoon.
The Fergana valley is not so big and most people base themselves in either Fargona city or Margilon for the first few days. Fargona has more facilities and transport connections. However, Margilon is way more scenic and is only 20 minutes by bus or taxi from Fargona. I would personally recommend Margilon.
Eat: Soy Boy
Sleep: Ikat house
Day 2 Margilon
Spend your first day in Margilon with a visit to the colourful Kumtepa bazaar that is 5 kilometer east of the city. Early morning is when the bazaar is at its most vibrant. The highlights are Margilon's famous silk clothes with ikat patterns. The bazaar is the best place to buy it.
After the bazaar you can have lunch in Margilon before you visit the silk factory to see how the famous ikat silk is made. The free tours are very nice and if you haven't already bought something at the bazaar you will have another chance at the silk factory's own shop.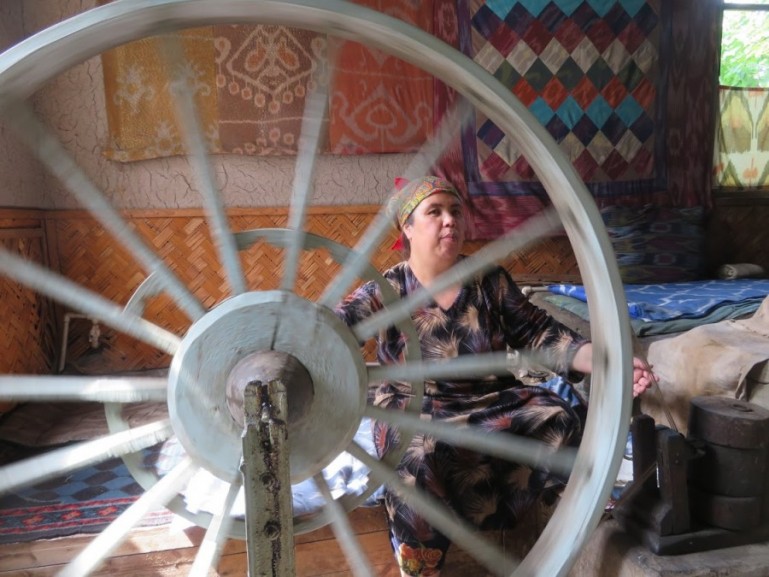 Day 3 to Kokand with a stop in Rishton
From Margilon it is easy to travel to Kokand, but rather than heading straight there, I recommend a stop in Rishton. A town that is famous for its ancient pottery tradition and handmade ceramics.
The Usmanov ceramic workshop gives free tours and I was very impressed by the handmade patterns on the ceramics. Of course you can also buy something in their shop at the end of the tour. If it comes to ceramics there is no better place in Uzbekistan to do so.
Rishton is conveniently in the middle between Fargona and Kokand. Walk back to the station for a quick lunch and to catch a bus or shared taxi to Kokand.
Eat: Cafe Kapriz
Day 4 Kokand
Kokand was the capital of the Kokand khanate in the 18th and 19th century and was almost as important as Bukhara.
Few things remain from that time. The Khudayar Khan palace is the main attraction of town. It's worth getting inside to see what is left of the rooms. Don't forget to look up at the ceiling decorations.
There are some other mosques and mausoleums nearby that are easy to explore on foot. Kokand is a nice city to wander around in and get a sense of the community atmosphere in Uzbekistan's residential neighborhoods.
After Kokand you can return to Tashkent or if your next destination is Tajikistan you can cross the border and head towards Khujand. Another option is to cross the border to Kyrgyzstan through Andijon.
Uzbekistan itinerary: Karakalpakstan
The remote Karakalpakstan province is a great extension to your Uzbekistan itinerary, if you love desolate off the beaten path places. Karakalpakstan is best added in the beginning of your Uzbekistan itinerary. It is easy to take the night train from Tashkent that runs several days a week to Nukus and Kungrad.
Day 1 Tashkent to Nukus
The Tashkent to Nukus night train will be the longest distance you will cover in your Uzbekistan itinerary. The old Soviet train is an experience in itself and a good introduction into Uzbek hospitality. In my post on train travel in Uzbekistan you can read more what it is like to travel by train including my experience on this specific night train.
Day 2 Nukus
You will arrive early enough in Nukus to see something of the city. Among the best things to do in Nukus is the Savitsky Art Museum where you can easily spent a couple of hours.
If you have still time left you can visit the colourful bazaar or walk along the Amu Darya river boulevard.
Eat: Cinnamon cafe
Sleep: Jipek Joli or Jipek Joli inn
Day 3 Moynaq
On your third day you can make a daytrip to Moynaq. A tour with a private taxi costs between $40 and $50 dollar. On your way to Moynaq you can also see the Mizdakhan necropolis and the Qaur Qala fortress.
Once in Moynaq you can visit the Moynaq museum, the shi[p graveyard and msaybe one of the abandoned fish canning factories. It is easy to see everything there is to see in Moynaq during a daytrip, but if you want to travel with public transport you need to add another day.
Also add another day if you want to visit the actual sea shore of the Aral sea. From Nukus & Moynaq there are tours available with an overnight stay near the lake.
Read more about Moynaq in my Moynaq travel guide
Day 4 to Khiva
From Khiva it is a 6 hour journey to Khiva where you can pick up the 2 week Uzbekistan itinerary on the top of this article.
Uzbekistan itinerary: nature extensions
Uzbekistan is more famous for its Silk Road cities and desert landscapes than its nature and mountains. It's true that Uzbekistan is no Kyrgyzstan or Tajikistan, but if you're really keen to add some nature into your Uzbekistan itinerary there are a few options.
The first is a visit to the Chimgan mountains from Tashkent and the second option are the Nuratau mountains from Samarkand
The Chimgan mountains
For a visit to the Chimgan mountains, simply add another day to your Uzbekistan itinerary when you are in Tashkent. From Tashkent you can make this fun daytrip if you have your own transport.
The Chimgan mountains are part of the Ugam Chatkal National park that borders the Aksu Zhabagly National Park in Kazakhstan. You can visit the skilift at Beldersoy for beautiful views and the deep blue Charvak lake.
Nuratau mountains
For a visit to the Nuratau mountains add two more days to your Uzbekistan itinerary when you are in Samarkand. More if you want to do some of the multipe day hiking tours. There are several villages in the Nuratau mountains with excellent community based tourism projects where you can stay with local families and experience rural Uzbek culture.
Sustainable Travel in Uzbekistan
Uzbekistan is seeing more tourists every year. While Tourism is a welcome source of income it can also have negative consequences. Traveling sustainably in Uzbekistan, involves conscious choices that minimize your environmental impact and support the local community.
Support the local community: You can support the community by purchasing goods and services from local vendors, artisans, and restaurants. Uzbekistan is famous for its beautiful handicrafts such as ikat silk and pottery. It is better to try Uzbek cuisine that uses local ingredients rather than imported foreign foods.
Stay in small scale sustainable hotels: It is also better to stay in locally-owned guesthouses or homestays to support the local economy directly. These accommodations often have a more positive impact on the environment compared to large hotels.
Uzbekistan has a number of community based tourism initiatives with excellent homestays. Where possible, I can recommend staying in a homestay for an authentic cultural experience. You might want to bring a small book with pictures of your family to break the ice.
You can also try to look for guesthouses or homestays that prioritizes sustainable practices. That said, environmental awareness is still low. It's up to you to use water sparsely, turn off lights, air conditioning, and heating when leaving your accommodation.
Use public transport: Uzbekistan has a well-developed public transportation system with shared taxis and marshrutkas. Opt for public transport, whenever possible, instead of private cars to reduce carbon emissions. Avoid internal flights. The journeys on road might be long, but the views are spectacular.
Leave no trace principle: Uzbekistan has mountains and nature too. When hiking, stick to designated trails when they are there, avoid disturbing wildlife or picking plants, and leave no trace of your presence. Ensure you take all your trash back with you and dispose of it responsibly.
To avoid single-use plastics, invest in reusable items. For example, you can bring your own water bottle with a filter that you can refill at your accomodation. At last, use biodegradable and eco-friendly personal care products to minimize pollution of water sources.
Respect the culture: Besides environmental concerns it is also important to respect the culture. Uzbekistan is an Islamic country that is just opening up to tourism. Therefore, learn about the local customs and traditions beforehand and be mindful of your behavior.
People will appreciate it, if you dress modestly, especially at religious sites. Learning a few basic phrases in Uzbek or Russian, can go a long way in building meaningful connections and to learn more about the local culture. Not everybody is happy to have their picture taken. When in doubt, ask permission.
Disclaimer: This post about the ultimate 2 week Uzbekistan itinerary contains affiliate links. If you buy any service through any of my links, I will get a small commission at no extra cost to you. These earnings help me to keep Backpack Adventures alive! Thanks for your support!
---
---