The Best Things to Do in Tunis, Tunisia
This post is about the best things to do in Tunis, Tunisia. From Brussels it was only a 2 hour flight to Tunis, the capital of Tunisia. Actually not that far from Western Europe and yet, it feels so different. 
Tunis is located on the Mediterranean coast of North Africa and the third largest city in the Maghreb region. The history of Tunis is long and complex, stretching back thousands of years.
Although Tunis started as a small Berber settlement it developed into a stronghold for the Phoenicians, the Romans, the Arabs, the Ottomans and the French. Therefore it is no surprise that there are plenty of things to do in Tunis for those that love history, culture and good food.
Why visit Tunis
Tunis remains a city that is influenced by so many different cultures. It feels both European, Mediterranean, North African as well as Middle Eastern. You will see this in Tunisians cuisine as well as the city's architecture. From French colonial buildings to some fine examples of Islamic architecture. 
There are plenty of things to do in Tunis. Therefore I recommend at least a 2 days for Tunis itself and another day for the things to do near Tunis. If you are in a hurry, you could possibly see everything in a day. But you will find the experience more rewarding if you have a bit more time to explore both the ancient parts of the city as well as the more modern parts
The modern city developed under the French and is full of trendy restaurants, bars and cafes. Tunis has a vibrant cafe culture that is open for all people of all ages. Wandering along the Avenue Habib Bourguiba, Tunis feels almost like a European metropolis.
The old medina of Tunis feels very different and is a world of its own. It's like a step back in time. The traditional markets sell anything from textiles, leather, jewelry, herbal medicines to souvenirs. This area deserves almost a whole day of your Tunis itinerary as it is easy to get lost in the labyrinth of narrow alleyways. Furthermore, there are a number of historical sights within the ancient city walls as well.
Tunis is also a great base for exploring the surrounding countryside that is dotted with archeological remains, cute villages and beautiful beaches. You can easily add more days to your Tunis itinerary to make day trips to Dougga, Carthage and Sidi Bou Saïd.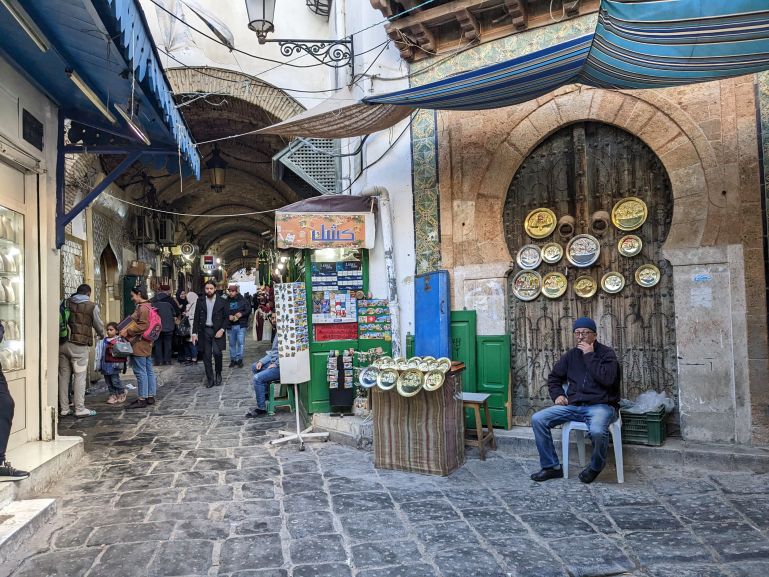 The Best Things to do in Tunis
Medina of Tunis
The Medina of Tunis is a UNESCO World Heritage Site and is among the best-preserved old cities in the Islamic world. The term "medina" is derived from the Arabic word "madinah," which means "city.". It typically contains the ancient quarters that are surrounded by thick walls and large entrance gates.
I visited many medinas in Morocco already, but Tunis was indeed a beautiful example of what they once looked like. As a traveler, the first thing you see are the bustling market stalls selling textiles, pottery, spices, herbal medicines and souvenirs. But the Medina of Tunis has even more to offer.
The architecture in the Medina of Tunis is a blend of Islamic and Andalusian styles, with intricate tile work, decorative details, and beautiful courtyards. The narrow streets and alleys are also lined with traditional Tunisian houses, many of which have beautiful doorways.
The medina in Tunis dates back to the 8th century and has a rich and fascinating history. There are so many historical buildings and sites that the Medina of Tunis deserves its own blog post about everything there is to see and do.
Kasbah square
The large Kasbah square is close to the Medina and it is an important square for Tunis. It is home to the large and new Kasbah mosque, Tunisia's national monument, The city hall of Tunis and other government buildings.
It's a large open space and in the evening there are often children playing football or families going out for a stroll. Sometimes there are social protests and demonstrations
Avenue Habib Bourguiba
The Avenue Habib Bourguiba is the main thoroughfare of modern Tunis and is lined with cafes and restaurants. Many of these establishments have outdoor seating, making them ideal for people-watching and soaking up the vibrant atmosphere of the avenue.
Independence Monument
Located at the beginning of Avenue Habib Bourguiba is the Independence Monument. A bronze statue commemorating Tunisia's independence from France in 1956. It is an important symbol of the country's history and freedom.
Cathedral of St.Vincent de Paul
The St. Vincent de Paul Cathedral is the largest church in the city. It was built in the 19th century by the French colonizers and is an impressive example of neo-gothic architecture.
Central Market
The central market near the train station is one of the most hectic and crazy parts of Tunis. This is where most Tunisian people go for their daily shopping. Buying fresh fruits, vegetables, meat, fish, clothes, electronics, kitchen utilities and other household appliances.
It's even more lively and bustling than the markets in the Medinah and definitely with a visit for the different experience it will give you.
Bardo Museum
Even if you are not a museum person I can recommend a visit to the Bardo museum. It has some of the best examples of Roman mosaics. The museum's collection includes more than 8,000 pieces. The mosaics depict a range of scenes, including Roman mythology, daily life, and historical events.
In addition to its impressive mosaic collection, the Bardo Museum is also home to a wide range of other artifacts from Tunisia's rich cultural history. These include sculptures, ceramics, jewelry, and coins
Try Tunisian Food
Tunis is a great city to try authentic Tunisian food. Tunisian cuisine is a delicious and diverse fusion of Mediterranean, North African, and Middle Eastern flavors. Its aromatic dishes often include spices and herbs such as cumin, coriander, saffron, cinnamon, paprika, and harissa (a spicy chili paste).
Harissa is served with almost every meal in Tunisia. It's made from crushed red chili peppers, garlic, olive oil, and various spices. Restaurants serve it as a starter with some bread, but it's also used as a base in many marinades and sauces.
For streetfood you should go to the Medina. There are plenty of stalls selling sandwiches with your choice of filling. The Tunisian Malfouf is a freshly baked flatbread loaded with ingredients. Popular fillings include tuna, harissa and egg. The Fricassee is the same idea but uses fried doughnuts as a sandwich.
Bambalouni are also deep fried doughnuts. They're often sprinkled with powdered sugar and can be enjoyed as a sweet treat any time of day.
One of my personal favourite street foods was Brik. A deep-fried pastry with a crispy exterior and a savory filling of egg, potato and parsley.
At last, you should try Lablabi. This chickpea soup is flavored with garlic, cumin and olive oil and is a popular streetfood served with bread.
Tunis also has great restaurants. You will find Tajine and Couscous on the menu. I found them a bit more spicier than in Morocco, probably because of the use of Harissa. Given the country's coastal location, seafood is also a culinary highlight.
The Best Things to do near Tunis
Both Carthage and Sidi Bou Said are located close to Tunis, making them easily accessible for day trips. Carthage is famous for its historical ruins, including ancient Roman and Phoenician sites, while Sidi Bou Said is known for its picturesque blue and white buildings, charming streets, and stunning views of the Mediterranean Sea.
Carthage
Although Tunis is now the largest city in Tunisia, it used to be in the shadows of the powerful city of Carthage. Carthage was founded in the 9th century BC by Phoenician settlers from Lebanon and developed into one of the most powerful cities in the region. 
In the three Punic Wars, Rome tried to conquer Carthage and finally succeeded in 146 BC. After the destruction of Carthage, the city was rebuilt by the Romans as a major center of their African province.
Carthage is the perfect day trip for history lovers as it has some well preserved ruins of ancient Roman buildings and structures, including the Roman Theater, the Antonine Baths, and the Roman Villas of Carthage. Even a few Phoenician sites remain as well.
Sidi Bou Said
Sidi Bou Said is a charming coastal town located in the northern suburbs of Tunis. It is very easy to reach and makes for a perfect day trip from the capital. The town is known for its picturesque white and blue architecture featuring whitewashed walls and blue doors and windows.
Sidi Bou Said is located on a hill overlooking the Mediterranean Sea, providing breathtaking views of the coastline and the sea.
Insider tip: if you prefer a more quiet place to stay consider basing yourself in Sidi Bou Said rather than Tunis. There are lots of nice boutique hotels in Sidi Bou Said and it is easy to get to the city with the TGM train.
Tunis Travel Tips
Places to Eat in Tunis
Tunisian cuisine is known for its unique blend of Mediterranean and North African flavors, and there are many delicious dishes. Tunis has lots of restaurants to try Tunisian food.
Restaurant of people: this small restaurant near the Bab el Bahr gate serves cheap and filling sandwiches with grilled meat. I recommend the Tunisian style shoarma roll with harissa spread. 
Dar Belhadj: an upmarket restaurant in a traditional home with beautiful decor. They have delicious couscous and other Tunisian specialties.
Cafe Panorama: Cafe Panorama offers the best views over the medina. It also offers nice cups of tea, including a special mint tea with walnuts and almonds. 
Places to stay in Tunis
Budget: There are not really any hostels in Tunis. I stayed at the Hotel metropole residence that falls in the budget category in Tunis. It is a decent hotel close to the medina. Rooms are simple, but nice. 
Midrange: If you want to stay in a traditional house inside the Medina I can recommend Dar Ben Gacem that has good reviews.
Luxury: For a more upmarket experience in a traditional house in the heart of the medina you can stay at the Dar El Jeld Hotel and Spa.
How to get to Tunis
The easiest and most convenient way to get to Tunis is by flying into the Tunis-Carthage International Airport, which is located just 8 kilometers northeast of the city center. There are many airlines that fly into Tunisia from major cities around the world. From Europe the cheapest flights are from Brussels or Paris. 
Sustainable tip: Flying is not very good for the climate. If you come from Europe consider traveling overland. You can take a ferry from various Italian ports, such as Genoa, Naples, or Palermo, to the port of Tunis or La Goulette in Tunisia. The ferry journey takes several hours.
Within Tunisia there is a good network of buses as well as trains. Trains are an excellent and sustainable way to explore the country.
How to get around Tunis
Tunis has a relatively small city center, and many of the main attractions are located within walking distance of each other. Walking is a good way to explore the Medina, Avenue Habib Bourguiba and other historic areas.
If you have to venture further, taxis are widely available. They are a convenient and affordable way to get around the city. You can hail a taxi on the street or use a taxi hailing app.
Tunis also has a well-developed train network, and you can take a TGM (Tunis-Goulette-Marsa) train to Carthage and Sidi Bou Said.
When to visit Tunis
The best time to visit Tunis is during the spring (March to May) or the fall (September to November) when the weather is mild and comfortable. During these seasons, temperatures are usually in the mid-20s Celsius (70s Fahrenheit), and there is less humidity and rainfall.
Summer (June to August) can be hot and humid, with temperatures reaching the high 30s Celsius (90s Fahrenheit). Due to climate change there is an increase in heatwaves and droughts during this time. 
Winter (December to February) can be rainy, with temperatures ranging from 10-15 Celsius (50s Fahrenheit). While winter is not the best time to enjoy outdoor activities, it can be a good time to explore indoor attractions such as museums and historical sites.
Disclaimer: This post about the best things to do in Tunis contains affiliate links. If you buy any service through any of my links, I will get a small commission at no extra cost to you. These earnings help me to keep Backpack Adventures alive! Thanks for your support!
---
---