Siwa Oasis Egypt: The ultimate travel guide
Siwa Oasis is one of the most isolated desert oasis in Egypt. It is located in the south western part of the country close to the border with Libya. Further south and there is just empty desert till you reach the jungles of central Africa. Further West the great Sahara extends all the way to the Atlantic Ocean in Morocco.
In a way, Siwa Oasis feels like the end of the world and it is a hell of a journey to get there. But one that is totally worth it. A completely different experience from Cairo or Luxor. There might be no pyramids or grand temples, but there is lots of natural beauty to explore along with a few ancient sites.
Why visit Siwa Oasis
After hours of driving through the barren dessert of Egypt, the lush greenery of the Siwa Oasis is a welcome surprise. From a sea of sand the landscape changes into a sea of palm trees.
Siwa itself is a laidback rural town with a quiet and serene atmosphere. Sandy streets lined with palm trees and mudbrick homes where you encounter the occasional donkey cart or tuk tuk.
Siwa oasis is the perfect place to relax for a couple of days and take it easy. For such a small town, Siwa also has plenty of things to offer.
First of all the natural beauty of an oasis. There are over 300 clear water springs as well as hot springs and salt mining pools. Their locations are all idyllic and most have an onsite cafe where you can while away with a fresh juice or cup of tea. The town is also surrounded by lush palm tree groves as well as beautiful gardens.
The dunes of the Great Sand Sea of the Sahara are just outside town. Siwa oasis is a great place to experience the desert. Whether it is cruising through the dunes or spending the night under the stars in a desert camp.
History of Siwa Oasis
At last, Siwa Oasis has history too. Not long ago archeologists found a footprint of 3 million years old. Throughout history it was a stop over place for travellers and nomads looking for water and food. There is evidence that people lived here as early as the 29th century BC. For example, the ancient oracle of the famous Amun temple is around 3000 years old and attracted visitors like Alexander the Great and Persian king Cambyses.
The Siwa people are descendants of desert nomads from North Africa and they still have their own distinct culture including their own language. Siwi is closely related to the Moroccon Berber languages. When they settled down in the oasis they developed their own crafts and traditional building style using local stones made from clay and salt.
Despite its isolation, Egyptian culture as well as Roman culture had its influence in the Siwa Oasis as well. The ancient ruins tell a story of a multicultural thriving trade post where traders found respite from the harsh desert and politicians found legitimacy and prophecies from the famous oracle.
This intriguing history combined with its natural beauty makes Siwa such a great place. You can explore ancient tombs with beautiful paintings of Egyptian gods in the morning, float in a salt mining pool in the afternoon and then enjoy a fresh juice while watching the sunset over lake Siwa.
The best things to do in Siwa Oasis
Shali fortress
The remnants of the 13th century Shali fortress stands in the center of Siwa. Its a large complex of homes where hundreds of people used to live. On the outskirts some people still do.
It was made from mud and the local salt bricks called kershef. These bricks are still used to build Siwa homes up till this day. Mud is added to keep the homes cool in summer and warm in winter.
The fort is slowly crumbling down but you can still climb to the top for amazing views over Siwa.
Mountain of the death
Gebel al Mawta or the mountain of the death is where the wealthy people built their tombs. Most are from the Ptolemaic and Roman times about 2500 years ago.
This explains the paintings in the tomb of Si Amun. This tomb probably belongs to a greek merchant, but has beautiful paintings of Egyptian gods and godesses.
There are three other tombs of interest. The tomb of Mesu Isis with beautiful pictures of Isis and Osiris and 21 cobras that guard the entrance.
The tomb of Niperpathot has simple paintings with red ink that display daily life such as a men tending the cows.
The last tomb is small but has a painting of Sobek, the crocodile god. Interesting because there are no crocodiles in Siwa and the Nile is 450 kilometers away.
In our case the guard first only wanted to open the tomb of Si Amun. Claiming it is the most beautiful and that the others aren't that interesting.
I was glad I did urge the guard to show the others too. It is true that the paintings in the other tombs are more simple, but still worth seeing.
Temple of the Oracle
The oldest structure in the Siwa oasis are the remains of the temple of the oracle. After 3000 years the ruins leave much to the imagination.
Look closely in the main temple and you will still vaguely see the reliefs of hieroglyphs here and there. The temple was built on top of a small hill and offers beautiful views over the oasis.
This temple was once a large pilgrimage site. Alexander the great went to visit the temple to claim his legitimacy as ruler of Egypt and son of the God Amun.
Hundreds of years before him the army of the Persian king Cambyses tried to do the same, but the oracle already forewarned that this mission would fail. On their way to Siwa the army vanished in the desert and was never seen again.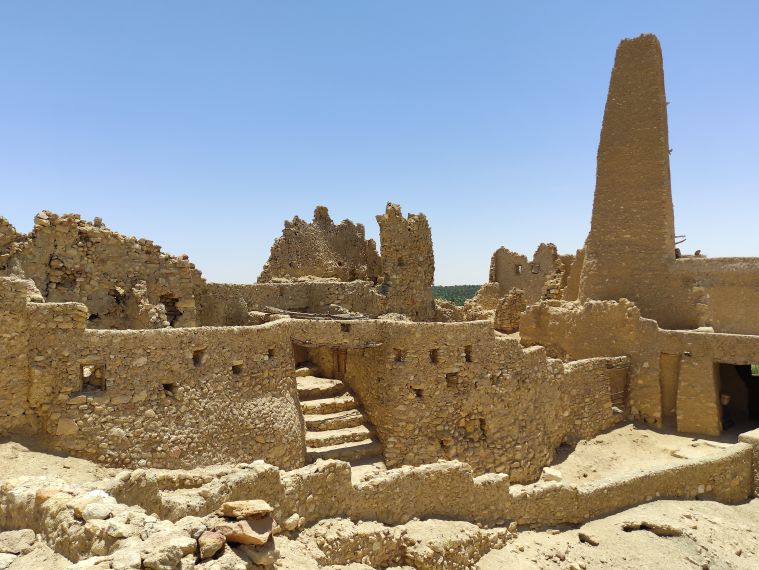 Temple of Umm Ubayd
Not far from the Oracle is the ancient temple of Umm Ubayd. The only thing that is left is part of a single wall. However, it has beautiful reliefs of Egyptian gods and godesses and warriors. Also look at the stones that are scattered around the wall. Some have reliefs of hieroglyphs.
Almaza hot spring
There are several hot spring around the Siwa Oasis. Our hotel recommended the Almaza hot spring. There is a small entrance fee that allows you to take a dip in the warm waters. It offers a bit of privacy so women can swim here in their bathing suit or bikini without problem, unlike some of the more public pools.
It is very popular in the evening and stays open till around 10 PM. Tour buses come here as well so it can get crowded.
Cleopatra spring
The most popular spring in the Siwa Oasis is the Cleopatra spring. A very nice spring with several cafés serving tea and fresh juices.
It is also popular among the locals, although it is mostly men that swim. They are used to see tourists and I did see western women swim in their bikini's. Still it will be appreciated if women wear modest clothes while swimming. I had a bathing suit with a long tshirt over it.
Jebel Dakrour
South of Cleopatra spring is the suburb of Dakrour on the foot of mountain Dakrour. It is possible to climb the mountain for beautiful views over the oasis and desert. Look out for fossils of shells.
At Dakrour mountain you can also take sand baths that have healing properties according to the locals.
Lake Siwa and Fatnas spring
Fatnas spring might be a bit outside of Siwa, but I found this one of the most scenic springs in the oasis.
From the spring you can already see lake Siwa and after taking a dip you can go to one of the cafes on the shore of the lake to enjoy one of the most beautiful sunsets in the Siwa Oasis.
You can also rent some outdated peddle boats to go on the lake if you like.
Salt lake and Salt mining pools
Just outside town is Siwa's salt lake. Beyond the mining pools used to harvest the salt. The lake itself is beautiful with a pinkish colour and strange salt formations. Once you reach the mining pools you are in a more industrial area.
Still the deep blue colors of the pools are otherworldly. You are allowed to swim in them, but because of the high salinity it is more like floating. It reminded me of my experience of swimming in the dead sea in Jordan.
Insider tip: If you have any scratches on your body it will sting a lot. Make sure you drink enough water as you dehydrate quickly.
Bir wahed
Bir Wahed is one of the most popular destinations for a desert tour. Getting this far into the desert you need a permit.
Bir Wahed consists of a cold lake and a hot water spring. It certainly is a beautiful area and a dip into the cold lake is very refreshing after a hot day in Siwa. However, you will not be alone. Most tours stop here around the same time just before sunset. The permits cost more as well.
I was in doubt whether to go to Bir Wahed or a desert tour that does not require a permit. I liked Bir Wahed, but it is not more beautiful than some of the other pools in the area such as the Fatnas spring.
Desert safari
A visit to Siwa is not complete without a desert safari. There are two types of desert safari's. The ones that go all the way to Bir Wahed and require a permit and police escort and ones that go to the sand dunes near Siwa.
The latter are of course cheaper as you will save the cost of a permit. I did go to Bir Wahed and did not find it to be the highlight of the desert safari. However, the desert definitely was. The sand dunes close to Siwa were already spectacular, but as we went further into the desert there was a larger variety of landscapes.
I can't compare the two safaris and I find it dificult to recommend one over the other. But visiting the desert is a must.
Try Siwa food
Being so isolated from the rest of Egypt it is no surprise that Siwa kept its own culture including its own culinary traditions.
First of all, Siwa produces the best dates and olives in Egypt. Irrigation from the mineral water pools also allow many herbs to grow such as mint and sorrel.
When you are in a restaurant I can recommend to try the olives or dates as an appetizer. They are also used in many local dishes such as Elhuji (eggs, olive oil and dates) or Tagilla (flour, dates, olive oil).
Siwans do not eat meat often, but when they do on festive occasions it can be lamb, goat or even camel. Siwa is touristy enough that camel meat is on the menu in some restaurants. Ola restaurant serves a camel stew.
Pasta is also very popular in Siwa. Pasta gariya is like an Egyptian version of Spaghetti bolognese. The difference is the use of different spices like cumin and chunks of lamb meat.
Where to stay in Siwa Oasis
Siwa is an easygoing place. if you decide where to stay first you should choose whether to stay in the center near all the facilities or really stay somewhere quiet and peaceful.
Siwa really is a great place to relax and therefore I choose to stay away from it all. The center is not that big and in between the palm tree and olive tree groves are some hidden gems.
Siwa Oasis
Sleep in Siwa: I stayed at Sleep in Siwa and was very happy with my choice. It's one of the few budget places outside of town. A very quiet and peaceful hotel where you could easily spend your day relaxing in the garden.
The owner Ahmed is very helpful too. Whether it is arranging a tour to the desert or arranging anti diarrhoea medication late at night. The rooms are clean and have everything you need. The hotel is built in the traditional Siwa style.
Siwa town
Albabebshal lodge: if you prefer to stay in town, the albabenshal lodge has a very central location near the bus station and the entrance to the ancient Shali fortress. Also built in traditional style it feels like a journey back in time, but with modern comforts.
Where to eat in Siwa Oasis
Abdou: popular among both locals as well as tourists. I tried the pasta gariya here as well as the vegetable couscous. Both were very good. Definitely try the Siwa juice as well. It's like a smoothie with dates.
Ola restaurant: Ola restaurant focuses mostly on tourists. If you like you can try their camel meat stew or a Siwan meal set (rice, meat, soup).
How to get to Siwa Oasis
Cairo to Siwa Oasis
Getting to Siwa Oasis is a long 12 hour journey from Cairo, but pretty straight forward if you take the direct night bus from West & Mid delta. There are daily night buses to and from Cairo to Siwa. They leave at 10PM From the Cairo bus station.
If you prefer not to travel during the night there is also a day bus and there are several ways to break up your journey. All buses go through Marsah Matrouh and the West & Mid Delta buses also travel through Alexandria.
Breaking up the journey in Alexandria
Alexandria is Egypt's second biggest city. You could choose to stay one or two days in Alexandria before moving on to the Siwa oasis.
In Alexandria you can indulge in delicious seafood, walk along the sea boulevard, check out the Roman amphitheatre and the ancient catacombs.
From Alexandria it is an 8 hour journey to the Siwa Oasis. West & Mid Delta has 2 – 3 daily busses that go to Siwa Oasis stopping midway at Marsah Matrouh. From Cairo to Alexandria there are frequent buses and trains (4 hrs)
Accomodation: Ithaka hostel (budget dormitory), Smoha Zahran house (budget room) or the historic Steigenberger Cecil (upmarket)
Breaking up the journey in Marsah Matrouh
Marsah Matrouh is a popular beach town among local tourists, but surprisingly still unknown to foreign travellers. This part of Egypt is far away from the mass tourism resorts that you will see on the red sea coast.
And yet, you will find some of Egypts most beautiful beaches. The colour of the sea is a deep blue turquoise and the beach has rocky sand formations. Take a taxi to the spectacular Cleopatra beach or Rommel beach and indulge in the sea food restaurants in town.
Marsah Matrouh is 6 hours from Cairo by Go bus, 4 hours from Alexandria by West & Mid Delta and 4 hours from Siwa Oasis by West & Mid Delta or shared mini van.
Accomodation: Adriatica hotel wins the award for the most happy and friendly owner. rooms are good too.
Siwa Oasis to Cairo
There are daily night buses at 20:00 from West & Mid Delta from Siwa bus station to Cairo. If you want to avoid the night bus you can also travel during the day.
One option is to take the early morning Mid Delta bus at 07:00 to Marsah Matrouh (4 hrs). Have lunch there and then take the afternoon Go bus to Cairo (6 hrs). Go bus has more modern buses making the long journey much more comfortable.
Siwa Oasis Travel tips
How to get around Siwa Oasis
Tuk tuks and donkey carts are the main modes of transport in the Siwa Oasis. The sights are spread out over a larger area and I used the tuk tuks a lot.
For short distances they should not cost more than 30 pounds. You can also rent a tuk tuk with a driver for the day. Depending how many places you like to visit this costs between 200 and 400 pounds. I would really recommend to rent a tuk tuk for at least one day to reach further away places like the salt pools.
You can also rent bicycles and this is another great options to explore the sights near Siwa town such as the Cleopatra Spring, the Mountain of the death and the Oracle.
Desert safaris require a jeep and should be arranged beforehand through your hotel or at Abdu restaurant.
Is it safe to visit Siwa Oasis?
Many countries place Siwa Oasis in the no go area because of its proximity to Libya. There are indeed some security concerns around the border, but it is good to know that the border is still 50 kilometers away from Siwa town. Being in the middle of the dessert it would almost be impossible for a tourist to get there anyway.
Visiting the Siwa Oasis is therefore safe. I would even say, I felt more safe at the Siwa Oasis then in Cairo or Alexandria. Although remote and off the beaten path, Siwa Oasis is still a touristy place with dozens of tourists travelling in and out of Siwa every day.
This includes solo female travellers. Siwa Oasis is a conservative place, but as tourism is increasing they are now used to see female tourists. Still, it will be appreciated to dress modestly covering your legs and shoulders
You will notice that on the road from Marsah Matrouh to Siwa you will pass by several check points. This is nothing to be afraid of. Soldiers might check your passport and luggage, but that is all. If you plan to go far into the desert you will need a permit and police escort. Desert safari's are well regulated and for your own safety are not allowed to get close to the border.
How many days do you need in Siwa Oasis?
I would recommend at least 3 full days in Siwa Oasis. Siwa Oasis is a place to relax and you will enjoy your stay much more if you can take it slow. Furthermore, it is a pretty long journey to get there and you will need some time to recuperate.
When to visit Siwa Oasis
The best time to visit Siwa Oasis is from October to March when temperatures are pleasant. In winter it can sometimes even be chilly at night. September and April are transition months and also still a good time to go, but do expect warm temperatures. Summers are to be avoided. It can be extremely hot and most hotels and restaurants close down during the summer.
What to bring to Siwa Oasis?
Money: There is only one ATM in Siwa that is not always working so bring all the money you need in Egyptian pounds.
Mosquito repellent: Siwa is an oasis, meaning there is lots of water. As scenic as the mineral pools look like, they are mosquito breeding grounds at the same time. Bring plenty of repellent or buy "Off" in the local pharmacy.
Sunscreen: You will need a good sunscreen to protect yourself from the sun, even in winter
Hat or scarf: A hat or scarf not only protects your head from the sun, but also the sand and wind when you are on a desert safari.
Bathing suit: Whether it is in one of the salt pools, the salt lake or one of the mineral pools, you will likely swim at Siwa oasis at some point. Women might choose to wear a tshirt over their bathing suit. Wearing a bikini will get you a lot of attention.
Disclaimer: This post about the Siwa Oasis in Egypt contains affiliate links. If you buy any service through any of my links, I will get a small commission at no extra cost to you. These earnings help me to keep Backpack Adventures alive! Thanks for your support!
---
---