Moscow Itinerary: how to spend 4 days in Moscow
Due to the current situatiuon I advice against travel to Russia at the moment. All affiliated links related to Russia have been removed. But I have decided to keep my posts about Russia as it remains a beautiful country. I hope that circumstances change and that travel is possible again in the near future.
Moscow is the second largest city in Europe with an enormous amount of things to do. Like Russia, it is an intriguing and highly diverse multicultural city with lots of history, arts, culture and architecture. Therefore it is no surprise that many are overwhelmed when trying to make their own Moscow itinerary.
This Moscow itinerary is all about how to spend 4 days in Moscow to help you get the most out of your time.
My Moscow itinerary
Moscow is not a city you can visit in a few days. Personally, I believe that even 4 days in Moscow is way too little. But, I realize that for a lot of travellers that is all they have. In the end, Russia has a lot to offer and is much more than Moscow alone.
After two visits I still have a love hate relationship with Moscow. It is not my favourite city and there are a lot of things I dislike about Moscow. The congested traffic, pollution, poor roads and poverty. The gap between the rich and poor is huge and it is obvious that there are a lot of social problems in the city.
On the other hand, it is impossible to be bored in Moscow. I was there for a week and every day was filled with lots of fun and interesting activities. This might sound strange, but even though I didn't like Moscow, I had a really nice time there. So much so, that I won't mind coming back, because I know it will be great again.
Moscow is like a babushka, a Russian old lady. With age she might have lost some of her beauty, but also has many interesting stories to tell. She might come across as cold, stern and indifferent at first, but once you get to know her she has a heartwarming and welcoming soul.
In this post I have made a 4 day Moscow itinerary with some of my favourite activities.
How to spend 4 days in Moscow?
Moscow Itinerary Day 1: Red square & Kremlin
Start your first day of this Moscow itinerary in the heart of Moscow. Of course, I am talking about the Red square and the Kremlin. The oldest and most beautiful parts of the city.
You can check my self guided free walking tour of moscow if you like to explore on your own.
Red Square
The red square is probably the most iconic place in Moscow and is packed with the city's top attractions. You will likely spend most of your morning here to see them.
St Basil cathedral
Let's start with the St Basil cathedral. This church is as colourful inside as it is from the outside. It was built by Tsar Ivan the Terrible in the 16th century to celebrate the capture of the cities Kazan and Astrakhan.
The building has a unique shape that is supposed to look like a bonfire that rises up to the sky. Actually the whole complex represents ten different sanctuaries. It started with a simple building on the grave of Saint Basil, but it expanded over the years. For example, the onion domes with the vivid and bright colours and the interior mural paintings were a later addition in the 17th and 18th centuries.
In Soviet times the church was appropriated by the state. It became a museum, which it still is today. The entrance fee is well worth the price. Inside you will be able to visit all of the 9 different sanctuaries, each with beautiful mural paintings and ancient wooden iconostasis.
Kazan cathedral
The 17th century Kazan cathedral was one of the most important churches in Moscow, but didn't survive Stalin's mission to clean the red square from religious buildings. It was destroyed, but not forgotten and after the fall of the Soviet Union it was the first church to be rebuilt.
It's small chapel is once again an active place of worship. It's interior might not be as spectacular as the Basil cathedral, but it feels much more like a real church and there is a peaceful quiet atmosphere.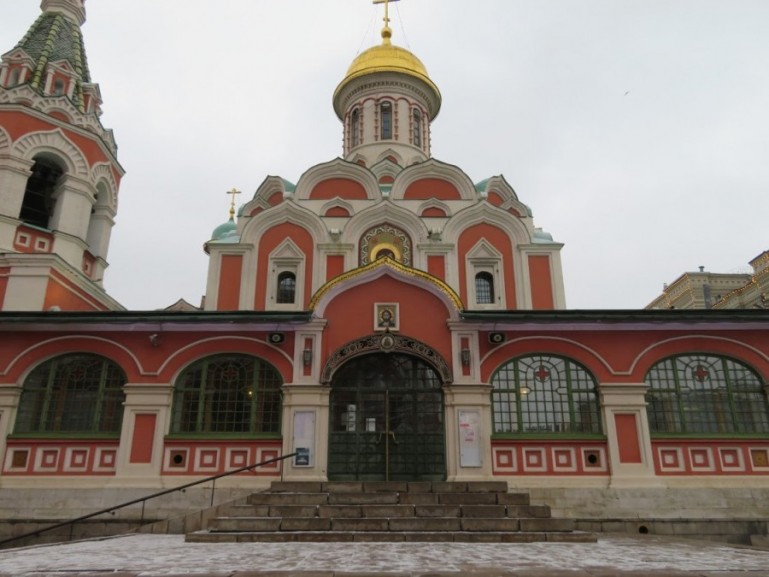 Resurrection gate
The resurrection gate is not just a gate that gives access to the red square, but is also home to another, very small, holy chapel. The keeper of the gate icon inside is believed to perform miracles for those that pray before it. Traditionally, everyone, including the tsars, did so before entering the square. Nowadays, religious persons also still do.
State history museum
The State history museum is the perfect place to learn more about Russian history. From the Mongol invasions and the very first Tsars that ruled this vast country to the Bolshevik revolution. The rooms have rich interior decorations and are part of the attraction.
Unfortunately if you want to see the Kremlin on the same day, as I describe in this 4 day Moscow itinerary, you might not have time to see this museum properly. If you want to see this museum it is better to spread this day out over two and focus on the red square on your first day and the Kremlin on the second day.
Gum department store
The historic 19th century trading arcade remains one of Moscow's most important department stores. Nowadays GUM has mostly upmarket brand stores. Even if you are not planning to buy anything, the architecture makes it worth a visit inside
Lunch tip: After much exploration you are probably getting hungry. Being in the heart of Moscow there aren't a lot of budget options, except for Stolovaya no 57. This restaurant on the top floor of the GUM department store has a good choice of Russian food for very reasonable prices.
Lenin mausoleum
Finish your time at the Red square by standing in line to say your goodbye to Lenin. The lines are long and security is tight, but it is moving pretty fast as the guards are urging you to move on. You will only get a glimpse of the embalmed body of Lenin.
It's not sure for how long you can still see him. Keeping his body in the current state is a costly affair and in a poll in 2017 more than half of Russians believe he should be buried. Although in the past Russians still came to pay their respects, it is now more of a quirky tourist attraction.
Behind the Lenin Mausoleum you will find the Necropolis wall where other Soviet leaders, including Stalin, are buried.
Kremlin
The Kremlin is for most foreigners synonymous with the seat of power in Russia. However, the word kremlin means nothing more than a fortified complex. Historically, almost every important city in Russia had a kremlin with the city's most important buildings.
The Kremlin is the oldest part of Moscow and dates back to the beginning of the 14th century when its fortification walls were built. It soon became the playground of Russia's leaders. In the 15th century the Muscovite grand duke's built several churches and in the 16th century it became the residence of the Tsars until Peter the Great moved the capital to Saint Petersburg.
The Kremlin was still used for coronation ceremonies though. The Tsars continued to develop the Kremlin with the construction of the Kremlin palace, the Kremlin Arsenal and the Kremlin Armoury.
As soon as the Soviets took over they moved the capital back to Moscow. Lenin and Stalin all had personal rooms in the Kremlin. The eagles on the Kremlin towers were replaced by red stars and the churches were closed. Luckily they were preserved as a museum and most treasures were moved to the Kremlin Armoury, although some were also sold overseas. The State Kremlin palace was an addition from Khrushchev who used it for communist party meetings.
Nowadays the Kremlin is partly open to the public. Because the Kremlin has the oldest and most beautiful churches in Moscow, it's well worth paying the higher entrance fee that includes them. The interior frescoes of the Assumption cathedral, the Annunciation cathedral and the cathedral of the archangel are stunning. Other important buildings open to the public are the Ivan the great bell tower and the Kremlin Armoury.
Kremlin Armoury
Unfortunately if you want to see the Kremlin Armoury on the same day, as I describe in this 4 day Moscow itinerary, you might not have time to see it properly. The Armoury is huge with lots of interesting treasures including some of Fabergé's easter eggs. If you have the time and want to see this museum it is better to spread this day out over two and focus on the red square on your first day and the Kremlin on the second day.
Cathedral of christ the saviour
If you leave the Kremlin at the Armoury and the Borovitskaya tower, it is only a 15 minute walk to the cathedral of Christ the Saviour. The second largest orthodox cathedral in the world. The original 19th century church was destroyed by Stalin during his anti religious campaigns. Reconstruction of the church started in 1995 and it reopened in all its glory in 2000.
The size and its interior decorations are for sure impressive, but I personally also felt it was all a bit too much. It certainly lacks the charm and authenticity of the Kremlin churches that I liked much more.
Dinner tip: It is not cheap, but treat yourself to excellent Siberian cuisine in restaurant Chemodan, a further 15 minute walk from the cathedral of christ the saviour. The menu includes curiosities like grilled altay yak meat and wild boar, elk, roe or beer meat with cloudberry sauce or pine cone sauce.
Moscow Itinerary Day 2: The metro and Tretyakov Gallery
The second day of this 4 day Moscow itinerary is great when the weather is not in your favour. Most of today's activities are indoors and therefore perfect when it rains.
Moscow metro tour
We start the day with a Moscow metro tour. The Moscow Metro has some of the most beautiful metro stations in the world. It was an ambitious project from Stalin that envisioned a system that not only transported labourers from A to B in an efficient way, but that also reminded them of the Soviet ideology.
The metro stations were to become the palaces of the people with lofty ceilings, lots of marble, grand statues, mosaics and of course lots of Soviet symbols. The Moscow Metro was the first to be built successfully. While others in St Petersburg and Tashkent followed, none were as extravagant as the one in Moscow.
There are lots of pricey tours out there, but it is very easy to explore the Moscow Metro on your own with this free self guided Moscow Metro tour that will take you all morning
Lunch tip: Get out at metro station Tretyakovskaya near the Tretyakov gallery. For lunch you can find some cheap eats here. My personal favourite is Grabli. A self service buffet style cafe with excellent quality Russian and European food. It's nice for vegetarians as well, because the salad section is great. Nearby Mu Mu is another good budget option and has the same concept, but focuses mostly on Russian food.
Tretyakov gallery
If it comes to the Arts, Moscow has lots to offer. Many travellers, Like me, have a hard time deciding whether to visit the Pushkin State Museum of Fine Arts or the Tretyakov gallery.
Pushkin has all the well established names like Rembrandt, Renoir and Botticelli, but mostly focuses on European fine Arts.
The Tretyakov gallery on the other hand is all about Russian art from ancient icons to medieval paintings and more recent works. I chose the Tretyakov gallery and I was very glad I did so. Not only does it offer a good overview of the history of Russian Art, but the exhibitions are excellent as well.
Dinner tip: For delicious Pelmeni dishes and other Russian food head to Varenichnaya no.1 that is close to the Tretyakov gallery (next to Mu Mu). This Soviet Retro style cafe is slightly more expensive than Moo moo and Grabli, but prices are still very reasonable for Moscow and the food is excellent. I went there several times and everything tasted great.
Night out: Bolshoi Theatre
For a perfect night out watch one of the excellent ballet or opera performances in the historic 18th century Bolshoi theatre. The architecture is as impressive as its performances.
Moscow Itinerary Day 3: Parks and monasteries
As we spent most of our times indoors on the second day of our Moscow itinerary, we will go outside on our third day in Moscow
Gorki park & park of forgotten statues
The Gorki Park opened in 1928 as the Central Park of Culture and Leisure and is one of the top attractions in Moscow. It has a scenic location next to the Moskva river and there are lots of trees and ponds. Locals still come here to exercise, walk, or use the free wi-fi. In winter, the ice skating rink is hugely popular.
Personally I thought it was just another park and I was more intrigued by the park of forgotten statues (Muzeon park) opposite of the main entrance to Gorky Park. Huge statues of Lenin, Stalin and Brezhnev, that Moscow wasn't sure what to do with after the collapse of the Soviet Union, were all gathered here. It then opened as Muzeon, an open air museum of sculpture.
Lunch tip: Gorki park has lots of eateries. Although you will pay a bit more for its location, especially if you want to overlook a pond or the Moskva river. However, there are some budget street food options as well.
Novodevichy convent and cemetery
The 16th century Novodevichy Convent was an important monastery with strong links to Moscow's Kremlin. Among its visitors were the Tsars and their families. It's a peaceful spot located next to a lake that was the inspiration for Tchaikovski's Swan lake.
This might sound strange, but the nearby Novodevichy cemetery is a popular tourist attraction that is part of many tour groups itineraries, because of the amount of famous Russians that are buried there including Kruschev, Yeltsin and Stalin's wife. It's a fascinating place and some of the graves are pretty impressive with their statues.
Moscow State University and Sparrow hills
The sparrow hills, or Vorobyovy Gory, was one of my favourite places in Moscow. It is also one of the highest and therefore offers great views over the city. Equally impressive is the huge Stalinist building of the Moscow State University behind you. It's a great place for an afternoon stroll as it has a huge forest park with ponds and bike paths popular among students.
You can't visit the Moscow State University inside, but it is definitely worth walking around it to see its architecture. It is one of Stalin's seven sisters, part of a plan to build seven skyscrapers in Stalinist style in Moscow. The other sisters are throughout Moscow and look rather similar, but the Moscow State University is the tallest and largest. There is also a cable car that goes over the Moskva river offering more nice views.
Moscow Itinerary Day 4: Quirky Moscow
On our fourth day of our Moscow itinerary it is time to see some of the city's quirky attractions.
Novospassky klooster
The Novospassky monastery sees few foreign visitors, but it is one of the oldest monasteries in Moscow and is just as beautiful as the more popular Novodevichy convent. The main cathedral has some really beautiful frescoes from the 17th century. It is also the monastery where the very first Romanovs were buried.
Izmailovo Kremlin and Vernisazh
I already mentioned that the word kremlin means nothing more than citadel or fortress. Russia's kremlins are often full of history with ancient churches and government buildings, but not the Izmailovo Kremlin. This Kremlin has nothing to do with history and is a very new addition to Moscow's tourist attractions.
The Izmailovo Krenlin is some kind of Russian Disneyland or as they call it themselves, a center of culture and entertainment. It was built in 2007 and is supposed to represent old Russian architecture. The result is an eclectic mix with wooden churches, white walls, bell towers and colourful spires.
The amusement park is home to a wedding palace and several forgettable museums such as the vodka history museum, the museum of russian dresses, the museum of Russian fairy tales and the museum of Russian toys.
Nearby you will also find the Izmailovo market or Vernisazh. This market includes handicrafts, antiquities and lots of souvenirs. It's the best place to buy them, but bargaining is a must. There is a flea market as well where you might find some interesting Soviet memorabilia.
VDNKH
VDNKH is another Disneyland- like attraction in Moscow, but then a Soviet Version. This huge open air complex was built in 1935 and its name translates as the exhibition centre of the Achievements of the National Economy.
It has a huge park with lots of fountains and a number of pavilions representing the different Soviet Socialist republics such as Armenia, Azerbaijan, Belarus, Kazakhstan, Ukraine and Uzbekistan as well as different fields of industry such as engineering, space and Atomic energy.
Nowadays it is more like an open air amusement park popular with families with kids. It is also still the place for many exhibitions and events. You can check the VDNKH website to see if there is anything that you might fancy.
Night out: Sanduny baths
For a true Russian experience you should visit a Russian banya at least once. In Russia going to a bathhouse to steam it out in a sauna is not only to get clean, but is also a social event. Most have female and male departments as well as private rooms.
The oldest and most beautiful bathhouse is Sanduny. With its 19th century historic and lavish interiors it is a visual stunner. The architecture alone makes this one of the top attractions in Moscow. Unfortunately it doesn't come cheap. Just so you know, there are lots of banya in Moscow in a variety of price classes.
More than 4 days in Moscow
Do you have more than 4 days in Moscow? Lucky you, and there is no need to be worried that you might get bored. Besides the things to do in this 4 day Moscow itinerary there are lots of other activities.
Arbat
Arbat is one of the oldest and most famous streets in Russia. This one kilometer pedestrian street is lined with historic buildings with beautiful architecture. It's near the Kremlin and a great place to go for a stroll.
Pushkin museum
The Pushkin State museum of fine Arts has some of the largest collections of European Arts. It is an excellent museum and a must for those who love art.
Park pobedy
Park Pobedi was constructed in honour of the victory of the Soviet Union in the Great Patriotic War. It's a vast green space in Moscow with several monuments. You can't miss the high obelisk with an eternal flame in front, but throughout the park are old Soviet tanks and warplanes. It's metro station is the deepest metro station in Moscow.
Gulag history museum
There are very few places in Moscow that shed a light on Stalin's repression. It's a controversial subject that most Russians rather not talk about. This makes the Gulag history museum a must visit in Moscow.
It was established by a historian who himself was once a prisoner in Stalin's gulag camps. The exhibitions are excellent and very moving.
Kolomenskoye
Kolomenskoye was once the royal estate of the grand princes of Muscovy as early as the 14th century. With its scenic location overlooking the Moskva river it is no surprise that they chose this place.
Nowadays it is only a few kilometers south of Moscow and a great escape from the city. The churches and buildings that have survived are mostly from the 16th and 17th century and some are on the UNESCO World Heritage list
Sergiev posad
A bit further from Moscow lies Sergiev Posad. It is often called the Russian Vatican, because it is one of the most important religious centers in the Russian orthodox church.
The monastery was established in the 14th century by Saint Sergius of Radonezh and it remains one of the biggest monasteries in Russia. The complex has a number of ancient churches and cathedrals with beautiful frescoes and icons.
It makes a perfect day trip from Moscow by train. You can read my day trip guide on how to get from Moscow to Sergiev Posad.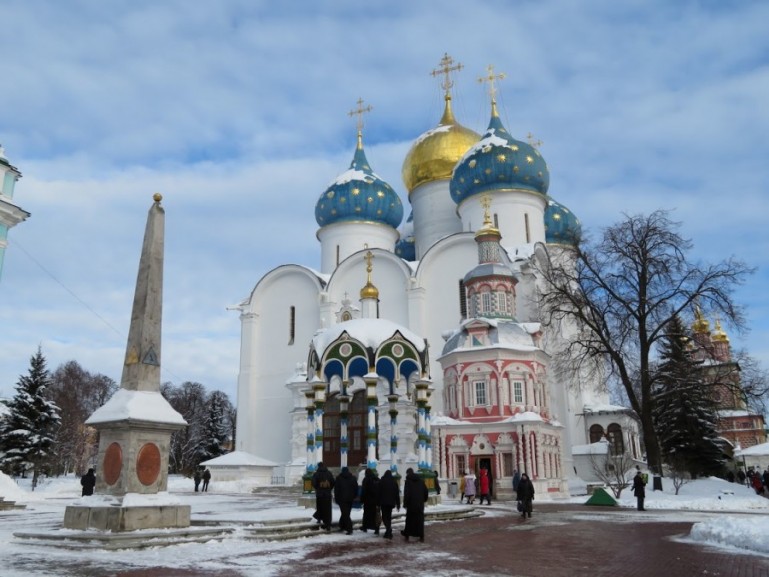 Russia's golden ring
Sergiev Posad is part of the so-called Golden Ring of Russia. A number of picturesque historic cities around Moscow that played a big role in the development of the Russian orthodox church. Most of them are on the UNESCO world heritage list because of their ancient churches, cathedrals and kremlins.
Moscow is a great base to explore the Golden Ring by making several day trips into the countryside, but some of these cities like Yaroslavl, Vladimir and Suzdal are a destination in itself. Read everything about this area in my post about backpacking the Golden ring of Russia.
If you are interested in more Russia itineraries you can also check out my post on 4 days in St Petersburg.
Moscow Travel tips
Where to eat in Moscow
I already gave some suggestions on where to eat in this huge city. Because Moscow can be an expensive city I wrote a specific post about the best cheap eats in Moscow.
Where to sleep in Moscow
Hostels Rus: Hostels Rus stand for clean and professional hostels with a mix of dormitories and a limited number of double rooms for good prices. They are often located close to one of the Moscow metro stations making travel in Moscow easy. There is one near Kurskaya and one near Paveletskaya (dorms only).
Vinegret hostel: Vinegret hostel is a clean and nice budget hostel with an excellent location in the heart of Moscow. It is right near Arbatskaya metro station on the famous arbat street. From there you can walk to the red square in only 30 minutes.
Axel hostel: Axel hostel has great budget dormitories with lots of privacy. It has a central location within walking distanc of Kitay Gorod.
Disclaimer: This post with a Moscow itinerary on how to spend 4 days in Moscow contains affiliate links. If you buy any service through any of my links, I will get a small commission at no extra cost to you. These earnings help me to keep Backpack Adventures alive! Thanks for your support!
Due to the current situation in Ukraine all affiliated links related to Russia have been removed
---
---