Swedish Lapland itinerary: a road trip
In this post I will share with you my Swedish Lapland itinerary. Lapland is one of the last remaining wilderness areas in Europe. Sweden's northernmost and largest province is also the most remote and sparsely populated. To put things in perspective, it's about the size of Portugal, but with less than 100,000 inhabitants.
Besides the tourist hotspot Kiruna, it is a very off the beaten path destination. Few tourists go that far north, but a lapland roadtrip is nothing less than spectacular. Personally it was a highlight in my travel history. But one that required a lot of homework beforehand.
When making my Swedish Lapland itinerary there wasn't much information out there. The lonely planet was brief, there were only a few blogs about the region and there were a lot of things to see and do.
Why go on a Swedish Lapland road trip?
Lapland is heaven for those that love the outdoors. It is an area of outstanding natural beauty that includes vast evergreen forests, wild rivers, glittering lakes, marshes, tundras and mountains. On any Swedish Lapland itinerary there will be a huge variety of landscapes.
But Lapland is not only about nature, it is also about culture and food. The region is home to the indigenous Sami people that were once nomadic reindeer herders that travelled through the arctic tundra. Although the Sami have now settled in the cities, reindeers still play an important part in their life.
Swedish Lapland is a great place to learn more about the Sami people that also live in the northern parts of Norway, Finland and Russia. Sweden has excellent museums about their history and culture. Food is also important and there are great restaurants that offer Sami inspired dishes such as reindeer stew, arctic char and elk meat.
The best way to explore this part of the world is on a road trip. Renting a car gives you a wealth of freedom and the opportunity to stop wherever you want. And there are many stops on a Swedish Lapland itinerary that are worthwhile.
Swedish Lapland itinerary
Lapland itinerary day 1: Luleå
Luleå is a great start of your Lapland itinerary. This young student town is the largest city in Swedish Lapland and has a very friendly and relaxed atmosphere. With its scenic location on the Bothnian coast and surrounded by vast evergreen forests there are lots of outdoor activities year round.
Luleå is close enough to the arctic circle that in winter you have a good chance to see the northern lights or have fun in the snow. Winter activities like ice skating on the Bothnian sea or going on an icebreaker cruise are unique to Lulea. Of course you can also go snowmobiling, snowshoeing or dog sledding like everywhere else in northern Sweden.
In summer it is the midnight sun that takes care for long and sunny warm days. This is the perfect time to go hiking in the forests or go kayaking in the Luleå archipelago where more than 1000 islands are waiting for you.
But Luleå is not all about nature and there are also some cultural things to do here. One example is the historic church town of Gammelstad with its typical red wooden cottages. Another is the Fabodaleden. A hiking trail past the ancient forest pastures where farmers led isolated lifes while herding their cows.
One more reason to include Luleå in your Lapland itinerary is because it is an upcoming foodie destination. Here you can find some of the best restaurants in Swedish Lapland with the chance to taste local specialities such as elk, reindeer, kalix roe and arctic char. I got my first introduction to Sami cuisine in Luleå and I was immediately intrigued by its focus on natural products from the forest.
Where to stay: I stayed at the Amber hotel. A great place that is centrally located in between the train station and city center. Rooms were clean and there was a varied breakfast buffet. Ever dreamed of sleeping in a treehouse in the forests of Swedish Lapland? Then you might want to consider the remote Tree hotel in Harads, 82 kilometers from Luleå. A unique, but costly experience.
Lapland itinerary day 2: Gammelstad
Gammelstad church town is a popular day trip from Luleå and is one of the most picturesque towns in northern Sweden. Church towns have a long and interesting history. As Lapland was so sparsely populated there were only a few churches. people had to travel from far away to go to church on Sunday. Some so far that they couldn't travel back the same day.
Small wooden cottages were built around the church that allowed people to stay the night. As a result, church towns also became meeting places. People gathered here on the weekends, not only to attend church, but also to trade, meet family or even find a marriage partner.
Gammelstad is not only one of the best preserved church towns in Sweden, it is also one that is still serving its original purpose. The wooden cottages around the 15th century medieval church are now on the UNESCO World heritage list, but are still privately owned. Residents only come during religious festivals. As a result the town feels abandoned during the week, but comes alive on special occasions.
Gammelstad is an easy day trip from Luleå and is closely connected with the city. In fact, Gammelstad means old city and it was once the old center of Luleå. As sea levels went down, Luleå moved further away to the coast, but the church town remained.
Lapland itinerary day 3: Luleå to Arvidsjaur
It is only 150 kilometers from Luleå to Arvidsjaur. With the vast distances in Swedish Lapland that is not a lot. Yet, this will be a long day in your Lapland itinerary as there are several worthwhile stops to make.
Only 20 minutes away from Luleå lies the Bälingeberget nature reserve. A number of hiking trails lead you from the car park to the top of a 139 meter high mountain. From here you have a spectacular view over the Lule river valley below.
Bälingeberget
The paths go through the forest as well as large rocky areas with boulders that were left behind from the ice age. I spent about 3 hours here following one of the longer treks around the mountain. What I loved about this place is the variety in landscapes and of course the beautiful views.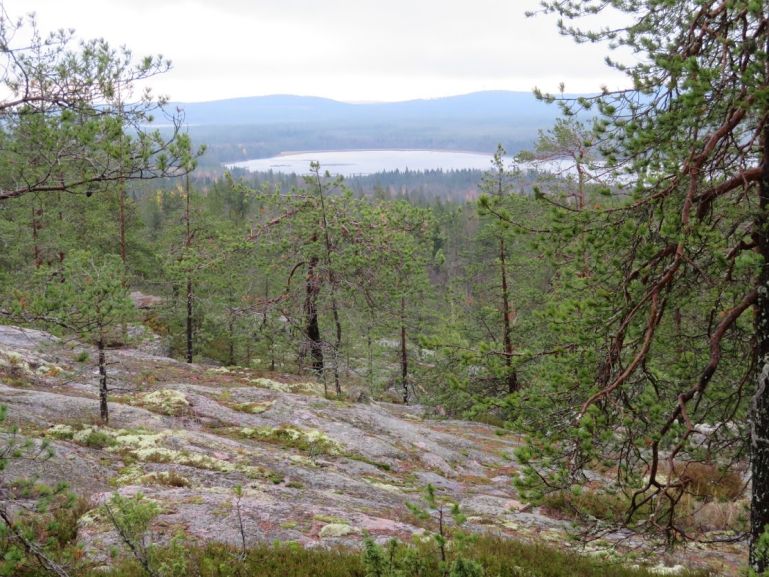 Storforsen
The Storforsen nature reserve is a bit of a detour on the road from Luleå to Arvidsjaur, but one that is totally worth it. These are one of the biggest rapids in Europe and standing right next to them is impressive.
From the car park it's a short hike to the observation deck where you can see and feel the force of the water coming down to merge with the Pite river. The Storforsen rapids stretch out over 5 kilometers in which the water drops 82 meters.
I only stopped at the observation deck, but if you have time you can walk from the top of the waterfall to hotel Storforsen below.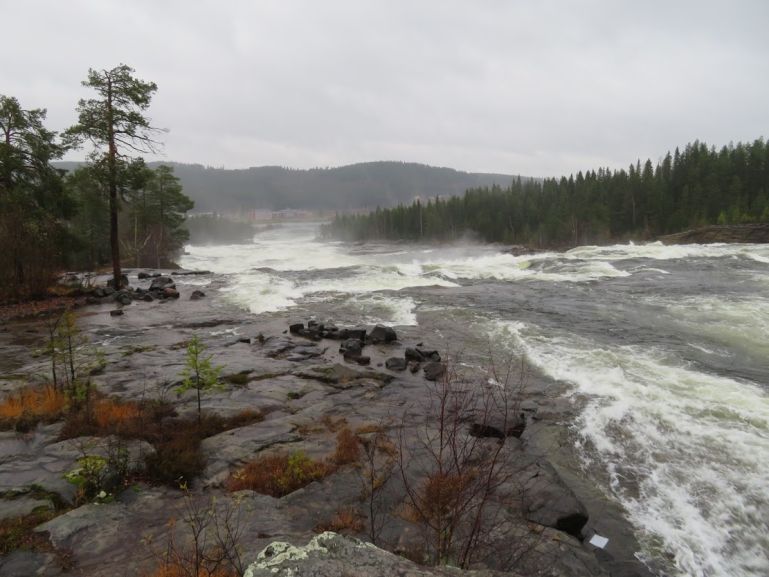 Lapstaden in Arvidsjaur
After Storforsen, I headed straight to Arvidsjaur where I arrived just in time to see Lapstaden before it got dark.
Lapstaden is an example of a typical Sami town with the traditional wooden huts that they used to live in. At first it looked a bit like a small open air museum, which it sort of is. However, at the same time it is still in use, despite being more than 300 years old.
Like Gammelstad in Lulea, Lapstaden was a church town, but for the Sami people. The church was built in the 16th century and played a big role in the christianization of the indigenous population in the region. They too had to go to church on sundays and then stayed the night in one of the huts.
Nowadays the Sami still gather in Lapstaden on special occasions. Some huts are for sleeping and others for storage. When I was there some of the cottages were renovated to get new isolation and it was interesting to see that some used tree barks for this purpose. In general, you can see that they are mostly built from local materials from the forests.
Where to stay: I stayed in the nice and cozy Lapland Lodge that has a free sauna and whirlpool to enjoy.
Lapland itinerary day 4: Arvidsjaur to Jokkmokk
Today it is a 2 hour drive to Jokkmokk. It's a scenic stretch and you might want to make some picture stops on the way. An almost mandatory stop is the polar circle sign right before Jokkmokk. From now on your Swedish Lapland roadtrip is above the arctic circle. There is a cafe here where you can get a certificate as proof.
I then headed straight to Jokkmokk for an early Sami lunch at Ajtte museum restaurant so that I had enough time to explore the city. This cute little town is considered to be the cultural capital of Swedish Lapland. It has been a natural meeting place for the Sami people for centuries with the annual winter market that is still a major event in town.
Jokkmokk is also the only place in Sweden with a college teaching reindeer husbandry and craft making in the native language. As a result, it is here that you will find the best quality of Sami handicrafts and souvenirs.
I already mentioned the recommended Ajtte museum restaurant that is the best budget option in town for lunch. I spent the rest of my afternoon exploring the Ajtte museum, learning more about the culture and history of the Sami people in Swedish Lapland. The nearby botanical garden and the Sami Duodji store completed my day in Jokkmokk.
Where to stay: I stayed at Skabram camping, 3 kilometers from the centre of Jokkmokk. The self catering cottages (called stugby) are one of the cheapest options in town and good value for money. With its scenic location at the shores of lake Skabram we had a great stay. They now also offer a bed and breakfast option in case you like a bit more of comfort. If you prefer to stay in town you can choose between Hotel Akerlund that gets good reviews for its extensive breakfast buffet or Hotel Jokkmokk with its scenic location on the shores of lake Talvatis.
Lapland itinerary day 5: Hiking
I found Jokkmokk to be a great place to stay a few days. It might be a small town, but it is surrounded by spectacular nature and there are several easy going hiking trails. You can find some of the available trails on the website of Camping Skabram. I did a short hike around lake Talvatis and a longer hike to the Getbergstigen viewpoint with a spectacular view over Jokkmokk and the surrounding forests and lakes.
Lapland itinerary day 6: Kvikkjokk
Another reason to base yourself in Jokkmokk for some days is because it is the gateway to several national parks that are part of the Laponia World Heritage area, famous for its natural beauty and being one of the largest wilderness areas where the indigenous people still live their ancestral way of life as reindeer herders.
Some of these parks are so remote that they can only be accessed by multiple day hikes. The closest you can get to Sarek National Park and Padjelanta National Park is the small town of Kvikkjokk.
I doubted whether the 2 hour journey to Kvikkjokk was worth it, because I did not have the time to venture into the parks. However, even as a daytrip from Jokkmokk, Kvikkjokk is a great destination. The journey itself was one of the most scenic on my Swedish Lapland road trip and in Kvikkjokk you can do several short day hikes.
The first short hike I made is a 2 kilometer trail that leads to a viewpoint from where you can see the Brudslöjan waterfall. The other one was the 5 kilometer hike to the top of Nammasj mountain that offers beautiful views over Saggat lake and the Kvikkjokk delta. In summer it is also possible to go on boat tours and cross the river to hike to Prinskullen.
Lapland itinerary day 7: Jokkmokk to Gällivare
Jokkmokk to Gällivare is only 100 kilometers, but is full of interesting stops. It is no surprise as you are surrounded by the national parks of the Laponia World Heritage area. I started this day very early to give me enough time at the stops I wanted to make and still arrived in Gällivare once it was dark for a late dinner.
Muddus National Park
One of the most accessible national parks of the Laponia World Heritage Area is Muddus National Park. From Jokkmokk it is only a 35 minute drive to the Skajdde entrance where you can start several hikes. Muttosfallet is a popular 14 kilometer hike to a waterfall that most people do. Because I had a full day ahead, I chose a shorter hike to the Måskosgårsså ravine.
It was a beautiful trail through primeval forests and along the Lule river. It was before the entrance to Muddus National Park that I saw my first elk and first black grouse. The forest sami also let their reindeers graze in the park so you have a good chance to see reindeer too.
If you have the time, there are self catering cabins in the park where you can stay the night. So it is possible to do multi day hikes. I would have liked to stay much longer to see more of the park, but other stops were waiting for me.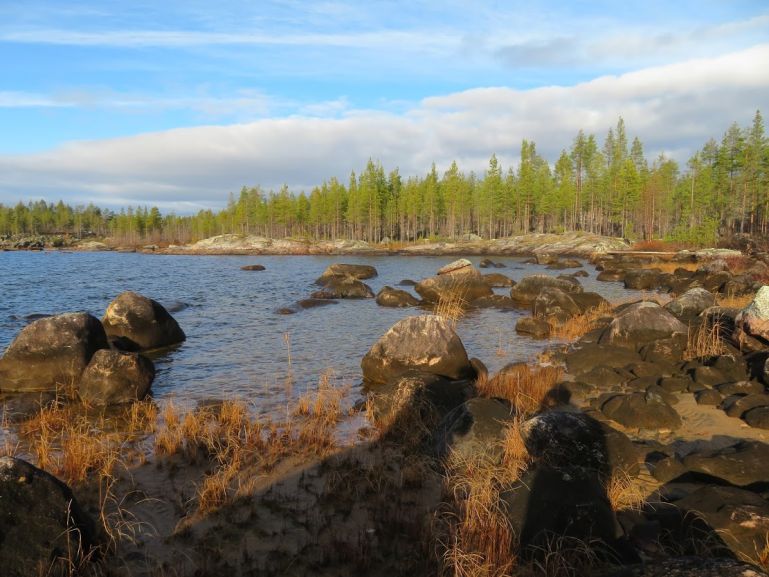 Harspranget canyon
After Muddus National Park I made a short stop at the Harspranget canyon. This rocky ravine is the result of the Harspranget hydro power plant. It is now the largest in Sweden. Near the plant is a parking place and a short 1 kilometer trail goes towards a viewpoint where you can see what is left of the once impressive Harspranget waterfall. 
Easy Elsie plane
The next stop was the site of a plane crash. After a 3 kilometer hike on wooden planks through the marshes you will see the remains of an english Lancaster bomber plane from the second World war.
It crashed in neutral Sweden on 22 October 1944 after being hit by Germans. Let's start with the good news that the pilots survived. The remains of the plane were left behind as a memorial and a campfire place was built as well. the crash.
Dundret Nature Reserve
The last stop before Gallivare was Dundret Nature reserve. The barren mountains make you think you are at a high altitude. The summit of Dundret mountain is only 820 meters though. The road leads you all the way up to a ski resort and ski lift, offering wonderful panorama views over Gällivare and the forests.
Where to stay: I stayed in the Grand Hotel Lapland. It is not the cheapest option in Gällivare, but because I was there in the off season I had a good deal. With the free sauna that was included in the price I felt like a queen. Gallivare bed and breakfast also has good reviews and is more budget friendly.
Lapland itinerary day 8: Gällivare to Kiruna
Like Kiruna, Gällivare is a mining town and if this is of your interest I can certainly recommend a mining tour in either one of these cities. They can be booked through the tourism information offices in Gällivare or Kiruna.
I headed straight to Kiruna. The northernmost city in Sweden is honestly not the most beautiful place in Lapland. The mining industry is very present and the ground has become so unstable that Kiruna is in the process of being moved to safer grounds. Furthermore, Kiruna can be expensive and tours like snowmobiling or dog sledding can cost up to 150 euro.
Still there are enough reasons to include Kiruna in your Swedish Lapland itinerary. The tundra landscapes that surround the city are spectacular. In addition there are some interesting free things to do in Kiruna too.
From Gällivare to Kiruna it is a short 1,5 hour drive which gave me enough time to have lunch in Kiruna and explore the city.
Where to stay: Kiruna was definitely one of the more expensive places for accommodation on my Swedish Lapland roadtrip. I ended up staying at Camp Alta that was by far the cheapest option, but it is a bit outside of Kiruna. They have some nice and clean self catering cabins in the woods with a scenic location at lake Alta. If you prefer to stay in Kiruna itself. Good budget options are the Malmfaltens Folkhogskola or the Spis Hotel & Hostel. And if money is no issue you should definetly consider the famous Ice hotel.
Lapland itinerary day 9: Jukkasjärvi
Jukkasjärvi became famous overnight because of the beautiful Ice hotel that is built every year out of snow and ice from the nearby Torne river. At an average of 800 – 1000 Euros a night you can sleep in a beautifully designed ice world. If that is out of your budget you can buy a more reasonably priced day ticket to see the ice art exhibitions and have a drink at the ice bar.
However, there is much more to Jukkasjärvi than the ice hotel alone. Jukkasjärvi makes for a nice budget day trip from Kiruna. The small town has a scenic location on the Torne river and is dotted with the typical swedish wooden homes. It is also a great place to learn about Saami culture, because it has its origins as a Saami marketplace. The word Jukkasjärvi comes from the Saami word Čohkkirasjávri that means lake of assembly.
Besides the Ice hotel, you can visit the oldest church in Swedish Lapland and the outdoor Sami museum of Nutti Sami Siida. Here you can interact with reindeers and try Sami cuisine. I had reindeer burgers here and was able to try the local cloudberries with vanilla ice cream. Both were absolutely delicious.
Lapland itinerary day 10: Abisko
Abisko National Park is one of the most popular national parks in Sweden and for good reason. In summer it is a hikers paradise. In winter it is one of the best places on earth to see the northern lights.
Personally, it was one of my favourite national parks on my trip in Swedish Lapland. When you drive from Kiruna to Abisko the landscapes get more and more spectacular. The mountains, the views over Tornetrask lake and the Abisko canyon.
It makes for a great day trip from Kiruna and there are lots of great day hikes you can make. For me, Abisko Alone makes Kiruna worth the effort to get this far north in Sweden.
Lapland itinerary day 11: Kiruna to Torne valley
Instead of heading straight back to Lulea I decided to return by taking the longer route through the Torne river valley along the Finish border. I decided to take this detour for several reasons.
First of all I was promised a scenic landscape with small villages and fertile meadows. Second of all, as an anthropologist I was interested in this multicultural border land where Swedes, Sami and Finnish people live together. Not only do they speak a unique Finnish dialect called Tornedalsfinska, but they also have their own cuisine. Most famous is the whitefish from the Torne river.
This stretch of my Swedish Lapland itinerary certainly did not disappoint and in one day I saw a huge variety in landscapes. As we left Kiruna we left the barren tundra landscapes behind us, drove a couple more hours through dense pine forests and then saw the scenery change into agricultural fields and meadows dispersed with small towns and reindeer farms. On our way there were several worthwhile stops
Juoksengi Arctic circle
Our first stop of the day was a quick lunch in Pajala, but the town itself was not of much interest. The next place where we stopped was in Juoksengi for another sign of the arctic circle. To be honest, it was a bit of a sad moment for me, because it meant that my Swedish Lapland road trip would almost be over and that from now on I would only go further south.
Kattilakoski rapids
Not far from Juoksengi are the Kattilakoski rapids. This place is worth a quick photo stop for nice views over the Torne river and Finland that is on the opposite side of the river.
Luppio mountain
One of the best viewpoints to see the beauty of the Torne valley is Luppio mountain, just south of Övertorneå. It is only 193 meters high, but you can see far and wide around you. You can reach the top by car where there is a nice cafe. From the car park you can venture farther up climbing over the rocks of Luppio mountain.
Where to stay: Taking this route did mean we had to stay somewhere in the Torne river valley. The question was where and there were several options. I ended up choosing a very nice bed and breakfast at lake Armasjärvi. Villa Armas was one of the best places I stayed at on my Swedish Lapland itinerary and I will never forget the delicious breakfast and super friendly host.
Lapland itinerary day 12: Torne valley to Luleå
The last day of my Swedish Lapland itinerary was mostly about heading back to Luleå in time for the night train back to Stockholm. Luckily there were only a few stops from here on.
Kukkolaforsen
The Kukkolaforsen rapids are famous for its high quality white fish. The Kukkolaforsen turist centre also has a nice and free open air museum that shows the traditional way of fishing used to catch the fish from the river. Of course there is also a restaurant where you can try the white fish. It was unfortunately closed when I was there in the off season, but it looked great with beautiful views over the river.
Haparanda
Haparanda is a large border town with Finland. It makes a great gateway to the spectacular nature around it, but in the city itself there isn't that much to see. Except that it is home to one of the largest ikea stores in Sweden. And when in Sweden, do like the Swedes. Probably the store looks almost the same as the one in your home country, but it is one of the best budget places to eat.
Bläsberget
The last stop I made was at the somewhat difficult to find Bläsberget in the Jämtön area not far from Luleå. This was once an island, but now part of the mainland. There is a 4 kilometer nature trail through the forest that is particularly beautiful in summer when the orchids bloom.
It reminded me a lot of the Bälingeberget as there are fields full of rocks left behind from the ice age that you have to climb through. Honestly, the views weren't that spectacular, but as a last hike before reaching Luleå it was a nice way to say goodbye to Swedish Lapland.
When to visit Swedish Lapland
Swedish Lapland focuses on only two seasons with vastly different activities. The summer season is all about hiking while the winter is all about arctic adventure tours like snowmobiling, dog sledding or hunting the northern lights.
Spring and autumn are the off season when a lot of things close down. A pity, because in reality every time of the year has its own beauty in Lapland's nature. This far up north the weather changes quickly and the Sami people actually follow no less than 8 seasons. 
I visited Lapland in October. Some consider this to be the worst time to visit Lapland, but I absolutely loved it. Besides the autumn colours, other advantages to visit Swedish Lapland off season is the fact that you have nature all for yourself and the lower prices.
In the end, when to do a Swedish Lapland road trip all depends on what you are looking for. If you want to do some of the spectacular multi day hikes in the national parks of Laponia you should stick to the short summer season. However, be prepared for the mosquitoes that come along with it. If you are looking for arctic winter adventures, snow is guaranteed from December till March. 
Spring and Autumn are transition months and offer a bit of both. In autumn you might no longer be able to hike the challenging kungsleden, but there are lots of easier treks that are still possible. In fact, Abisko National park is at its most beautiful and it's a great time to gather berries and mushrooms from the forest.
The northern light season already starts in September and runs into April. In spring the snow melts and migratory birds return. This is a very green time when nature awakens.
How to get to Swedish Lapland
The easiest way to reach Swedish Lapland is to fly into either Luleå or Kiruna. With few international connections you will likely fly through Stockholm.
To make my Swedish Lapland road trip more sustainable I decided to travel by train. There are daily night trains from Stockholm to Luleå as well as Kiruna and Abisko. It is a comfortable journey and it saves you a night of accomodation.
Lapland road trip practicalities
Renting a car in Lapland
Renting a car in Lapland is easy and can be done online. Make use off the platforms that compares prices and you are very likely to find a good deal. There are different pick up and drop off points to choose from, but airports are often cheaper. I saved a lot of money by picking and dropping off my car at Lulea airport rather than the centre of Lulea.
In winter make sure the car has winter tires and snow chains that are required during this time.
Lapland with your own motorhome
Swedish Lapland is also a great place to explore if you have your own motorhome. The advantage of having your own motorhome is that you can save a lot of money on accomodation. There are plenty of campings where you can park your motorhome for a small fee while you can use their facilities.
Because of Swedens Allemansratten, or freedom to roam, you are free to access nature. Therefore, there is a relaxed attitude about wild camping and Swedish Lapland has lots of incredible wild camping spots to put your motorhome.
Road conditions in Lapland
The road conditions in Lapland are very good. In general, the roads are safe and kept clear of snow in winter. What is important to keep in mind are the vast distances in Lapland. You might not see a petrol station or any sign of habitation, for hours. Therefore check your petrol regularly and fill up when you have the chance.
Also make sure you bring some snacks and water. I travelled during off season and a lot of restaurants were closed. As the choice is already limited, this sometimes meant that there were no options at all for lunch when I was on the road. Therefore, I made sure I always had a pack of Swedish knäckebröd and some cheese with me. The local västerbotten cheese that you can buy in the supermarket is delicious.
Another thing to keep in mind is the speed control. Especially, around Kiruna there are a lot of speed checks. In addition, the allowed speed limit might be reduced in winter. Be very attentively and don't be fooled by the empty roads in Lapland. It is easy to speed up as you drive through the forests with no one in sight. However, there is always the chance to be flashed, even in the most remote places.
Safety on a Lapland road trip
People in Sweden drive carefully and the biggest hazards come from the wildlife around you. You might be excited to see an elk or reindeer for the first time, but you really don't want them in front of your car. Sadly, every year many reindeers die on the road and these incidents are also not without danger for the driver. When you hit a large elk, the elk might survive, but your car certainly won't.
Neighbouring Finland already developed a reindeer warning app to prevent road accidents. Without the app, just drive carefully and avoid driving at night if you can. If you see the warning signs next to the road slow down. If there is a reindeer herd on the road make sure not to disturb them. Simply enjoy them from a distance and wait till they have crossed the road.
Disclaimer: This post with a travel guide about a Lapland itinerary for a 2 week Lapland road trip contains affiliate links. If you buy any service through any of my links, I will get a small commission at no extra cost to you. These earnings help me to keep Backpack Adventures alive! Thanks for your support!
---
---