22 top things to do in Isfahan: the blue jewel of Iran
This post is a travelguide with the best things to do in Isfahan. The city with its famous Naqs-e Jahan square was the reason why I wanted to visit Iran in the first place.
Iranians say that Isfahan is half of the world. The old capital of the Persian empire is still full of history with beautiful Persian Islamic architecture, palaces, mosques and a lively bazaar famous for their Persian carpets. As you can read there is no shortage of things to do in Isfahan, but unfortunately my timing to visit the city wasn't that good.
When I visited the famous Naqs-e Jahan square on my first night I noticed it was extremely busy. At the entrance of the mosque hundreds of veiled women with their children were lining up to get inside.
There was a festive atmosphere and the women were carrying large bags with blankets, pillows and folded chairs. It was the start of a ritual called Itikaf . For 3 days the people would stay in the mosques to pray and fast for the birthday of Imam Ali.
Unfortunately it also meant that the mosques and the bazaar would be closed for the coming 3 days. Luckily, there are so many things to do in Isfahan that I did not get bored one minute. I can only imagine how rushed my schedule would have been if everything was open.
Every day I left in the morning to walk around town and before I knew it the sun was setting. Even tough I couldn't go inside the mosques, the architecture and decorations outside were beautiful enough to impress me. The city is also full of parks that are a welcome respite from the city's crazy traffic and a place where I met many interesting and friendly people.
I spent three full days in Isfahan and it was simply not enough for this lovely city. There are still so many things to do in Isfahan that I had no time for. Isfahan is a city that keeps on giving you new surprises and new experiences.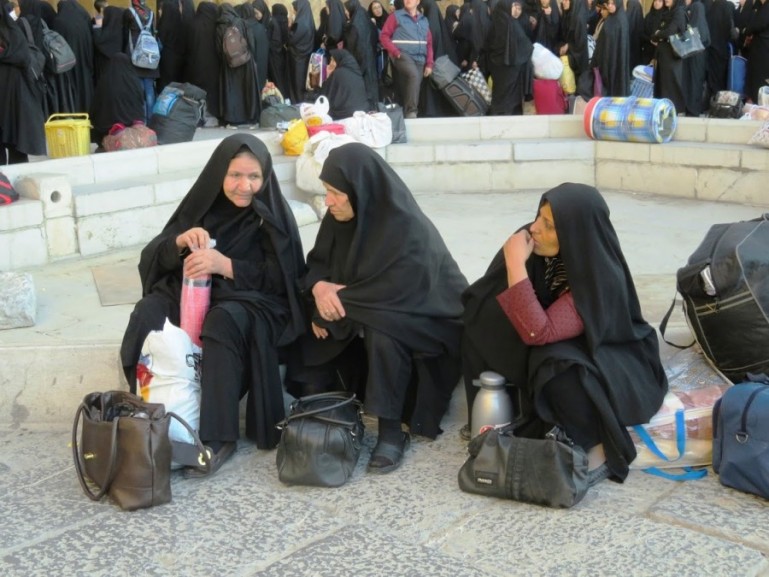 Things to do in Isfahan
1. Naqs-e Jahan Square
The Naqs-e Jahan square is for many visitors the first thing to do in Isfahan. The square alone can keep you busy and amazed for a full day. Every time I was there I discovered new details. From the blue tiled entrances of the mosques, the Ali Qapu palace to the shops and restaurants. Time flies when you wander around here.
2. Shah mosque
When you enter the square you can't miss the stunning view on the Shah mosque. It might look familiar to you, because you have already seen it on the 20,000 rial banknote.
In real life it is much more impressive with its shiny dome, blue tilework and fine Quranic calligraphy. Construction began in 1611 by shah Abbas who moved the capital to Isfahan. His vision was that the Shah mosque would get the biggest dome in the city and that it would replace the much older Jame mosque
Unfortunately it was closed when I was there and I could only marvel at the entrance that gives a small taste of the beauty inside.
3. Sheikh Lotfollah mosque
While the Shah mosque was built for the public, king Abbas also ordered the construction of a private mosque for use by his royal court.
It might be small, but entering the inner dome takes your breath away. When the sun sets down and you look above at the center of the dome the light gives you the illusion of seeing a peacock tail.
4. Ali Qapu palace
The Ali Qapu palace with its forty eight meters high portal is where king Abbas entertained his visitors.
The building has 6 floors that are richly decorated with wall paintings. Of particular interest is the pilkared hall on the third floor and the music hall on the sixth floor. Also don't forget to look up. The ceilings are equally decorated with paintings.
5. Bazaar
I was lucky to see the bazaar in action on my first night, but also to see the bazaar closed. Strolling through the empty alleyways allowed more focus on the details of the buildings. Hidden domes with tiles, coloured mosaiques and small shrines that are normally obscured from view.
It's something not many people get to experience, because most of the time Isfahans bazaar is a crowded and busy affair where sight, sound and smell overwhelm your senses.
Isfahans bazaar is among the top things to do in Isfahan. It probably is the best place to buy souvenirs in Iran with some handicrafts being unique to this region. I loved the Qhalam kari art, handprinted fabrics with floral patterns, that I hadn't seen anywhere else. Most common are the tablecloths, but some shops also sell beddings, bags and cushions.
Other Isfahani handicrafts include minakari (hand printed floral patterns on utensils) and khatamkari (decorating wooden surfaces with tiny pieces of bone and metal). Some more regular souvenirs like metalwork, miniature paintings and of course carpets are of especially good quality in Isfahan.
6. Jameh mosque
The Jameh mosque might be less impressive than the Shah mosque, but is much older and used to be the most important mosque in Isfahan. Some even think it was already a place of worship for Zoroastrians when in 771 the first mosque was constructed.
What you see today is the result of many reconstructions, renovations and additions that happened throughout history and it is an interesting mosque to visit.
7. Hakim mosque
The Hakim mosque is characterized by its simple structural pattern, but it is the oldest in Isfahan.
It is closeby the Jameh mosque and found it interesting for its different style.
8. Ali mosque and minaret
With so many mosques in Isfahan it is easy to overlook the small Ali mosque, but it is definetly worth a visit. The shrine inside is an active place of worship and has some interesting paintings.
The Ali mosque is most famous for its nearby Ali minaret. The oldest and largest minaret in Isfahan. While most people come to see the minaret I found the mosque more interesting.
9. Chehel Sotun Palace
If you have time to visit only one palace in Isfahan make it the beautiful Chehel Sotun palace.
It is among the best things to do in Isfahan for its beautiful Persian gardens and the many frescoes, wall paintings and ceiling artworks inside. The palace was built by king Abbas to receive guests and the gardens are now registered as a world heritage site.
10. Hasht Behesht palace
The 17th century Hasht Behesht pavillion is surrounded by beautiful Persian gardens that are free to visit. I thought it was the perfect place to escape from the city.
To enter the Hasht Behest pavillion you need to pay an entrance fee. I didn't do this because most of the building can be seen from outside.
11. Gholi Agha Hammam
On my second day I accidentally bumped into a Dutch couple I met earlier in Kurdistan. They were there with a friend who was showing them around in Isfahan. I decided to join them on a walk to the Ali Gholi Agha Hamam.
I wasn't planning to go there, because it was a bit far from the centre. For this reason many people overlook this small gem. I was really glad I ended up here and I really enjoyed the beautiful architecture of this historical hammam.
The hammam was built in 1713 during the Safavid empire. It is now a museum open to the occasional visitor.
12. Qazi Hammam
While the Goli Agha hammam is more like a museum showing you, what going to a bathouse was like, the Qazi hammam is still up and running.
Here you can experience the more modern and luxury version of the Persian bath experience. To finish your day in style you can also add a dinner at an Iranian home and enjoy the evening with a Persian family.
13. The bridges of Isfahan
One of the top things to do in Isfahan is a visit to the famous bridges over the Zayandeh river. I was lucky, because there was actually water in the River. I was told that this was rare and that most of the time the riverbed is dry. Apparently the municipality is controlling the water flow.
For now, people enjoyed their time at the river banks. My favourite bridge was the beautiful Khaju bridge where I spent two evenings listening to the men that sing here every night.
Also don't miss the Si-o-se pol bridge. It is the largest of the eleven bridges in Isfahan.
14. Jolfa: the Armenian quarter
The Armenian quarter in Isfahan is a very interesting place to visit. The christian neighbourhood has a very distinct atmosphere and it shows how tolerant and multicultural the city of Isfahan is.
There are several Armenian churches, but the most beautiful one is the Vank cathedral with its interior mural paintings.
15. Meeting the friendly people in Isfahan.
I had so many nice encounters with the people in Isfahan. A woman who tried to couple me to her son in Holland, a girl who explained how she had to wear more conservative clothes because she would otherwise lose her job as a teacher, a girl who felt sad she could not go into the mosque for itikaf, the cook of the beryan restaurant that asked my advice in attracting more tourists, students that wanted to interview me for their study projects, the girl that gifted me her manteau because i told her i liked it and a student who was in delft for an exchange project and was now asking me for relationship advice on how to woo his dutch lover.
I can say that my time in Isfahan was mostly about meeting lovely, friendly and inspiring people.
Things to do near Isfahan
16. Soffeh Mountain Park
My hostel owner recommended me to visit Soffeh mountain park at the outskirts of Isfahan. Another popular picnic spot for Iranian families. What makes this place special is the view over the city and it is indeed a great place to visit around sunset.
17. Ateshgah fire temple
Another thing to do near Isfahan is Ateshgah. On top of a hill at the outskirts of Isfahan stands an ancient Zoroastrian fire temple. It is a steep climb and best done just before sunset to enjoy a beautiful view over Isfahan.
18. Varzaneh
Isfahan is very close to the desert and Varzaneh is the best desert getaway close to Isfahan. If you are looking for solitude and sand dunes, Varzaneh is the place to go. Also, culturally it is an interesting place to visit. Rather than wearing a black chador, women in Varzaneh traditionally wear a white chador.
How to get there:Varzaneh is 105 kilometer south east of Isfahan and buses leave from Isfahan's Jey terminal.
19. Nain
Nain is an old desert city halfway between Isfahan and Yazd. It makes a convenient short stop to see one of the oldest mosques in Iran. It is two hours from Isfahan and also possible as a day trip by bus.
How to get there:From Jay terminal there are frequent buses to Nain.
20. Mesr desert
For a true desert adventure head to Mesr, also known as Dasht-e Kavir in Persian. It will require your own transport or a tour, but it is the best place for a desert experience. 1stquest has a 2 day Mesr desert adventure.
21. Star gazing in the Desert
With zero light pollution, the desert is the perfect place to watch stars. From Isfahan it is very easy to arrange a star gazing tour with the proffesional astronomy tour from 1stQuest.
22. Zagros mountains
From Isfahan it is possible to visit the beautiful Zagros mountains in spring and summer. These mountains are famous for their nomadic villages. It would be difficult to visit this area on your own, but there are several tours out there that include hiking through the mountains while visiting several villages including the scenic stepped village of Sar Agha Seyed.
For 2 day tours you can go hiking to several nomadic villages or have a homestay at Sar Agha Seyed. At last, there is a 3 day tour that not only includes the nomadic villages, but also a hike to the Zard waterfall
What and where to eat in Isfahan
Isfahan is the third largest city in Iran, but it was surprisingly hard to find good places to eat. There were fast food joints everywhere, but restaurants with traditional Iranian food seemed absent. Not that they are not there, they definetly are and Isfahani's know where to go.
Isfahan is in fact a great place to try Persian food including some local specialities like beryan and gaz. If you want to read more about Iran's food read my post here on the Persian food guide: eating your way through Iran.
To learn all the secrets about Isfahani cuisine I can recommend the culinary walking tour of Firstquest. Or you can try some of the Persian foods and restaurants below.
1. Meraj gaz
Isfahan also has its own regional dishes and specialities. First of all, Isfahan is famous for gaz. A white nougat like sweet. There is the plain variety, but also with nuts, rosewater and saffron. The best place to buy is Meraj gaz that has several shops throughout Isfahan.
2. Beryan in Hafez street
Isfahan is also famous for beryan. Sometimes misstakenly called beryani, but this translates as a place where you eat beryan. It also has nothing to do with the Indian rice called biryani. Instead it is a dish made of minced sheep's lungs and intestines. They serve the meat in a rolled bread with some fresh herbs. I had Beryan in a small restaurant in Hafez street just off Naqs-e Jahan square.
The bread and herbs were delicious, but the meat patty was greasy and had an interesting taste. I felt full for the rest of the day and this was not my favourite dish. The cooks were so excited about a foreigner eating Beryan that it was still a memorable experience.
3. Pomegranate juice at Naqs-e jahan square
Nearby the Beryan restaurant and the Naqs-e Jahan square is an excellent juice store that sells fresh juices. Pomegranate juice is very popular in Iran and I kept coming back here for more
4. The Isfahan bazaar
The bazaar is a great place to buy fresh fruits, vegetables, herbs, spices and nuts. I bought some pistachio's and they were a delicious snack.
The bazaar also has some very cheap places to eat. I had Asht-e resteh. A delicious and filling vegetable noodle soup with herbs.
5. Tea at Azadegan tea house
Azadegan tea house is the most popular tea house in Isfahan and worth a visit, if only for the interior decorations.
6. Bastani traditional restaurant
Bastani traditional restaurant comes recommended in most guidebooks. The food is ok, but the main attraction is its decor that brings you right to the middle east.
7. Icecream
Icecream is everywhere in Isfahan, but they are not your regular icecreams at home. Iranians like their things sweet. The popular Faloodeh was a bit too sweet for my liking, but the vermicelli like noodles in sugar and rosewater are a must try. My favourite was the yellow saffron infused icecream.
The best places to stay in Isfahan
Booking hostels in Iran online is rather difficult. Because of the sanctions, most regular sites like Booking.com or Airbnb won't work.
To book your hotel beforehand you either need to contact them directly or use 1stQuest
They are one of the few companies where you can plan most of your trip to Iran beforehand. They can book hotels online, arrange airport pick ups, domestic flight tickets and bus tickets.
Isfahan still does not have a lot of budget accommodations to choose from for a city its size. However, also in Isfahan new backpacker hostels are opening up like Mahbibi hostel, Ragrug hostel, Hatef traditional hostel & Howzak house.
1. Amir Kabir hostel
The Amir kabir hostel is still the most popular option among backpackers in Isfahan. It has a 3 bed dorm and private rooms with a convenient location in the city centre.
2. Nik hostel
Nik Hostel has two basic and clean rooms. It was the cheapest option when I was in Isfahan and it was a great place to stay. The owner was very friendly and helpful and there was a nice breakfast included. However, the hostel is frequently closed if he is out of town.
Isfahan Travel tips
How long to visit Isfahan?
There are so many things to do in Isfahan that you need at least 3 days to explore the city. However, this will only allow you to see the major highlights such as the square, the bazaar, the bridges and Jolfa.
Personally I felt 3 days were not enough for me. But then I am a slow traveller and one thing I really liked about Isfahan was meeting the friendly people. I wished I had one or two more extra days to get a better feel for the city and its people.
The best time to visit Isfahan?
With cold winters and hot summers the best time to visit Isfahan are spring and autumn.
Money matters in Isfahan
Due to the sanctions, Iran has been cut off from the international money transfer system. There are no ATM's in Isfahan that will work with a foreign bank card. You will have to bring all your money in cash (euro's or dollars).
Safety in Isfahan
Isfahan is a very safe city with low crime levels and if you follow normal precautions you should not face any problems.
For solo female travellers I wrote a post with tips and advice about traveling as a woman in Iran.
How to get around in Isfahan?
Isfahan on foot
Isfahan is a large city so expect to walk a lot. Still, this is a good way to get to know the city.
It is a nice walk from the Naqs-e Jahan square through the bazaar to the Jame mosque. Another scenic walk is along the Zayandeh river to check out the bridges of Isfahan.
Isfahan by bus
Isfahan has a good public transport network by bus. If you plan to stay a long time in Isfahan or travel a lot by bus you can buy the Isfahan card.
With the card the bus will cost only 5000 rials. You can also pay the driver directly. In this case it will cost 10,000 rials.
Good buslines to remember are bus 91 that brings you from the Kaveh bus terminal north of the city to the centre and finally the Soffeh bus terminal in the south of the city.
The train station is in the southern part of Isfahan. You can take bus 37 to Soffeh bus terminal and then change to bus 91 to bring you to the centre.
Isfahan by metro
Isfahan's metro opened in 2016 and is still extending. The current stations are unfortunately not very close to most of the things to do in Isfahan for tourists.
There is still only one line that goes from northwest via Kaveh bus terminal to Soffeh bus terminal in the south
Taxi's in Isfahan
Taxi's are not expensive in Isfahan and like anywhere in Iran you have shared taxi's and taxi's dar bast (door closed). If you want to get somewhere quick it is best to take a taxi dar bast (private). Always negotiate the price beforehand.
If you have an Iranian sim card you can also use the Iranian versions of uber called tap30 or snapp.
How to get to Isfahan
bus terminals in Isfahan
Isfahan has several bus terminals serving different destinations
The Kaveh bus terminal in the north is the biggest and has buses to Tehran, Kashan, Shiraz, Yazd and most other destinations in Iran
Soffeh bus terminal is in the south and has services to most destinations in the south of Iran including Shiraz
The Jey terminal is best for the desert cities east of Isfahan like Varzaneh, Nain and Yazd
You can check the bus times and book your bus tickets on the 1stQuest booking system.
Getting to and from Isfahan by train
Isfahan has a train station with daily night trains to Tehran and Mashad. You can check the latest timetables at Iranrail.
Disclaimer: This post about the best things to do in Isfahan Iran contains affiliate links. If you buy any service through any of my links, I will get a small commission at no extra cost to you. These earnings help me to keep Backpack Adventures alive! Thanks for your support!
---
---